Summer has arrived, so you need to make immediate plans for a perfect summer holiday in India. India spoils visitors with exciting choices for a summer vacation with your friends, family and loved ones. Enjoy pleasant weather, explore wonderful sights, and interesting things to do, while you escape high temperatures and hustle-bustle of cities. Before the mercury gets rising, be prepared with your travel plans for summer holiday destinations in India.
List of  Top  20 Summer Holiday Destinations in India:
Shimla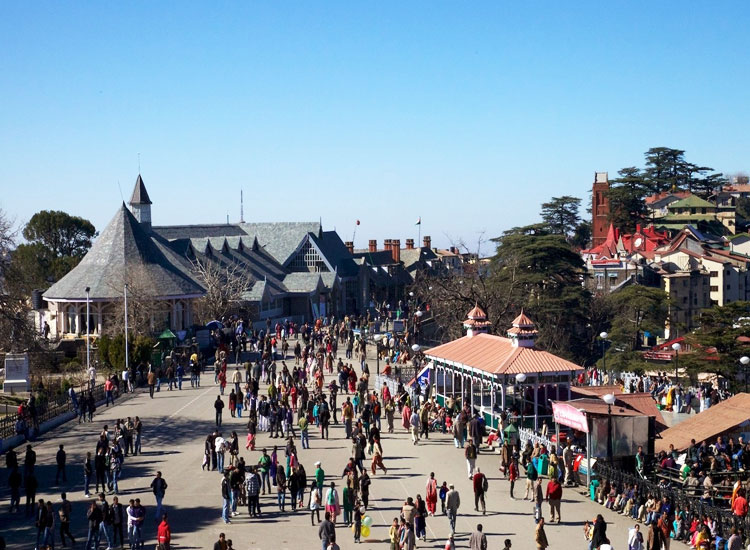 Shimla is an ideal destination to spend summer season in India. The 'Queen of Hill Stations' in Himachal Pradesh is one of the favorite holiday getaways. The salubrious climate was in fact the reason that the British colonials settled here every summer. There are several accommodation options, and amazements. Come with your loved ones to the town, listed among the top places for a summer vacations in India.
Things to do in Shimla:
Hop on the Toy Train from Kalka to Shimla.
White water rafting at Tattapani.
Linger around the Mall Road to eat, shop and enjoy.
Visit the beautiful Christ Church on the Ridge near the mall.
Trek to Jakhu Hanuman Temple, perched on top of a hill.
Explore the British architecture of Viceregal Lodge, Christ Church, etc.
A visit to Kufri, Chail and Mashobra, beautiful hill getaways.
Get a family photo in the traditional attire for a fond memory.
How to reach
The Himalayan Toy Train is one of the best ways to arrive in the hill town. Frequent buses, cabs are available from major cities. The nearest airport is in Chandigarh.
[ Plan your  holiday in Shimla with these customized packages ]
Manali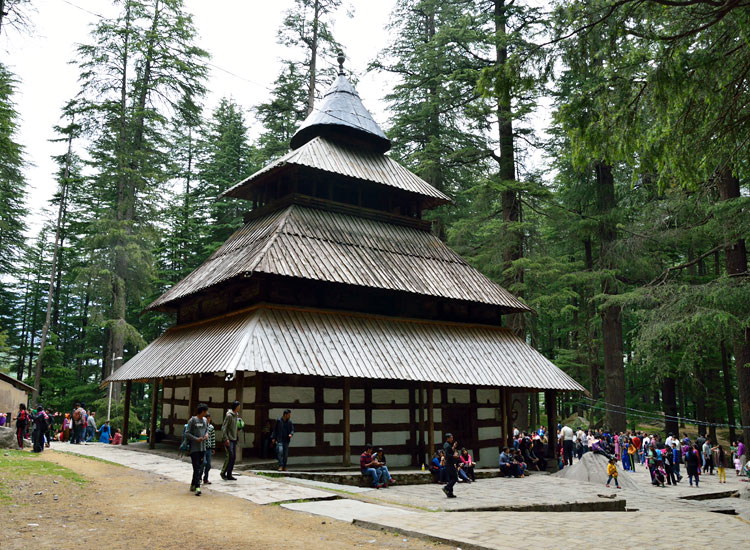 One of the popular summer holiday destinations in India, Manali in Himachal Pradesh has the perfect combination of scenic beauty, adventure and everything you need for a memorable vacation. The picturesque town is surrounded by snow-capped mountain peaks and greenery nurtured by River Beas. Enjoy the sights from Indian legends. Try out trekking, river rafting, paragliding, zorbing, etc. The highlight of your holiday is, enjoying snow at the Rohtang Pass.
Things to do in Manali:
Sightseeing at Hadimba Temple, Van Vihar Himalayan Nyingmapa Gompa monastery, Club House, etc.
Indulge in adventure sports at Solang Valley
Visit Rohtang Pass for snow.
Go river rafting in the River Beas.
Short trips to Kullu, Manikaran Gurudwara, Jogini Falls, Arjuna Gufa, Bhrigu Lake and Vashisht Hot-Water Springs.
Picnic at the apple orchards.
Camping and trekking.
How to reach
The road to Manali is a beauty, therefore the best way to get to the hill town is on a bus, cab or your own private vehicle. The nearest airport is in Bhuntar, 50 km. away. The nearest railway station is Chandigarh, 350 km away.
[ Plan your trip to Manali with these best customized packages ]
Andaman and Nicobar
Beaches in the summer may not seem appealing but this thought certainly changes when you are in Andaman and Nicobar Islands in the Bay of Bengal. Enjoy the perfect summer holiday in India by relaxing on the sandy shores, exploring the cerulean waters, tropical rainforests, and historical sites with amazing adventure sports. Relish the delicious tastes of tropical fruits and coconut water on your holiday in this haven.
Things to do in Andaman:
Visit Port Blair, Havelock Island, Neil Island, and Radhanagar Beach among many.
Adventure sports like swimming, scuba diving, snorkeling, sea-walking.
Bird watching in the tropical rainforests.
Visit in passing India's only active volcano in the Barren Island.
Enjoy picturesque sunrise and sunset.
Bask in the sun, play in the blue waters, and laze in the languid beach resorts.
How to reach
The islands are quite remote. Flight connections to Port Blair are available from selected airports, so are sea cruises. Kolkata and Chennai are the two cities with connectivity to the island archipelago in Bay of Bengal.
[ Explore well-customized  Andaman holiday packages ]
Darjeeling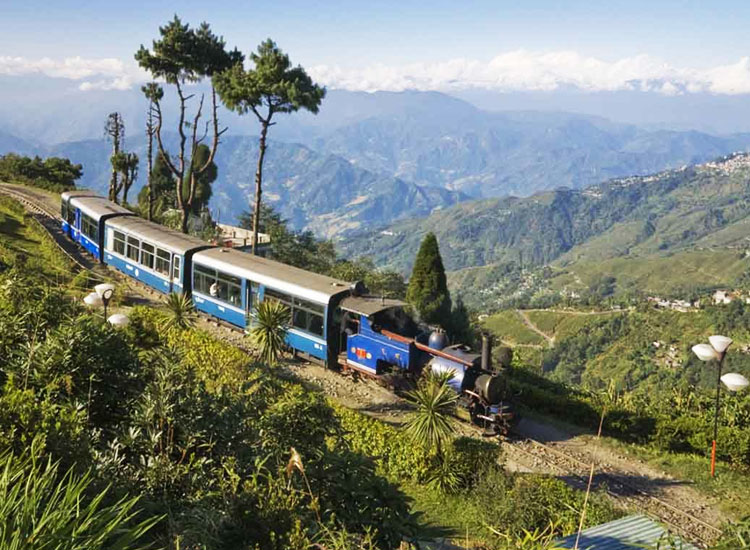 Darjeeling in West Bengal in one of the popular summer holiday getaways in the North East. Presided by the majestic Kanchenjunga (8,586 meters above sea level) and surrounded by the emerald-green tea plantations, the hill town is perfect for a relaxing summer vacation. Explore the beautiful sights created by nature and man. Learn about Tibetan roots at the monasteries. Indulge in delectable treats, shopping and more.
Things to do in Darjeeling:
Ride the Toy Train to get to the hill town.
Soak in the bliss at Batasia Loop and Gorkha War Memorial.
Explore Tea Gardens at Happy Valley Tea Estate.
Watch the majestic sunrise from Tiger Hill
Trek to the Peace Pagoda at Charlemont Hill.
Explore the wildlife at Padmaja Naidu Zoological Park.
Shop for treats at the Mall Road.
How to reach
The hill town in North East India is best accessible by the Toy Train. Jalpaiguri is the nearest railway station and the closest airport is in Siliguri. Cabs frequent ply to the hill town.
[ Enjoy sightseeing in Darjeeling with this package ]
Munnar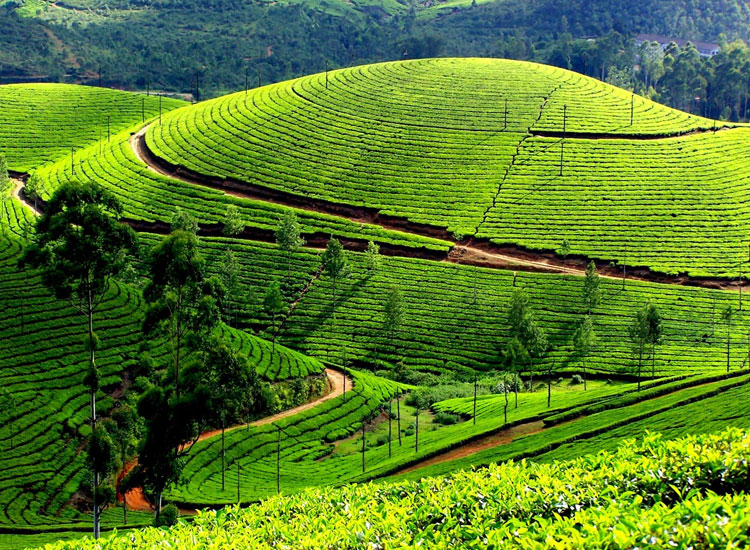 God's Own Country, Kerala is not very far behind in being host to popular summer holiday destinations in India. Munnar settled in the lush lap of Western Ghats is a pleasant escape when the heat goes rising. Famous for its beautiful sights, tea plantations, unique flora and fauna, aroma of spices, and pleasant weather. With so much to see, do, and enjoy, why go anywhere else?
Things to do in Munnar:
Enjoy the lush beauty of tea gardens.
Visit Kundala Lake, Echo Point and Elephant Lake
Trek to Anamudi Peak
Explore Tata Tea Museum
Pay a visit to Chithirapuram, Devikulam, and Chinnakanal
Stay in a tree house
Trekking to the echo point, mountain biking, Shikara ride in Kundala Lake
Elephant safari at the Carmelagiri Elephant Park
How to reach
Munnar is the beautiful hill station of Kerala and well connected to cities. Kochi International Airport and Ernakulam Railway station are the closest air and rail connection.
[ Explore a wide range of Munnar holiday packages ]
Also Read:
Don't Miss These 10 Best Places To Visit On Your Holiday To Kerala
Rishikesh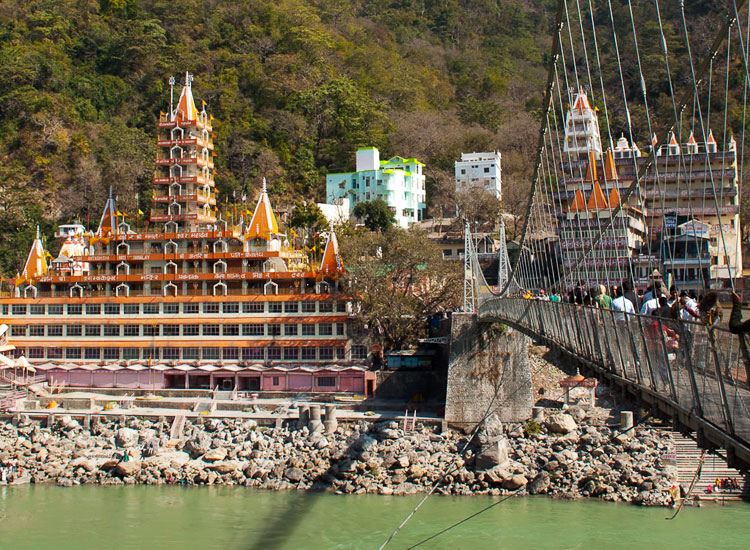 Rishikesh is one of the best places for summer holidays in India, as you will spend time on the banks of River Ganga at the foothills of Himalayas in Uttarakhand. Rishikesh has the reputation of World Capital of Yoga and a hub of adventures. Find bliss in yoga centers, ashrams, temples and river banks and shot of adrenalin with river rafting, cliff jumping, fox flying, India highest bungee jump and other adventure sports.
What to do?
River rafting in River Ganga
Camping on the river banks
Body surfing
Fox-flying on wires suspended between two mountains.
Visit ancient temples
Learn all about Yoga
Indulge in Ayurveda and meditation at the Ashrams.
How to reach
Nestled at the foothills of Himalayas in Uttarakhand, Rishikesh has closest international connection with Delhi Airport or Jolly Grant Airport in Dehradun. The nearest railway station is in Haridwar.
[ Browse these  best customized Rishikesh  tour packages ]
Also Read:
Top Places to Visit in Uttarakhand during your holiday
Lakshadweep Islands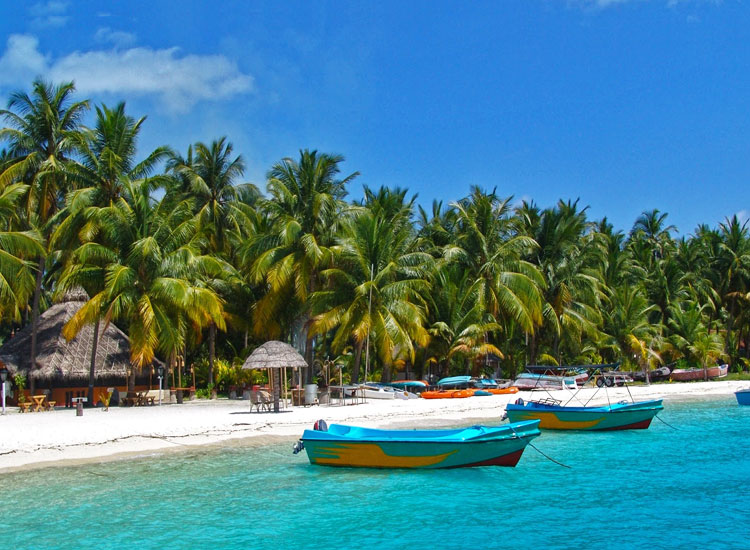 Lakshadweep Islands is not just India's but one of the world's most spectacular tropical island systems. The islands tucked away in the Laccadive Sea, few hundred kilometers from the Indian shore are perfect for an early summer vacation in India. These islands shine like emeralds in contrast to the cerulean waters. Get ready for a vacation in a remote location, amid beautiful scenery, with plentiful adventures.
Things to do in Lakshadweep:
Explore the beautiful coral reefs.
Enjoy swimming, wind-surfing, diving, snorkeling and kayaking.
Savor the tropical fruits, fresh coconut waters while relaxing in the sands.
How to reach
Kochi, Kerala is the gateway to the emerald islands of Lakshadweep. Cruises and regular flights are available for Agatti and Bangaram Island.
[ Explore this incredible island with these well-planned holiday packages ]
Shillong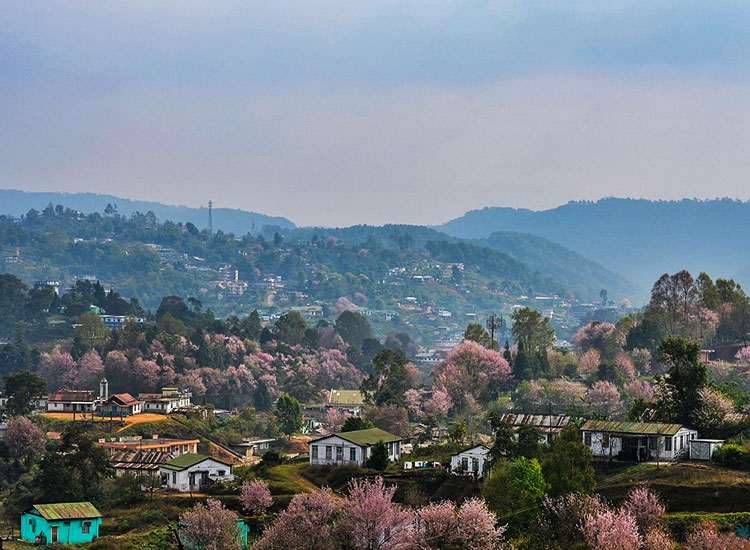 The capital of Meghalaya, Shillong is the apt introduction to the bliss of the North East. The beautiful hill station is well-known for its pleasing weather, lush greenery, sparkling lakes and beautiful waterfalls. The natural beauty and serenity is truly unmatched. The city is also known as the 'Scotland of the East' because its landscape and weather is similar Scotland. It is one of the top places in India that are perfect for a summer holiday.
Things to do in Shillong:
Boating in Umiam Lake
Sightsee Elephant Falls, Shillong Peak, Sweet Falls, Don Bosco Centre for Indigenous Cultures, Lady Hydari Park etc.
Angling at Dawki
Trekking to Meghalaya Living Root Bridge, Kyllang Rock and Sophet Bneng
Camping, Horse riding, rock climbing and waterfall rappelling
River rafting or Kayaking at Kynshi River
How to reach
Shillong Airport in Umroi is the closest airport. Bus services are provided by Meghalaya Transport Corporation. Guwahati railway station is the nearest railway station situated at a distance of 105 km from Shillong.
Ooty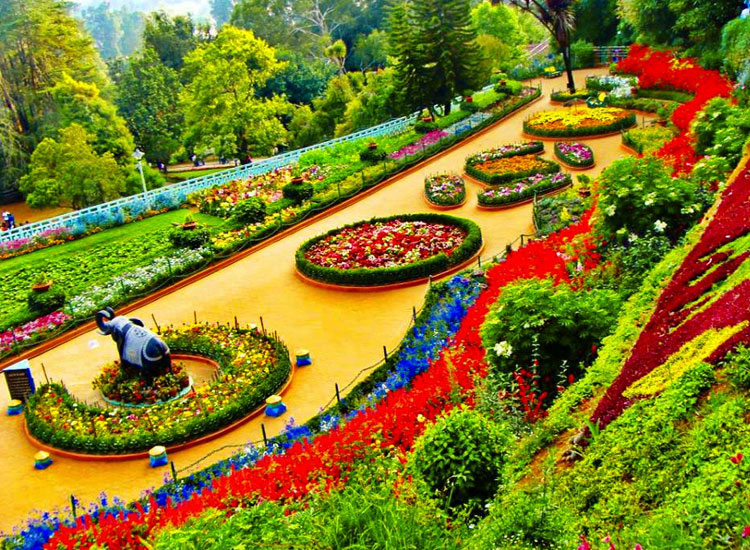 One of the most popular hill stations in South India, Ooty is perfect for a summer holiday in India. Snuggled in Nilgiris, the hill town has been a favorite hangout in the rising temperatures that too from the days of British Raj.  The Toy Train ride is one of the experiences you should definitely try. Enjoy exploring tea estates, flower gardens, colonial attractions, waterfalls, etc. Do not miss on the adventures, and home-made chocolates.
Things to do in Ooty:
Pay a visit to Coffee, tea plantations, botanical gardens.
A fun Toy Train Ride in Nilgiri Mountain Railways.
Trekking and Camping at Avalanche Lake.
Enjoy a game of golf at the Golf Course.
Picnic at the Emerald Lake, Kamaraj Sagar Dam, etc.
Shop for delicious chocolates.
Marvel at the Doddabetta Peak for an exceptional view of the Nilgiri hills.
How to reach?
The Nilgiri Mountain railways is the best and easy way to get to reach the hill town. Tamil Nadu State Road Transport Corporation (TNSRTC) and many private bus services operate on regular basis. The nearest airport is Coimbatore Airport 95 km from Ooty.
[ Plan  your holiday in Ooty with these  well customized tour packages ]
Also Read:
Explore The Incredible Destinations Across Tamil Nadu
Gangtok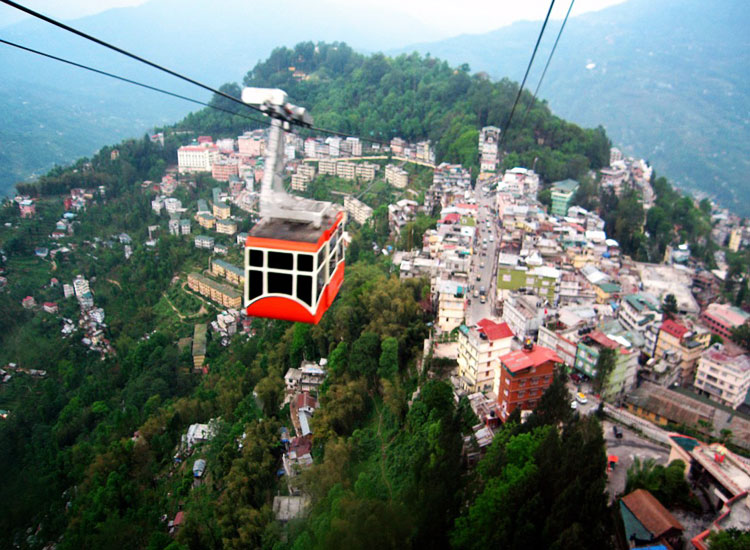 Sikkim's capital city, Gangtok is one of the popular holiday places in North East. People from all across the world visit the town to enjoy the natural beauty, pay homage at its beautiful monasteries and embark of treks and other adventure activities. Summer season, is a good time to visit as the weather remains at its best. Get ready to be refreshed by the charms of Sikkim this summer holiday.
Things to do in Gangtok:
River Rafting in Teesta
Riding a yak at Tsomgo Lake
Paragliding, and ropeway cable-ride from Deorali
How to reach
Gangtok is easily accessible by road, rail and air. The closest airport is in Bagdogra and the nearest railway station in Jalpaiguri, West Bengal. Cabs making a 4-5 hours journey to Sikkim's capital are available from both.
[ Pick your best customized  Gangtok tour packages ]
Ladakh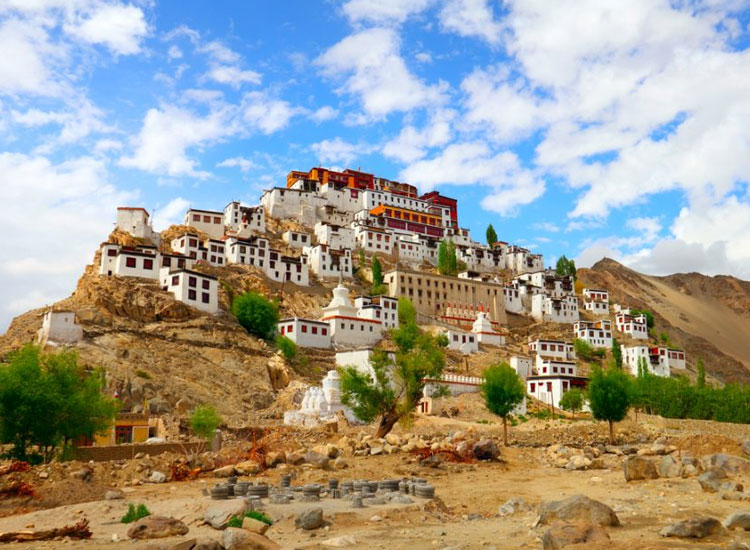 This summer why not visit the place where summer is unheard of. Ladakh, the 'Land of High Passes', is a region in Jammu and Kashmir where temperatures are not just cold but one of the coldest in the world sometimes. It is truly one of the best places for summer holiday in India. Get ready to experience adventures, rugged landscape, high-altitude mountain passes, crystal-clear lakes, serene Tibetan monasteries, quaint villages and weather that totally makes you forget summers.
Things to do in Ladakh:
Explore Leh city, attractions like Leh Palace, Shanti Stupa and markets.
Spend days at the Zanskar Valley, Pangong Tso Lake, Tso Moriri, and Hemis National Park
Visit monasteries of Ladakh including Hemis, Diksit, among so many.
Photo stop at Khardung-La Pass, Magnetic hill, etc.
River rafting on the River Indus.
Watch the Llamas perform colorful Chhams during monastery festivals.
How to reach?
The best way to reach Ladakh is by road. Either drive from Manali or from Srinagar or take both the routes alternatively. You can also fly to the Kushok Bakula Rimpochee Airport, Leh.
[ Plan a holiday in Ladakh with best customized packages ]
Also Read:
12 Best Places To Visit Leh Ladakh
Mahabaleshwar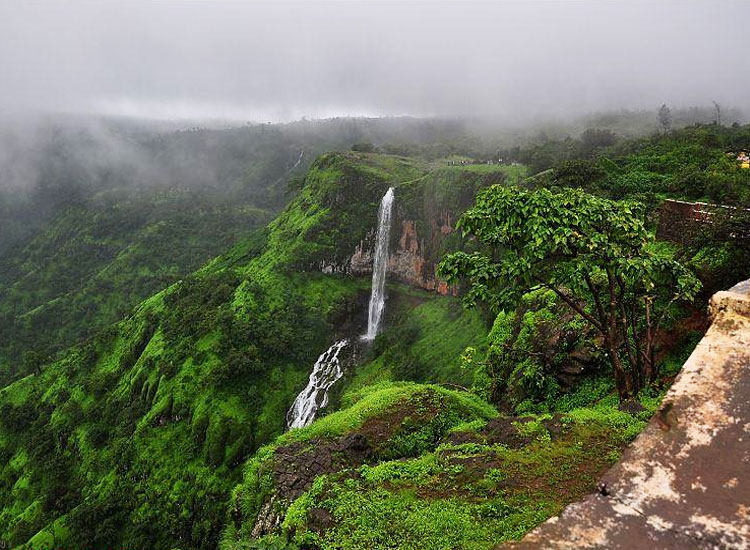 Mahabaleshwar is one of the favorite hill stations in the Western Ghats. Known for mouthwatering mulberries, raspberries, gooseberries, exciting trekking trails and the perfect weather, it is one of the top places for a summer vacation in India. Enjoy panoramic view of the forested hills form the vantage points. Soak in the bliss of the golden sunrises. Relax during your stay or go for trekking in the natural trails.
Things to do in Mahabaleshwar:
Sightsee attractions like Mahabaleshwar Temple, Morarji Castle, Mount Malcolm, Rajpuri Caves, Wilson Point and Pratapgad Fort
Trekking the beautiful nature trails.
Do not miss the Strawberry Festival, where you can eat strawberries to their heart's delight in the 9 days-festival which usually takes place in the month of May.
Holy pilgrimage to Shree Kshetra Mahabaleshwar, the temple dedicated to Lord Shiva.
Boating on Venna Lake
How to reach?
Drive to Mahabaleshwar from Pune. MSRTC (Maharashtra State Road Transport Service) runs frequent buses. Pune, 120 km. away is the most convenient airport as well as railway station.
Nainital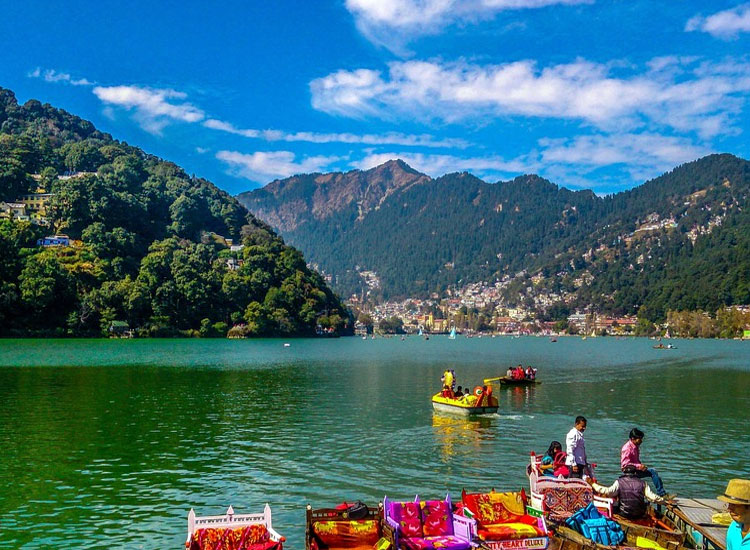 Nainital is without doubt one of the top places in India that are perfect for summer holiday. The hill town of Uttarakhand is known for its magical lakes, breathtaking views of snow-clad mountains and a small-town charm. Enjoy the romantic boat rides on the Naini Lake or other lakes nearby. Set far away from pollution, noisy traffic and hustle-bustle of the metropolitan cities, enjoy a refreshing vacation.
What to do?
Visit the Naina Devi Temple, Raj Bhavan, and other attractions.
Visit the Snow point by cable car for breathtaking views of snowcapped mountains.
Trek to Tiffin Top or Dorothy's seat.
Boating at Naini Lake, Bhimtal, Sattal, Nakuchiatal, etc.
Shopping at Tibetan market.
Boating, Nature walks, cable car rides, horse riding, trekking, wildlife sightseeing, roller skating, etc.
How to reach
Drive to the hill city for the scenic beauty. Pantnagar Airport, 65 km from Nainital is the nearest air connection while Kathgodam Railway Station, 34 km from Nainital offers train connections.
[ Plan your holiday in Nainital with these customize packages ]
Kalimpong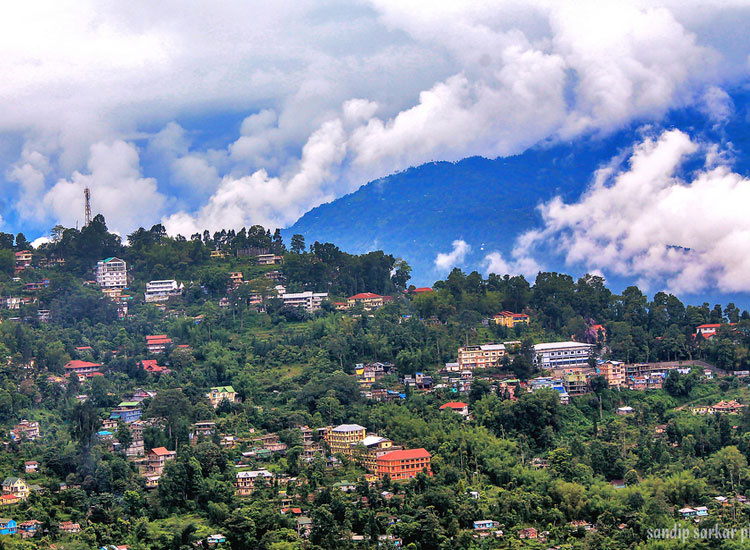 Kalimpong, West Bengal is on our list of the top summer destinations in India. Untouched and less frequently visited by people, it is perfect for those looking for a quiet summer getaway. Sitting on a ridge overlooking the Teesta River, presided by the lofty Mt. Kanchendzonga, the town is blessed with pleasant climate, magnificent views, and proximity to other tourist attractions. Spend a relaxing summer vacation with these customized packages.
Things to do in Kalimpong:
Trek to Deolo Hill.
Pay a visit to Pedong Monastery.
Explore Dr. Graham's Home.
Pray at the Mangal Dham.
Discover Tibetan roots in Tharpa Choling Monastery.
How to reach Kalimpong
Bagdogra Airport is the closest air terminal from Kalimpong. New Jalpaiguri Railway station is the nearest rail connect. Cabs are available from both, offering frequent connectivity to the hill town.
Coonoor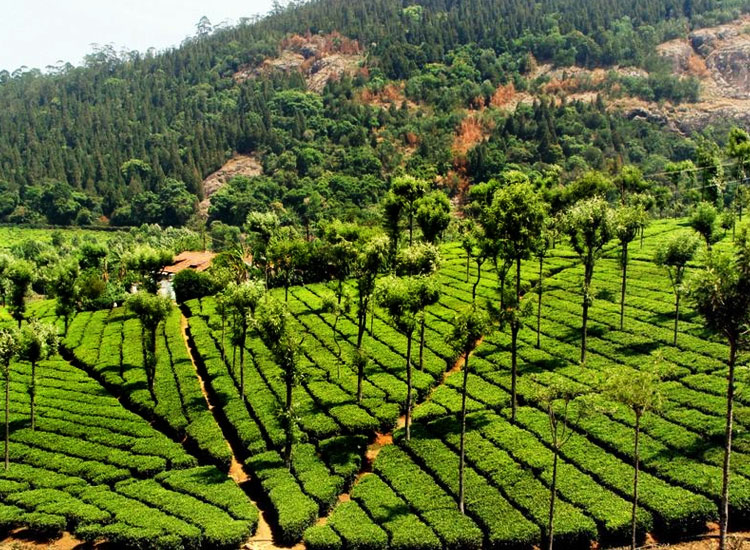 Tamil Nadu's picturesque hill station, Coonoor is a haven snuggled in the Nilgiris. The lush tea estates of the town produce a special Nilgiri tea. Embark on trekking trails of the Blue Mountains, explore lakes and waterfalls. Arrive to the hill town on the Nilgiri toy train, it is a wonderful experience. The scenic bliss, myriad things to do and experience, put it on the list of best places in India that are perfect for summer holidays. Explore holiday packages for Coonoor.
Things to do in Coonoor:
Explore the tea gardens and learn about Nilgiri Tea.
Visit the natural treasures in the Sim's Park.
Trek to the Dolphin's Nose for scenic views.
Picnic at the Laws Falls.
Trek to the Hidden Valley.
Explore the ruins of Tipu Sultan's empire at the Doorg Fort.
Learn all about Nilgiri tea at the Highfield Tea Factory.
Spend a day bird watching to have a glimpse of the birds unique in Nilgiri.
How to reach
Coonoor railway station, a part of the Nilgiri Mountain Railway, a World Heritage Site, serves Coonoor. The nearest airport is Coimbatore is located approximately a distance of 70 km.
Auli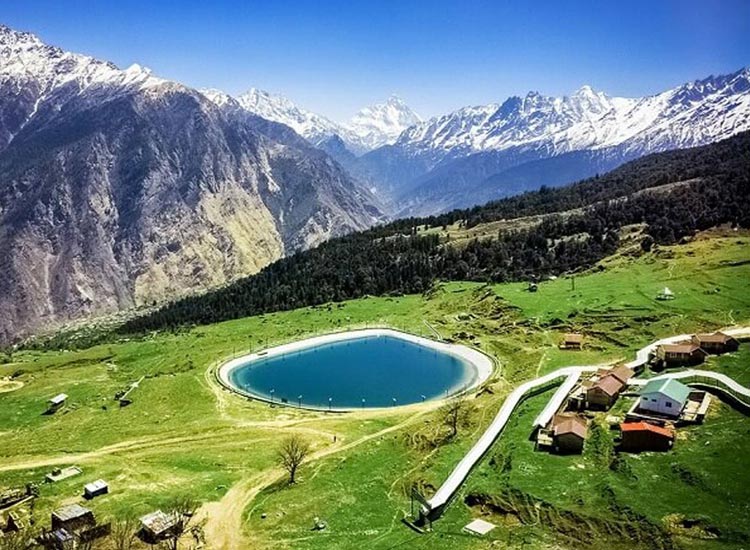 Traveling to the mountains is one of the best ways to spend your summer vacation in North India. Auli, also known as Auli Bugyal is a beautiful hill station set at an elevation of 3000 m, popularly known as a ski resort. This destination is covered in the charm of the Himalayas, apple orchards and pine trees which are just some reasons travelers love visiting here. Apart from this, the hill station is known for the Auli Artificial Lake, the trekking routes, the surrounding beauty of peaks like Nanda Devi and the joy-filled chair car ride.
Things to do in Auli
Enjoy skiing at India's Ski-Hotspot.
Marvel at the Auli Artificial Lake.
Explore the realms of Joshimath.
Touch the sky with a Ropeway ride.
Test your limits with Auli Gorson trek.
Be close to nature with camping.
How to reach
Jolly Grant Airport and Rishikesh railway station serves as the easiest means to travel to Auli. Cab services are easily available to the destination.
[ Enjoy things to do at Auli with these packages ]
Lonavala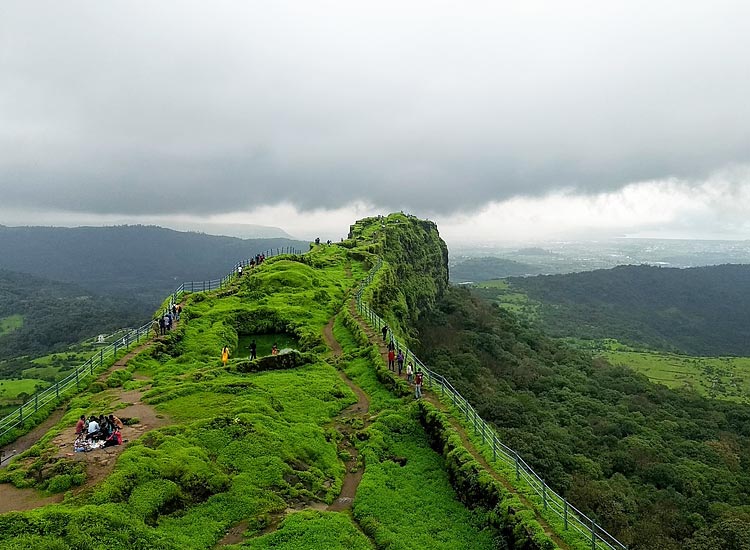 Cuddled in the Western Ghats, Lonavala is a heavenly getaway destination for travelers and natives of Pune and Maharashtra. The hill station sits at an elevation of 624 m and is dotted with pristine lakes, waterfalls and historic caves. Another reason why wanderers pick Lonavala as the best place for a summer vacation in India is that it offers a number of trekking and hiking opportunities. Besides, the weather during this season stays tourism-friendly. Explore Lonavala tour packages.
Things to do in Lonavala
Seek peace at Kune Waterfalls.
Challenge yourself with Canyon Valley Trek.
Touch the fluffy clouds with a hot air balloon ride.
Visit the Lohagad Fort.
Gape at the Bhaja Caves.
Feel bliss with camping at Aundoli.
How to reach
Lonavala sits close to Pune Airport and Lonavala railway station. It is easy to find cabs to commute to the hill station.
Kodaikanal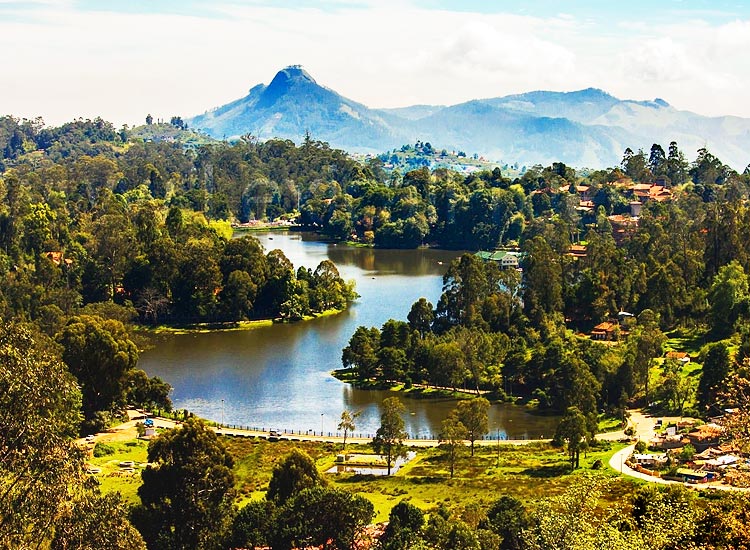 Kodaikanal is the pampered child of Tamil Nadu, serving as a summer retreat in South India since time immemorial. The hill station sits on a plateau that has the Palani hills smiling at it from the south and is popularly known as 'the gift of the forest'. As the beauty that envelops Kodaikanal might leave you smitten, do make sure you visit the beautiful lakes and waterfalls before that happens. Explore best customized Kodaikanal tour packages.
Things to do in Kodaikanal
Soak the beauty of Kodaikanal Lake.
Feel refreshed at Bryant Park.
Rejuvenate at Silver Cascade Falls.
Photograph the beautiful surroundings from Dolphin's Nose.
Revive your soul at Green Valley View.
How to reach
Kodaikanal is well linked to Madurai Airport, which is located some 134 km away. Along with that, the city houses its own railway station by the same name. Cabs services are available for the convenience of travelers.
Dharamshala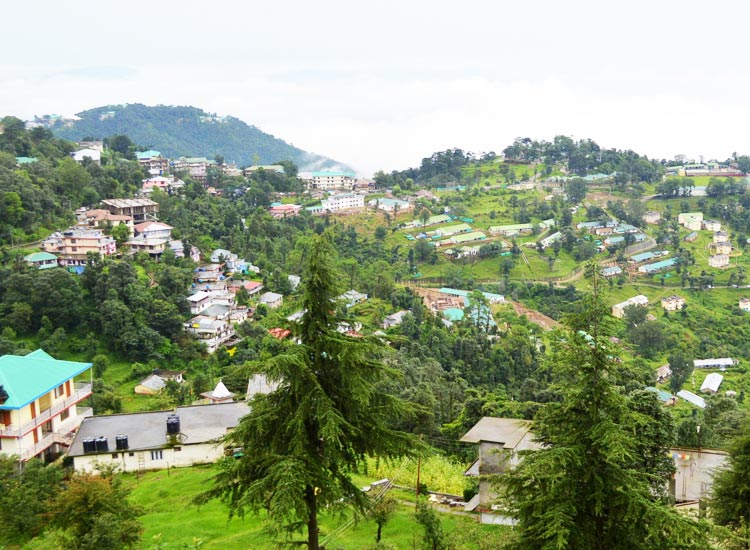 Dharamshala is all about everlasting elegance. Every time that you plan a vacation to this summer destination in India, you will be surprised. The hill station has an unbelievable spiritual significance as it serves home to the Dalai Lama and the Tibetan government-in-exile. Along with that, Dharamshala is also famed for the adventure activities offered here.
Things to do in Dharamshala
Feel the adrenaline rush with paragliding.
Set new goals with Triund trek.
Relax in the lap of nature with camping.
Day tour to Kangra Valley.
Get clicked in traditional garments.
How to reach
With Gaggal Airport and Pathankot railway station being settled close by, it is easy to travel to Dharamshala.
[ Explore customized Dharamshala tour packages ]
Dalhousie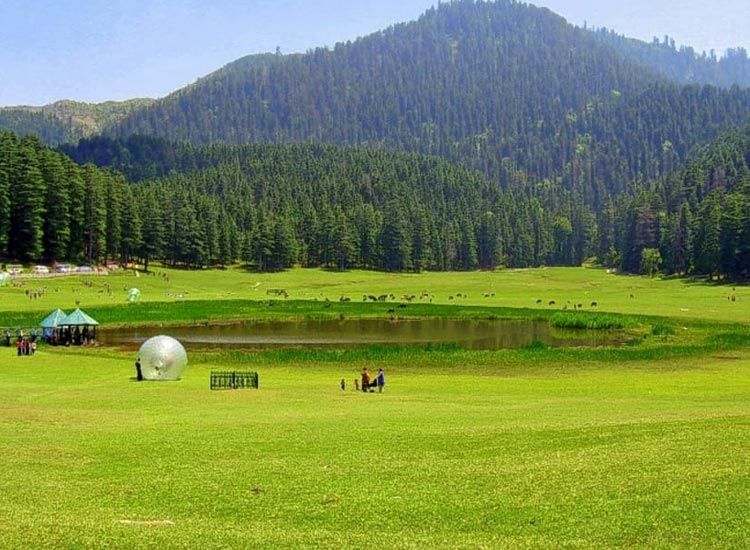 Let's just be thankful to the British Viceroy for bringing this charming destination to life in 1850. Named after its founder, Dalhousie is a summer retreat which has had its ups and downs. However, if you plan a visit here now, you will see huge crowds of people relaxing and rejuvenating in its peaceful environs. The hill station is perfect for honeymooners and people on a family vacation in summers.
Things to do in Dalhousie
Get enchanted with the view of Panch Pulla Waterfalls.
Boat ride in Chamera Lake.
Relax in the soothing environs of Khajjiar.
Meet the wild creatures at Kalatop Wildlife Sanctuary.
Rejuvenate your senses with the view of Satdhara Falls.
How to reach
Travelers can fly down to Gaggal Airport or can deboard the train at Pathankot railway station. Both these means of transport provide good connectivity between Dalhousie and major parts of India.
[ Plan a trip to Dalhousie with this package ]
Pondicherry
The French capital of India, Pondicherry is a fantastic destination to spend summer. Draped in bougainvillea the architecture of Pondicherry will take you to France. The beautiful beaches and cute little cafes add to the character of the union territory. It is a place of retreat and tranquility. Pondicherry is the perfect place to get away from the hustle-bustle of city life.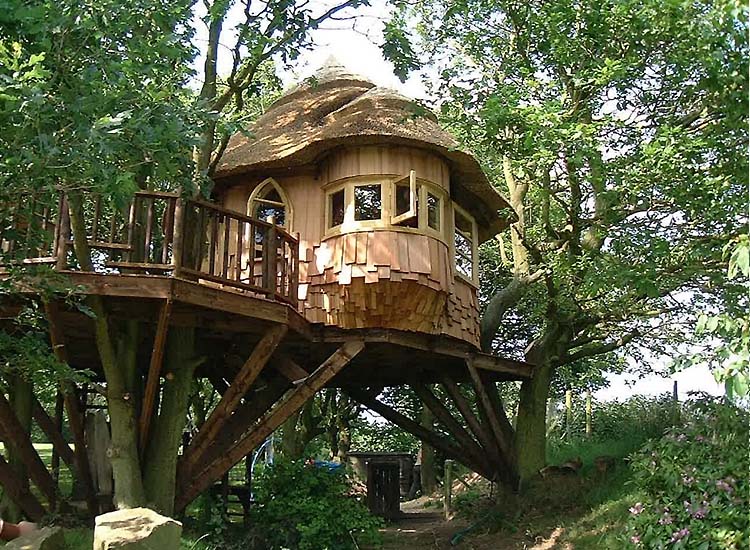 Things to do in Pondicherry
Spend a quiet afternoon at the Rock beach and Pondicherry beach
Do yoga and meditation in Auroville and Sri Aurobindo Ashram
Scuba dive in the clean water
Capture the scenic beauty of Pondicherry at Chunnambar Boathouse.
Indulge in the delicious french and international cuisines
How to reach
The flight connecting to Pondicherry is from Bangalore. Pondicherry airport is about 7.1 km away from the city of Pondicherry. Trains from various cities in India also connect to Pondicherry. The nearest railway station is Villupuram Railway Junction.
Don't miss these Top Places in Pondicherry
Summer is here, make plans for vacations choosing from the top destinations perfect for summer holidays. Escape the rising temperatures with summer tour packages in India.
Related Post:
20 Not-to-Miss Offbeat Destinations in India
15 Awesome Winter holiday Destinations in India that you must not miss
Top 15 Offbeat Destinations In Uttarakhand For Long Weekends
Save