Uttarakhand 'Dev Bhoomi' snuggled in the lap of Himalayas is a bounty of interesting holiday destinations in India. The places to visit in Uttarakhand range from hill stations, honeymoon spots, pilgrimage sites, breathtaking beauty, adventurous experiences and serene ashrams. A holiday trip to the mountain state is a perfect mélange of relaxation, spiritualism, and adventure.
You can find people of all age groups engaged in something or the other here. Whatever allures you to this place, be it the faith in god or the natural mysteries or an adventurous thrill, you can't miss to spend your vacations at these top destinations of Uttarakhand.
Here are some of the best places to visit in Uttarakhand
Rishikesh – the adventure and Yoga capital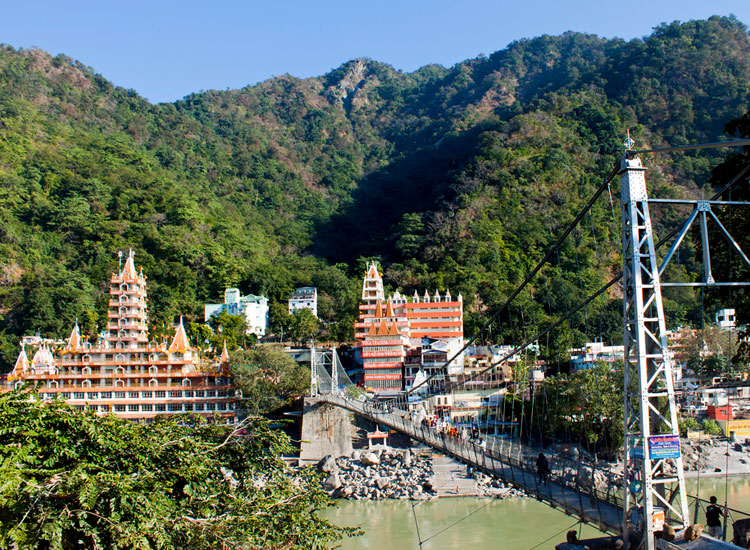 Rishikesh at the foothills of the Himalayas along the banks of River Ganga has some interesting pleasures for holidays in Uttarakhand. Go for exhilarating river rafting in Rishikesh, stay at beach camps, practice Yoga Asanas at ashrams with a perfect backdrop of mighty Himalayas or go exploring the mountains. This 'Yoga Capital of the World', holds International Yoga Festival and will never cease to amuse you with surprises at every turn.
What not to miss?
Ram and Laxman Jhula – Experience the thrill of swaying over the swiftly flowing Ganga.
The Beatles Ashram – Witness the best of the graffiti artwork.
Swarg Ashram – Meditation ground of famous Rishis.
Rajaji National Park – An expedition is incomplete without a jungle safari at this park.
Neelkanth Mahadev Temple – Pay homage to Lord Shiva at this famous sacred place.
Water sports adventures
Trekking up in the hills
[ Plan your holiday in Rishikesh with these customized tour packages ]
Also Read:
10 Best Camping Sites In India Where You Can Connect With Nature
Haridwar – Blessed by Ganga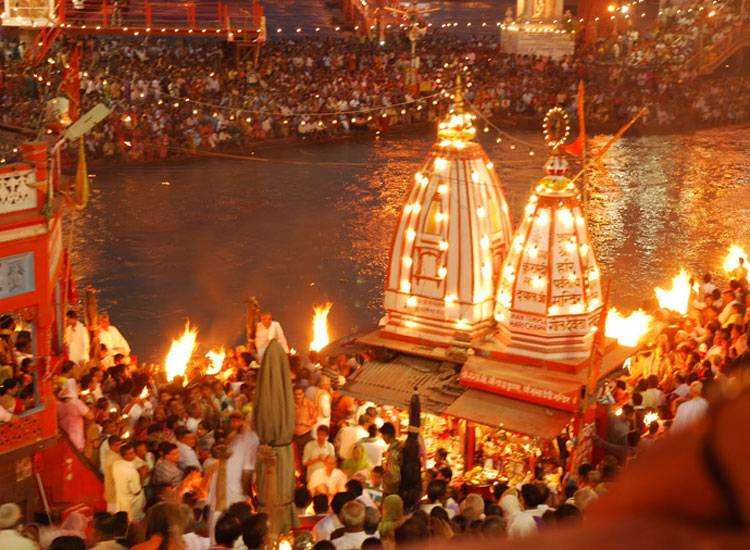 Wash away all your sins by taking a holy dip in the sacred Ganges River, Haridwar is one of the seven holiest cities for Hindus. Although the city remains vivacious throughout the year but the footfall is maximum during the Kumbh Mela, and the month of Saavan. Pilgrims from far and wide visit the Temples in Haridwar. Har ki Pauri, the river ghat is also one of the best places to visit in the town. It is the site of the mesmerizing Ganga aarti in Haridwar. Every evening, there is a worship ritual for the River Goddess. A million of tiny flickering lamps are floated in the river with sounds of bells and devotees and priests singing praises with full devotion.
What not to miss?
Ganga Aarti
Delicious food at famous Chotiwala
Ropeway ride to Chandi Devi and Mansa Devi
Boat Ride
Visit various temples with unique features of their own
[ Plan your holiday in  Haridwar with  our well customized tour packages ]
Kedarnath – the lord of the field
Are you planning on taking the Kedarnath Yatra? If yes then make sure that you are equipped with the right knowledge about your destination which will take you through one of the most divine and holy pilgrimages to this blessed temple.
Kedarnath is the highest and utmost among all Jyotirlingas. Kedarnath is a holy Hindu town located in Rudraprayag district of Uttarakhand in India and has gained importance because of Kedarnath Temple. Kedarnath has been a pilgrimage center since the olden times. It is one of the Char Dhams situated in the Himalayas. Kedarnath is located at an astounding height of 3584 meters above sea level near the head of the Mandakini River. On the way to Kedarnath, you will spot several striking sights, including the Vasuki Tal Mountain Lake and Gauri Kund. The Kedarnath Temple lies amongst the magnificent snow-capped Garhwal Himalayan ranges and is thronged by thousands of tourists each year.
Explore customized Kedarnath tour packages
What not to miss?
 Visit Shankaracharya Samadhi
Visit Sunset Point at the Chopta Valley
Gaurikund- the lake of compassion
Pray at Anusuya Devi Temple
Trek to Vasuki Taal
View the Himalayan Ranges
Pay a visit at the Triyuginarayan Temple
Enjoy Camping
Badrinath – the land of meditation and penance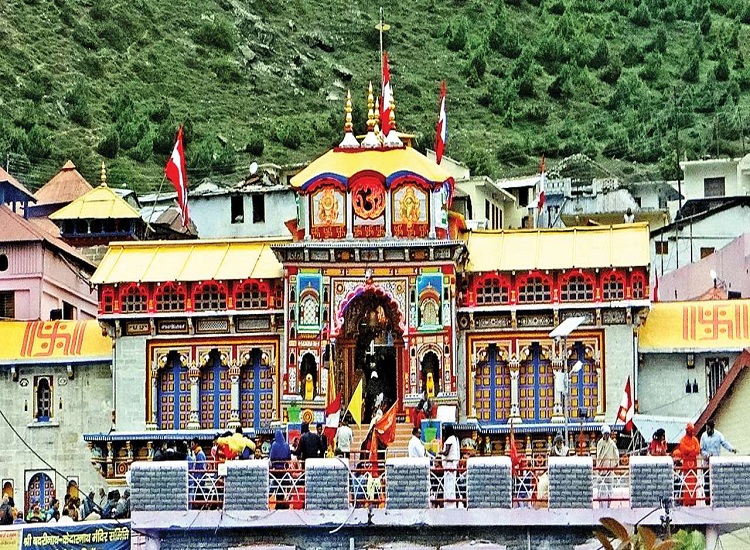 An old Indian proverb goes, there are many sacred spots of pilgrimage on the earth but there has been none equal to Badrinath. Indians, known for their religious fervor, lay special significance to this holy town. Badrinath Temple dedicated to Lord Vishnu is one of the four Char Dham pilgrimage Yatra and best places to visit in Uttarakhand. According to Hindu fable, God Vishnu sat in the meditation at this place. Positioned at the height of 10,279 feet, the temple is encircled by lofty snow-clad Himalayas with Alaknanda River flowing by. The spiritual significance and purity of Badrinath Temple appeal scores of devotees. Explore Packages
What not to miss?
Enjoy the amazing scenic beauty
Explore the beauty of Vasundhara Falls
Skiing in Auli
Sightseeing in Badrinath
Trekking in Badrinath
Glare at the Neelkanth- a major peak of the Garhwal region
Pay homage at the Charanpaduka
Bheem Pul – a natural stone bridge on River Saraswati
Visit Valley of Flowers National Park – a paradise for nature
loversSatopanth Lake – an enchanting water body
Dehradun – the capital city of the Uttarakhand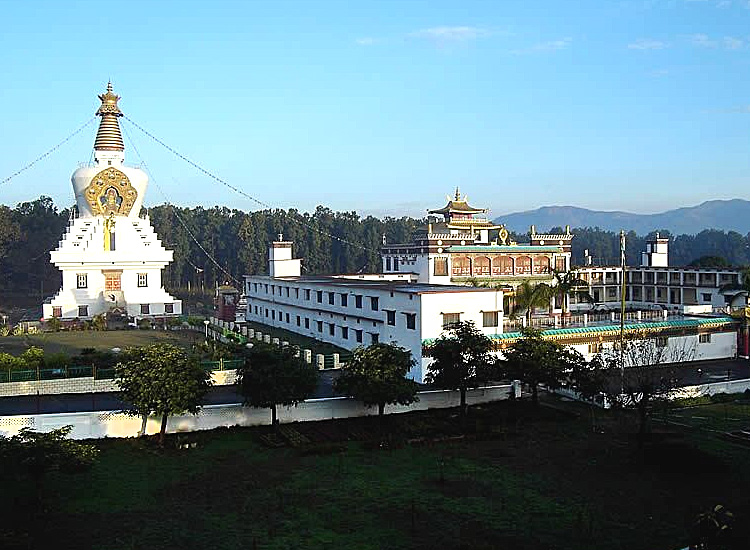 Dehradun grabs much of the attention due its picturesque location. The capital of Uttarakhand is a city of myriad pleasures. Snuggled in the Doon Valley, betwen the rivers Ganga and Yamuna, it's a city of unmatched picturesque beauty. It's the gateway to the scenic hills of Uttarakhand. The town has a number of monuments from the colonial days of the British Raj. Having plethora of options to explore, it also serves as the picnic spot for many. It is well connected with other destinations and thus is a halting point for a short yet sweet getaway. Explore holiday packages for  Dehradun
What not to miss?
Visit 6-sided Ghanta Ghar
Shopping at the Paltan Bazaar
Bow down at Nanaksar Gurdwara
Get the feel of Buddhism at Mindrolling Monastery
Take a dip at Sahastradhara to eliminate any skin disease
Spend time with family at Lacchiwalla
Paragliding
River rafting
Angling
 Nainital – gets its identity from mesmerizing Naini Lake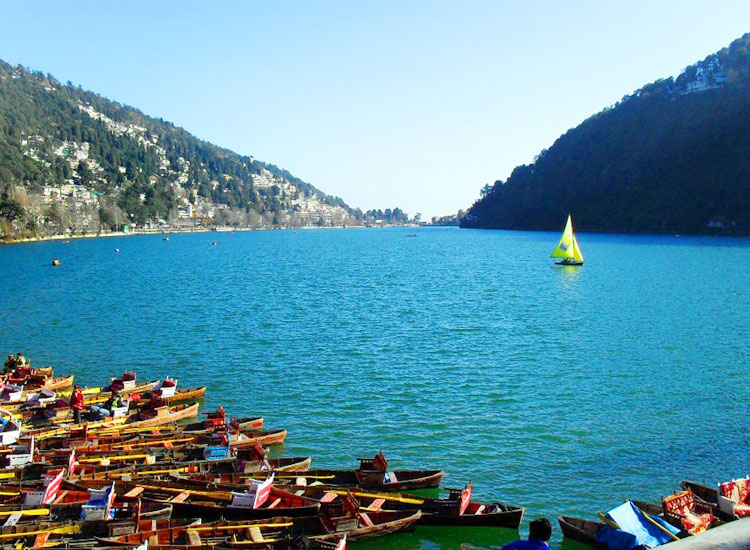 The City of Lakes, Nainital in Uttarakhand is one of the most popular places to visit in Uttarakhand. The city gets its name from Naini Lake, an awe-inspiring lake at the foothills of the mighty Himalayas present an exotic view. Nainital is a natural majesty. Snow covered mountains in backdrop, scenic beauty, lovely lakes and lush flora, grabs your attention instantly. Preferred by honeymooners and families alike, this serene hill station offers the best snowfall experience. ideal for honeymoon couples, families as well as nature lovers, it's one of best hill stations in India.
What not to miss?
Romantic boat rides
Visit to Naina Devi Temple
Ride in the cable car
Yachting
Savor Pahari cuisine or authentic Tibetan food
Angling
Enjoy snowfall at Snow View
Visit China Peak
Go to Tippin Top
Shopping at the local markets
[ Plan your holiday in Nainital with our best customized tour packages ]
Almora – commercial headquarter of Kumaon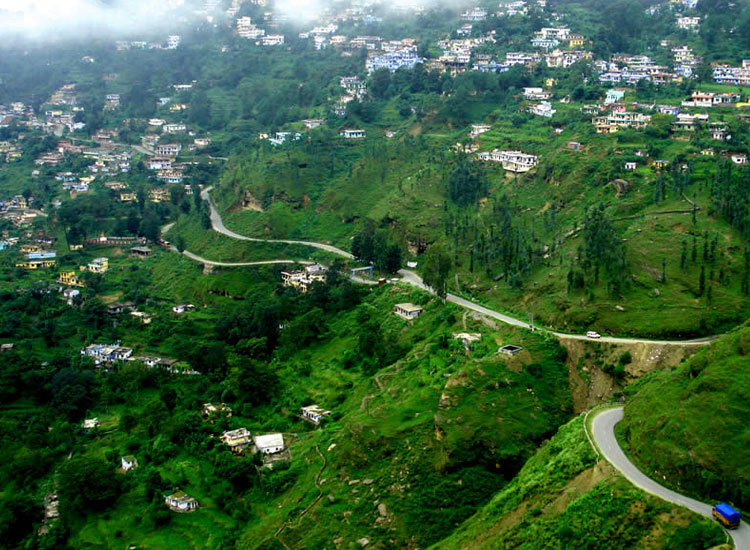 A magnificently beautiful offbeat place in Uttarakhand is Almora. Offering a soothing respite from the scorching heat, it is amongst the best summer destinations in India. Boasting of the architecture of colonial era, this commercial center is worth exploring. Nestled in the shape of a horse saddle, this hillock is dotted with Fir and Pine Trees.
What not to miss?
Pay homage at the Kasar Devi and Nanda Devi Temple
Shopping at 200-year-old Lala Bazaar
Buy Angora clothes
Witness the splendid views of sunrise and sunset at Bright End Corner
Visit Deer Park
Auli – best skiing destination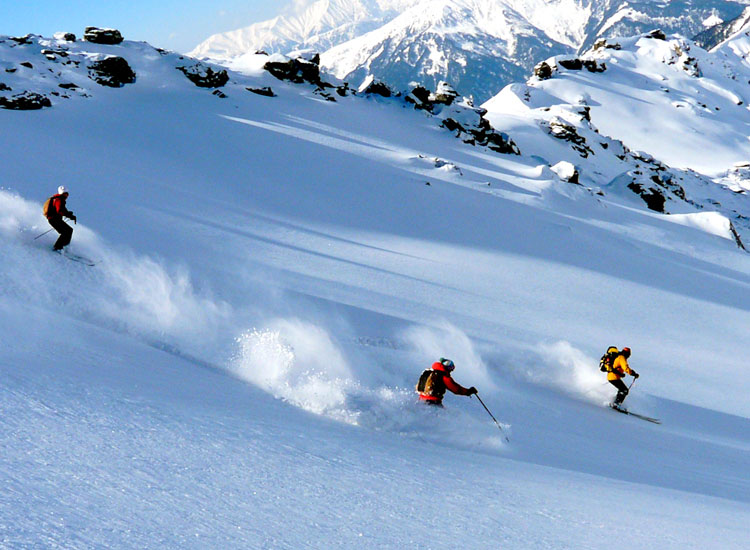 Auli can be titled as the 'skiing capital of India'. Beguiling snowfall lovers and adventure enthusiasts equally, it is the best place to learn skiing. This white wonderland is an ideal destination for a romantic honeymoon that lasts forever. And if you are planning a trip to Auli, then don't miss one of these honeymoon places in Uttarakhand for couples. It can also be visited for the never-ending fun and frolic with the family. Bounded by tall oak and coniferous forests, this Bugyal draws a scenic picture of the nearby mountain ranges.
What not to miss?
Skiing
Snowboarding
Mountaineering
Ride Asia's longest cable car that starts from Joshimath to Auli and vice-versa
Visit Trishul Peak
Unravel the secrets of Vansh Narayan Kalpeshwar
Visit world's highest manmade lake
[ Enjoy Skiing in Auli with our best customized holiday packages ]
Lansdowne – known for historical and architectural legacy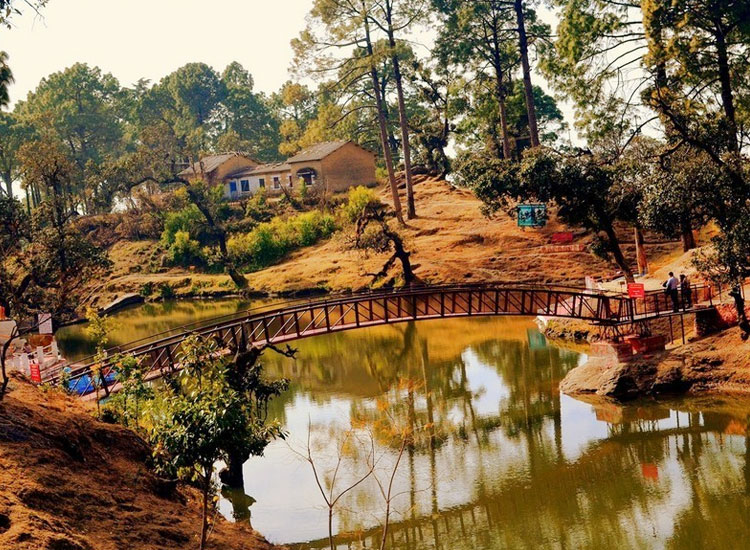 Ideal for spending summer vacations, Lansdowne was founded by Viceroy of India and also named after him. Bestrewed with pine forests, it is a tranquil and pollution-free destination. Being the Cantonment Area of Garhwal Rifles, this hill station is very clean and well-maintained. Pristine Himalayan beauty, snow cladded peaks and fresh air are some of the compelling factors to visit this place.
What not to miss?
Bhulla Lake – enjoy boating at this untouched and serene Lake
Set out for an exciting Jungle Safari
Bhim Pakora – Get astonished to see the perfect balance of two huge stones placed on each other
Darwan Singh Regimental Museum – Visiting this Museum is a matter of pride
Tarkeshwar Mahadev Temple – Siddha Peeth of Lord Shiva
Mussoorie – trip to Uttarakhand is never complete without visiting here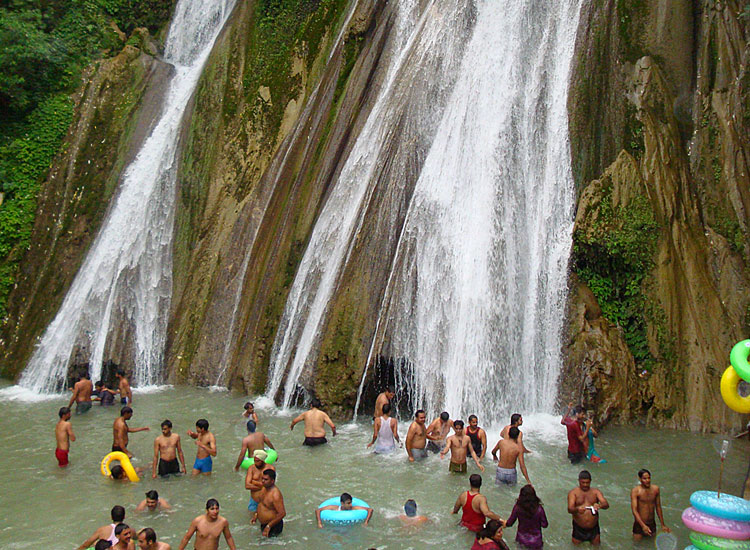 Mussoorie is the hotspot for people travelling to Uttarakhand. This 'Queen of hills' is the ultimate choice for the honeymooners. The exotic views of Shiwalik ranges and Doon Valley are visual treat to the eyes. A perfect confluence of natural splendor, stunning waterfalls and impressive colonial architecture, this hill station will never fail to amuse you.
What not to miss?
Lal Tibba – Get panoramic views of mountain trails
Lake Mist – One of the many nature's bliss
Kempty Falls ­– Dare to feel the chilly water straight from the snow covered mountains fall on your head
Cloud's End – End point of Mussoorie
Gun Hill – Delight in a cable car ropeway ride to this place
Paragliding
Nag Tibba Trek – Famous for trekking
Soham Heritage & Art Center – Get a glimpse of Himalayan culture
K Dev Bhoomi Wax Museum – Take a pic with the political leaders and celebs from all around the world
[ Plan your holiday in Mussoorie with our best customized tour packages ]
Also Read:
10 Most Popular Treks In India
Jim Corbett National Park – natural habitat of Royal Bengal Tigers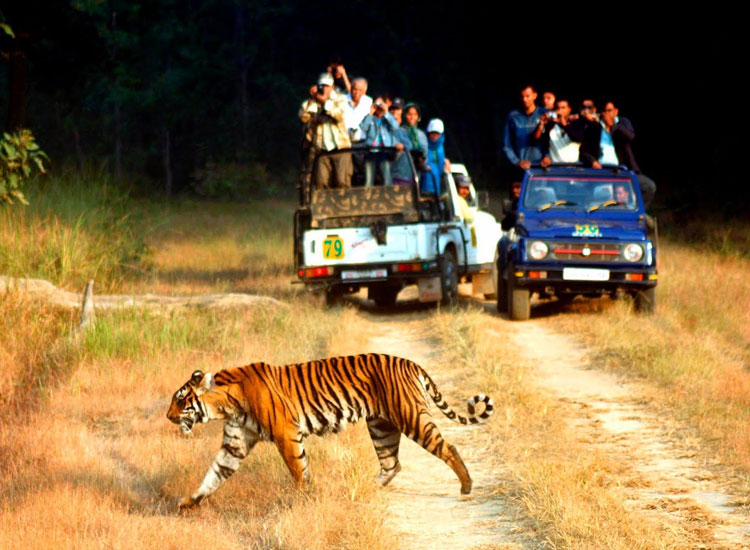 Noted for its Bengal Tigers, Jim Corbett National Park has rich flora and fauna. Spot the leopards, wild elephants and tigers wandering in the Dhikala Zone. Bountiful of nature and an escape from the hustle bustle of the metropolis, this wildlife sanctuary is a bliss for nature buffs and wildlife aficionados. Exquisitely engrossed by reverie belts, emerald hills, grasslands and waterholes, Corbett makes an ultimate kingdom of animals.
What not to miss?
Garjiya Devi Temple – Worship the Garjiya Devi at this Shakti Peeth
Jim Corbett National Museum
Corbett Falls – a small yet scenic waterfall
Elephant Safari
Jeep Safari
Canter Safari
[ Enjoy jeep safari in Corbett National Park with these customized packages ]
Also Read:
Where to go for Jungle Safari in India
 Binsar – perfect fusion of mythology and nature
The spectacular view of the Nanda Kot, Nanda Devi, Chaukhambha and Kedarnath will make you fall in love with this Binsar. It is a superb and serene getaway from the honking buzz of the city. Offering the best homestays, it is the ultimate place to get the complete insights about the 'Dev Bhoomi'. Zero Point steals the lime light for providing enthralling views of the Himalayan peaks.
What not to miss?
Sightseeing – Go for a nature walk and experience the one of a kind sightseeing
Photography – 'Shoot' anything and everything you like
Lazing around – Holidays are all about relaxing
Trekking – get engaged into trekking
Safaris to the Binsar wildlife sanctuary – This jungle ride will give you some of the best of the views of your life
 Ranikhet – Behold the breathtaking views of the Himalayas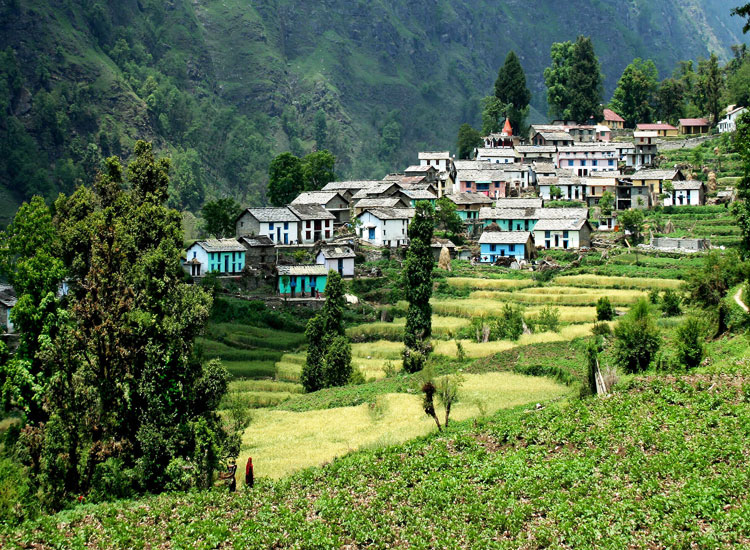 You are welcome in the snowy world of Ranikhet. Watch the backpackers wandering around the town, families having fun in the snow, newly wedded couples enjoying a romantic getaway. Being the Kumaon Regiment Centre, it has an unspoiled natural beauty. Lined with trekking trails, ancient temples and mountain peaks, this hill station can be visited in summer as well.
What not to miss?
Indulge in long walks visiting local tourist attractions
Partake in some popular tourism activities like adventure sports
Visit Jhula Devi Temples which consists of numerous bells
Trekking
Mountain biking
Rock climbing
White water rafting
Rappelling
[ Explore the tourist attractions in Ranikhet with these packages ]
 Munsiyari – paradise for bike riders
Munsiyari is the place to be for seclusion seekers and bikers. Being one of the offbeat destinations of India, this hill town offers supreme peace. Being the very own Kashmir of Uttarakhand, it pleases its tourists with revitalizing environment, numerous tremendous attractions and a silent whisper of wind. Fringed with Pine, Rhododendron and Deodar forests, this calm destination is apt for couples who don't want any disturbance in their privacy.
What not to miss?
Trekking
Beautiful sunset from viewpoint at Panchchuli Peak.
A hot water natural spring in Madkot
Bird watching
Skiing at Khalia Top
Kalamuni Temple – A kali temple dedicated to goddess Naga God
Tribal Heritage Museum – a perfect showcase of the culture, history, lifestyle and traditions of Bhotia people
Regardless of your interests or idea of amusement, these famous destinations of Uttarakhand offer most otherworldly experiences in India.
[ Explore Well Customized Uttarakhand Tour Packages ]
Related Post:
Places Which You Should Not Miss During A Holiday In Rajasthan
Top Holiday Destinations in Maharashtra where you want to visit
Don't Miss These 10 Best Places To Visit On Your Holiday To Kerala
12 Best Places To Visit Leh Ladakh