Inarguably, Sri Lanka is one of the most beautiful countries in the world. And when you are traveling here, there are some places you simply cannot forget to include in your itinerary. Here's our list of best places to visit in Sri Lanka to witness the sheer natural beauty, learn history, and indulge in memorable experiences.
Top 10 Tourist Places in Sri Lanka to visit in 2022:
Top Selling Sri Lanka Tour Packages
1. Colombo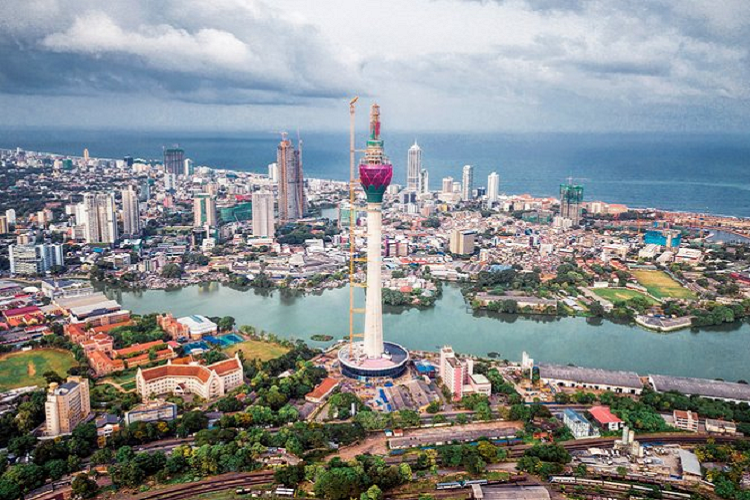 A blend of modern amenities and colonial history. A key stop on your tour, Colombo is filled with museums, beaches, and temples, out of which some stands since colonial times. Once a colony of Portugal, the Netherlands, and the British, a mix of these with Indigenous cultures can be seen in Colombo.
The influences can be seen in the food, architecture, and the arts as well. There's a vast beach area in the middle separating an area called Fort from the Indian Ocean. It's a city public playground you can visit on Friday and Saturday nights.
Experiences in Colombo
Explore the city on open deck bus
Relish authentic Sri Lankan delicacies
Walkthrough city's past at National Museum
Visit the floating market, Pettah
Do not miss the tuk-tuk ride
Indulge in Ayurvedic spa
Plan pre-wedding at photoshoot places in Colombo
2. Kandy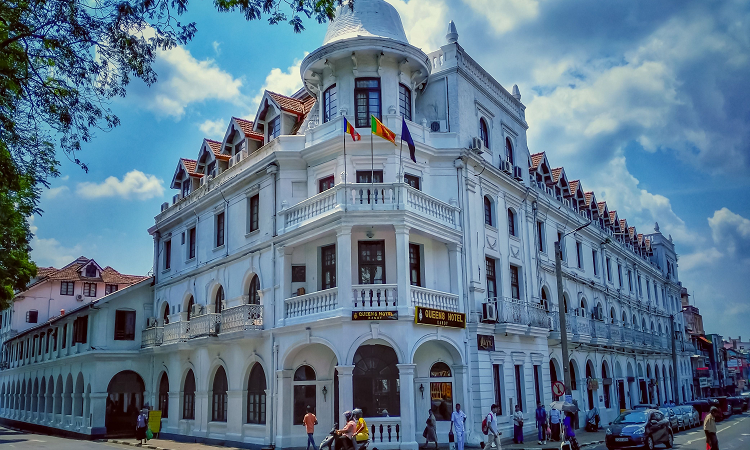 Experience Sri Lankan history like never before at Kandy! Being home to the National Museum, the Temple of the Sacred Tooth Relic, and more, there's a reason it's called the island's cultural capital.
At the heart of the city, you can spot Kandy Lake, one of the most beautiful places in Sri Lanka, for a peaceful refuge from the heat. Follow the hiking trails around the lake, dotted with shrines and temples. For someone who loves nature, the mountains surrounding Kandy are covered with tea plantations that offer tours and tea tastings.
Experiences in Kandy
Go hiking in the Udawatta Kele Sanctuary
Walk around the city capturing historical buildings
Visit the golden-roofed Buddhist temple
Stay at a rainforest resort
Catch Kandy to Ella train through tea plantations
Step foot in vintage Ceylon Tea Museum
Take a guided tour to Ranweli Spice Garden
[ Explore Sri Lanka Tour Packages ]
3. Galle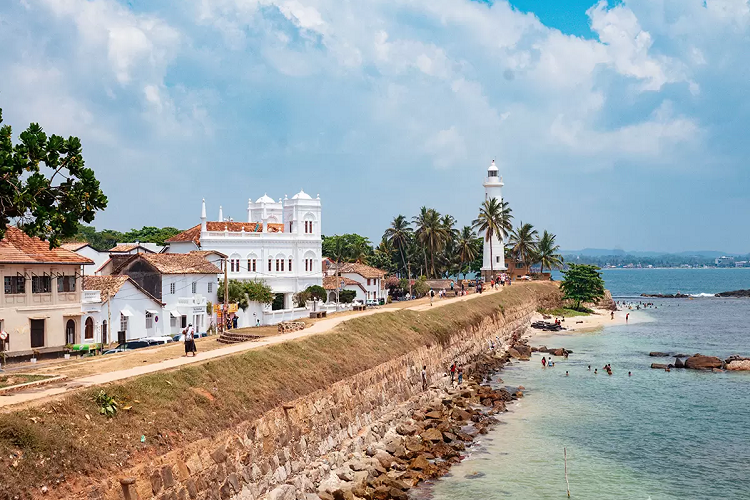 While the Dutch built streets and buildings, the Sri Lankans added color and culture. The city of Galle thus became a favored urban destination among travelers. About a 2-hour drive from Colombo, Galle is an important UNESCO-listed heritage site that is best explored on foot. In fact, the Galle Fort is a car-free zone, so you are guaranteed fresh air. Plus, you will be surrounded by clear sand beaches to go on leisurely strolls in the evening with your loved ones.
Experiences in Galle
Relax on the clear beaches
Take boat trips on Gin Ganga River
Enjoy tea tasting at Handunugoda Tea Estate
Learn about Sri Lanka's marine turtle beaches
Feed the elephants
Go whale and dolphin watching
Related post
4. Yala National Park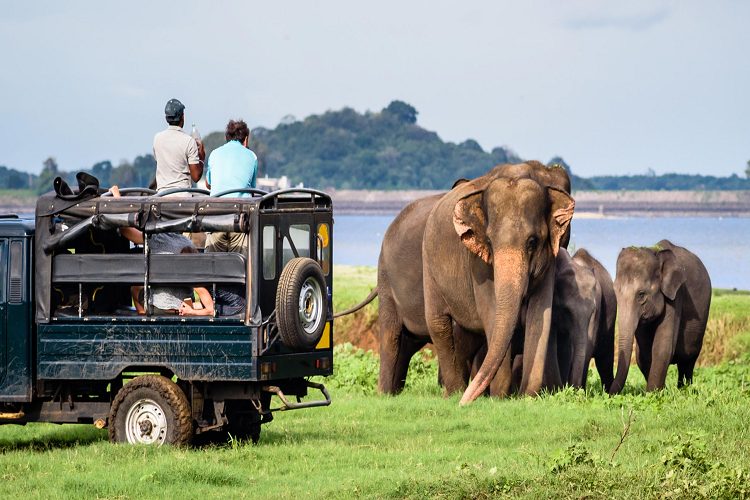 The Jungle Book in real life is what Yala National Park feels like! Among the best places to visit in Sri Lanka with family, this park with an area of 1268 sq. km, is home to rich wildlife. With trumpeting elephants, peacocks in their finest frocks, and monkeys jumping through the trees, Yala National Park is a must-visit on your Sri Lanka tour for an exotic wildlife experience. Asian Elephants can be seen along with rare leopards that are found in abundance here.
Experiences in Yala National Park
Learn birdwatching techniques
Learn how to spot animals in the wild
Enjoy morning and afternoon jeep safaris
Opt for luxury camping options
Track leopards, sloth bears, and elephants
Also read: The 8 Best International Budget Travel Destinations Under INR 40K In 2022
5. Polonnaruwa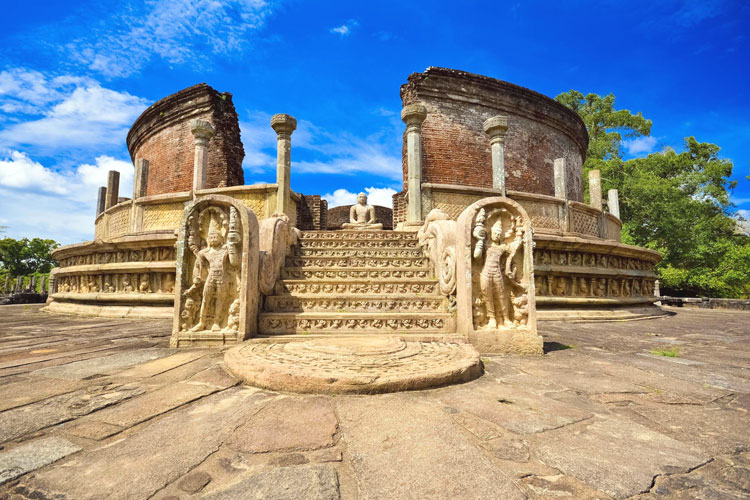 The thriving capital of Sri Lanka thousands of years ago, Polonnaruwa stands in ruins today. It is among the world heritage sites that were once the second capital city of the country built in the 11th and 12th centuries A.D. Although gardens, palaces, and temples are present, bicycles are the best way to go around Polonnaruwa. Interesting thing is that macaque monkeys have occupied the ruins since ancient times. Besides, a small town, a few miles away, has plenty of guesthouses, bike rentals, and cafés, where you can grab a cup of tea from.
Experiences in Polonnaruwa
Witness Buddha images at Gal Vihara
Take a short stroll of the Royal Palace ruins, Quadrangle
Explore hundreds of ancient structures
Go on a safari to Minneriya or Kaudulla National Parks
Discover trails of the wilderness at Rankot Vihara
Hire bikes to explore the town
Visit Thivanka Image House, home to the biggest brick structures in Polonnaruwa
6. Mirissa and the Southern Beaches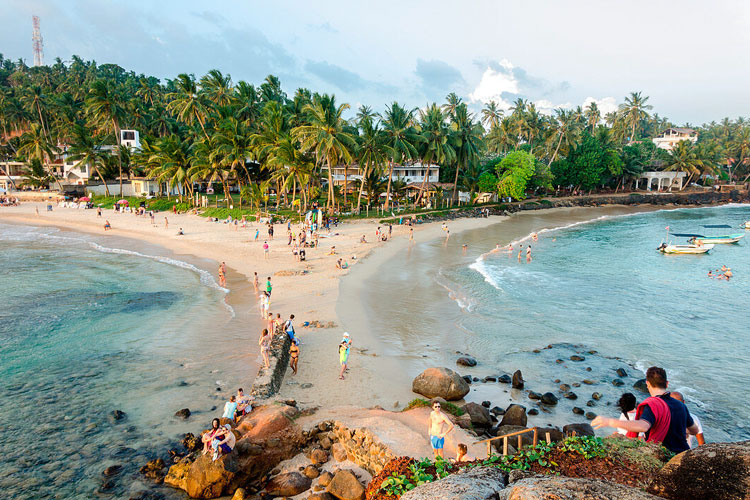 The Southern beauty, Mirissa has some of the prettiest and most famous beaches in Sri Lanka. Filled with eye-soothing scenery, it's that place you can visit for a relaxing beach holiday after exploring ancient sites and playing with elephants.
The stretch of powdered white sand set against turquoise waters with a drink in hand is the best way to enjoy Mirissa. Sunbathing, splashing in the surf with beach-bungalow accommodation, and happy-hour cocktails make it one of the best birthday party celebration places in Sri Lanka.
Experiences in Mirissa
Enjoy sunbathing on Secret Beach
Rent a motorcycle and explore Mirissa on your own
Visit a Snake Farm
Snorkeling at Turtle Beach
Watch the ocean waves passing from Coconut Hill
Bar-hopping at Mirissa Beach
Also Read: 8 Best Places to Travel in April on a Budget Outside India
7. Sigiriya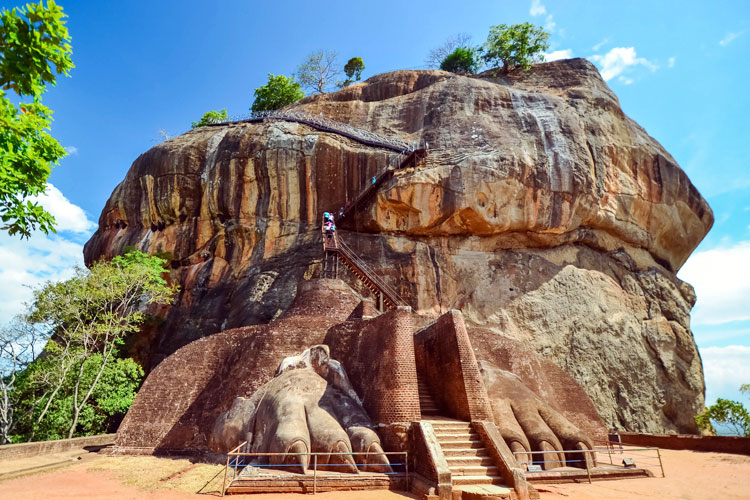 The absurdity of Sigiriya's construction makes it the single most dramatic sight of Sri Lanka. Walls built high to a flat-topped summit with ruins of an ancient palace, Sigiriya is thought to be the center of the short-lived kingdom of Kassapa. It is one of the best places to visit in Sri Lanka, which impresses the visitors with its 1,500 years of history and complex structure. Early morning vistas here are breathtaking. You can even trek up the hills for unbeatable views of Sigiriya that leave cast a spell on you.
Experiences in Sigiriya
Climb Sigiriya Rock or Lion Rock
Witness scenic views from Pidurangala Rock
Under the rock's historical importance at Sigiriya Archaeological Museum
Enjoy a day tour to Minneriya National Park
Explore Sigiriya town on a cycle
Witness panoramic vistas on a hot air balloon ride
8. Nuwara Eliya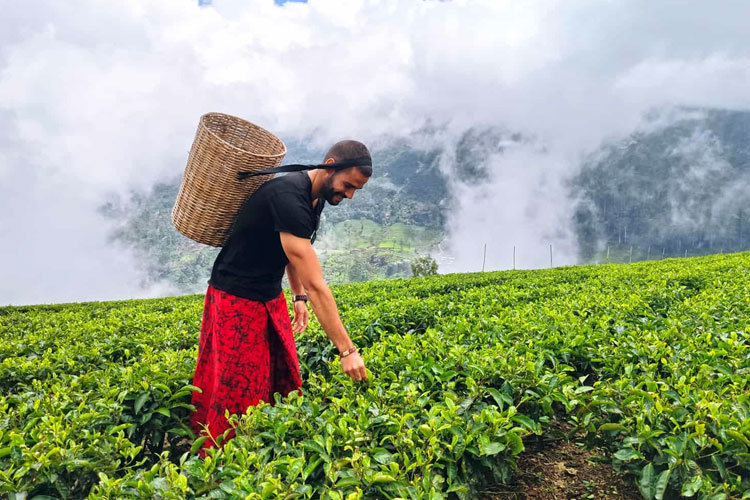 The rose-tinted, vaguely British look earns Nuwara Eliya the title of 'Little England'. It was once the favored escape for the hard-working and hard-drinking English and Scottish settlers of Sri Lanka's tea industry. For relaxation, Nuwara Eliya is one of the best places to visit in Sri Lanka in August to get a respite from the scorching heat. Also, the lush green surroundings of tea plantations and craggy hills are gorgeous. Stay in colonial hotels and play a round of billiards for a fun getaway to this Sri Lankan beauty.
Experiences in Nuwara Eliya
Soak up the city's bygone heritage
Stay in a colonial hotel
Walkthrough lush green tea estates
Take 5 km trek to Lovers Leap
Visit the colorful Seetha Amman Temple
Explore the city's best maintained Victoria Park
Tour the smallest Galway's Land national park
9. Anuradhapura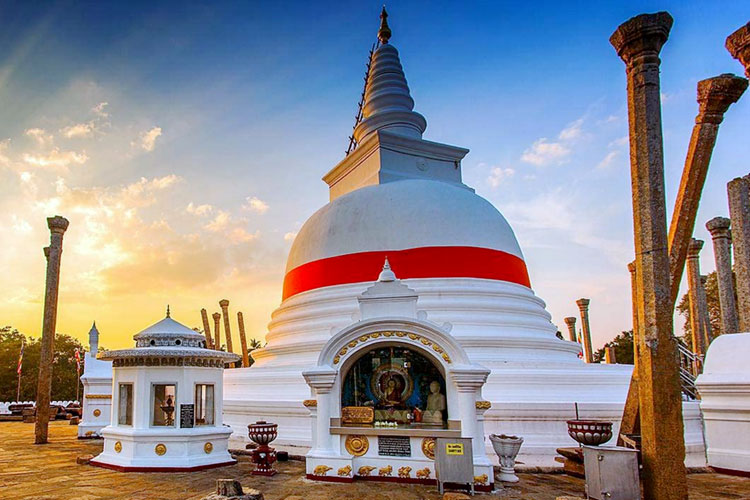 Home to stupas, ruined monasteries, and sacred tanks, Anuradhapura is a ruined ancient site where Buddha attained enlightenment some 2000 years ago! It is where the spiritual history bubbles in Sri Lanka and, thus, is one of the best places for a trip in Sri Lanka. Sri Maha Bodhi, a tree grown from a cutting taken from the tree that sheltered Buddha, is one of the world's oldest trees. Modern structures are adjacent to the ancient old, so you will not be stuck with things to do.
Experiences in Anuradhapura
Day trip to Mihintale for more stupa spotting
Visit the 2000-year-old Brazen Palace or Lovamahapaya.
Witness one of the largest stupas here, Ruwanweliseya
Visit the Archeological Museum to see artifacts, carvings, and ancient everyday items
Enjoy the breathtaking sight of Abhayagiri Vihara
10. Bundala National Park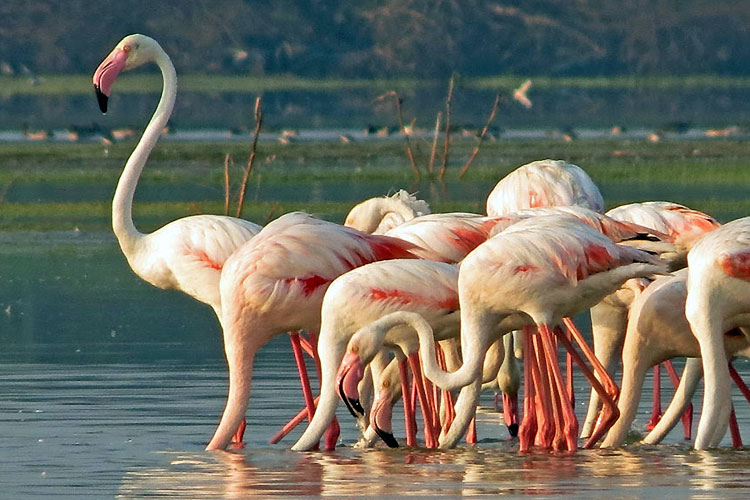 Apart from elephants, Sri Lanka also houses exotic species of birds, and Bundala National Park is one of the best places to visit for bird-watching in Sri Lanka. Enjoy the fantasy landscape of islets and lagoons with shimmery waters. Along with the unmatched beauty, huge flocks of migratory birds can be seen between December to March here, coming from as far away as Siberia. Besides crocodiles, elephants, and sea turtles are other species found at Bundala National Park.
Experiences in Bundala National Park
Catch the sight of colorful birds
Enjoy vehicle safari
Camp inside the national park
Sri Lanka Holiday Packages
Conclusion
Journey to one of the planet's most beautiful places, Sri Lanka, and enjoy sightseeing tours along with immersive experiences. The best places to visit in Sri Lanka exhibit the best of the country, from wildlife to ancient sites that you may have never seen before. To plan a Sri Lanka tour more efficiently, choose Tourism of India's Sri Lanka tour packages and catch the flight worry-free. At the same time, we take care of all your needs, including meals, transfers, accommodation, and experiences.