Chardham Yatra consists of four major pilgrimage sites in Uttarakhand – Gangotri, Yamunotri, Kedarnath, and Badrinath. All of them have diverse routes, be it from Delhi, Rishikesh, Haridwar, or Dehradun. You can start your spiritual journey from any one of these places as they are well-connected by motorable roads as well as flights with major Indian cities.
Hindu mythology says that the Chardham yatra is auspicious and should be done clockwise i.e. from West to East. The yatra starts from Yamunotri followed by Gangotri, Kedarnath and Badrinath respectively. You can cover the yatra by road or by helicopter and it allows you to trek through the way to explore adventures on the yatra as well.
In this blog, we have discussed in detail the routes of Chardham Yatra with which you can plan your journey better.
Here are the Complete Details about Char Dham Yatra Routes
How to reach Chardham Sites
The dhams Badrinath and Gangotri can be reached directly by road from Rishikesh, Haridwar, Kotdwar, and Dehradun. For Yamunotri, there is a trek you have to take from Janki Chatti (approx. 210 km from Rishikesh). Similarly, for Kedarnath, a trek starts from Gaurikund (93 km from Rishikesh).
Chardham Yatra Routes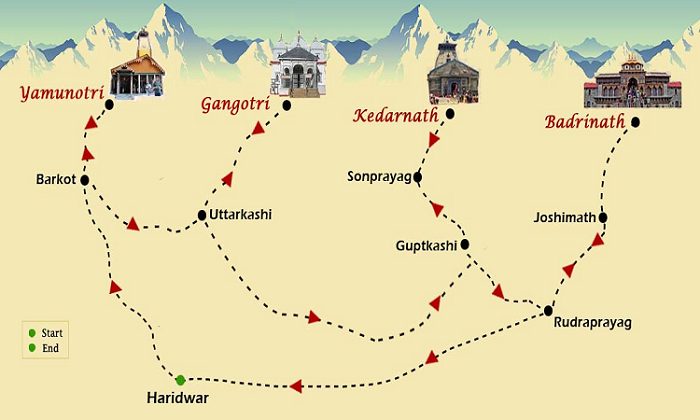 Char Dham Temple: Yamunotri -> Gangotri -> Kedarnath -> Badrinath
These four pilgrimage sites cover a total of approx. 1,607 km starting from Haridwar and ending at Rishikesh. You can also begin your Chardham Yatra from Delhi also.
Here is a 9 day Chardham Yatra route in itinerary –
Day 1: Haridwar – Barkot (220 km, 7 hours)
Day 2: Barkot – Yamunotri (36 km by road, 7 km by trek)
Day 3: Barkot – Uttarkashi (100 km, 4 hours)
Day 4: Uttarkashi – Gangotri (100 km, 4 hours)
Day 5: Uttarkashi – Rudraprayag (180 km, 7 to 8 hours)
Day 6: Rudraprayag – Kedarnath (74 km by road, 20 km by trek)
Day 7: Rudraprayag – Badrinath (160 km, 6 to 7 hours)
Day 8: Badrinath – Rishikesh (297 km, 10 to 11 hours)
Day 9: Rishikesh Departure
Here are the routes of each of the four pilgrimage sites in Uttarakhand, some important places to visit, and a route map to reach them. Take a look at Char Dham Yatra Routes!
Badrinath Dham Route Map
Route to reach Badrinath – Delhi – Haridwar – Rishikesh – Devprayag – Srinagar – Rudraprayag – Karnaprayag – Nandprayag – Chamoli – Joshimath – Badrinath
Elevation: 3,300 m
Location: Left of Alaknanda River
Dedicated to: Lord Vishnu
Places to Visit Near Badrinath Temple –
Pandukeshwar
Yog Dhyan Badri Temple
Mana Village
Neelkanth Peak
Mata Murti Temple
Bheem Pul
Ganesh Cave
Brahma Kapal
Vyas Cave
Kedarnath Dham Route Map
Route to reach Kedarnath – Delhi – Rishikesh – Devprayag – Srinagar – Rudraprayag – Tilwara – Agastyamuni – Kund – Guptkashi – Phata – Rampur – Sonprayag – Gaurikund – Rambara Bridge – Lincholi – Kedarnath
Elevation: 3,553 m
Location: Near Mandakini River
Dedicated to: Lord Shiva
Places to Visit Near Kedarnath Temple –
Gandhi Sarovar
Triyugi Narayan Temple
Chandrapuri
Kalimath
Vasuki Tal
Shankaracharya Samadhi
Gangotri Dham Route Map
Route to reach Gangotri – Delhi – Rishikesh – Tehri – Uttarkashi – Bhatwari – Gangnani – Harsil – Gangotri
Elevation: 3,200 m
Location: Banks of Bhagirathi River
Dedicated to: Goddess Ganga
Places to Visit Near Gangotri Temple –
Bhojbasa
Kedartal
Gaumukh
Bhaironghati
Tapovan
Jalmagna Shivlinga
Yamunotri Dham Route Map
Route to reach Yamunotri – Delhi – Rishikesh – Narendranagar – Chama – Brahmkhal – Barkot – Sayana Chatti – Hanuman Chatti – Phool Chatti – Janki Chatti – Yamunotri
Elevation: 3,291 m
Location: Close to the source of the Yamuna River
Dedicated to: Goddess Yamuna
Places to Visit Near Yamunotri Temple –  
Saptrishi Kund
Divya Shila
Surya Kund
Hanuman Chatti
Kharsali
Chardham Yatra in Helicopter
If you want to enjoy the aerial views of the holy sites in India, book a Chardham yatra package by helicopter. Board the helicopter from Dehradun to Yamunotri, and from there, enjoy the tour to Badrinath by helicopter over the course of 6 to 7 days.
Here is the schedule of Chardham Yatra Routes by Helicopter –
Dehradun to Kharsali by Helicopter 
Departure from Sahastradhara Helipad in Dehradun by helicopter
Arrival at Kharsali Helipad in Yamunotri
Kharsali to Harsil by Helicopter 
Departure from Kharsali Helipad in Yamunotri by helicopter
Arrival at Harsil Helipad in Gangotri
Harsil to Kedarnath by Helicopter 
Departure from Harsil Helipad in Gangotri by helicopter
Arrival at Kedarnath Helipad (Base Camp)
Kedarnath to Badrinath by Helicopter 
Departure from Kedarnath Helipad by helicopter
Arrival at Badrinath Helipad
Badrinath to Dehradun by Helicopter 
Departure from Badrinath Helipad by helicopter
Arrival at Dehradun Helipad
Book our 5 Nights 6 Days Chardham Yatra by Helicopter Tour Package
Accommodation Facilities throughout Chardham Yatra Routes
There are numerous ashrams and dharamshalas where you can get accommodation at reasonable rates. Along with this, many privately-owned hotels have basic facilities and amenities. If you are looking for luxury stays, there aren't so many on the Chardham Yatra route.
GMVN, or Garhwal Mandal Vikas Nigam provides budget stays with a range of hotels, bungalows, and tourist rental houses in Uttarakhand. Hotels are also available by GMVN on the routes of Chardham Yatra in serene locations.
Food Options on Chardham Yatra Routes
Food has not much variety and is basic but healthy. You will only get vegetarian food with no onions and garlic, especially in the vicinity of the temples, particularly Yamunotri. You will find cauliflower, cabbage, and potatoes in a normal sabzi.
Tips for Chardham Yatra –
Check the weather booking the tour.
Be kind to fellow yatris.
Cover your head and remove your clothes before entering the temple.
Wear a sturdy pair of shoes for easy walking.
Avoid wearing sarees as they will cause a hindrance in walking (not necessarily).
Do not litter on the Chardham Yatra. Keep Mother Nature clean.
Stay close to other yatris.
Pack heavy woolen clothes as the weather is cool at all times. Dress in layers.
Pack moisturizer, hand creams, and sunscreen to protect the skin from sunburn.
Keep a medical kit with painkillers, some antibiotics, and basic medicines for cough, cold, and fever.
Keep some snacks with you, like biscuits, glucose, dark chocolates, candies, etc.
Prepare well for the Chardham Yatra, as it is one of the most difficult yatras in India, and you need to be physically and mentally fit for it.
Carry extra batteries for your camera; electricity is unavailable in remote areas.
Avoid coming to this yatra in the monsoon season as it may cause landslides and road blockage.
If photography is prohibited in some places, respect that. And if not mentioned, always take permission.
It is best to book your hotels in advance before the opening dates of the temples to avoid the rush of pilgrims and last-minute hassles.
Alcohol consumption during the yatra should be avoided.
This was the detailed guide on Chardham Yatra Routes. You can visit these pilgrimage spots individually, or book Do Dham tour packages from Tourism of India. Chardham Yatra's complete tour is also available on our website, which you can check out and choose the one you like. You can complete the yatra by road or choose helicopter services. Contact us directly or drop in a query so that our travel experts can help you plan the Chardham yatra as per your needs and budget.
You can book Chardham Package From Delhi , Bangalore, Mumbai, Ahmedabad and Hyderabad
Also Read:
Opening and Closing Dates of Chardham Yatra in 2022
Chardham Yatra Registration in 2022