The Maldives feels like staying in a postcard because of its overwater villas, azure waters, lush white-sand beaches. However, if you are a watersports aficionado, scuba diving in Maldives is one of the best activities to do! Descend deep into the deeper pocket of the Indian Ocean at Maldives on a scuba diving excursion.
Explore caves, shipwrecks as there are 26 atolls, 200 inhabited islands, 80 private island resorts fringed with coral reefs, and turquoise blue lagoons. Simultaneously, the diving environment of Maldives is diverse, including wreck diving, drift dives, reef dive, irrespective of the diving experience you have. Scuba diving in Maldives in the interiors of the atolls is like diving in the protected lagoon environment, making Maldives one of the best spots for inexperienced divers.
How to Navigate the Maldives Scuba Diving Guide
Honestly, there's a lot to learn about scuba diving in Maldives. And we know we are going to leave a lot out. But still, we are giving our best shot at covering all the significant aspects of scuba diving in Maldives for someone who wants to enjoy diving into the deeper pockets of the Maldives sea. Therefore, we have broken our scuba diving guide to the Maldives into 9 chapters. Here's is the things we will cover in our guide.
Am I allowed to Dive As A Non-Swimmer?
Yes. But there are limits to what you can do. The best you can do is take a diving course and embrace that diving knowledge for the rest of your life.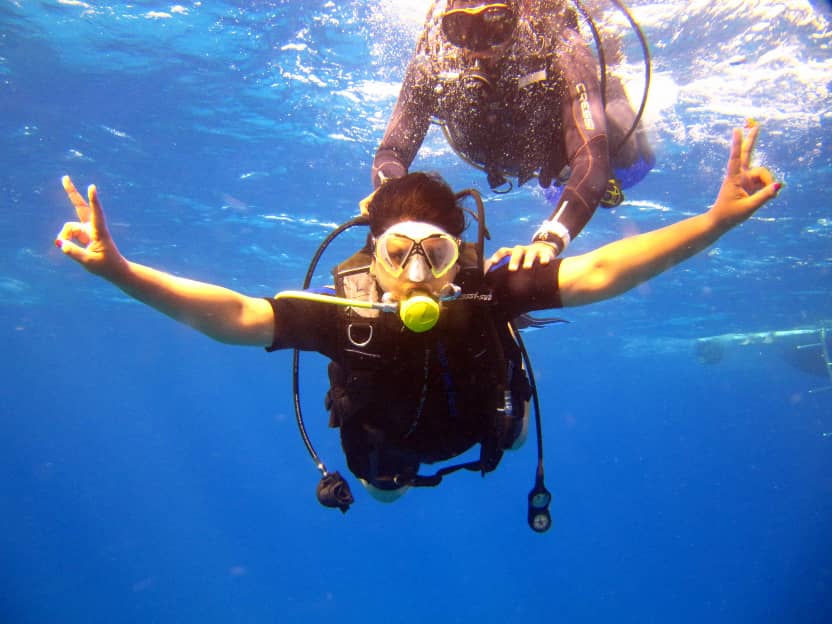 It is safe to scuba dive under the PADI Certified dive centers. All you need to do is learn the diving techniques, and you must not have a phobia of water.
2. Duration of Scuba Diving in Maldives
Most scuba diving in Maldives is held for around 3-40 minutes, depending upon the depth and diver's ability.
3. When is the Best Season for Scuba Diving in Maldives?
Majority of tourists claim that the best season for scuba diving in Maldives is the dry season and anytime between November to April. This is the season when the rain chances are minimal, and the underwater visibility is excellent.
Read Also: Facts About Maldives
4. Featured Marine Creatures to Witness on Scuba Diving Excursion in Maldives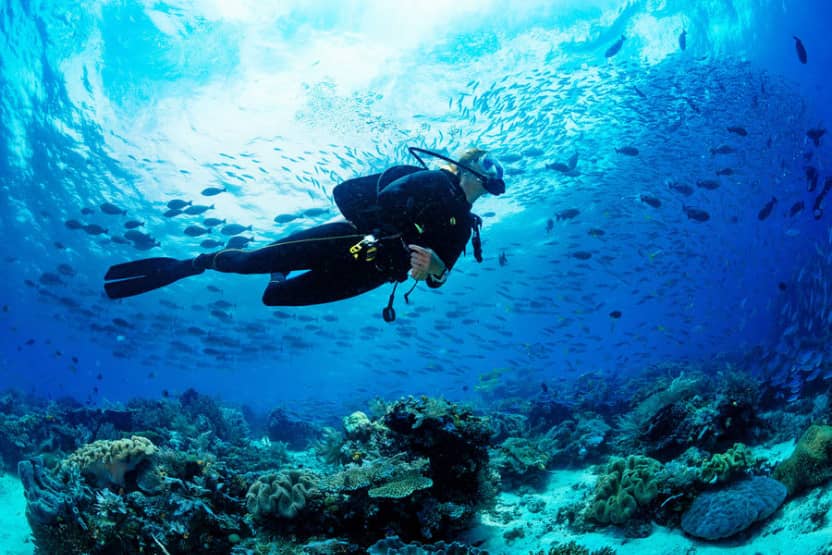 Whether you go on scuba diving and snorkeling excursions, the underwater world of Maldives is patrolled by the red tooth triggerfish, white tip reef sharks, hammerhead sharks, clownfish, napoleon wrasse, and cow tail stingrays. All these marine creatures below the sea bed can be enjoyed at their best when you choose to dive under the supervision of the certified PADI dive center at the local or private island resorts.
Read Also: Places to visit in Maldives for honeymoon
5. The Average Cost of Scuba Diving in Maldives
It depends on where you are diving at. For instance, the cost of scuba diving in the Maldives is often budget-friendly in comparison to the private island resorts. Accordingly, the average cost of scuba diving in the Maldives starts at USD 50 onwards to USD 150. This is the cost inclusive of the boat transfer diving gears.
Read Also: Beach Villas for couples in Maldives
6. Does Maldives Have Good Water Temperature for Scuba Diving?
Yes! You can dive into the warm waters of Maldives throughout the year as the water temperature ranges around 82°F (28°C).
7. Minimum and Maximum Depth of Scuba Diving in Maldives
The maximum depth of scuba diving in Maldives is 30 m. But there are some dive centers where the depth limit for scuba diving is 60 ft. Travelers need to obtain advanced open water certification to dive into the much deeper pockets of the Maldives sea.
Read Also: Overwater Bungalows in Maldives
8. Places for Scuba Diving in Maldives | Best Dive Resorts in Maldives
One will be spoiled with the scuba diving destinations of Maldives because the whole island nation has shallow, warm waters. But still, not all the places in Maldives are suitable for divers. So how do you decide which diving site in the Maldives is suitable for you? We have done the hard work for you! Scroll on to find the best scuba diving spots in the Maldives that are resorts, atolls, islands: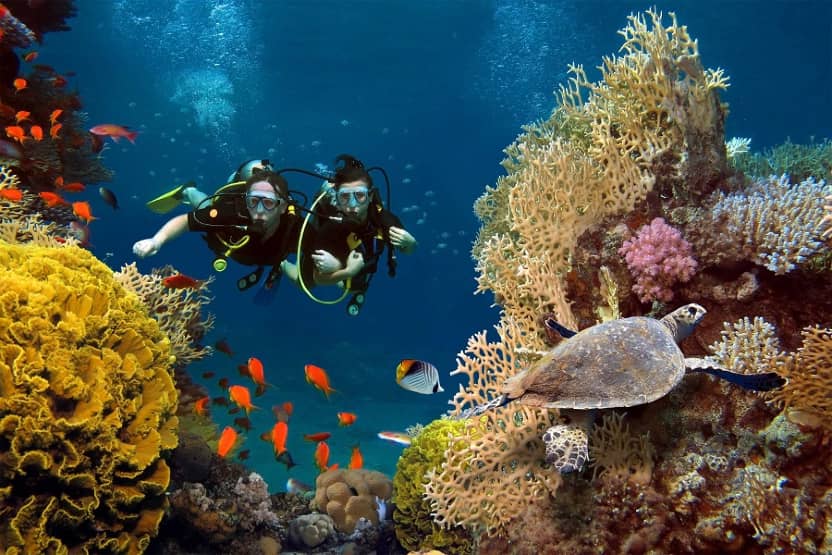 Mava Thila
Descent deep into the deeper pockets of the Indian Ocean at Mava Thila. It is undoubtedly the best diving site in Maldives. You will find these places rich in coral reefs and diverse fishes like clownfish, parrotfish, and manta rays too. Here scuba diving is performed beneath the sea surface at a depth of 5 m to 30 m depending on the scuba diving ability of the diver. The best thing about diving in Mava Thila is that night diving at a few private island resorts is conducted under the expert's supervision.
Read Also: Things to do in Maldives
Sun Island in South Ari Atoll
If you want to swim with the white tip sharks, head to Sun Island in South Ari Atoll. Here, the dive centers let inexperienced divers dive into the pockets of below 5-10 meters (approx.). Encountering the colorful corals at Sun Island is a wonderful experience, and you can also indulge in the certified diving courses tailored to all levels of scuba divers.
Kuramathi in Rasdhoo Atoll
This local inhabited island in Rasdhoo Atoll is packed with one of the best diving sites. The USP of Kuramathi Island is a local island, but still, sand is powdery white. The length of the house reef at Kuramathi is 1 km, and encounters with black and white tip sharks here in the underwater world can be enjoyed at their best during the northeast monsoon.
Read Also: Best Island in Maldives for honeymoon in Maldives
Fesdhoo Wrack
Located just off the coast of Fesdu island, this is one of Maldives' most popular scuba diving sites for a reason. This scuba diving spot is the shipwreck site, which makes the entire ship surrounded by hard and soft corals and diverse marine fishes like lionfish, parrotfish, eagle fish. And if you are lucky, you will also find the white tip sharks at Festo Wrack.
Banana Reef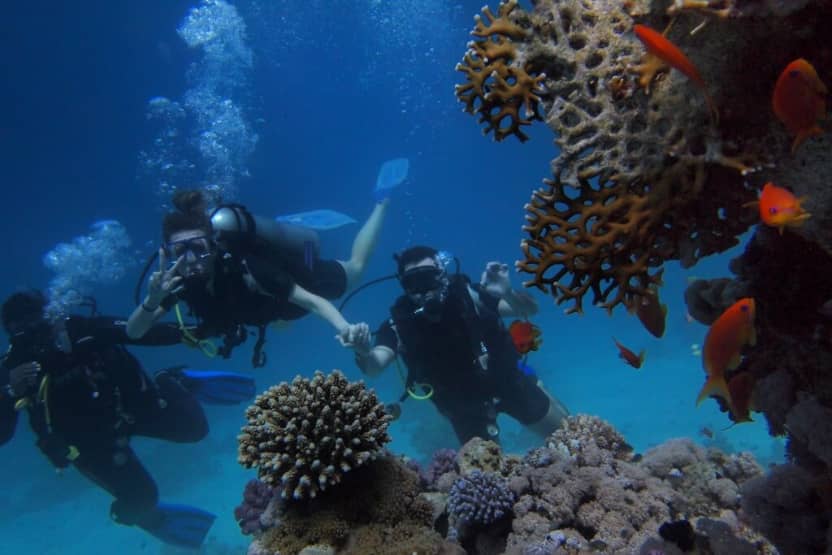 This reef in Maldives is one of the best scuba diving sites because the whole reef is shaped in a banana. Here you can dive deep below 5 to 30 m to see the colonies of hard and soft corals. Put on your diving gears to witness eels, bannerfish, parrotfish, stingrays, manta rays.
Read Also: Best Beaches in Maldives
Kuredu Resort and Spa
Board a seaplane from the Male international airport to reach Kurdu Resort and Spa in Lhaviyani Atoll. This private island resort has been a hit amongst the divers for 20 years. You will enjoy diving in this atoll between May to November. From eagle rays to tuna and gray sharks, marine life is endless at Kuredu Resort and spa.
Fotteyo Kandu
Christened for its sheer excellence because the dazzling underwater world here teems with soft and hard corals, Fotteyo Kandu scores its place in the rundown of the famous scuba diving site in the Maldives. Divers can literally swim through the caves between 20-45 m of depth. Fotteyo Kandu is the best diving site in Male for experienced divers between December to May. You can ask the diving center to arrange underwater photography so you can flaunt yourself near the titan fish, clownfish, surgeonfish.
Read Also:
Six Senses Laamu
Six Senses Laamu in the Maldives is one of the best scuba diving resorts in Maldives in Laamu Atoll. It has its own island inside an atoll, and Six Senses Laamu is a 5-star dive center that focuses on providing outstanding jumps into the deeper pockets of the Maldives Sea.
If traveling with your family, this private island resort provides dive courses to youths between 8-10 years. Lastly, divers can ask for the private diving season with the instructor's undivided attention. Nothing is quite compared to the allure of witnessing coral gardens distinct fishes below the sea bed at Six Senses Laamu.
Baa Atoll
Baa Atoll is a UNESCO Biosphere Reserve where you can witness the world's greatest congregation of manta rays and whale sharks. Hanifaru Bay has white sharks that you will love to witness on a guided excursion.
This Maldives atoll has a distinct charm because underwater marine life visibility is excellent. You will find whale sharks, sea turtles, ghost pipefish, giant frogfish all year round at Baa Atoll. The diving depth at Baa Atoll is suitable for both experienced divers and non-experienced ones. The diving depth is approx 5-30 m.
Read Also: Resorts in Maldives for Honeymoon
9. Scuba Diving in Maldives : Tips You Can't Afford to Ignore
Some diving sites are busier than others in peak tourism season. So plan accordingly.
Optimize your limited vacation time by staying close to the local diving center.
Dive with the reputable diving center and avoid going to the cheapest option.
Ask your dive center before the jump if the diving gear cost is included in the package to avoid last-minute surprises.
24 Utterly Interesting Facts About Maldives You Must Know Before You Go
Faq's About Scuba Diving in Maldives
Q. Can I dive into the Maldives all year round?
Ans: Yes! Diving in Maldives is possible all year round, even in the wet season, but only if you are an experienced scuba diver.
Q. What are some popular diving sites in the Maldives?
Ans: From Fish Head to Banana Reef, from Maanta Point to Maaya Thila, there are dozens of popular diving sites in the Maldives.
Q. Does North Male atoll have any diving sites?
Ans: Yes! North Male Atoll is home to the Maldives, one of the best diving centers where multi-colored corals can be spotted.