Planning a trip to Vaishno Devi from Delhi? This guide is for you. We have compiled a list of things you must know before you embark on a journey from Delhi to Vaishno Devi Temple in Katra.
Complete Information about Delhi to Vaishno Devi Journey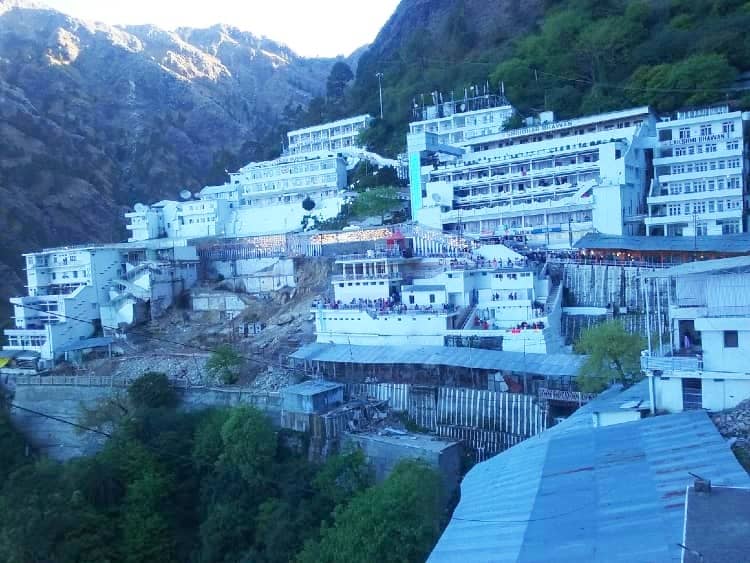 Delhi to Mata Vaishno Devi Road Route
Delhi to Vaishno Devi (Katra Route) via NH 44: Delhi – Panipat – Karnal – Kurukshetra – Ambala – Ludhiana – Jalandhar – Pathankot – Jammu – Katra
The road trip to Vaishno Devi temple starts from Delhi and ends at Katra. You can either take your own vehicle or opt for public transportations services from Delhi to Vaishno Devi like car, buses and taxis.
Starting from Delhi the journey will continue via NH 44 and NH 1A, which are surrounded by beautiful landscapes. The cities covered in Delhi to Katra route include Karnal, Ludhiana, Pathankot, and Jammu.
To break the journey for rest, stay in Chandigarh or Ludhiana for one night, rest, and then proceed for the trip ahead. The total distance covered to Vaishno Devi from Delhi will be approx. 650 km. From Katra base camp, you need to trek 12 km (one way) to reach the Vaishno Mata Bhawan.
Ponies, palkis, and battery cars can also be booked online and offline for the 12 km trek to reach Maa Vaishno Devi.
How to Reach Vaishno Devi From Delhi
Here are different ways to reach Maa Vaishno Devi from Delhi –
Travel to Vaishno Devi from Delhi by Road
This is the best way to explore the places in between and have the freedom to take a break whenever you want. The roads are well-maintained, which makes your travel easier.
Travel to Vaishno Devi from Delhi by Train
There are a total of 20 Vaishno Devi trains from Delhi to Katra. Some of the major trains include YPR NZM Special, HAPA SVDK Express, Jammu Mail, DLI SVDK Special, and more. Out of them, the fastest train is Shri Vaishno Devi Katra Vande Bharat, which takes only 8 h to reach Katra.
Travel to Vaishno Devi from Delhi by Helicopter
The distance between Delhi and Vaishno Devi is approx. 650 km. Thus, Vaishno Devi darshan by helicopter is not possible. However, you can opt for helicopter services to Vaishno Devi from Katra to Sanjhichhat.
Delhi to Vaishno Devi Road Conditions
The roads from Delhi to Vaishno Devi are well-maintained. You can drive at any time of the day or night. However, there will be crowds in major cities so try to take by-pass areas to avoid that. Otherwise, the roads are in completely safe and good condition
Know before you go: Delhi to Mata Vaishno Devi Yatra 
Here are some things you must know before Vaishno Devi trip plan from Delhi –
It is mandatory to take a slip from the Yatra Registration Counter, located near the Katra Bus Stand. Without this slip, you will not be allowed to cross the Banganga check post. So, get it issued free of cost from Katra and cross the check post within 6 hours of the issued slip time.
If you wish to stay at Katra, Sanjichhat, Ardhkuwari, or Bhawan, it is advised to get your reservation from the Enquiry and Reservation Counter at Niharika Complex, near the Katra Bus Stand.
Before you start the trek, make sure to confirm the rates of porters, ponies, and palanquins. Make sure they have a valid registration card and note down their numbers before giving them your valuables. Moreover, do not pay more than the approved rates.
You cannot take a video camera and other electronic items on the yatra. Therefore, ensure that they are kept safely at Katra itself.
Less is more on Vaishno Devi Yatra. Take only the essentials and keep all your unnecessary clothes and luggage in Katra. Food items and beverages are provided along the way, so there isn't any need to carry them with you.
Best Time to Visit Vaishno Devi
Vaishno Devi can be visited throughout the year. Be it summer, monsoon, or winters, you can see lakhs of tourists making their journey to Maa Vaishno Temple to seek goddess blessings. However, during the Navratri festival, the crowd is massive, and if you want to avoid that make your Delhi to Vaishno Devi road trip in the summer or monsoon season.
Best Time for Maa Vaishno Devi Darshan
You can go for Vaishno Devi darshan any time of the day but if you want to avoid crowds, then early morning (before the sunrise) will be the best time for Vaishno Devi darshan.
Best Time to Book Yatra Parchi Shri Mata Vaishno Devi Shrine
You can book Yatra slip in advance from the official website www.maavaishnodevi.org.
Online Booking for Vaishno Devi Yatra Parchi
Online booking for Vaishno Devi yatra opens exactly 60 days before the commencement of the yatra at 10.00 am sharp. This booking has to be done between 4 to 60 days in advance from the date of the journey. Devotees are required to carry a printout of their Yatra Slip along with a valid photo ID.
Offline Booking for Vaishno Devi Yatra Parchi
You can also book Yatra Parchi for Shri Mata Vaishno Devi Shrine offline. The Yatra Registration Counter (YRC) is available at Katra Bus Stand, Katra Railway Station, and Tarakote Marg (alternate route to Vaishno Devi).
Note: The Vaishno Devi Yatra Slip/Parchi is fully computerized and free of cost and without it, you will be sent back from the Banganga check post. So make sure to book this parchi for Mata Vaishno Devi Shrine online or offline.
How do I register for Vaishno Devi Yatra?
Registration for Vaishno Devi Yatra can be done both online and offline. Visit the official website of the shrine board www.maavaishnodevi.org and register yourself if you are a new user. Or login by using your username and password. For new ones, fill in the details and get the Yatra Access Slip. You can also book offline Yatra Parchi at the Yatra Registration Counter at Katra bus stand, railway station, and the new route Tarakote Marg.
When is Vaishno Devi Temple Open?
Vaishno Devi Temple remains open all around the year. Be it summer, monsoon, or winter season, devotees can take the yatra any time of the year and seek the blessings of the goddess.
Accommodation Options to Stay in Vaishno Devi
There are many hotels near Mata Vaishno Devi Katra provided by the Shri Mata Vaishno Devi Shrine Board. They are clean, well-maintained, and economical. Vaishno Devi accommodation is available at –
Jammu – Vaishnavi Dham, Kalika Dham, Saraswati Dham near the railway station
Katra – Niharika Yatri Niwas, Shakti Bhawan, Ashirwad Bhawan near bus stand of Katra
Dormitories can also be found at Trikuta Bhawan in Katra near the second yatra counter. Accommodation for Vaishno Devi Yatra is also available at Sanjichhat, Ardhkuwari, and the main Bhawan.
Huts, suites, and beds (dormitory) are available. You can choose to stay in air-conditioned or non-air-conditioned rooms as per the season you are visiting Vaishno Devi from Delhi.
Booking for Vaishno Devi guest houses/dormitories by the Shrine Board can be done at the reception of these accommodations or at the Enquiry and Reservation Counter at Niharika Complex. You can also do this booking online.
Places to visit in and around Vaishno Devi Temple
Here are the top places to visit in and around Maa Vaishno Devi Temple –
Charan Paduka
Banganga
Bhairavnath Temple
Baba Dhansar
Bhimgarh Fort
Krimchi Temples (Pandava Temples)
Sanasar
Dera Baba Banda
Ranbireshwar Temple
Bagh-e-Bahu
Himkoti
Also check-out: 9 Devi Darshan – The Holy Temple Names List with Location
What is the cost of the Mata Vaishno Devi package from Delhi?
Vaishno Devi's trip package from Delhi starts from INR 11,000. The cost also depends upon the flight/train tickets, transfers by road, meals, and accommodation.
Important points to remember During Vaishno Devi Yatra
Here are some important points you must keep in mind during the Vaishno Devi Yatra –
Make sure to respect the sanctity of the shrine. Avoid talking, laughing, or using offensive language during the yatra.
Respect everyone's sentiments on the yatra.
Avoid staying the night near landslide-prone areas.
Do not carry too much cash, jewelry, and other valuables. Take care of your items from pickpockets and petty thieves.
Do not litter and dirty the hill slopes. Keep it in your bag or throw it in the dustbins.
Do not smoke, chew tobacco, drink alcohol, or eat non-vegetarian food.
Never leave your luggage with strangers. You can deposit them in the cloakrooms.
Beware of suspicious people and do not trust them with any article. Ask the security if you have any doubts.
Begging is prohibited. So, do not encourage it.
Always take receipts for any cash paid at the Shrine Board outlets.
If any yatri has any medical issue, they should strictly avoid using stairs.
Videography is prohibited during the yatra. Leave your cameras at Katra only.
Do not stand between the route. Keep moving.
Sticking posters on the walls, painting, or damaging the property is a legal offense and is punishable with both fines and imprisonment.
Do not go on the routes closed for repairs. It can be extremely dangerous.
The motto of the Shrine Board is self-service. Therefore, no room or table service is provided.
Hope this guide will help you plan a trip to Vaishno Devi from Delhi more efficiently. You can go through the details on our website and book Vaishno Devi Yatra packages from Delhi. Meals, transfers, accommodation, etc. are provided within the Delhi to Vaishno Devi Yatra package to ensure a smooth and hassle-free trip.
The facility of customization is also provided by Tourism of India, so you can plan your trip as per your interests. Contact us today so that our travel experts can clear all your doubts regarding the yatra and help you plan Vaishno Devi Yatra from Delhi according to your requirements and conveniences.