If you are planning a trip to Ladakh and looking for fun things to do, we've got you covered! Ladakh is India's best-kept secret that has been welcoming domestic as well as international tourists for decades now. Home to rugged roads, high-altitude passes, rich wildlife, and remote villages, there are many things to do in Ladakh for a nerve-wracking experience. If you want a relaxing holiday, there are plenty of things you can indulge in as well.
Read Also: Reasons to visit Ladakh
Keep reading to know more about what you can do in Ladakh to make it a lifetime experience.
Top Things to Do in Ladakh for an Exciting Trip –
1. Enjoy Bike Ride in Ladakh
A bike trip to Ladakh is a dream of many adventurers and avid bike riders. Ladakh is one of the best places you can visit on a bike passing high-altitude mountain passes and rugged roads. Start your ride from Manali to Leh covering zigzag paths while enjoying picturesque beauty.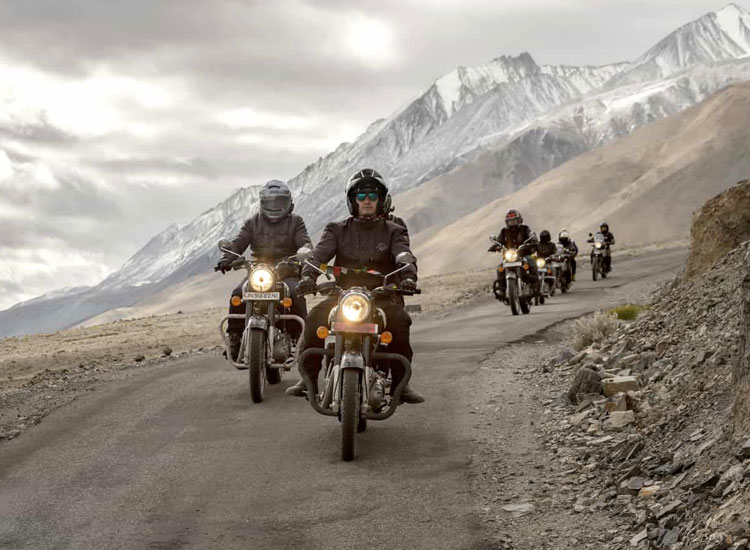 The thrill of riding a bike for long hours with weather uncertainty is one of the must-have experiences in Ladakh. En route, explore offbeat places like Turtuk, Baskgo, Sumur, and many more, making your bike ride a memorable experience.
To know about the best bikes for the Leh Ladakh road trip, click here!
Best time for a bike ride in Ladakh: Mid-May to October
Read Also: Best time to visit Ladakh
[ Explore more Ladakh Tour Packages ]
2. Indulge in River Rafting
River rafting is one of the most adventurous things to do in Ladakh that offers the perfect amount of rush you are looking for! It starts from Phey and ends at Nimmo with spectacular sights in between.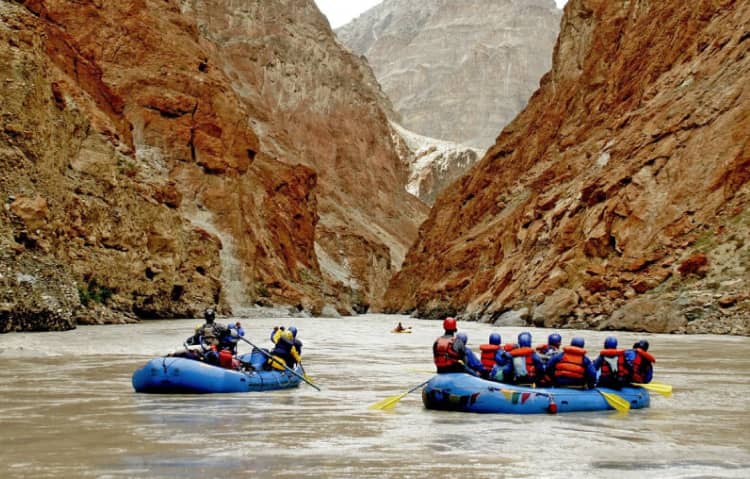 The levels of this activity vary at different points, which you can choose as per your thrill quotient. Every adventure junkie planning a trip to Ladakh must include river rafting in his/her bucket list things for sure.
Best time for river rafting in Ladakh: June and August
The time needed: Approx. 3 hours
3. Trek through Challenging Terrains
After bike riding, trekking is one of the most popular things to do in Leh Ladakh. It is an extremely difficult activity owing to the rough terrains of this region. The severe and unpredictable weather provides that extra layer of excitement and thrill that is required to make a trek in Ladakh one of its kind. Ladakh offers several treks that you can choose from as per the difficulty level and convenience.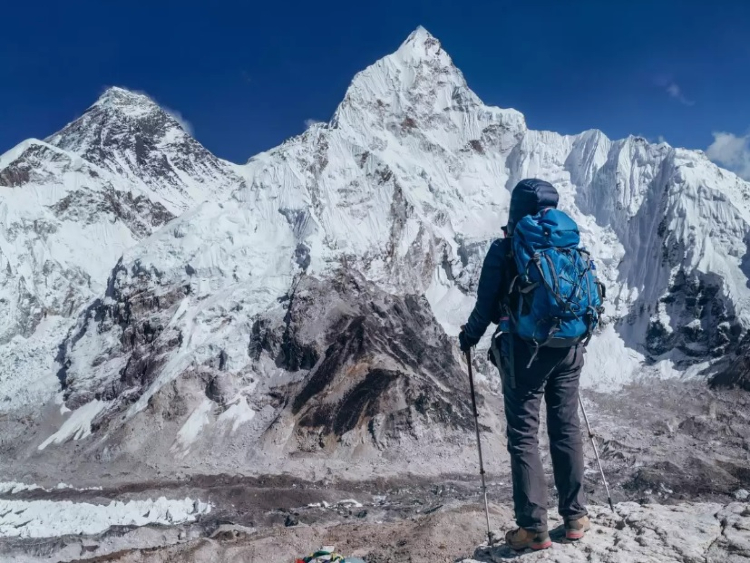 Best time for trekking in Ladakh: May to September
Best Ladakh treks: Chadar Trek, Spituk Gompa trek, Dran Drung Glacier trek, Darcha Padum trek
4. Enjoy Yak Safari in Ladakh
Besides camels, yak safari is among the top things to do in April in Ladakh and is quite famous among tourists. You can sit on a 6 feet yak that transports you to nearby areas while you enjoy the breathtaking landscapes around.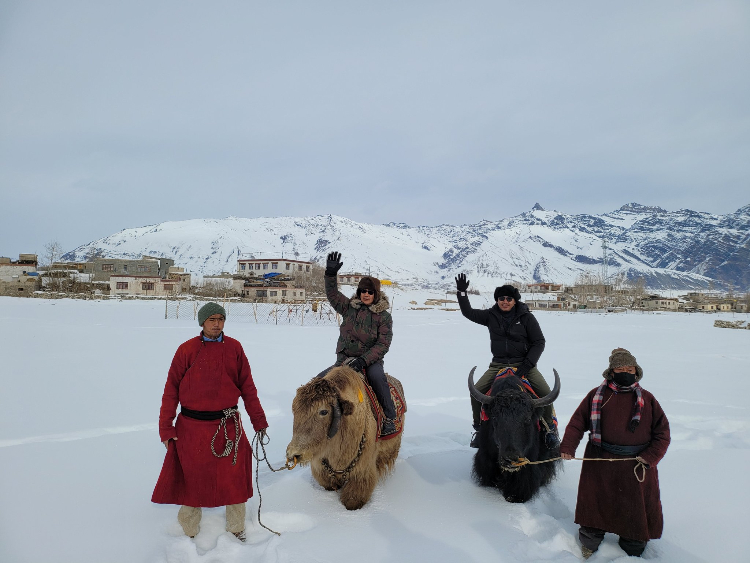 They are also called Dong or the beast of the cold desert and are known to survive the extreme cold. This experience will bring you closer to Ladakh and help you connect with nature. Remember, that summer is the peak tourist season in Ladakh and if you want to enjoy a yak ride, do you book a yak ride with Tourism of India in advance.
Best time for yak safari in Ladakh: April to July
5. Try Cycling in Ladakh
Cycling through the challenging terrain provides a thrill to adventure seekers and cyclists in Ladakh. If you are willing to ditch the comfort, then cycling is one of the adrenaline-pumping activities to do in Ladakh.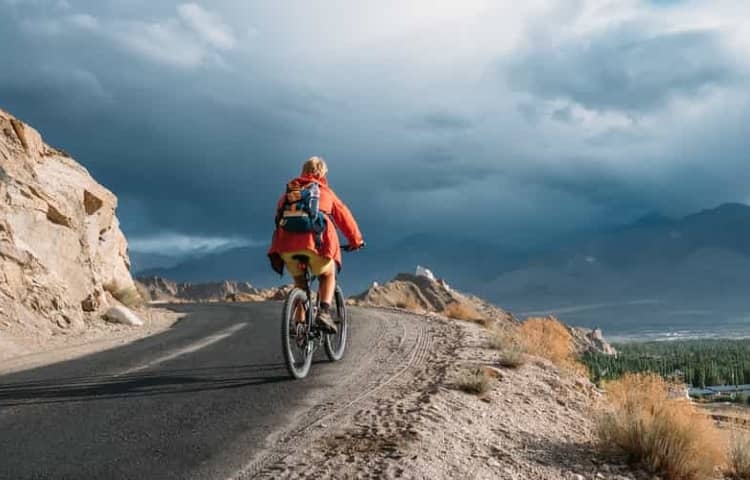 Cycles can be rented from a local vendor or you can get your own. Halt at the places en route and explore the unexplored regions. The scenic beauty and mountain landscapes you will witness will leave you spellbound.
Best time for cycling in Ladakh: May to October
Best places to visit in Leh Ladakh on cycle: Pangong Tso, Shanti Stupa, Tso Moriri Lake, Khardung La, Hemis Monastery, Namgyal Tsemo Gompa
6. Spot Snow Leopards at Hemis National Park
Among the best winter activities in Ladakh is spotting snow leopards. The trek to Hemis National Park starts from Zingchen and takes you to Rumbak Village where you stay in a homestay and savor local food.
Another 2 hours will take you to the different sighting spots from where you might or might not see a snow leopard. Remember the weather conditions are harsh, so you must be mentally and physically fit to be able to do this activity. Curious to know more? Read here!
Best time to see a snow leopard in Ladakh: December to March
7. Enjoy Camel Safari in Ladakh
Ride the double-humped camels in Ladakh. They are a major mode of transportation in this region for both trade and recreation purposes. People who stop at Hunder Village stay at campsites where they enjoy Bactrian Camel Rides.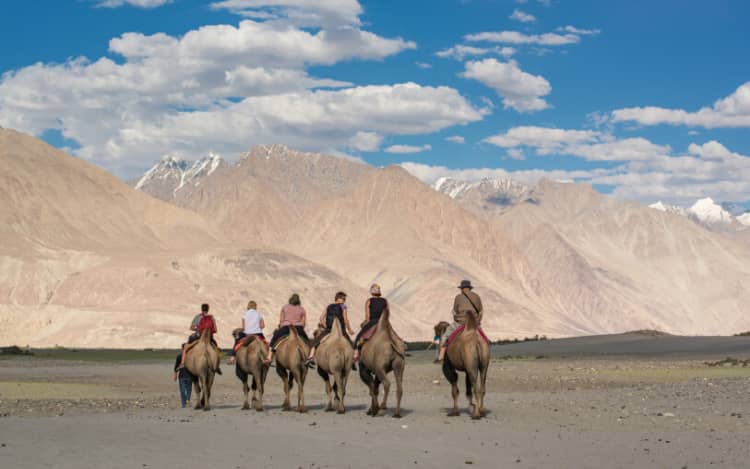 These camels take you on a long ride on their back while you enjoy the idyllic scenery around you. It is one of the most delightful things to do in Ladakh in June that you will thoroughly enjoy!
Best time for a camel safari in Ladakh: June to September
Best places to visit for camel safari: Silk Route, Nubra Valley (Hunder), Caravan
Know more about Camel Safari in Ladakh
8. Shop at the Local Markets
Shopping is one of the most enjoyable things to do in Ladakh to get a glimpse of the local culture. From pashmina shawls, Buddhist relics to prayer wheels and colorful outfits, there are tons of things to shop for in Ladakh.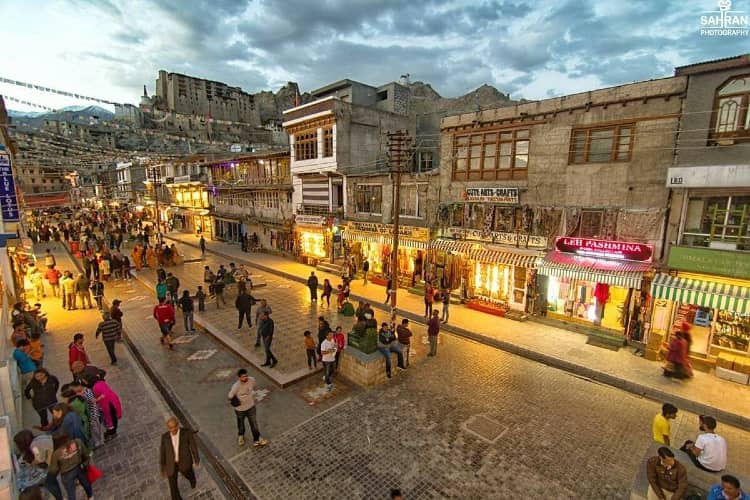 You can also ask the locals for markets where local people sell their products. Indulge in shopping at Leh market and get yourself souvenirs to look back at and cherish the wonderful time you had in Ladakh.
Markets to shop at in Ladakh: Moti Market, The Main Bazar Road, Tibetan Market, Shar Market, Changspa Road
9. Enjoy Skiing on the White Snowy Mountains
Fall in love with the picturesque beauty of Ladakh while you ski on the snow-covered mountains. The steep slopes of the Great Himalayas allow you to glide smoothly, putting your skiing skills to the test.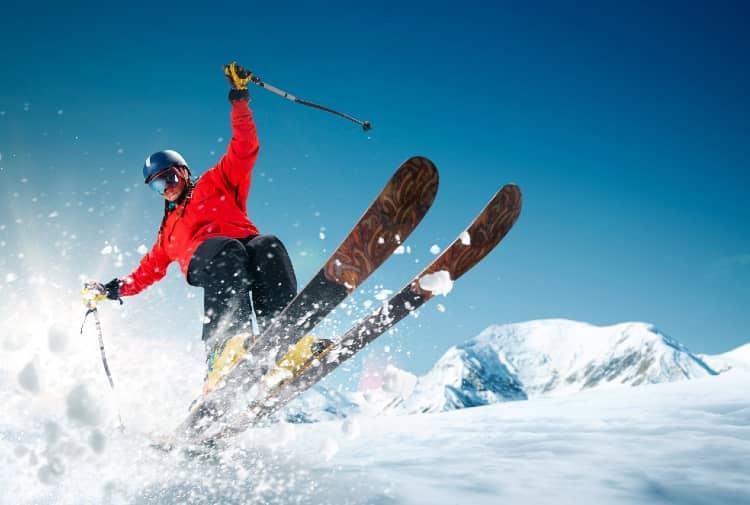 Dropping down from such a high altitude is a nerve-wracking experience, which no doubt makes skiing one of the most exhilarating activities in Ladakh. Other than this, you can also try your hands at heliskiing in Zanskar, which is also quite famous among skiers.
Best time for skiing in Ladakh: December to March
10. Watch Sunrise at Pangong Tso
Sunrise in Ladakh is mesmerizing. It leaves you speechless. It is something you must see with your eyes to believe how surreal it can be. On your Ladakh tour, visit Pangong Tso early in the morning to catch the sunrise over the mountains.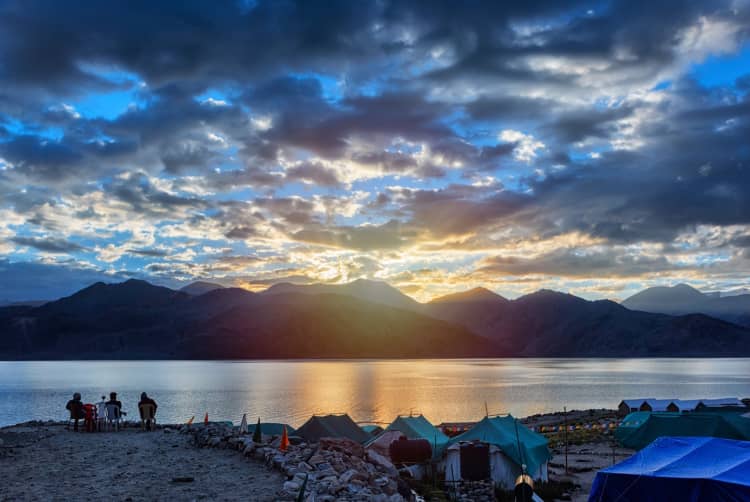 Click pictures if you like and sit by the waters soaking in the fresh breeze and splendid beauty. Pangong Lake is among the top 5 places to visit in Ladakh. Located at 14,270 feet above sea level, the sunrise here will be a breathtaking sight you cannot afford to miss.
11. Camp Under the Stars and Stargaze
Many people don't know that Ladakh is one of the best places on the planet to stargaze. The open skies filled with millions of stars is a beautiful sight and if once seen, it cannot be forgotten for the rest of your life.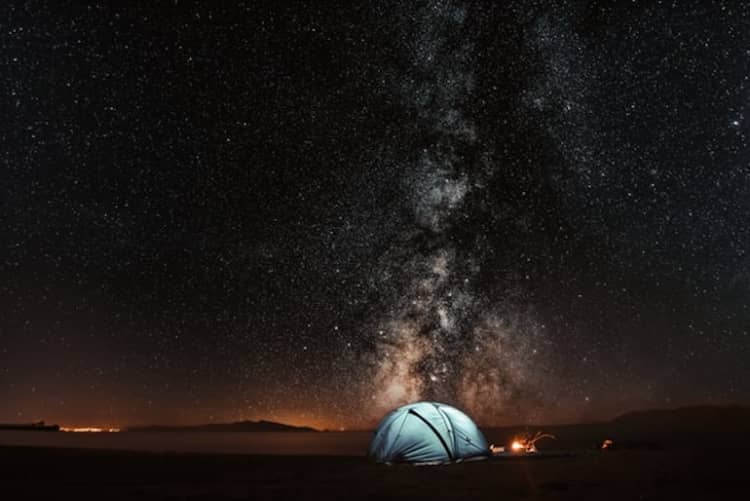 The best way to enjoy stargazing is by camping. Some famous camps are Pangong Retreat Camp, Double Humped Camp Hunder, 100 Sky Camp, and Nomadic Life Camp where you can stay and enjoy stargazing.
Best time for camping in Ladakh: May to October
12. Visit the Religious Sites in Ladakh
Ladakh is known for adventure activities but another thing it is known and visited for are the religious sites, particularly monasteries. There are several Buddhist Gompas and monasteries set up in several places but Zanskar is considered to be the top cultural destination of Ladakh.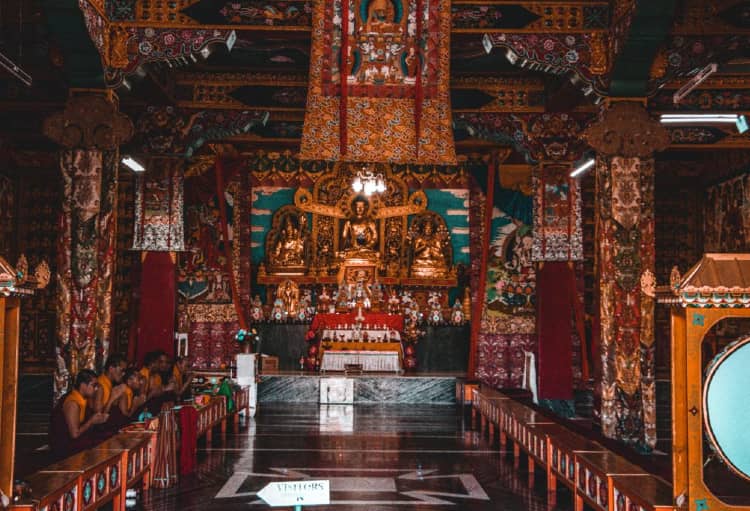 From ancient rock engravings in Drass and lower Suru Valley to carvings dating back to the 8th century, there is so much to see in Ladakh for pilgrims. Apart from this, Gurudwara Pathar Sahib is a major attraction for people of the Sikh religion.
Famous Monasteries in Ladakh: Rizong Monastery, Likir Monastery, Lamayuru Monastery, Shey Monastery, Hemis Monastery, Thiksey Monastery
13. Attend Hemis Festival for Cultural Experience
Make sure to attend Hemis Festival for rich cultural insight into Ladakh. Celebrated every year on the 10th day of the Tse-Chu, the Lunar month of the Tibetan Calendar, this festival is hosted at Hemis Monastery and is among the major festivals of Ladakh.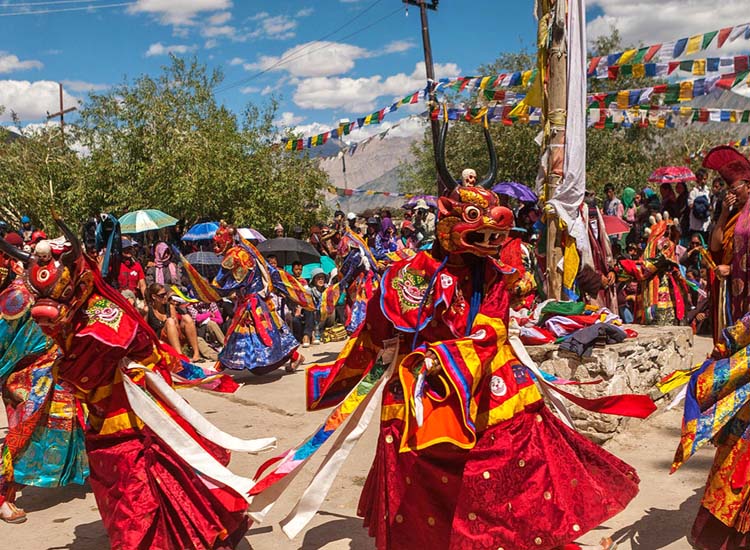 People from all over the world visit here to enjoy the local rituals, dances, ceremonies, and more. Handicrafts, colorful attires, and ceremonies with drums, cymbals, and longhorns can be seen during the festival. You can see people dancing around and the courtyard decorated, bringing the cold-barren desert to life.
Time of Hemis Festival in Ladakh: 4 July 2022 to 16 July 2022
Read Also: Festivals in Ladakh
14. Enjoy Jeep Safari at Changthang Wildlife Sanctuary
Jeep safari is a lesser-known activity but it can be quite enjoyable. If wildlife interests you, then you must enjoy a jeep safari at Changthang Wildlife Sanctuary. It is one of the offbeat things to do in Ladakh to see the rich flora and fauna that this region is known for.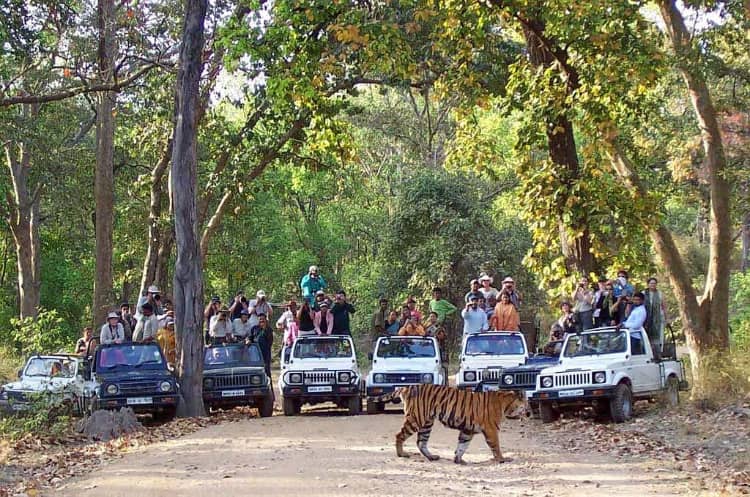 You can spot a number of animals including Tibetan Wolf, Brown Bear, Wild Yak, and many more. Plus, the peace at this sanctuary is perfect to destress from the busy work life back home. Not to mention, there are 200 species of wild plants here that you can see.
Best time for a jeep safari in Ladakh: May to December
Read Also: Mountain Passes in Ladakh
15. Gorge on Scrumptious Ladakhi Cuisine
You can savor food while staying with a local family or at a local restaurant. The choice is yours. Many homestays provide you with freshly made veg or non-veg food that melts in your mouth. Other than this, Ladakh has other cuisine options such as Indian, Tibetan, Korean, and Chinese.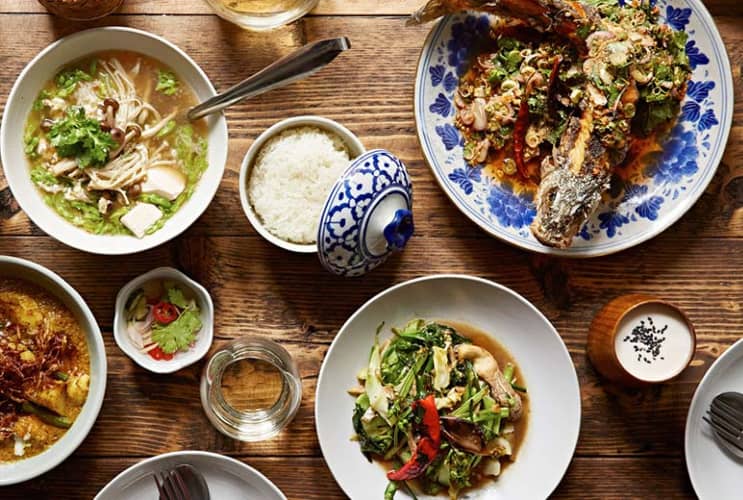 Some of the must-try food items are Tsampa, Thukpa, Skyu, which are delicious Tibetan delicacies. Chang is Ladakh's local Butter Tea that you must have before your trip comes to an end.
16. Stay with the Locals
To experience the finest Ladakhi hospitality, stay with a local family. There are many homestays throughout Ladakh that offer comfortable mattresses, hot water, and other basics. Plus, you get to experience their daily routines, how they live, and what they eat.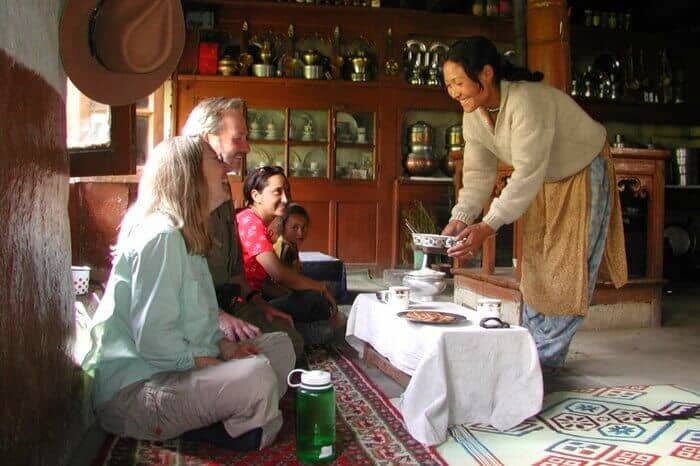 You can also savor local Ladakhi food and interact with the locals for a rich cultural insight. As they say, if you want to really know a place, stay with the locals & act like the locals.
Famous homestays in Ladakh: Tukchu Homestay, Gangs Shun Homestay, Reeyork Homestay, Jimmy's Homestay, Niri-La Ladakh Guest House
17. Pray with the Monks at Hemis Monastery
Do you know some monasteries in Ladakh allow you to stay the night? You can stay at Hemis Monastery and hang out with the monks, stroll the monastery, and gain divine experiences.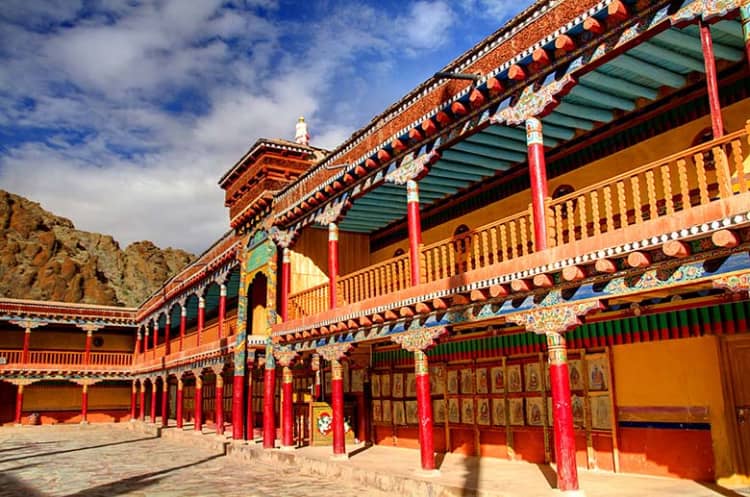 There is a magical aura at the monasteries of Ladakh and staying at one will be one of the major highlights of your trip. Early morning prayers are a sight not to be missed for a rejuvenating experience and the Tourism of India highly recommends it.
18. Savor the Local Brew – Chang
Chang or local Butter tea of Ladakh, you must try it for a good time on your trip. Prepared in a cylindrical porcelain pot by fermenting miller, Chang is one of the must-try drinks in Ladakh, especially for tea lovers.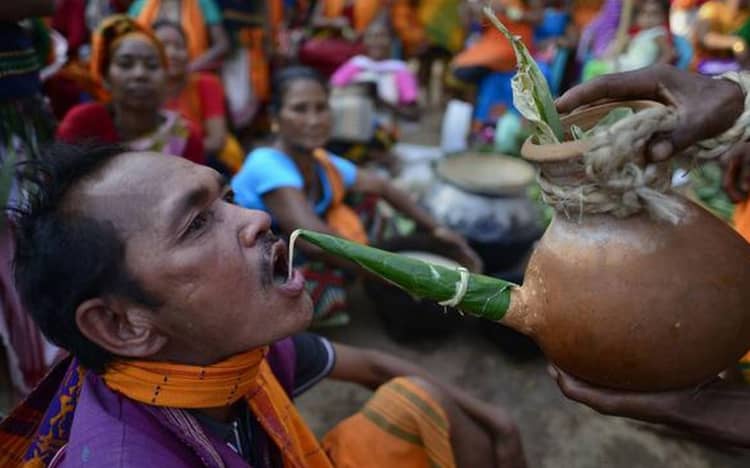 By this, you can sit, sip, and interact with the locals and get an insight into their local life.
Next time you are on a trip to this magnificent place, you will not run out of things to do in Ladakh! Tourism of India highly encourages you to take a trip to Ladakh at least once in your life to witness the glory of nature at its best. Our Ladakh tour packages are meticulously crafted for travelers who want to gain life experiences. We will arrange everything for you – from accommodation to sightseeing tours, you just have to enjoy the top things to try in Ladakh and have a great time. So what are you waiting for?
Do share your Ladakh experiences with us. We would love to hear!
Read Also: Places to visit in Ladakh for couples