Broaden your travel experiences on a snorkeling excursion in the Maldives at distinct islands, resorts, atolls. But how can you do the same without having updated knowledge? Give a read to our snorkeling guide to Maldives. We will talk about everything, for instance, what to see under the water and where to start snorkeling. What are the local and private islands of Maldives where snorkeling is best enjoyed? But first, find out if Maldives really lives up to the hype it creates or not – especially for the snorkelers.
Is Snorkeling Worth it in Maldives?
If you think the overwater bungalows and powdered beaches are the only hype of Maldives tourism, just wait until you get a glimpse of Maldives under the sea. Countless kilometers of reefs house small and big sea creatures. Blue, black, pink, red corals. Live coral reefs teeming with marine life and many marine reef ecosystem rescue centers. The Maldives is indeed a snorkeling paradise of Asia. The Maldives has good snorkeling conditions because of its shallow shimmering lagoons and house reefs close to the resorts.
[ Explore Maldives Tour Packages ]
Maldives Snorkeling Guide
We have prepared this Maldives snorkeling guide in 10 chapters. Jump right to the part you are interested in a click or continue reading!
1. Can A Non-Swimmer Do Snorkeling in the Maldives?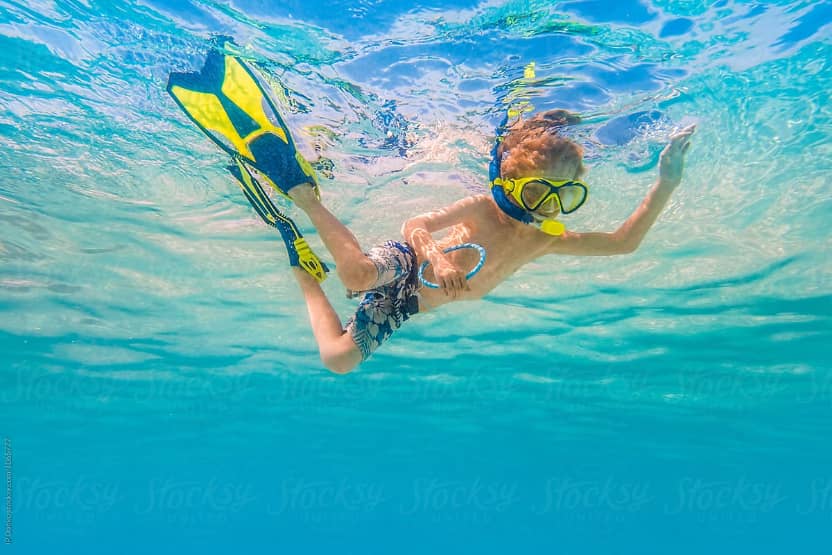 Yes! You don't need to be a pro swimmer to try snorkeling in Maldives. All you just need is to put on your mask and fins and hear the instructions of the certified divers to dive into the lagoons to witness the underwater marine world of Maldives.
Read Also: Things to do in Maldives
2. Best Season for Snorkeling in Maldives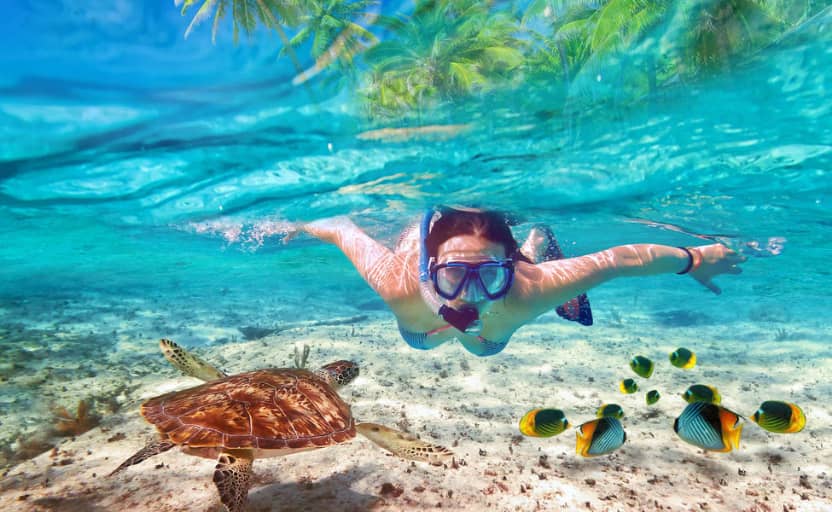 Honestly, Maldives is a year-round snorkeling destination, but still, the northeast monsoon corresponding to the dry season between December to April is the best time for snorkeling in Maldives. However, it's the peak tourism season in Maldives, and room accommodation rates are at their highest. You will find ample sunshine between December to April with little rain showers – not too much!
3. What Can You See Underwater in Maldives on Snorkeling Excursion?
This independent archipelagic island nation in the heart of the Indian Ocean has some of the clearest waters on the earth. Snorkeling in Maldives is the easiest way to witness the underwater wonders. The same activity is one of the best watersports in the Maldives and gives tourists the chance to swim with parrotfish, angelfish, sea turtles, stingrays, white tip sharks, clownfish, reef fishes, napoleons, morays. The quality of the house reef is excellent, and the underwater visibility at private island resorts of Maldives needs no go pro camera – such is the water visibility of Maldives.
4. What's the Cost of Snorkeling in Maldives
The snorkeling cost in Maldives typically ranges between $50 onwards, inclusive of snorkeling gears and even boat transfer to the snorkeling spots. This is the cost per person, and it is subject to change. Also, the snorkeling price in Maldives is high at the private island resorts. Confirm from your Maldives vacation planner about the same.
5. Water Temperature of Maldives for Snorkeling?
Since Maldives is a year-round snorkeling destination, the water temperature hovers upto 82°F (28°C).
6. Minimum and Maximum Depth of Snorkeling in Maldives?
Snorkeling in Maldives is performed under 3 m – 24 m in depth.
7. Snorkeling Destinations in Maldives | Atolls, Islands, Reef
There are dozens of places for snorkeling in Maldives at local and private island resorts. The curved-shaped Banana Reef at North Male Atoll, South Male Atoll, North Ari Atoll, South Ari Atoll has mata points, gorgeous corals, and colorful reef covered walls. But you must know that you can.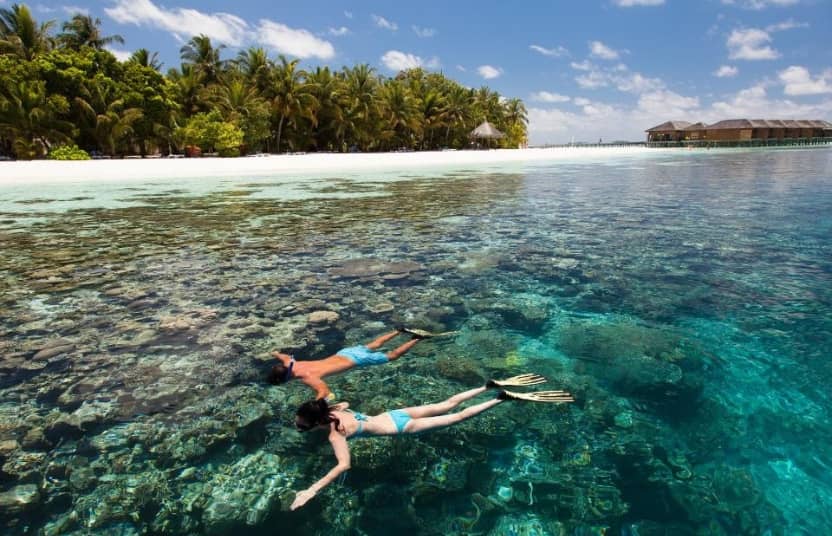 Let us give you a quick glimpse of the places where you can try snorkeling in Maldives:
Lhaviyani Atoll
Many tourists call Lhaviyani Atoll one of the best snorkeling spots of Maldives because its underwater world is crystal clear. It is located north of Male atolls, and its underwater world houses eagle rays and sea turtles. Lhaviyani Atoll is made up of a total of 54 islands, out of which 5 are resort islands, and the other 5 are local inhabited islands. At the resort island, shimmering lagoons and house reefs surround the space.
Distance from Male: Approximately 45 minutes seaplane ride.
Read Also: Best Beach Villas for Couples in Maldives
Male Atolls
Male atolls are clustered into two distinct categories – north and south. Both of them comprised 80 low coral islands; out of them, only 13 are inhabited ones, while the 40 are private resort islands. The distinguishable feature of snorkeling in Male Atolls? All the inhabited islands and private island resorts have the best snorkeling conditions.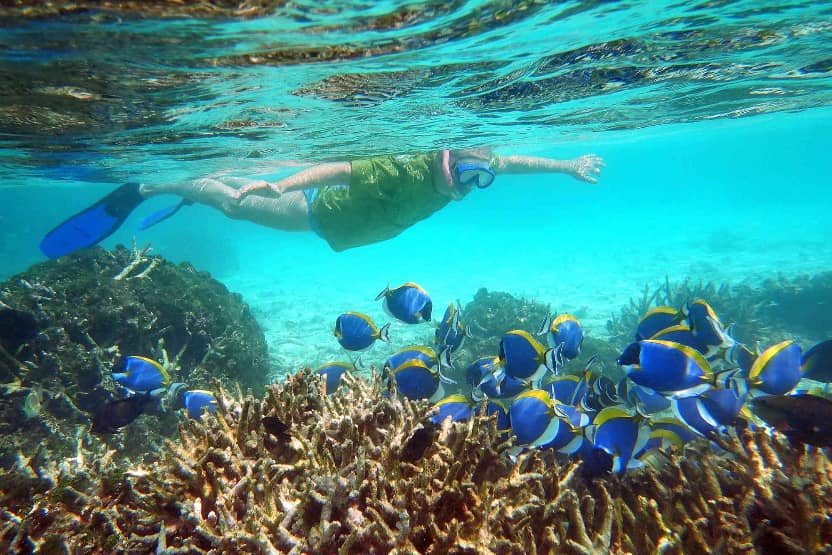 While most of them are fringed by accessible house reefs and shallow lagoons. If you want to get close to the sea turtle, sharks, manta rays, head to Male Atolls for snorkeling.
Ari Atoll
Where are the best atolls in Maldives that are best for snorkeling? The answer is Still Atoll. It is a cluster of 82 islands having shallow turquoise lagoons and dramatic coral walls. Through boat transfer, you will access snorkeling activity here, away from the shore. The effort will reward you with eagle rays, angelfish, parrotfish at Arii Atolls snorkeling spots. The Ari Atoll is also categorized into the south and north Ari Atoll.
Distance from Male: Approximately 30 minutes seaplane ride.
Read Also: Places to visit in Maldives for couples
Far Northern Atolls
This is another snorkeling spot in Maldives, but it is less explored because it's a little far from the airport. One must visit Far Northern Atolls to snorkel at the Haa Alifu Atoll and Haa Dhaalu Atoll for snorkeling activity. At these atolls, you will find local guesthouses, private island resorts, and local inhabited islands where sugar sandy beaches and the pristine blue waters are the USP.
Distance from Male International Airport: 70 minutes seaplane ride
Coral Garden
Take your GoPro into the deeper pockets of the Indian Ocean at Coral Garden in Goidhoo Atoll. It is a protected diving site and a famous snorkeling place in Maldives to witness hard and soft corals. Here you can spot green turtles, moray eels, snapper, stingrays, and a school of other colorful fishes too! This underwater garden has corals that look like a rose from the top. There are huge beautiful lagoons and white sandbanks at Goidhoo Atoll other than Coral Garden. Travelers will have no hard time finding guest houses and private island resorts at Goidhoo Atoll too!
Distance from Male: 35 minutes speedboat transfer
HP Reef in Male Atoll
This snorkeling reef of Maldives is located in North Male Atoll, where soft blue corals house distinct varieties of fishes like tuna, eagle rays, and some reef sharks. You will find the colorful corals at HP Reef in Male Atoll, and hence, HP Reef is often called Rainbow Reef for snorkeling in Maldives. Did we mention HP Reef is a protected marine area, so the underwater visibility is extra clear?
Manta Point in Lankanfinolhu Island
Travelers who have been to Lankanfinolhu Island's Manta Point have to say that its lagoons are best for snorkeling. An added bonus is you will see a school of fishes like sharks, napoleons, parrotfish, angelfish, and spangled emperor fish.
8. Types of Island Resorts in Maldives for Snorkeling
Travelers can access snorkeling in Maldives at three types of island resorts. Choose from any of these three island resorts in Maldives for snorkeling: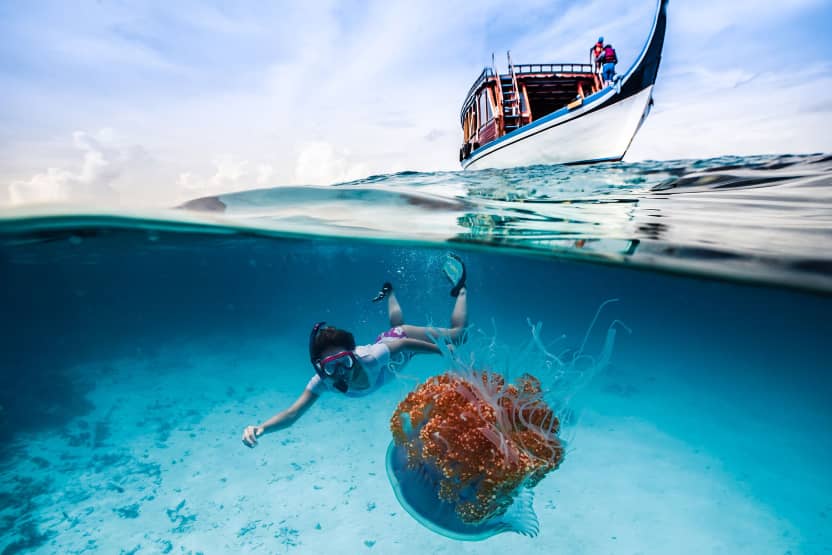 1st Type of Maldives Island Resort for Snorkeling
The private island resorts in Maldives have house reefs close to them. Whether you select beach villas or water villas, you will have easy access to the house reef everywhere around the island.
2nd Type of Maldives Island Resorts for Snorkeling
Maldives is known for its shallow lagoons, and some overwater bungalows in Maldives are surrounded by shallow turquoise lagoons accessible from the ladder of the overwater villas or bungalows.
3rd Type of Maldives Island Resorts for Snorkeling
Simultaneously, the 4-5 star private island resorts in Maldives, have close by house reef + a large shallow lagoon that makes snorkeling and sailing in Maldives the dreamy duo.
Read Also: Best Islands in Maldives for honeymoon
9. Best Maldives Resorts for Snorkeling
There are dozens of private island resorts in Maldives whose house reef extends to 4-10 km. As a result, a rich habitat of marine biodiversity thrives in the underwater world of Maldives. Travelers will find popular resorts for house reef snorkeling in Maldives at Baros, Mirihi Island Resort, Bathala Island Resort, Anantara Kihavah Maldives, Dusit Thani Maldives.
It goes without saying that the best snorkeling resorts in Maldives will allow you to come face to face with coral gardens, stingrays, dolphins, and clownfish. A few of a handful of snorkeling resorts in Maldives are free of corals, and hence, swimming is an encouraging activity along with snorkeling.
Read Also: Best Beaches in Maldives
10. Best Tips That Will Make Snorkeling in Maldives Extra Enticing
Different resorts have different charges for snorkeling. Expect to pay between hundreds of dollars to even thousands (Depending on the resort category).
Not all resorts provide snorkeling equipment free of cost. Renting snorkeling equipment in Maldives costs around USD 10 (approx.) per person for one day.
Wear the snorkeling vest even on the resort's house reef. Also, hear the instructions of the snorkeling expert with you if you are snorkeling around an island enclosed with house ref.
Remember, spotting your favorite marine creatures below the surface is a matter of luck. There is no fixed appointment.
Read Also: Hawaii Vs Maldives
Faq's About Snorkeling in Maldives
Q. Can I snorkel in Maldives from the island shores?
Ans: You can snorkel in Maldives anywhere but not always from the island shores. Sometimes, you have to take the boat to reach the snorkeling spots in Maldives.
Q. What is the name of the Maldives' best snorkeling house reef?
Ans: Filitheyo Island Resort, Mirihi Island Resort, Baros Maldives are some of the private island resorts in Maldives that are best for snorkeling with accessible house reefs.
Q. Where can I snorkel in Baa Atoll in Maldives?
Ans: If you are vacationing at Baa Atoll, the best snorkeling spots include Reethi Beach Resort, Vakkaru Resort, Kuredu Island Resort.
Q. Where can I snorkel with sharks in Maldives?
Ans: The best places for snorkeling in Maldives with sharks include South Ari Atoll, which is year-round at Lily Beach Resort, Vilamendhoo Island Resort & Spa, Mirihi Island Resort, Centara Grand Island Resort & Spa.
Q. Can I touch corals in Maldives while snorkeling?
Ans: No! You shouldn't step on corals under the Maldives' water.
Read Also: Interesting Facts About Maldives