Majestic beauty, beguiling meadows, imposing mountains, swift rivers, lots of adventure, serene lakes, and what not? There are a plethora of reasons to plan a trip to Ladakh right now! Break the monotony of city life and get ready to explore the wonders of Ladakh, the 'Land of High Passes. Ladakh is a paradise for any kind of traveler and a treasure trove for anybody who really wants to soak in the charm of this wonderland.
This much-awaited vacation in India will not only be a memorable one but also be a once-in-a-lifetime experience. Have a look at the reasons which will clear all your doubts as to why you should plan a trip to Ladakh very soon.
Ladakh houses rare species of flora and fauna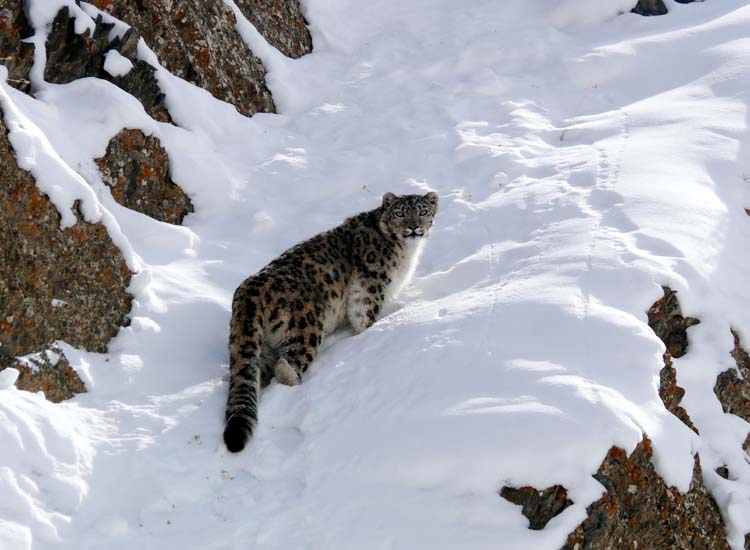 Once in Ladakh, it is not possible for you to restrain yourself by getting surprised after looking at the exotic and rare species of flora and fauna. Here, you will find rare Tibetan antelope, Tibetan wild ass, nimble ibex, etc. Wildlife Safari at the Hemis National Park is one of the best things to do in Ladakh. You can easily spot the blue sheep or bharal which is found in abundance here. The vegetation is sparse yet amazing.
Where to go to spot exotic flora and fauna?
Changthang
Hemis National Park
Ladakh is dotted with numerous scenic monasteries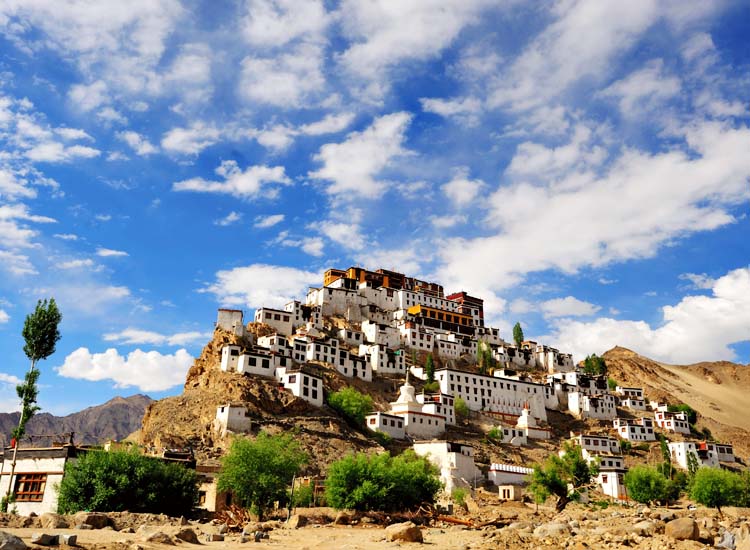 Ladakh is not only jam-packed with adventures activities but it is also dotted with various picturesque monasteries. These quaint monasteries in Ladakh portray the most remarkable feature of the place. The serenity prevailing at these Gompas makes them best places to visit in Ladakh. Devotees throng at the monasteries to offer prayers. Not only the natives but international tourists also revere these monasteries equally. Beautifully created, these monuments are truly an architectural wonder. Festooned with flags and owning religious value, the monasteries are worth visiting at least once in a lifetime.
Popular Monasteries in Ladakh
Hemis Monastery
Thiksey Monastery
Namgyal Tsemo Monastery
Hundur Monastery
Likir Monastery
Phyang Monastery
[ Explore Monasteries in Ladakh with this package ]
Feel the thrill of mountain biking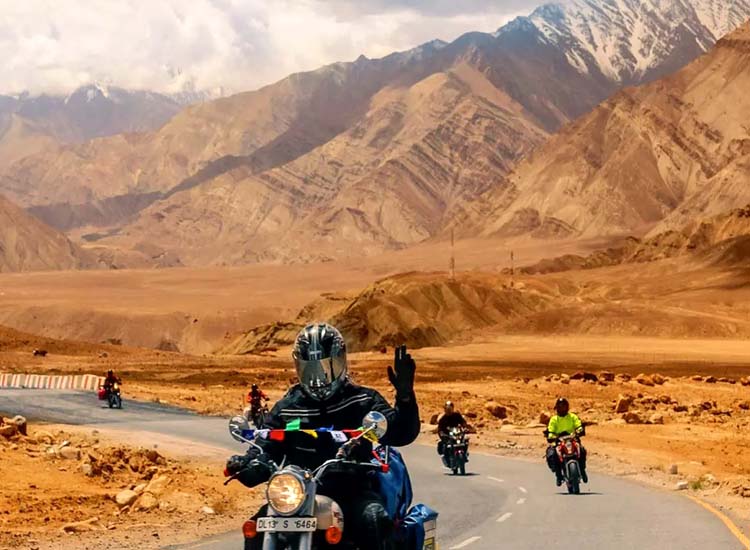 The thrill of mountain biking in Ladakh is beyond description. The enthralling adventure activity allows you to navigate high mountain passes like Khardung La, Tanglang La, Chang La, and many more. Riding on the most treacherous and arduous zig-zag roads is challenging and fascinates the rider to the core. Mountain Biking is nothing less than paddling through the moonlike plateaus of Ladakh. Bike along the Indus and Zanskar River or race with the Wild Ass. All these things will make your trip a memorable experience.
Where to go for Mountain Biking in Ladakh?
From Leh towards Hemis
From Leh towards Alchi
Roads leading to Khardung La and back
Marvel at the ancient architectures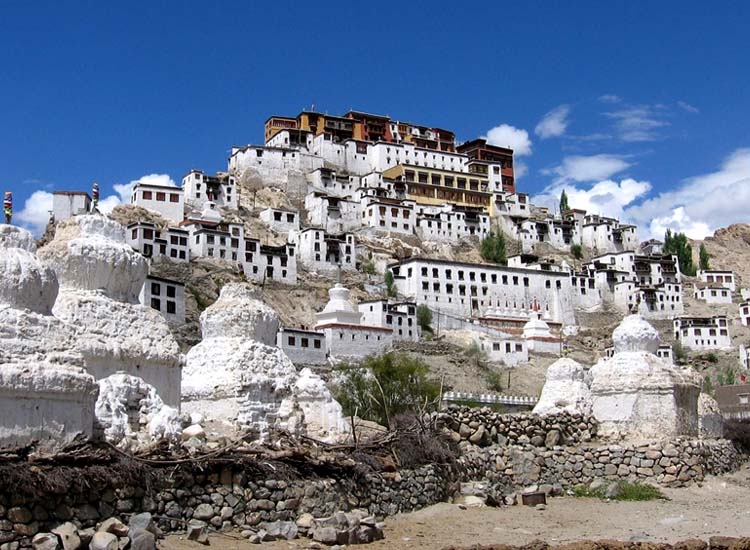 A number of ancient Gompas and monasteries add to the glory of Ladakh. Nestled at breathtaking locations, the monasteries are noted for spreading Buddhism in India. A treasure trove of ancient manuscripts, amazing architecture, and superb décor and antiques make these prehistoric structures stand out amongst the rest. The best time to visit Ladakh for exploring these centuries' old monasteries is during the winter. Many sacred thangkas and ancient relics are carefully preserved at these monasteries.
Popular ancient monasteries in Ladakh
Shey Monastery
Thiksey Monastery
Tsemo Gompa
Phyang Monastery
Spituk Monastery
Stok Palace and Museum
Sumda Chun Monastery
Soak in the beauty of the pristine nature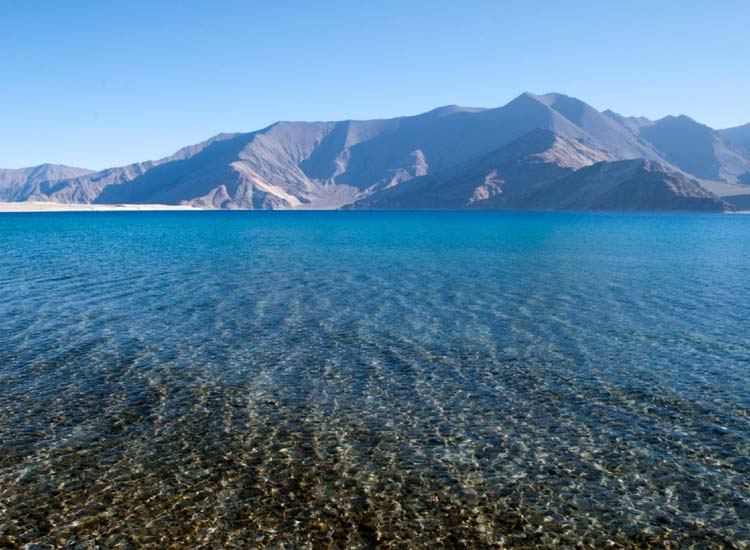 Ladakh is not just a barren land! It is the place where nature dwells in its purest form. From lush green pastures to scenic lakes like Pangong Tso, the natural bounties adorn Ladakh in a charming way. An unbelievable, magical and superb landscape makes this cold desert an extremely awe-inspiring place. All nature lovers can treat their eyes with just nature and all its untouched beauty. There are also many natural sights that can present a visual retreat for the spectators.
Natural attractions of Ladakh
Pangong Tso
Tso Moriri
Leh
Shey
Stok Palace
Nubra Valley
 Savor the local cuisines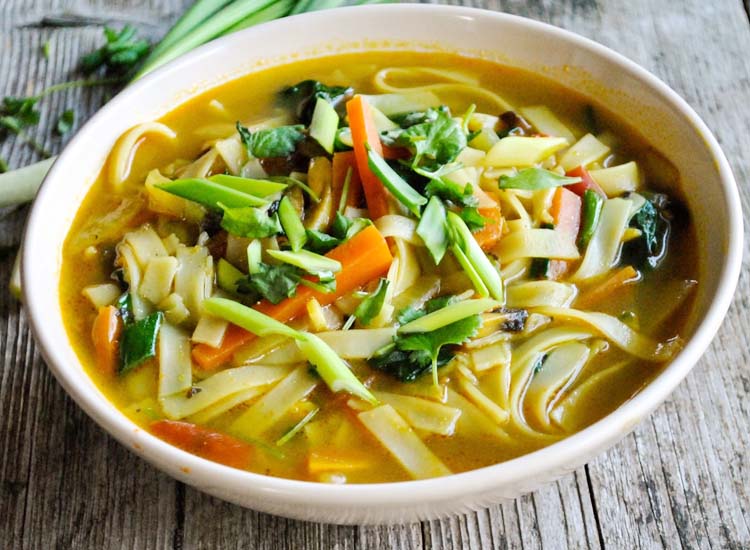 A trip to the wonderland never gets completed without savoring the local food of Ladakh. Treat your taste buds with scrumptious culinary delights. Soft and steamy momos and delicious thukpa will bring you back here often. Then there is butter tea, tapu, paba, Chuupri, and Tigmo. The Langar served at the Gurudwara Pathar Sahib is bliss for the hungry souls. You just can't get enough of the finger-licking taste of these Ladakhi cuisines. Don't forget to visit the local markets in Ladakh to buy the yummy apricot jam.
What not to miss?
Momos
Thukpa
Langar at Gurudwara Pathar Sahib
Butter Tea
Khambir
Thenktuk
Mokthuk
Chutagi
Skyu
That proud feeling of traversing one of the highest motorable roads in the world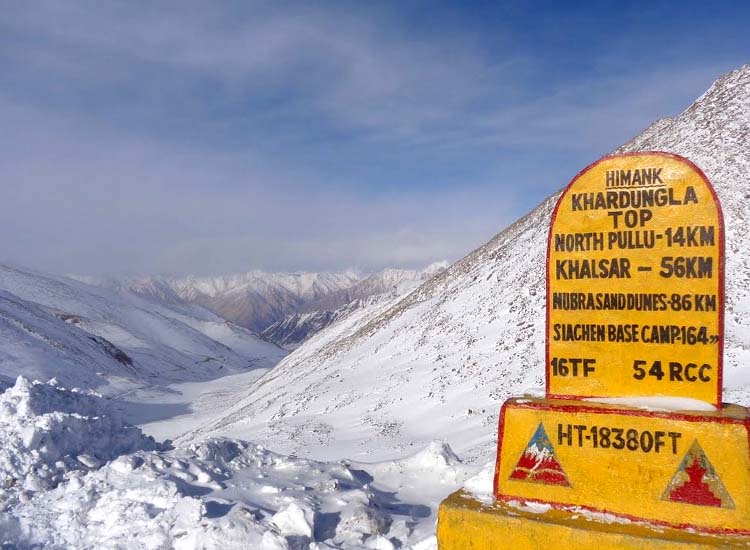 Ladakh is synonymous with adventure for many. 'The Land of High Passes' lures many daredevils to satiate their craving for trying something exciting. One of the adventurous activities to try in Ladakh is scaling Khardung La, one of the highest motorable roads in the world. The sense of achievement of posing with the signboard of Khardung La is beyond description. Take some time out to marvel at enthralling panoramic views of the snow-covered Himalayan peaks.
What's so special?
The feeling of being on top of the world is matchless
Sipping a cup of tea at such an altitude is truly soulful
Khardung La is a gateway to the Shyok and Nubra Valley
Many Cycling aficionados can also be spotted here
Enjoy the cultural extravaganza at Ladakh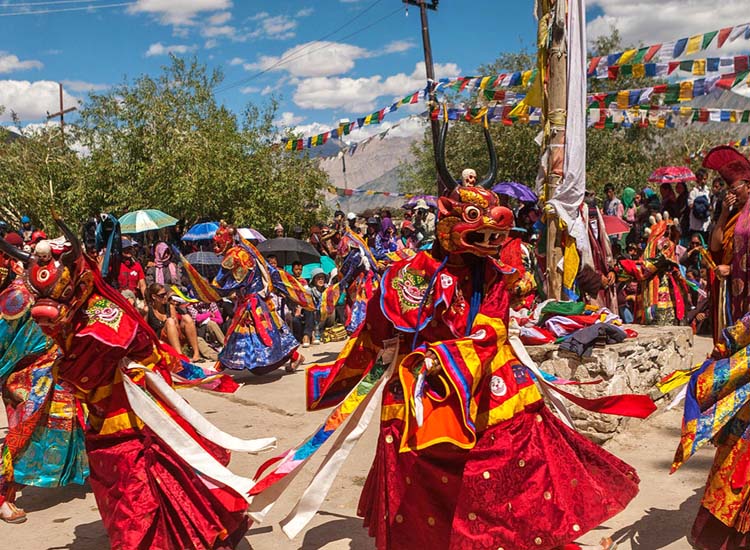 Festivals in Ladakh are truly a cultural extravaganza that brings life to the valley. These galas are the highlights of this wonderland, showcasing the ethos of the region at its best. Here, the New Year is welcomed with open arms and the existence of the Indus River is also a cause for celebration. The victory of good over the bad calls for a grand fiesta. Ladakh Festival is a kaleidoscope of the cultural diversity of different regions. The festivals are celebrated with great pomp and show accompanied by drum beats, dances, and monks playing a major role.
Popular Festivals of Ladakh
Sindhu Darshan
Losar
Yuru Kabgyat
Hemis Tsechu
Thiksey Gustor
Phyang Tsedup
Dosmoche
Stok Guru Tsechu
Matho Nagrang
Trekking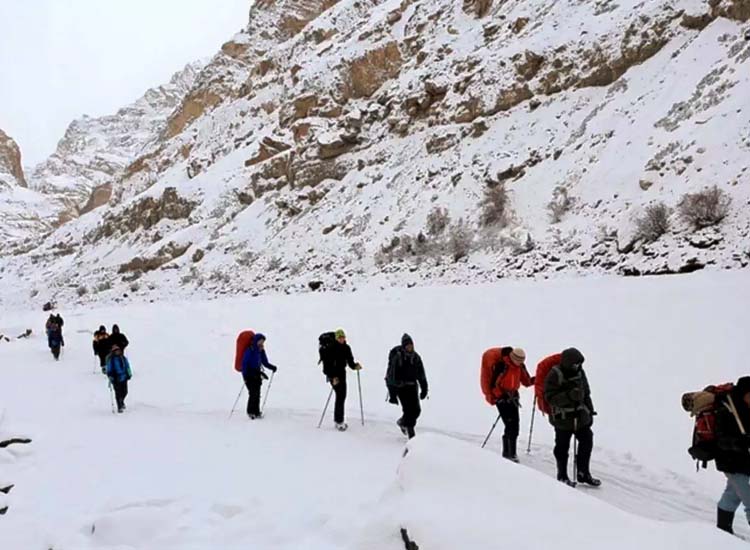 Ladakh is a haven for trekkers. From the famous Chadar Trek, trekking at the frozen river to the many other challenging treks, you'll never run out of incredible options here. Whether you are a first-time trekker or a professional, there are routes for everybody which are worth exploring. The days spent while trekking in Ladakh will undoubtedly be worth every effort. Walk past over the highest roads, isolate mountains, scenic attractions, and narrow passes – Ladakh has it all.
Famous trekking trails in Ladakh
Snow leopard trek
Chadar Trek
Markha Valley trek
Lamayuru to Darcha trek
Shyok Valley trek
Stok Kangri trek
Ripchar Valley trek
Lamayuru to Alchi trek
Camping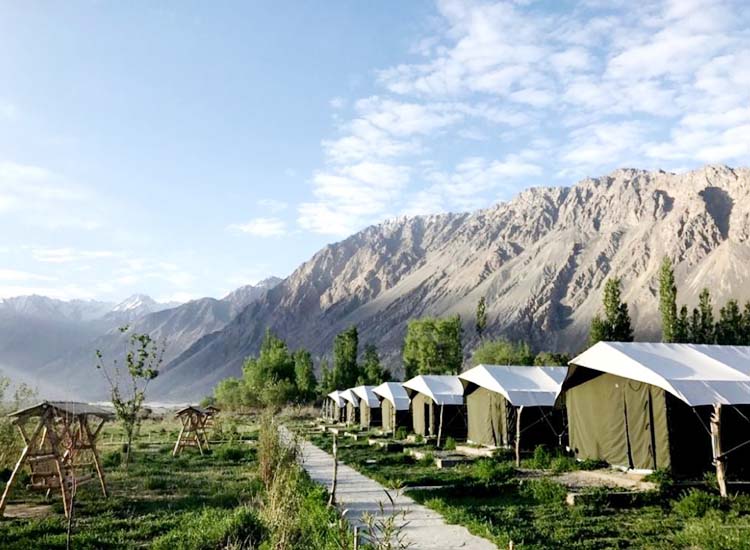 Forget about sticking to the gadgets and start enjoying staying under the star-lit sky. Camping in Ladakh is an excellent opportunity to stay by the lakeside and spend some time just with yourself. Cool breeze, excellent views, and amicable people make camping an unforgettable experience. The surreal activity will cast a spell on you. Sometimes sitting by and looking at a color-changing lake also becomes intriguing. Who knows you might encounter something amazing that will be etched on your mind forever!
Famous places for camping in Ladakh
Alchi
Nubra Valley
Pangong Tso
Tso Moriri
Sarchu
Hundur Sand Dunes
Rumbak Valley
With ample things to do, places to explore, and reasons to consider, a trip to Ladakh is filled with fun and excitement.
Related Post: