When it comes to spotting snow leopards in the wild, Ladakh is the best pick. But it is not easy to spot a snow leopard on a traditional safari. The altitude in the Ladakh region in winters is freezing and harsh and often inaccessible. You have to be determined and mentally ready to face the challenges on the Snow Leopard Trek in Ladakh because in the end when you will finally spot one, it will all be worth it. Right?
For detailed information about Snow Leopard Trekking in Ladakh, keep reading –
Reasons to Venture on a Snow Leopard Trek in Ladakh
We know you are determined to spot snow leopards, but here are a few reasons you might want to know to get the full experience.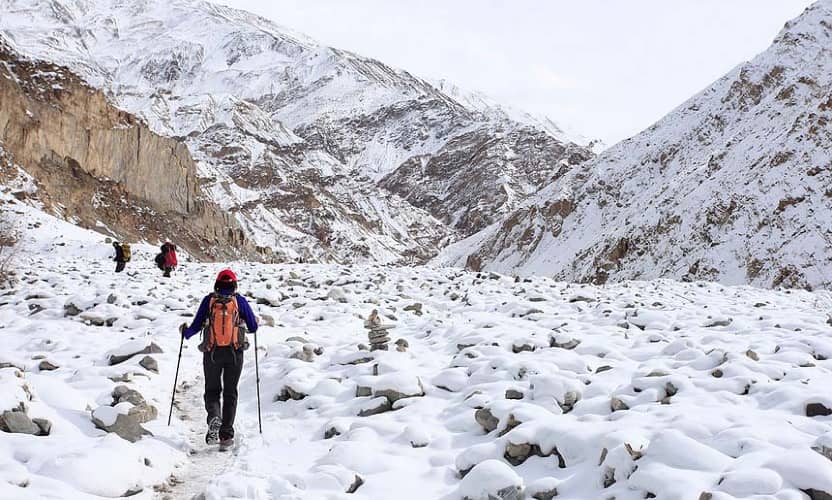 Since the Hemis National Park (where you will sight the snow leopards) is a protected area, the trek to witness rare animals will be thrilling.
Other than snow leopards, Shapo, Marmot, Tibetan Hare, Antelope, Ibex, and more along with birds like Snow Cock, Horned Lark, and Red-Billed Chough can be spotted in the national park.
The stories of locals in Rumbak Village will leave you fascinated.
Food offered by homestays here is incredible.
You get to experience the local culture and a different way of life.
The winter wonderland Ladakh is an experience you will cherish for the rest of your life.
Visit the old Buddhist monasteries and immerse yourself in Buddhist culture.
Walk on the frozen Zanskar River.
Read Also: Reasons to Visit Ladakh
Quick Facts –
Altitude: 3000 m – 6000 m
Average Temperature: -10°C and -20°C
Difficulty Level of Trek: High
Starting and Ending Point of Trek: Leh Airport
Base Camp: Zingchen
Best Time to See Snow Leopards in Ladakh
"White Ghosts" "Mountain Cats" "Ghost Cat", whatever you want to call them, snow leopards can be best spotted during the harsh winter of Ladakh, from December to March. This is the time when mountain goats like Bharal descend to the valley in search of food, leaving trails for snowcats to follow.
How to Reach Hemis National Park
Take a flight to Leh, where you will spend the next 2-3 days acclimatizing. Hemis National Park is just a 1.5 – 2 hours drive away from Leh. Further, a 4-hour trek and you will reach the Rumbak Village. Remember the route is a bit difficult with some inclines and with harsh winter weather and ice cold air, you will have to be extremely careful. You can carry your bag or hire a mule for your luggage.
Cost of Snow Leopard Trekking
The cost of a snow leopard expedition in Ladakh will cost you around INR 25,000 to INR 4.5 lakh per person. This is inclusive of accommodation, transfers, meals, permits, and others. For more details, contact Tourism of India executives.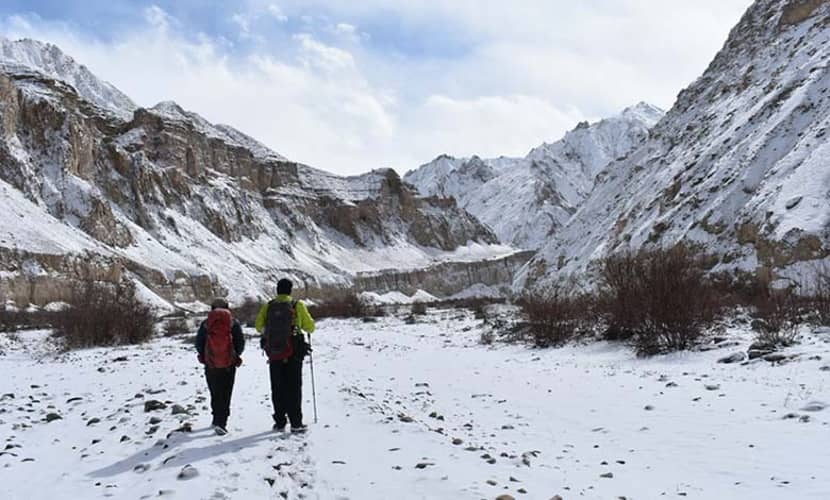 A week-long trip is recommended so as to fully immerse in the experience and spot wildlife. The cost is mainly for the quality of service we provide, the crew, and how well you are taken care of in the inhospitable and unfamiliar terrain.
Accommodation Available on this Trek
Tents and homestays are the best options to stay on your snow leopard sighting journey in Ladakh. Both are comfortable but we recommend you to stay at the Rumbak Valley homestays, where you can experience the Ladakhi traditions, food, and lifestyle.
There are a few homestays in Rumbak Valley, which provide basic facilities like mattresses, blankets, and a Bukhari (a heater). You can charge your camera and phone batteries only when the electricity is available i.e. from 6 pm to 10 pm. Plus, there is no cellular network, so if you want to call someone, you will have to use the only satellite phone available in the village.
On the other hand, the camps are set by a frozen Zanskar River. There are dome tents, kitchen tents, and heated community dining tents.
Why we do not recommend camps is because you have to walk 45 min from Husing to reach the Hemis National Park entrance and from there trek 2 hours to Rumbak to see snow leopards. This is time-consuming and the tent community shares only a few toilets. While from Rumbak, it is easy to reach and you get to interact with the local people and experience their hospitality.
Food Options in Rumbak Village
The food offered at homestays is delicious. You are offered Ladakhi bread, omelets, gravy, stir-fried greens, soup, momos, thukpa, rajma, and more.
What to Pack for Winter in Ladakh
Winters in Ladakh are harsh with sub-zero temperatures. Thus, it is crucial to make a list of things you need before you jump on that flight to Leh.
Thermals
Hand and toe warmers
Heavy jackets (which can also be rented from the Indian Mountaineering Federation in Delhi if you are a member)
Good quality trekking shoes
Muffles, caps, ear covers
A thermos to keep your liquids warm
Extra camera batteries
Electric heat bag
Woolen socks
Other than this, you must have the necessary medicines and medicines for Acute Motion Sickness.
Snow Leopard Trek Itinerary
Take a look at the detailed itinerary of Snow Leopard trekking in Ladakh –
Day 1: Arrival in Leh
Fly to Leh, where our representative will guide you to your place where you will acclimatize yourself. Once arrived, warm yourself up with hot snacks and beverages before you are served lunch. In the afternoon, you will be taken to Shanti Stupa and afterward, to watch the sunset over Leh. End the day with a visit to Leh Palace and some exploration of Leh markets. Come back to the stay and jump onto the bed for a cozy sleep.
Day 2: Local Sightseeing of Leh
Post breakfast, visit attractions like Gurudwara Pathar Sahib, Ladakh Hall of Fame, Spituk Gompa, and Magnetic Hill. Transfer to the confluence of the Zanskar and Indus rivers. Follow the road opposite the Zanskar River and travel to Chilling. Enjoy a walk on the Zanskar River (which is a part of a popular Chadar Trek), which freezes in winters. Overnight stay in Leh.
Day 3: Leh- Zingchen – Rumbak Valley
Your Snow Leopard Expedition will begin today. So, post early breakfast at the hotel, check out and drive straight to Zingchen, the starting point of your trek. The route from Zingchen to Rumbak Valley is a gradual ascent, so your strength will be put to the test. Overnight stay at the homestay or camp.
Day 4: Rumbak Valley – Stok La – Rumbak Valley
Today, after breakfast, you will trek from the stay to Stok La and back. This stretch is known for having the most snow leopard sightings. Climb up the Stok La Pass and look around to spot any snow leopards. Come back and sleep comfortably during the stay.
Day 5: Rumbak Valley
After a meal, you have the entire day to do whatever you like. You can explore the Rumbak Valley and its surrounding areas like Tarbung Valley, Kharlung Valley, and Husing Valley. Follow the snow leopards trails and later, return to your stay to get a restful sleep.
Day 6: Rumbak Valley
Day 6 of your Snow Leopard Trek in Ladakh is free for leisure activities. You can either stay inside or go out to explore the Rumbak Valley.
Day 7: Rumbak Valley – Zingchen – Leh
You will say goodbye to Rumbak Valley and return to Zingchen. Make stops at places in between for a memorable tour. As the day falls, you will reach Leh where you will check-in and rest for the night.
Day 8: Departure from Leh
Your Snow Leopard Trek comes to an end. So, after the meal, you will be dropped off at Leh Airport to catch your flight to the onward destination.
Embark on a trip to the Himalayas and immerse yourself in the Snow Leopard Trek in Ladakh. Spend at least a week exploring and tracking the elusive snow leopards. Along with this, experience the traditions that run deep in the Ladakhi culture. Ladakh Snow Leopard Trek is challenging. So, it is crucial for you to be physically and mentally fit. Prepare yourself by running 5 km every day and work on your cardiovascular endurance and stamina, which will facilitate better adaptability to low oxygen levels during the expedition. For more details, contact Tourism of India and our experts will guide you through the cost, the itinerary, and any other doubts you might have.
Read Also: Places to visit in Ladakh