The topography of Himachal Pradesh lends itself to adventure, exploration, and sightseeing. While Shimla, one of the best places to visit in Himachal Pradesh, is wrapped in colonial legacy, Khajjiar's beauty has earned it the tag of "mini-Switzerland" of India. Hiking in the jungles of Kasol or trying out adventure sports in Kullu-Manali, adventure and surprises exist in equal measure here. Buddhism also finds a strong presence, with the various monasteries being repositories of immense culture and art.
A visit to Himachal Pradesh is an entire experience, acquainting you with what an exciting journey ought to be. If you have not visited this state yet, you are missing out on something special. If you want to know what sets this state apart from the rest, you must visit these best places to visit in Himachal Pradesh in 2022.
Here are the Best Places to Visit in Himachal Pradesh in 2022
Shimla – Queen of Hills
Manali – Picturesque Mountain Views
Dalhousie – Pleasant Climate
Lahaul and Spiti – Untouched Natural Beauty
Kangra – Rich History
Kinnaur – Beautiful Apple Orchards
Sarahan – Sleepy Little Hamlet
Kasauli – Apple Orchards and Hiking Trails
Palampur – Lush Tea Gardens
Chail – Virgin Forests
Dharamshala – Centre for Studying Buddhism
Khajjiar – Mesmerizing Beauty
Shimla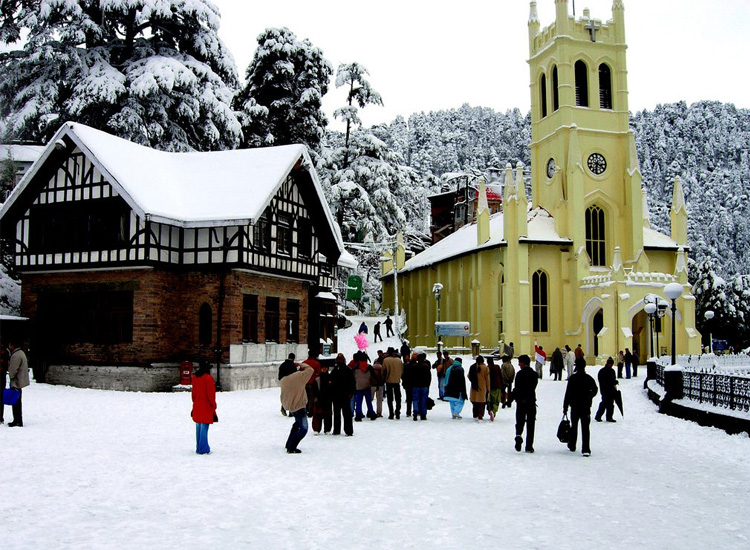 Shimla once served as the summer capital of the British in India, and that colonial legacy can still be felt in its ambiance, churches, and government buildings. Shimla is also one of the famous places for summer vacations in India.
Most of Shimla's social life revolves around the Mall, which also presents great opportunities for shopping. This stretch of road, dotted with shops and restaurants, is great for shopping and hanging out. A picnic can be enjoyed at The Glen and Craignano, while nothing is more exciting than a ride on the Kalka-Shimla Railway.
Another great attraction in Shimla is Chadwick Falls. Two of the architectural landmarks are the structure of Christ Church and the new Tudor building at the Ridge. To explore the best of Shimla, one of the top 5 tourist places in Himachal Pradesh, book a tour with the Magnificent Shimla Manali Tour.
Ideal for: Family and friends
Best time to visit: May to July, November to January
[ Browse these best customized Shimla tour packages ]
Manali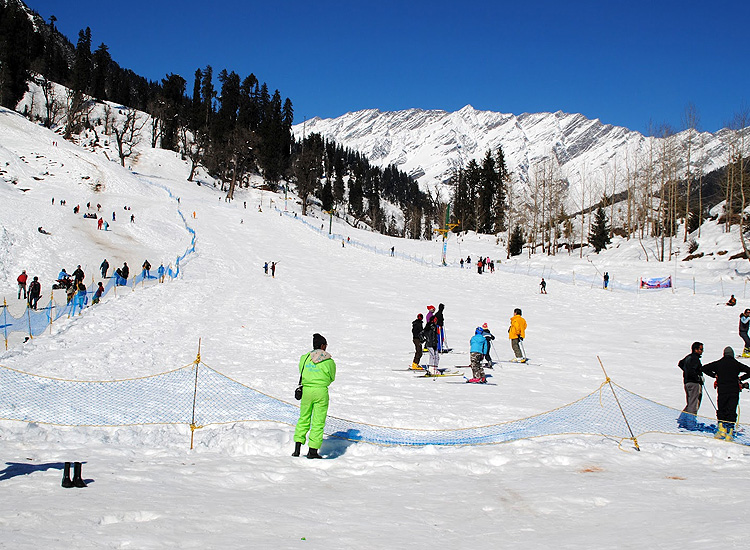 Manali is famous for its enchanting beauty, which has a timeless aura to it. The River Beas flows through this town, while the vegetation consists of deodar, pine trees, tiny fields, and lovely orchards. Its landscape becomes all the more appealing during winter, making it one of the favorite winter destinations in India. The natural beauty in this place makes it one of the most famous places to visit in Himachal Pradesh.
One of the major attractions in Manali is Hadimba Temple. Dedicated to Hadimba, the wife of Bhima in the Mahabharata, it draws attention to its unusual structure consisting of a four-tiered Pagoda-shaped roof and a doorway carved with legendary figures.
Solang valley, situated about 13 km from Manali, is a place to enjoy adventure sports. Picnic and indoor sports are best enjoyed at the Club House. To see some amazing wildlife, head off towards Manali Sanctuary.
Ideal for: Family and friends, although this place is an all-time favorite with honeymooners.
Best time to visit: May to July, November to January for snowfall
[ Browse these best customized Manali holiday packages ]
Dalhousie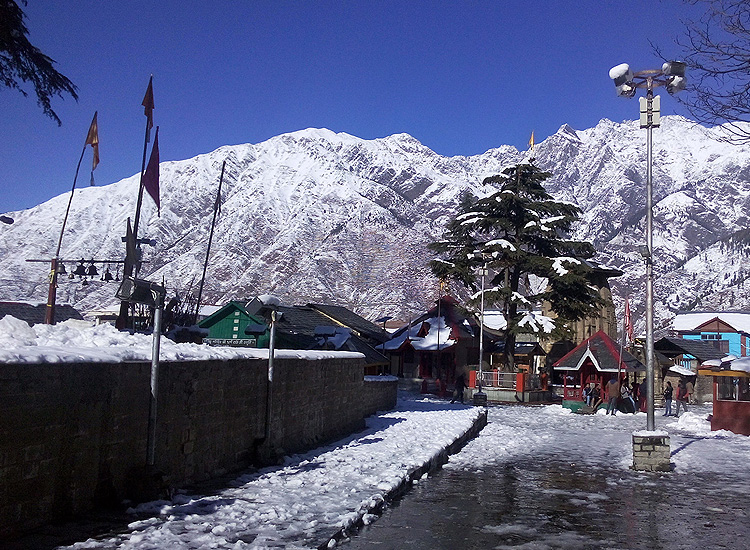 Dalhousie is a charming hill station where the charms of the colonial past are visible. Named after the British Governor General Lord Dalhousie, this town is home to impressive colonial architecture and provides magnificent views of Chamba Valley and the enormous Dhauladhar Range.
A great place for hanging out here is Subhash Baoli, where one can relax and enjoy the solitude. Panjpulla, meaning five bridges, is a beautiful place where one can enjoy boating. A "samadhi" (tomb) of Sardar Ajit Singh, uncle of Bhagat Singh, can also be found here. Head to the Bakrota Hills and enjoy the views of the snow-capped peaks accessible from there. A picnic is best enjoyed at Kalatope, which offers fine countryside views.
Ideal for: This place is highly visited by honeymooners
Best time to visit: April to July
[ Browse through the list of well-customized Dalhousie tour packages ]
Lahaul and Spiti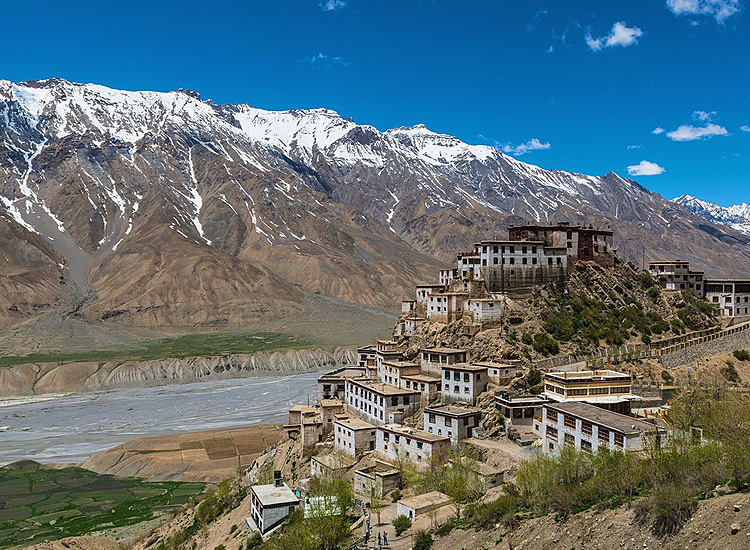 The two remote valleys of Lahaul and Spiti are renowned for their rugged landscape, which makes them the best places Himachal places to visit. Mountains and glaciers make up much of its landscape, while snow-covered peaks are always visible. Buddhist art and culture thrive in these valleys, and Spiti is also known as "Little Tibet" due to its close resemblance with that country in terms of vegetation, terrain, and climate.
You could visit various monasteries in Lahaul, including Keylong, Guru Ghantal, and others. Exploring the ancient forts at Gondla is an amazing experience. Feel time come to a standstill at the Kunzum La Pass, located at almost 15,060 ft.
Visit the Valley National Park in Spiti, home to fascinating wildlife species, including the snow leopard. Watch the traditional dance and music, and participate in the festivities of the Losar Festival in Spiti. Spend time by the Chander Tal Lake, famous for its pure blue waters.
Ideal for: Friends, family, and honeymooners
Best time to visit: June to September, February to March (if you want to enjoy the snow)
Kangra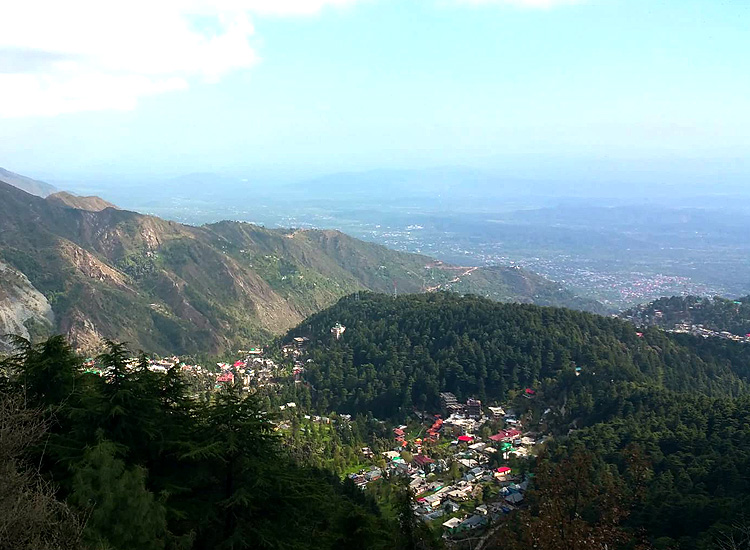 Kangra traces its origins back to Vedic times. In terms of natural beauty, there is simply none like it. While Buddhism is quite popular here, one also comes across famous ancient Hindu temples. This region was also subjected to repeated invasions, but despite them, the traditional arts and crafts of the region continued to develop.
Kangra Fort is the foremost attraction and attracts tourists with its historical significance, colossal size, and beauty. There is also the village of Pragpur, certified as a "heritage village" by the state government in 1997, making it the first such village in India.
The Judge's Court is the foremost attraction, a splendid example of Indo-European architecture, and the Taal, an ornamental water tank. Another attraction is the Masroor Rock Cut Temples, a complex of monolithic rock-cut temples.
Ideal for: Friends and family
Best time to visit: April to June
Kinnaur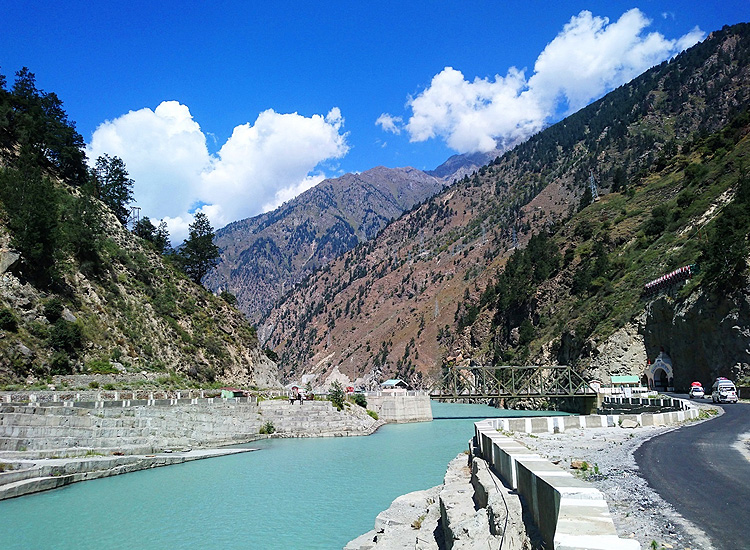 The changing faces of nature can be witnessed at Kinnaur, which lies between India and Tibet and is surrounded by the majestic Himalayan and Dhauladhar ranges. The Sangla Valley is a vast expanse of green dotted with orchards of apples, peaches, and apricots, among others.
Kothi is one of the many places that attract poets, writers, and peace lovers. An interesting sight awaits you at Morang with its 18-faced ark made of silver, gold, and brass dating back to the Mahabharata era. The village of Lippa also attracts tourists with its three Buddhist monasteries.
Ideal for: Family and Friends as well as honeymooners
Best time to visit: April to October
Sarahan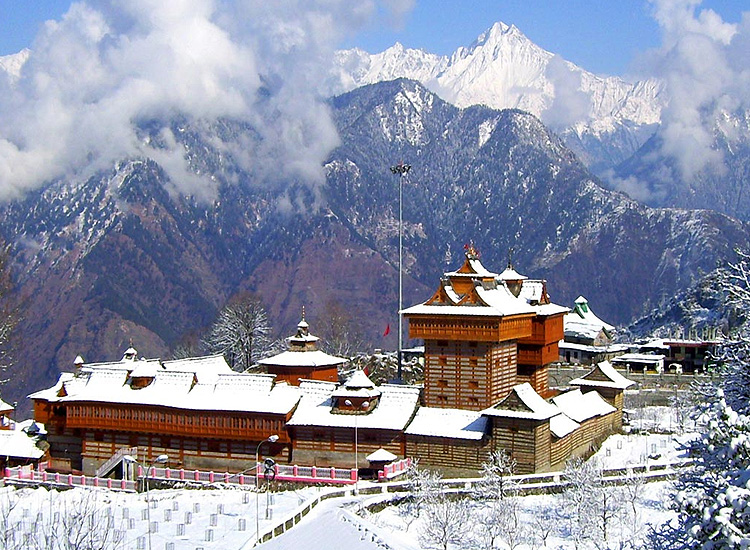 There is much to fall in love with Sarahan. The small villages here are surrounded by orchards and fields, while the slate-roofed houses sit relaxed beside them. This remote place which is sparsely populated is immersed in ancient legends.
The famous Bhimkali Temple is regarded as one of the 51 sacred Shaktipeeths. The unusual architecture of the temple, combined with the exquisite carvings that it is adorned with, makes it an amazing example of the Indo-Tibetan style of architecture. Located near the temple complex is the Bird Park, a pheasant breeding center that houses the state bird Monal.
Explore Sarahan holiday packages.
Ideal for: Family and friends
Best time to visit: April to June
Kasauli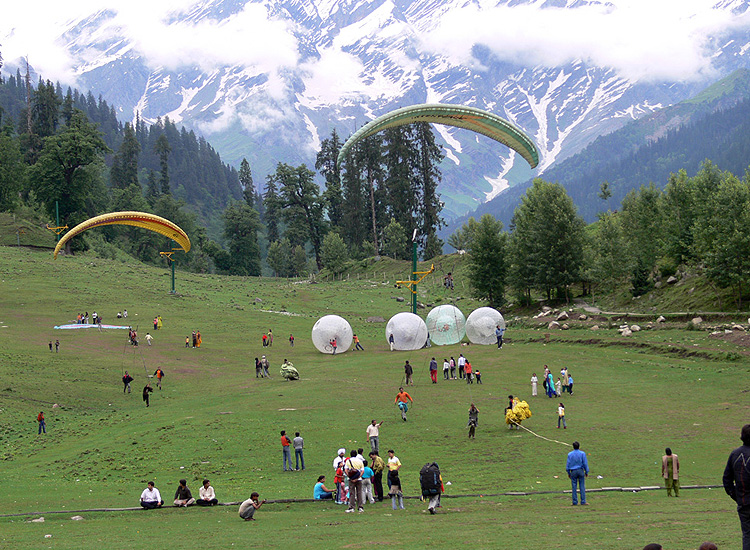 Kasauli inevitably finds a place in the famous Himachal Pradesh list. It's one of those places where the fog rests on the slopes of mountains, and everything seems to possess a dreamy aura.
This place showcases its colonial side in the form of colonial-era houses and the Christ Church. The dense vegetation mostly comprises pine trees. Monkey Point, the highest point in this area, provides incredible views of the surroundings. Lawrence School, located in Sanawar, is about a hundred years old and a major attraction. However, come here not just for exploration but also to absorb the calmness in the surroundings.
Palampur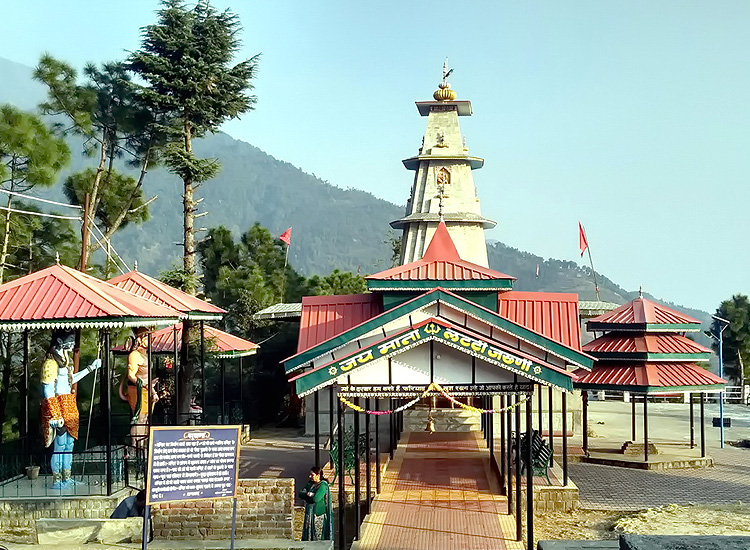 Palampur is one of the cheap places to visit in Himachal and is also among the best hill station in India. Here, you come across rows of tea plantations, paddy fields, colonial-era architecture, and several temples. It offers magnificent sights of the Dhauladhar Range along with the slopes of Kangra Valley.
Some of the attractions of Palampur are St. John's Church, Bundle Chasm, which consists of a beautiful waterfall, and the magnificent Dhauladhar Range from Neogal Park.
Chail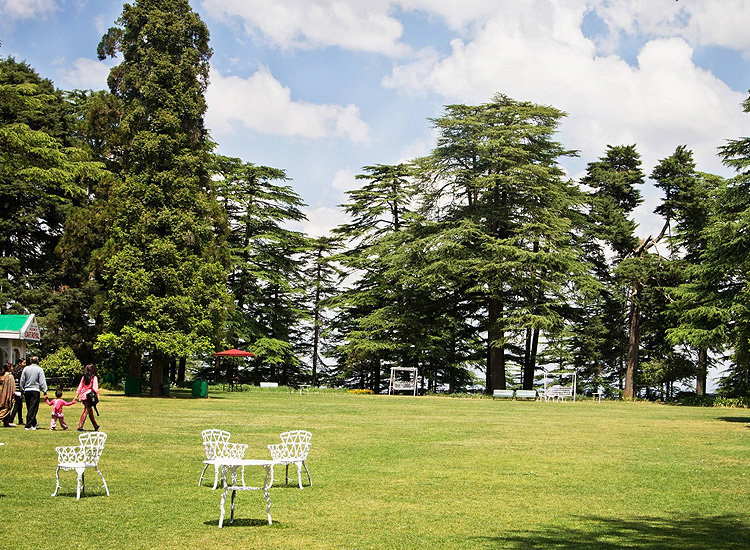 Those who want to get away from the hustle and bustle of city life should travel to Chail, regarded as one of the best hill stations to visit in Himachal Pradesh. A two hours drive from Shimla, this lovely town once served as the summer retreat of the Maharaja of Patiala. The vegetation of this place is covered in pine and deodar trees and provides wonderful breathtaking views of the surroundings.
Chail is home to one of the highest school playgrounds in the world and is maintained by army officials. Ever heard of dining with your legs in the water? The lake restaurant at Sadhupu Lake lets you do just that. Some of the temples are Kali ka Tibba and Siddh Baba ka Mandir. Wildlife lovers should head to Chail Wildlife Sanctuary, located at 7,152ft.
[ Explore the  tourist attractions in Chail with these customized holiday packages ]
Dharamshala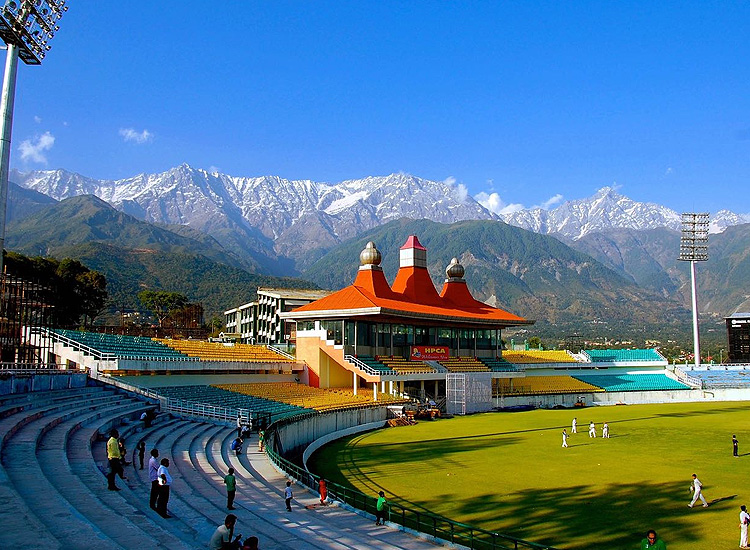 Dharamshala is a dreamy hill station, among the best places to visit in Himachal Pradesh in Octoberembraced on three sides by snowcapped mountains with the valley stretched out in front. Since 1960, it has served as the temporary headquarter of his Holiness The Dalai Lama.
Bajinath Shiv Temple attracts devotees in large numbers during the Shivratri fair. The linga contained in it is one of the 12 Jyotirlingas across the country. Trekking opportunities can be enjoyed at Kareri, while Nurpur is famous for its old fort. Kotla Fort and St. John's Church are famous structures that should be visited during your visit to Himachal Pradesh.
[ Explore popular attractions in Dharamshala with these customized holiday packages ]
Khajjiar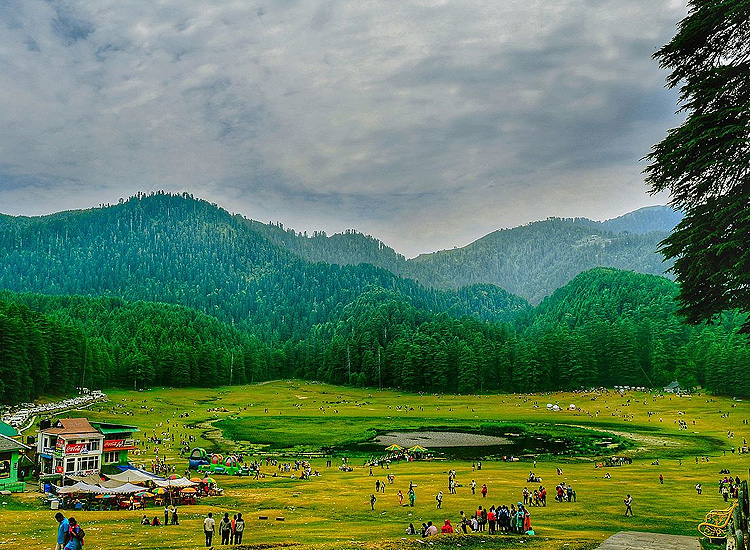 Lush pastures give way to dense forests in Khajjiar, where people go to unwind, relax and rejuvenate. Its close resemblance to the landscape of Switzerland has earned it the nickname "Mini-Switzerland of India".
Khajjiar Lake is a favorite among tourists. Located at an altitude of 1,920m, it's an oasis of serenity and tranquility. The Khajji Nag Temple, which blends Hindu and Mughal styles of architecture, is another place to visit. Most of all, this place is wonderful because of its dreamy aura. Here is the list of the best-customized tour packages of Khajjiar.
Browse these well-customized Himachal Pradesh holiday packages and set off for an enjoyable vacation
Related Post:
Top Places to Visit in Uttarakhand during your holiday
Places Which You Should Not Miss During A Holiday In Rajasthan
Top Holiday Destinations in Maharashtra where you want to visit
Explore The Incredible Destinations Across Tamil Nadu
Don't Miss These 10 Best Places To Visit On Your Holiday To Kerala