Abroad vacations always come up with excitement, and experiencing this feeling with your beloved or family is something else. Whether you plan an international vacation for your honeymoon or a family vacation, the climate plays an important role for both. Choosing a vacation month is also a part of planning. If you are looking for the best places to visit outside India in March, then you got the place that matches your requirements. Here you will get to know the best places for your lovey-dovey journey and a family vacation. We have covered essential points, like where to eat, things to do, how to reach, and some tips to make your trip more than perfect. Check out these international destinations to visit in March for a better international holiday and to get an idea about your vacation.
List of Best Places to Visit in March Outside India in 2022
Places to Visit in March Outside India for Honeymoon
If you are catching sight of the best international places for a honeymoon in March to express your love unimaginably, then you have got the place of your choice. First of all, congratulation to made a love bond with your beloved stronger than any chemical bond. And now, if you are dreaming of an international romantic escape, then we aid you in choosing the place for your love journey that suits both of you. We have compiled the list of best international destinations for a honeymoon in March. Each destination offers different beautiful elements with a touch of romantic vibes that will leave you stunned.
1. Maldives- Collection of beautiful islands with amazing marine life
It is next to impossible to miss the Maldives when we create a list of honeymoon destinations outside India in March. It is a perfect destination for honeymooners that offers scintillating beaches, a thatched-roof bungalow, and a cluster of verdant islets. From indulging in adventure sports together like scuba diving to enjoying rejuvenating spa therapy, all of your passionate dreams are sure to be fulfilled here. Apart from that, you can cherish some golden moments with your better half at private beaches and dotted islands. You can enjoy the touch of luxe with the overwater villa on your honeymoon in Maldives.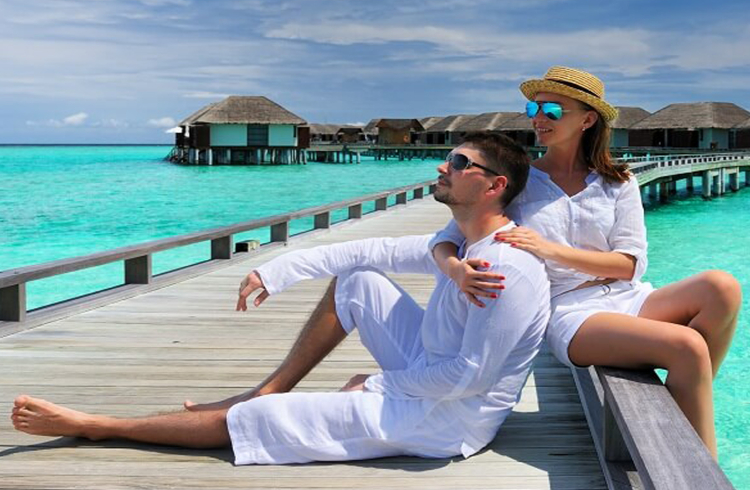 Why visit in March: During March, the chances of witnessing the shark and manta rays are at a higher level. Another reason is the climate is pleasurable for sightseeing and to indulge in water sports activities.
Things to do for romantic experiences
Island hopping with your partner
Enjoy the scenic view by luxury cruising
Swimming and snorkeling together
Learn scuba diving
Enjoy the undersea scooter ride
Relish the romantic dinner on the beach
Explore Maldives Glowing Beach at night
Places to eat: Ithaa Undersea Restaurant, Atmosphere Kanifushi, One & Only Reethi Rah, The Standard Maldives
How to reach: The Male International Airport is the main airport of the Maldives, which has good connectivity with major countries like India, China, and Sri Lanka.
Trivia: Apply plenty of sunscreen on your body to keep your body tan-free.
2. Bali: Experience the sheer natural beauty
If both of you want to celebrate love by enjoying an exotic and enchanting honeymoon, then pick Bali as your perfect honeymoon destination. You will get every kind of natural beauty along with beaches and lakes to make your love phase more exciting. Bali is home to iconic rice paddy fields, dense jungle, glorious mountainous areas, and gorgeous waterfalls. Plus, its natural beauty is well connected with rich culture and curious tradition and paints a romantic picture for newlywed couples. Lovebirds will find many little-known beautiful places to spend some quality time on their honeymoon in Bali. Apart from that, one more thing that makes Bali an exciting honeymoon destination is its nightlife.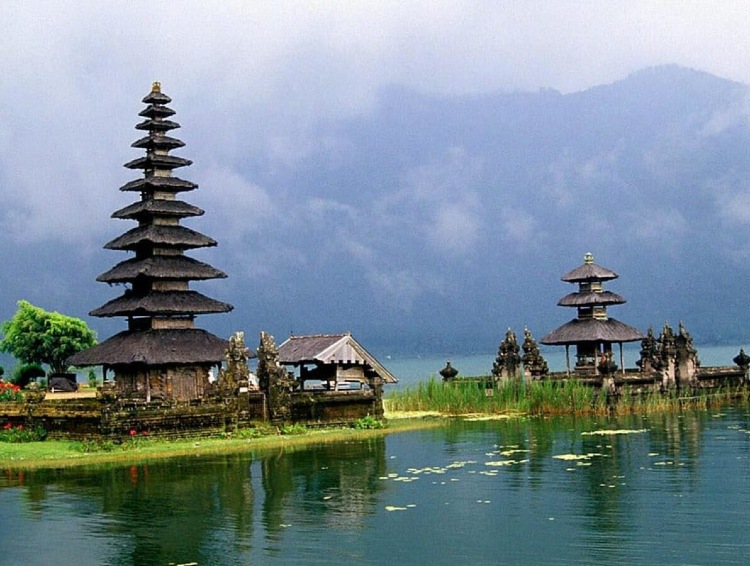 Why visit in March: It is a year-round destination. But for newlywed couples, March is the best time to plan a honeymoon in Bali. It is a changing season month, and in consequence, the crowd is less than the peak season.
Things to do for romantic experiences
Behold scenic vistas from Tegalalang Rice Terrace.
Enjoy a beachside movie at Karma Beach.
Experience nature and romance by Trekking to Mount Batur.
Rejuvenate yourself by visiting Git Git Waterfall.
Witness the breathtaking sunset with beachy vibes at Sanur Beach.
Create cherishable memories at Waterbom Bali.
Feel the romance and thrill at Nusa Dua Beach.
Places to Eat: The cafe at Mulia Bali, Abe-Do, Mamasan, Bale Bali Warung, Bebek Bengil.
How to Reach Bali: Ngurah Rai International Airport is the main airport of Bali that is well connected with major cities of India.
Trivia: Respect the Balinese culture and take note of warning flags on the beach
3. Vietnam: The land of picturesque beaches
Vietnam is one of the iconic honeymoon destinations that will enchant you with its natural beauty, striking landscapes, stunning nightlife, and offbeat destinations. A honeymoon in Vietnam offers striking beaches, sparkling bays, stunning landscapes, and vibrant culture. If both of you want to explore the unexplored countryside, then you visit ancient pagodas and French Colonial infrastructure. Strolling around the beaches with your love interest gives you a feeling of bliss.
Its old charm, scenic scenery, and savory cuisines make it one of the most popular honeymoon destinations outside India. You both can take your love to another level by exploring Phong Nha Ke Bang National Park and enjoy cave camping. Couples can make this honeymoon tour in Vietnam more exciting by touching the different dimensions of fun. Taking boat trips, cruise rides, and enjoying cycling tours are some of the best activities to do in Vietnam for couples.
Why visit in March: In March, the weather of Vietnam is the driest and that means you can enjoy every kind of activity. From indulging in the water-sports to trekking in the mountainous regions, the climate is favorable
Things to do for romantic experiences
Enjoy a bike ride in Hoi An
sail on the Mekong
Rejuvenate yourself by hiking & cycling at Mai Chau
Create sweet memories while cruising and kayaking in Halong Bay
Places to eat: Cha Ca La Vong, Dalchini, Dining Room, La Villa French Restaurant, The Deck Saigon, Vietnam House
How to reach: Vietnam has three international airports, Noi Bai, Da Nang, and Tan Son Nhat. All three airports have good connectivity.
Trivia: The weather in Vietnam is different from region to region.
4. Dubai: A superlative destination of this planet
The golden city of Emirates, Dubai is one of the most preferable honeymoon destinations from India. This city is filled up with tonnes of entertainment options along with ultra-modern structures. Dubai has clung to a beautiful culture with pride, and it makes it more fascinating. You can make your romantic honeymoon to Dubai eventful by experiencing a diversity of fun and thrill. From mesmerizing sunsets, ecstatic dinner cruises, man-made wonders to never-ending shopping mania.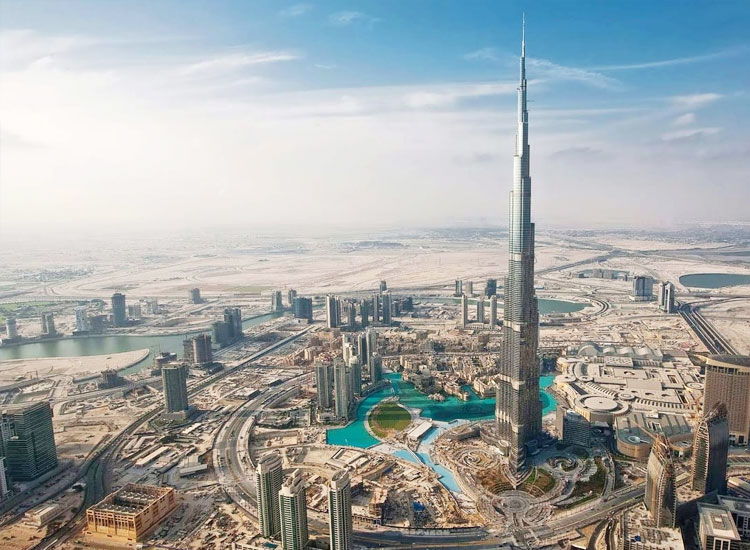 Give your romance a new height by exploring Dubai and its attractions with your beloved. This dazzling city offers numerous activities and attractions. No wonder why Dubai is sought majorly by the newlywed couple. This superlative city is the epitome of beauty and gives numerous dimensions to celebrate a honeymoon with love vibes.
Why visit in March: To avoid the heat and feel the pleasant climate, March is one of the perfect times to visit Dubai. You will stroll the city and get a deep satisfaction while exploring attractions with such climate conditions.
Things to do for romantic experiences
Explore the new height by visiting Burj Khalifa.
Feel the thrill with underwater fun.
Experience the overnight desert safari with your partner.
Immerse your feet in white sands by holding hands of each other at Kite Beach.
A Romantic walk in the Miracle Garden.
Experience the Adrenaline pump with your partner at Wild Wadi Amusement Park.
Places to eat: Dinner in The Sky, Marina Social, Palm Avenue, The Shore, Iris, Private Terrace Floor 42
How to reach: Flying is the finest way to reach Dubai from India and Dubai International Airport is a reputed and busy airport of UAE. You can take direct flights from major cities of India like Delhi, Mumbai, and Bangalore.
Trivia: It is better to avoid hugging each other in public places because it is considered against the culture. Respect the culture and explore the beauty of the city.
Best Places to Visit with Family Outside India in March
An international trip with family is a chance to welcome some exhilarating moments with your close ones and make it special. If the volley of confusion hits you hard regarding the destinations to visit outside India in March, don't worry! We will tell you some of the best places where you can fulfill your dream of having an international vacation with your family in March. The season you choose is perfectly fit as the climate is favorable and suits every age group. Now choosing the destination may be a little bit daunting, but we make it simple by providing some additional information for every destination.
5. Singapore: The melting point of culture, nature, and man-made marvels
Singapore is one of the perfect destinations for a family vacation outside India with a safe and secure environment. This lion city celebrates the culture and offers modernity, natural traits, and thrill-packed activities. It is an island country that gives mesmerizing views and innumerable ways to experience cherishable moments with your family. Singapore is a perfect choice for a family vacation as it provides exceptional experiences for every kind of traveler.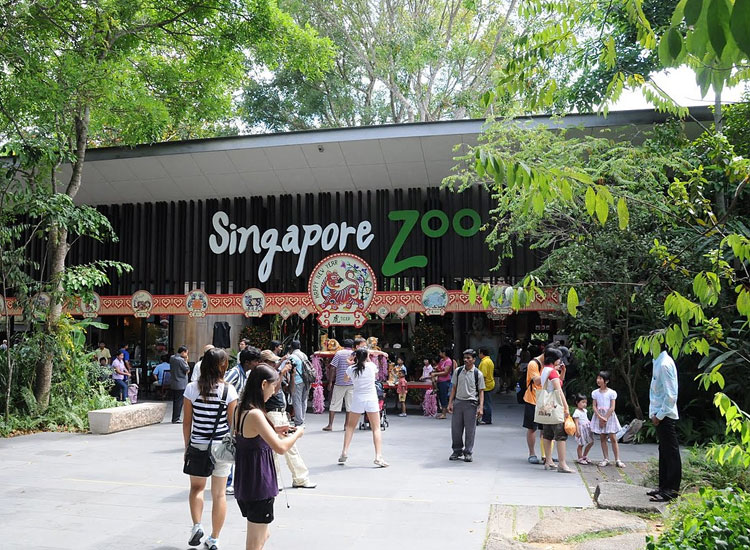 Whether you are looking for a peaceful vacation, or you want an adventurous vacation, Singapore has it all. From exhibiting modernity to being connected with culture, this international destination will amaze you at every step. This country sprinkles chic shopping malls, luxury hotels, amusement parks, man-made marvels, natural beauty, and luxury experience. These all ingredients are just more than perfect to make an International family vacation pleasurable.
What is special in March: The Singapore Festival of Fun that is celebrated in March is one of the prominent reasons for you to enjoy a family vacation in March. Apart from that, the climate is soothing and perfect for enjoying outdoor activities with kids.
Things to do with Family in Singapore
Stroll in Gardens by the Bay
Enjoy the chilling and fun family time at Silosos and Sentosa Beach
Know history and culture at the National Museum of Singapore
Stroll in orchard Road to fill your bag with souvenirs
Visit one of the most appealing mad-made creations- S.E.A Aquarium
Explore Universal Studio to meet fun, enjoyment, and awe-inspiring experiences
Admire Marina Bay- A iconic structure of Singapore
Places to eat in Singapore: Rang Mahal, Shahi Maharani, The Song of India, Ristorante Amarone, Pasta Brava, Cherry Garden, Jaan.
How to reach: A flying journey is one of the best and smartest ways to reach Singapore from India. You can take flights from major cities of India to Changi International Airport.
Pro-tip: Don't forget to keep beachwear and sunscreen lotion.
6. Cambodia: Home of ancient temple
It is the home to Angkor Wat, which is the world's largest religious monument. No wonder! Why Cambodia is called the Kingdom of Wonders. It is one of the most charming and cheapest international destinations that gives an insightful traveling experience. It is land that will win your heart with its cultural heritage, panoramic beauty, and unique charm. Your foreign family trip from India to Cambodia is all about a diverse range of attractions that will amaze each and everyone member of your family. Cambodia is filled up with an incredible range of fun-filled activities and attractions.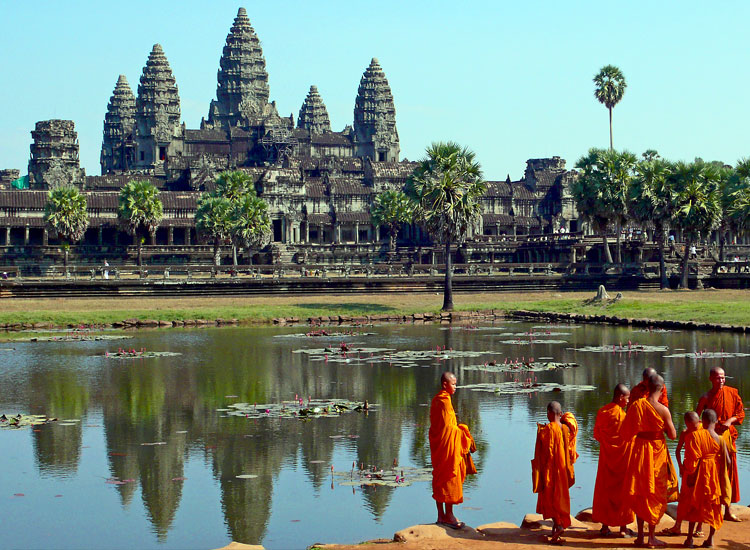 On this abroad vacation with your family, you will behold gorgeous temples, majestic ruins, pristine beaches and experience its rich cultural heritage. During this international trip with family, you will face many surprises at every turn. You can enjoy cruising, watersports, and swimming. But riding on elephants and indulging in shopping in Cambodia gives a rare traveling experience. A promising adventure is waiting for you at every turn in this country. Once you start to explore the goodness of this city, you will crave more as every dimension will offer something interesting.
What is special in March: Cambodia experiences cloudy weather in March, which is neither too hot nor too cool. This favorable condition makes it easy for you to enjoy the sightseeing tour of Cambodia.
Things to do with Family
Witness art, theatrics, and dance in Khmer performance
Spot Dolphin and Sunset from cruise
Admire the art of Phnom Penh Palace
Spend some time at Bamboo Island
Connect with wildlife at Virachey National Park
Explore ancient temples and structures
Behold the beauty of water at Popokvil Waterfall
Places to eat in Cambodia: Friends the Restaurant, Coconut Lyly, Hachi, Vibe Cafe, Dakshin's, Namaste India
How to reach: Phnom Penh International Airport is the main airport of Cambodia that is well connected with major cities like Delhi, Mumbai, Bangalore.
Pro-Tip: memorize some important words and phrases of the Khmer language as it helps you a lot in the tour.
7. Bhutan: Land of natural beauty and biodiversity
Widely renowned as the Land of Thunder Dragons, Bhutan is one of the best international destinations from India. During this strip, you can trek to mountains, explore beautiful villages, learn the history, and find inner peace in monasteries. After spending a vacation in Bhutan with family, you will realize why it is one of the happiest countries in the world. Bhutanese hospitality will win your heart and make you fall in love with its culture. Apart from that, you will connect yourself with vibrant festivals, peaceful environments, and natural beauty.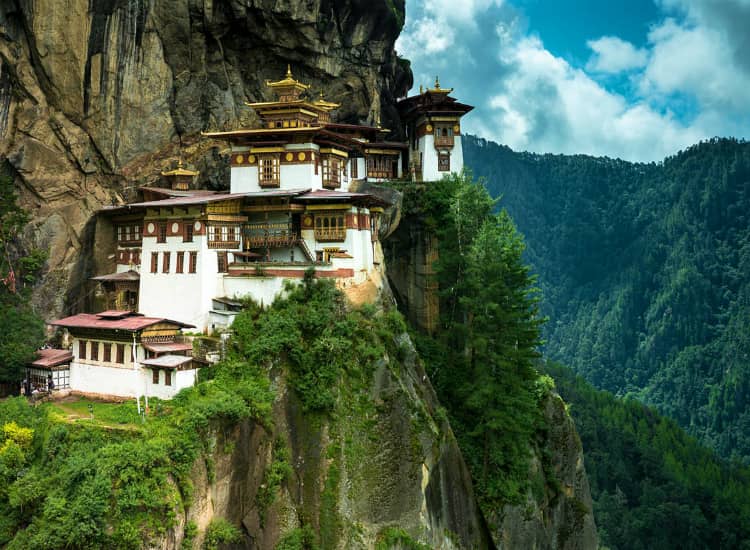 Every element of Bhutan is perfectly fit for a joyful family vacation. You will touch the diverse form of beauty with a vacation of Bhutan and never get any dull moments throughout this vacation. From thrilling activities like trekking to relaxing birdwatching, you will have many chances to make your holiday special. If you are a nature enthusiast, then witness the biodiversity at its best in Bhutan by enjoying wildlife safari. It is the land that will never disappoint anyone as it has something for everyone.
What is special in March: Bhutan enjoys a warm, sunny, and pleasant climate in March, which makes it easy for you to indulge in water sports like rafting and kayaking. You can celebrate Punakha Drubchen and Punakha Tshechu in March.
Things to do in Bhutan with Family
Enjoy trekking
Get a panoramic view from Bumthang Valley
Feel the nature at Jigme Dorji National Park
Seek blessings from Monasteries
A walk to remember at Suspension Bridge
Get rejuvenation by hot spring therapy
Places to eat in Bhutan: Babesa Village Restaurant, Champaca Cafe, Sonam Trophel Restaurant, Folk Heritage Museum Restaurant, Ambient Cafe, San Maru Restaurant, Taktsang Cafeteria
How to reach: The ideal way to reach Bhutan is by air. Paro International airport is the main airport of Bhutan, which is 7 km away from the city. You can catch a flight from cities like Mumbai and Guwahati.
Pro tip: Indian currency and U.S dollars are accepted in Bhutan
Now a word-pain picture must have been created in your mind for your international holiday in March. Every place that we have covered gives you an insightful experience according to your interest and mood. So what are you waiting for? Pack your bag and plan your abroad vacation in March to fill your heart with cherishable memories.