Approximately 58 countries are on the Earth which Indians can explore without obtaining a visa before the visit. That's the first good news! Coming to the point, April is the perfect time to go international from India because of the unbearable heat of the sun India experiences. In India, April is when the average high is 38 degrees Celsius (approx.). Don't you think it is one of the key reasons to explore the top places to visit outside India in April?
If you are shaking your heads in agreement, embrace the fact that now vacations outside India are not only restricted to the rich brags! Even if you are not filthy rich, our list of top places to visit outside India in April will give you multiple reasons to go international.
Ready to flaunt yourself on a pampering vacay at exotic locations like Dubai or Bali or some other to signify your status? Scroll on to paint your wanderlust canvas at the palm-fringed beaches of Vietnam, or discover the rich wildlife of Sri Lanka, or bewitch your mind with the sky kissing skyscrapers.
Places To Visit Outside India In April Where You Don't Need Whooping Cash To Splash
Take a pause from the heat of April in India with our curated list of best places to visit outside India in April:
Budget-Friendly Countries to Visit from India for Honeymoon in April
It always feels great when you spice up your pre-or post intimacy in a destination like Dubai. The afterglow of the romance driven season at luxury-drenched Boracay Island is a rewarding feeling.
How about exchanging the next level of ahh-mazing pleasure in luxury yet affordable accommodations in Bali, Vietnam, and Malayasia overlooking the beaches and lush greenery?
Frankly, International adventures are meant to be made for couples to understand each other better.
If you think you have found your special one, make their presence count in your life by taking her to any of these honeymoon places to visit in April outside India:
1. Boracay Island, Philippines
Wow Factor: The Pacific Ocean surroundings provide the best diving and snorkeling experiences to couples with an affinity for romance combined with adventure.
Time You Should Spend in Boracay Island: 2-4 days (approx.)
Average Day Budget for Boracay Vacations: $52 (approx.) per person
Best Resorts in Boracay Island for Couples: Crimson Resort and Spa, Shangri-La Boracay, Henann Crystal Sands Resort.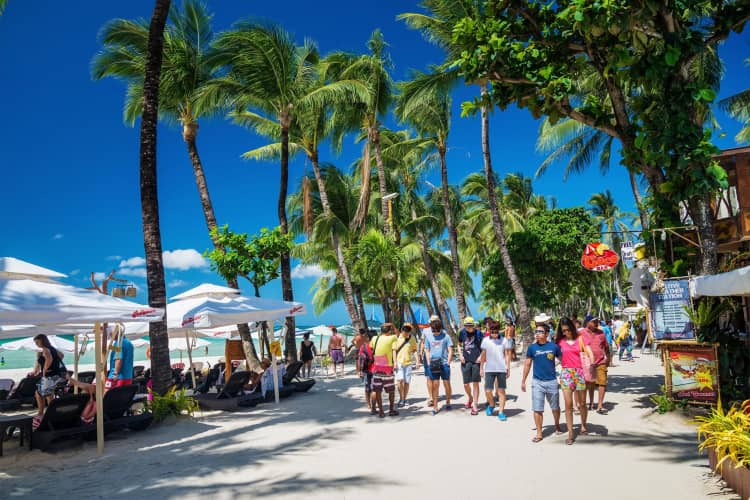 Show your spanking strength at one of the most celebrated vacation destinations in the Philippines. Boracay Island, as the name suggests, is a tropical island laden with palm-fringed beaches.
The island, however, is a small one that could be explored within one day, but its small size doesn't stop it from producing the enigma of romance.
With 17 sugary white sand beaches under its belts and a range of luxury resorts for couples, Boracay Island, where hiking, cave exploration, and culinary scenes set the stage for a romance amongst the couples.
If you and your sweetheart have an affinity to indulge in thrilling watersports, get ready to soak the island vibes by trying your hands in snorkeling, scuba diving, cliff jumping, and much more!
Travel Tips for Boracay Island
Secure your accommodation booking in advance.
Know about the watersports operational timings in advance.
2. Vietnam
Wow Factor: Indian passport holders get a 30 days tourist visa on arrival in Vietnam, which is a great thing.
Time You Should Spend in Vietnam: 4-8 days (approx.)
Average Day Budget for Vietnam Vacations: $50 (approx.) per person
Best Resorts in Vietnam for Couples: Six Senses Con Dao, Fusion Maia, Ana Mandara Hue Beach Resort.
Let the testosterone and estrogen combine with each other in a wonderful destination like Vietnam. This destination is a mecca for those who love to explore historical sites.
Plus, April in Vietnam is considered one of the best times because the salubrious climate allows beach hoppers to indulge in extreme watersports. Apart from the beaches, couples can soak the romantic scenery drenched in lush greenery followed by savoring the culinary scenes of Vietnam.
The UNESCO World Heritage Halong Bay is the place to cherish a cruising excursion with your beloved one. Did we mention that Vietnam is one of the affordable countries because almost everything here comes at half the price of what you would pay in the west?
Ain't this fact invoking your romantic hormones to consider Vietnam one of the best places to visit in April outside India?
Travel Tips for Vietnam
Be aware of taxi scams
Get to know about the weather conditions
Walk safely on the roads
3. Malaysia
Wow Factor: Malaysia is one of those first countries that opened its gates for Indian tourism in 2021.
Time You Should Spend in Malaysia: 4-6 days (approx.)
Average Day Budget for Malaysia Vacations: $72 (approx.) per person
Best Resorts in Malaysia for Couples: Tanjung Rhu Resort, Casa del Mar Langkawi, Macalister Mansion.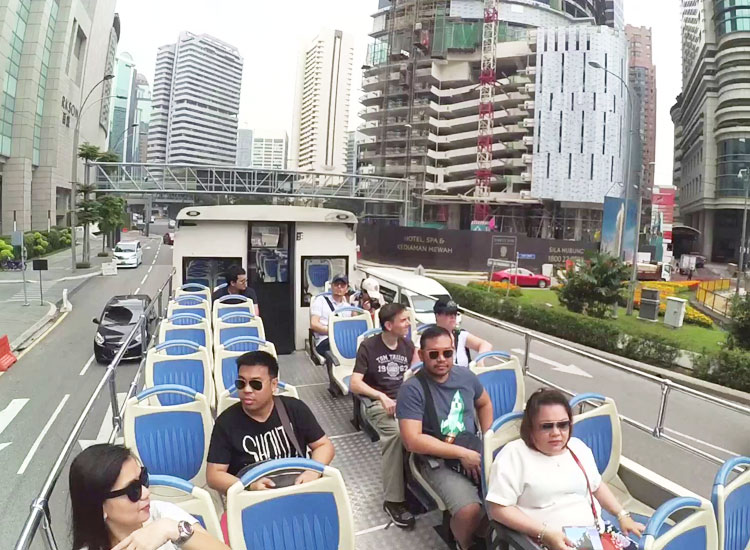 How about warming up before the main event in a country like Malaysia, where hills, beaches, food, and rich wildlife are in abundance? Many Indian couples make Malayasia their honeymoon playground, not only particularly in April but throughout the year.
Thanks to its unique vibrancy in culture because Malaysia's population is a cluster of many religions. But for honeymooners, Malaysia is a pretty awesome country to explore in April since the infrequent rain showers and humidity is less for outdoor adventures on the beaches, or hills.
Here you can find every element of holidays in India like ropeway on the hills, a romantic stroll in the middle of tea plantations, and manifesting the thrill of watersports.
Not an exaggeration, but Malaysia is a pretty developed country for indulging in every kind of romantic activity or experience.
If you want to honeymoon amidst the dry weather and clear sky, Malaysia in April is the place to go!
Travel Tips for Malaysia
Remain respectful to the culture and traditions
Bus travel is the most inexpensive mode of transport
Hold your passport with you all the time to keep yourself safe
[ Explore Malaysia Tour Packages ]
4. Bali, Indonesia
Wow Factor: This Indonesian Island Bali is visa-free for Indian tourists for 30 days, so why should couples not have fun?
Time You Should Spend in Bali: 7-10 days (approx.)
Average Day Budget for Bali Vacations: $65 (approx.) per person
Best Resorts in Bali for Couples: Alila Villas Uluwatu, Viceroy Bali, Ubud, W Bali, Seminyak
Travel Tips for Bali
North Bali is more pristine, unexplored, and exhibits more relaxed vibes
The cultural heart of Bali – Ubud is where you will inhale the true essence of Bali
Only use authorized money exchanger companies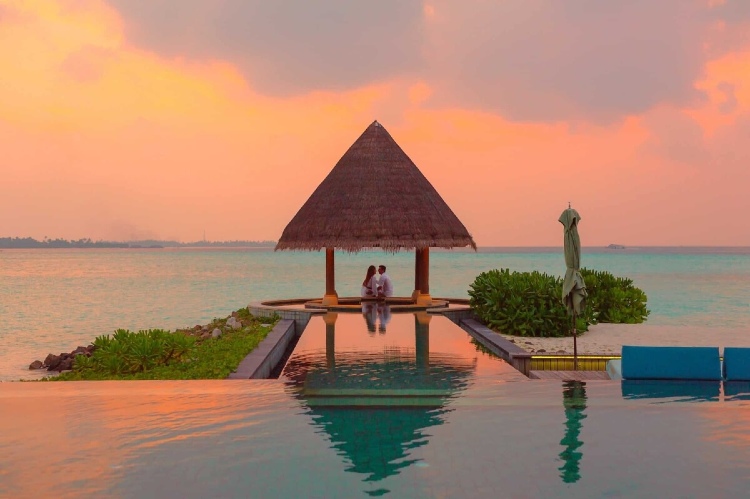 Take control over her mind in God's Own Island, Bali. This destination provides a 30 days visa on arrival to Indian tourists, and its pristine islands, quaint hamlets, jaw-dropping lush greenery, and secluded beaches are a visual retreat for anyone!
Beachgoing couples can dip their toes in the white sands and stay at Bali's luxury resorts that are destinations in themselves in April that too without going broke. Since April is the shoulder month in Bali and you will hardly find beaches overcrowded.
Ubud, the cultural heart of Bali, is known to be the famous hub of Ayurveda and yoga in Bali, where pampering yourself with your partner by taking a couple massages together is the best thing to do in April with your sweetheart.
The charm of Bali could be explored when you with your significant other will plan a honeymoon holiday to Bali to explore its unspoiled islands, lush greenery in the island's dry season, April.
[ Explore Indonesia Tour Packages ]
Budget-Friendly Countries to Visit from India in April with Family
Your family has always remained by your side in harsh times and will also be in the future! Show some gratitude towards them in a way that reflects your efforts and appreciation. Plan a trip to these family-friendly places to visit in April outside India for the dose of ultimate rejuvenation:
5. Dubai, United Arab Emirates
Wow Factor: Indian tourists can obtain a visa on arrival at Dubai airport for a maximum of upto 14 days, and we can't keep calm after listening to this!
Time You Should Spend in Dubai: 5-8 days (approx.)
Average Day Budget for Dubai Vacations: $150 (approx.) per person.
Best Resorts in Dubai for Couples: Anantara the Palm Dubai Resort, Jumeirah Dar Al Masyaf, JA Beach Hotel.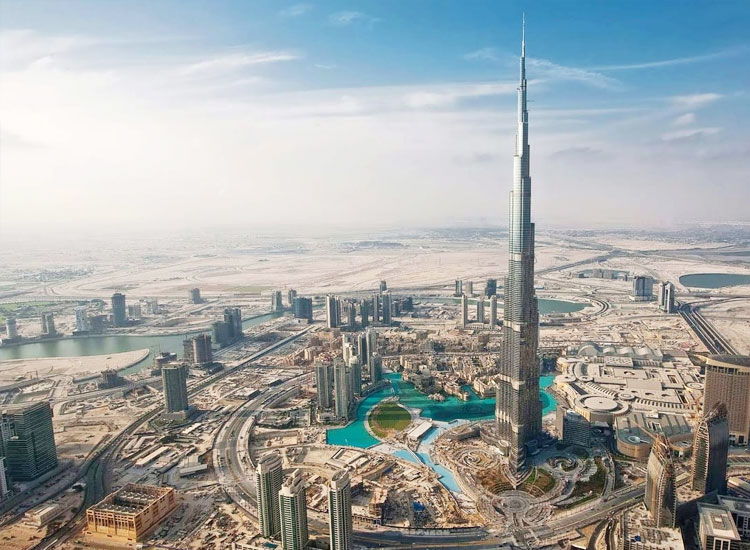 Take your family to Dubai if your family has also got an untreatable case of wanderlust. With historic sites, intriguing architecture, active nightlife, and skyscrapers towering, Dubai is one of the family-friendly places to visit in April outside India because April is the 6th coldest month of the year in Dubai. Rainfall is likely to happen in this United Arab Emirate if you make Dubai your family's holiday playground.
This Emirate in the United Arab Emirates sprinkles luxury that is hard to find anywhere else. Ruled by Sheikh Mohammed Bin Rashid Al Maktoum, Dubai is futuristic, and that is the most special thing you observe in Dubai.
Explore the world's tallest building Burj Khalifa, pay a visit to the most expensive shopping malls to satiate your shopping cravings. There is so much to explore in Dubai you would never know until you visit it.
Travel Tips for Dubai
Don't indulge in a public display of affection
Don't you dare to show any disrespect to the Dubai religion
Stay respectful to their culture and traditional value
[ Explore Dubai Tour Packages ]
6. Singapore
Wow Factor: Singapore is known as the greenest city on earth, with green roofs, cascading vertical gardens, and verdant walls. Within the 100 m of Singapore, a green area is sure to be found.
Time You Should Spend in Singapore: 6-10 days (approx.)
Average Day Budget for Singapore Vacations: $120 (approx.) per person
Best Resorts in Singapore for Couples: Amara Sanctuary Resort, Costa Sands Resort, Dusit Thani Laguna Singapore.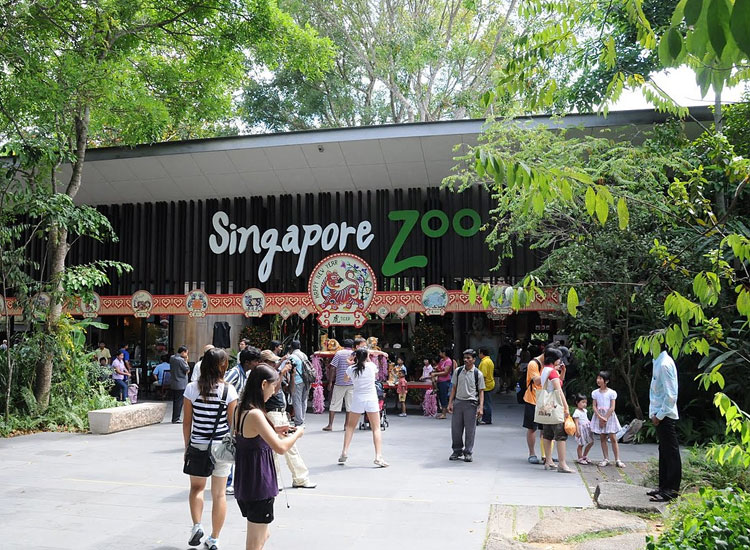 Observe the balance between modernity and authentic culture and get mesmerized with sky-touching skyscrapers in Singapore. This sovereign island city in southeast Asia is a mix of varied things and is best to explore in April because it is an off season for Singapore Tourism.
This means you will find less crowd at the top places to visit in Singapore for family like Sentosa Island, Gardens By the Bay, Universal Studio.
Snag discounted deals on accommodation but book in advance. You will find Indian culture influence, Malyali culture influence, and Chinese cultural influence in Singapore at different nooks and corners.
Singapore is called the Lion City and while you visit there, make sure you take a plunge in the largest rooftop infinity pool with your brother or father. Stroll the extraordinary green gardens and take river tours on the water taxi.
Your adventure to Singapore will start from the moment you land at the Changi Airport, which has listed itself in the category of Reader's Choice Awards of the best airports.
Inside the Changi Airport is a seven story indoor waterfall that is breathtaking to behold. Plan to visit Singapore in April with family to get the best deals on accommodation as April is the dry season in Singapore.
Travel Tips for Singapore
Don't toss your rubbish anywhere; otherwise, you will be penalized with $300 up to $1,000
Avoid human traffic where possible, like on stairs
Trust the reliable currency exchangers only
Chewing gum is prohibited in Singapore, so don't you dare to do that in public
[ Explore Singapore Tour Packages ]
7. Sri Lanka
Wow Factor: Sri Lanka offers a 30 days tourist visa on arrival to the Indians. One needs to take Electronic Travel Authorisation. Furthermore, Sri Lanka is one of those countries to explore on an Indian budget if you exclude the flight price.
Time You Should Spend in Sri Lanka: 7-10 days (approx.)
Average Day Budget for Sri Lanka Vacations: $35 (approx.) per person.
Best Resorts in Sri Lanka for Couples: Suriya Resort Kamala, Cinnamon Citadel, Cape Weligama.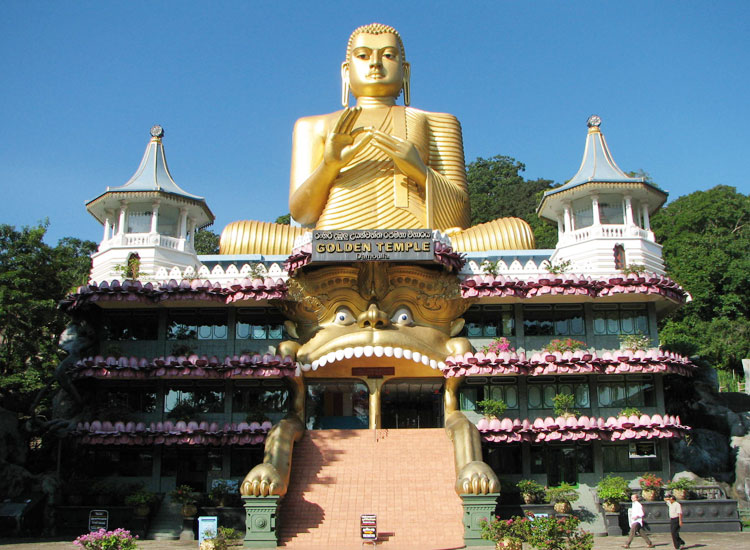 Do you want to manifest the innate sense of luxury without going broke with your family? Look no further than Sri Lanka. The pearl of the Indian Ocean, Sri Lanka, is one of the best places to spot the Asian Leopards in their natural habitat.
Those who are bitten by the wanderlust bug can lounge on the miles of unspoiled beaches and stroll the iconic cultural side of Sri Lanka. Due to its proximity with India and its shape of a tear, Sri Lanka is touted as the Teardrop of India
Stroll the lush green tea gardens on a guided family excursion and nosh on delicious and cheap seafood. The dramatic carved rock fortress in Sigiriya, pristine rainforest hikes, and city exploration on local tuk-tuk are a few reasons to visit Sri Lanka with your family
The best bet for exploring Sri Lanka in April is the climate is idyllic for sightseeing, and beaches are suitable for swimming, surfing, and relaxing.
Lots of new concept hotels are opening up in Sri Lanka to boost tourism. If you want to escape to an international destination on a budget for the Indian holiday, Sri Lanka is the ideal choice.
Travel Tips for Sri Lanka
Don't take selfies with the Buddha statue.
Respect the culture and traditional values.
Avoid taking pictures of the locals without their consent.
Stay protected from currency fraud and rely on authentic currency exchangers.
[ Explore Sri Lanka Tour Packages ]
8. Nepal
Wow Factor: Sri Lanka offers a 30 days tourist visa on arrival to the Indians. One needs to take Electronic Travel Authorisation. Furthermore, Sri Lanka is one of those countries to explore on an Indian budget if you exclude the flight price.
Time You Should Spend in Nepal: 8-10 days (approx.)
Average Day Budget for Nepal Vacations: $35 (approx.) per person.
Best Resorts in Nepal for Couples: The Dwarika's Resort, Rupakot Resort Pvt. Ltd, Royal Penguin Boutique Hotel.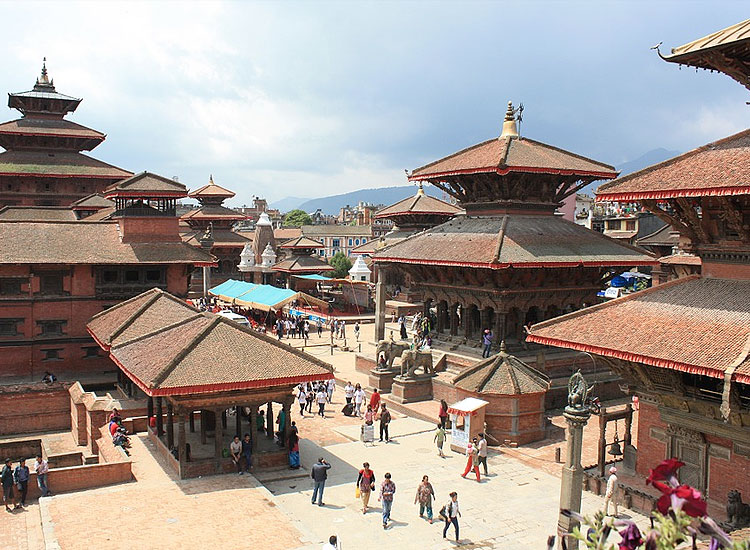 This April, experience the Himalayan experience of Nepal first if anyone in your family has a penchant for hills. Usually, Nepal is considered an adventurer tourist destination because Nepal is home to the highest peak, Mount Everest, and the Everest Base Camp Trek that gives the best of the experience of Mount Everest.
But a family trip to Nepal is more about hiking because Nepal is a country of contrast. Nepal is your ticket to explore an international destination without splashing much cash with a sense of history, magnificent historic temples, and pristine lakes.
Moreover, April is the time when rainfall in Nepal tends to be common. So if you want to see Nepal covered in lush greenery at its best, make Nepal your holiday playground with family in April.
Did we mention that accommodations in Nepal are pretty inexpensive in hills with a different price range?
Travel Tips for Nepal
Avoid indulging in public affection because it is totally alien to Nepalese culture.
Raising your voice over an argument is considered disrespectful in Nepal.
Unless you get the consent of the locals don't photograph them.
[ Explore Nepal Tour Packages ]
Wrapping Up
Family travel is rewarding, family traveling is enriching, and family travel is worth going to! A vacation with a family that is too international is sure to enable a strong bond between you and your family. If you have children at your house, they will get to experience new adventures. Furthermore, your parents will understand the various aspects of the country you are visiting.
Which of these places to visit in April outside India got your nerves to hit the next trip with your family?
Why Visit The Places Outside India in April?
If you are someone who is allergic to going outdoors in April in India's summer, you should think of visiting the cool places outside India in April. India during April travel provides respite from the heat only at the Himalayan destinations in North India and North East India. Moreover, many international destinations provide discounts on their accommodation in April, which is one of the reasons to visit places outside India in April. 
Read Also: Best places to travel in April in India