If you've been thinking 'Can I visit Ladakh in August?' The answer will be yes. But, it is not the best time to visit Ladakh as there is heavy rainfall on the Manali-Leh Highway and Srinagar-Leh Highway. But if the adventurer in you does not stop, you can plan a trip to Ladakh in August. With that, you have to be extremely careful and take precautions wherever necessary to ensure your safety.
Want to find out the road conditions, the weather, clothing tips, and more, keep reading.
Is August safe to visit Ladakh?
Yes, Ladakh is safe and open all throughout the month of August, and it also is the peak tourist season. Both the highways to Ladakh from Srinagar and Manali are open, but you may find road blockage if there is too much rain. BRO clears the roads, but it can take some time. So, keep buffer days. Internal roads are also open, leading to Pangong Lake and Nubra Valley. Apart from the roads, the accommodation options are open and running too, plus the public transport in Ladakh is also operational. You can do it if you want to enjoy trekking, river rafting, etc.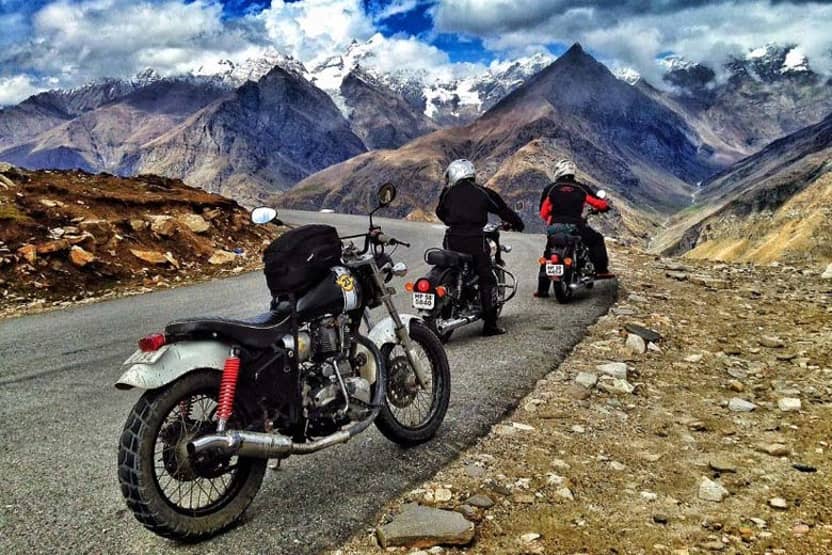 Another important thing you need to remember is that August is the time of Independence Day, and thus, Ladakh and surrounding regions are under high alert. So, if you plan to visit Ladakh in August, you will be stopped at several check posts, which could delay your journey. Therefore, it is recommended to plan your trip to Ladakh in the first half of the month and be prepared to see a heavy army presence.
Weather Conditions in Ladakh in August
The weather in Ladakh during August will be pleasant and warm. You can experience little to no rain showers in Ladakh, but there are heavy chances of rain around Manali and Srinagar.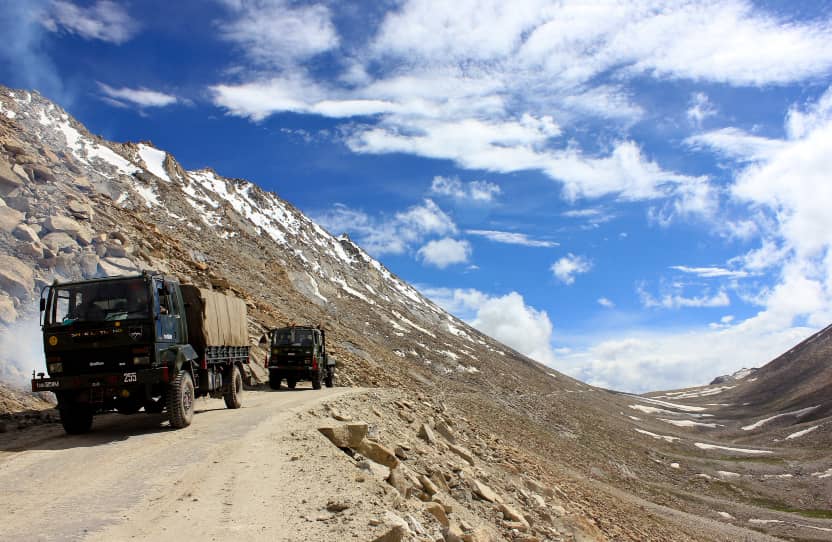 But for the rest of the time, you can easily explore Ladakh in your regular cotton clothes. Carry warmer clothes for the night, though the temperature may dip to 10°C.
Routes to Reach Ladakh
There are two routes for Ladakh – Srinagar Leh Highway and Manali Leh Highway. The Leh-Srinagar road opens in April, but the Leh-Manali road opens in June.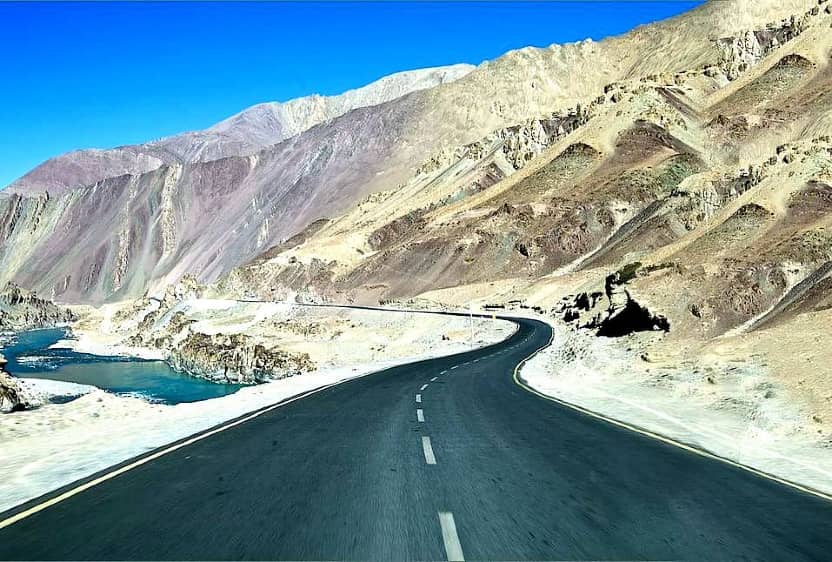 Which route to Ladakh is better in August?
Considering every point, like road conditions and petrol pump availability, we recommend you take the Srinagar to Leh Highway. It will be much cleaner as compared to the Manali to Leh Highway. But the Srinagar to Leh route will be heavily secured by Indian Armed Forces. Keeping Independence Day in mind, if they feel something is suspicious in general, they can put the area under lockdown for some time.
Is It a Good Option to Arrive in Leh Ladakh in August By Bike Over A Car?
If you are an avid biker and know how to get past that slush and mud, you can choose a bike trip to Ladakh over a car any day. But here are some things you must keep in mind –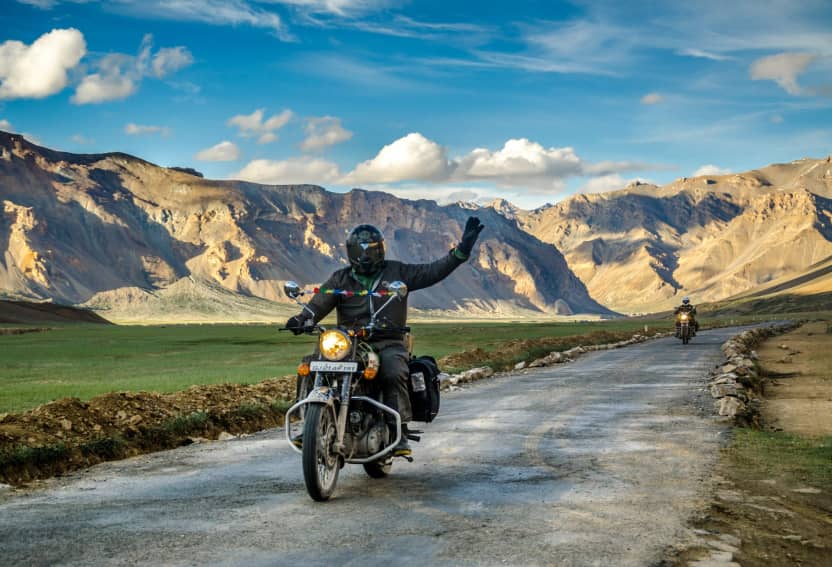 Carry waterproof bags to carry your luggage. Wrap them in plastic bags and rope them on your motorcycle.
Carry extra plastic bags in case you have to get ruined.
Keep your wallet, electronic items, and other essential documents in plastic bags at all times.
It is impractical to change clothes every time they get wet. It is recommended to wear fast-drying, lightweight clothes that can help you enjoy your ride better.
Get your motorcycle checked for any tire repairs or anything that may cause a short circuit.
Wear rubber shoes especially while water crossing in Ladakh.
Wear a good quality helmet.
Is It a Good Option to Arrive in Ladakh By Car in August?
Yes, you can definitely plan a road trip to Ladakh in August by car. But here is a list of things you need to keep in mind while planning –
Do not put your luggage on the roof of the car. It will get wet and destroy your clothes and essentials.
Even though you are traveling in a car, always keep your important documents in plastic bags.
Carry extra fuel with you as there are no petrol pumps after Leh city.
If you have extra luggage that you want to keep on the roof, cover them in plastic bags.
Is It a Good Option to Arrive in Ladakh By Air in August?
Yes. Traveling by flight to Ladakh is great if you have family or a partner with you. But for this, the weather should be clear and that is a rare chance in August month. Make sure to check weather conditions and then proceed with flight booking. Else, plan your Ladakh trip in the first half of August.
Public Transportation in Ladakh in August
All public transport like buses and taxis are running to and fro from Leh city. You can hire buses to Ladakh from Delhi, Himachal, and other cities nearby to Leh Bus Stand. From there, shared taxis are available to Ladakh on a daily basis.
Local Transport in Ladakh in August
August receives a fair share of tourists and adventurers, and thus, there is good availability of transport services. It is recommended to book a taxi beforehand to avoid last-minute hassles. Bikes can also be rented on the spot, and buses are available to major tourist sites as well.
Road conditions in Ladakh in August
Due to heavy downpours, the roads around Manali-Leh Highway are covered in slush. There are many water crossings as well. So, you must be very careful while driving or riding a bike. If you get stuck somewhere, you can always ask for help. Besides, water streams and mud will be less at the top passes and internal roads in Ladakh.
Places to Visit in Ladakh in August
Here are the top places to visit in Ladakh in August –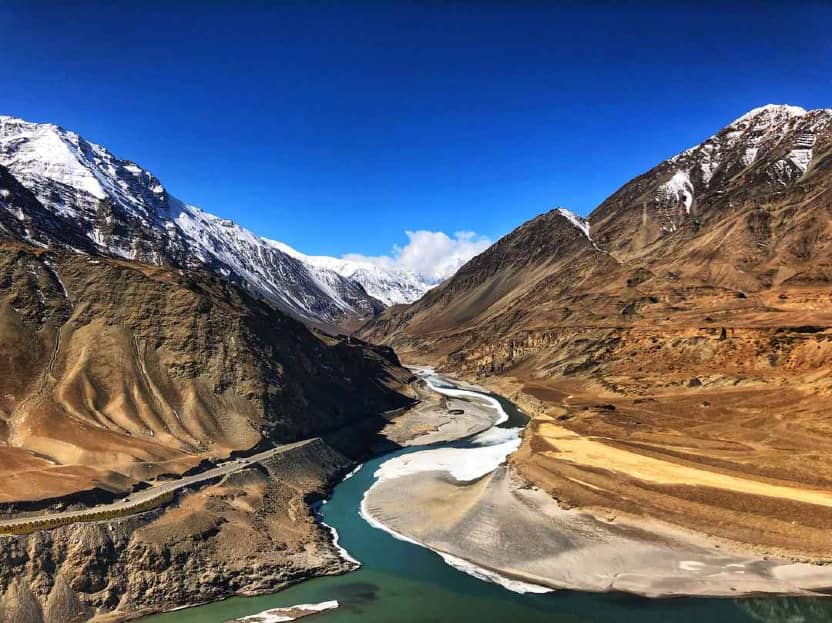 Tso Moriri
Hansel and Sham Valley (with permits)
Leh City
Turtuk Village
Markha Valley
Magnetic Hill
Confluence of Indus and Zanskar Rivers
Read Also: Places to visit in Ladakh for couples
Things to do in Ladakh
The top things to enjoy in Ladakh in August month are –
Trekking
Pray with the monks at the monasteries
Click photos for Instagram
Cycling
Stargazing
Camping
Indus River Rafting
Enjoy a camel safari at Hunder
Go on Yak Safari
Shopping at Leh Market
Pray at Shanti Stupa
Read Also: Lakes in Ladakh
Festivals Celebrated in Ladakh in August
Attend the colorful festivals of Ladakh in August. There may not be too many, but if you want to get an insight into the life of Ladakhi culture and people, it is the best way.
Karzok Gustor
Takthok Tse Chu
Sani Naro Nasjal
Where to Stay in Ladakh
All the guesthouses and hotels in Ladakh in August are open and operational. You can book your accommodation in advance to avoid any last-minute hassles. Campsites are also available near Pangong Lake, where you can stay and enjoy the night, stargazing, and weather of Ladakh.
What to Pack for Ladakh Trip
Knowing what to pack for Ladakh is crucial, especially during the monsoon months. Though it doesn't rain in Ladakh that much, you still carry some warm clothes for the nighttime. Especially if you have kids or the elderly with you, make sure they are warm enough during the night, or they may fall sick. Also, you will visit either by the Manali route or the Srinagar one, so you must have rain gear.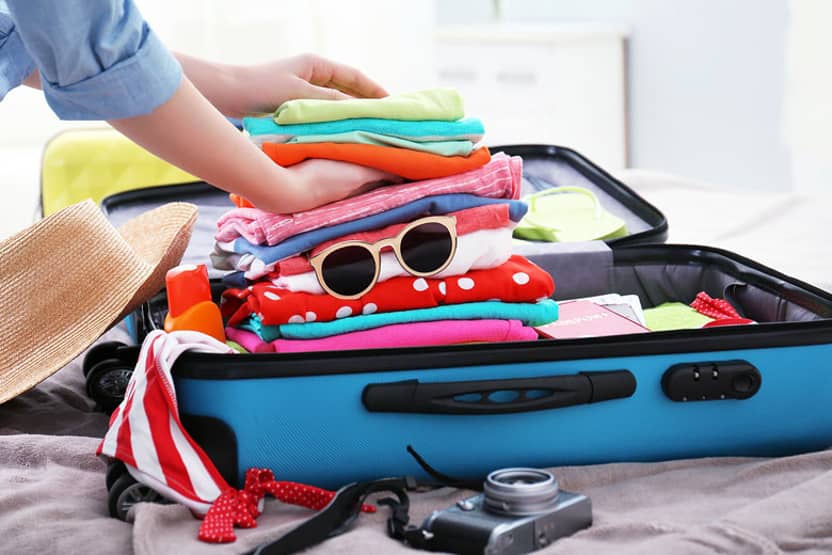 Here are the top things to should pack for the Ladakh trip in August –
Windproof and waterproof jacket with hood
Regular cotton t-shirts and shirts
Thermals
Light woolens for night
Woolen cap
Good pair of sports shoes
Sunglasses and sunscreen lotion
Cold cream and lip balm
Fast-drying clothes
Rubber boots to cross water streams
Water-resistant gloves
Tips for Traveling to Leh Ladakh in August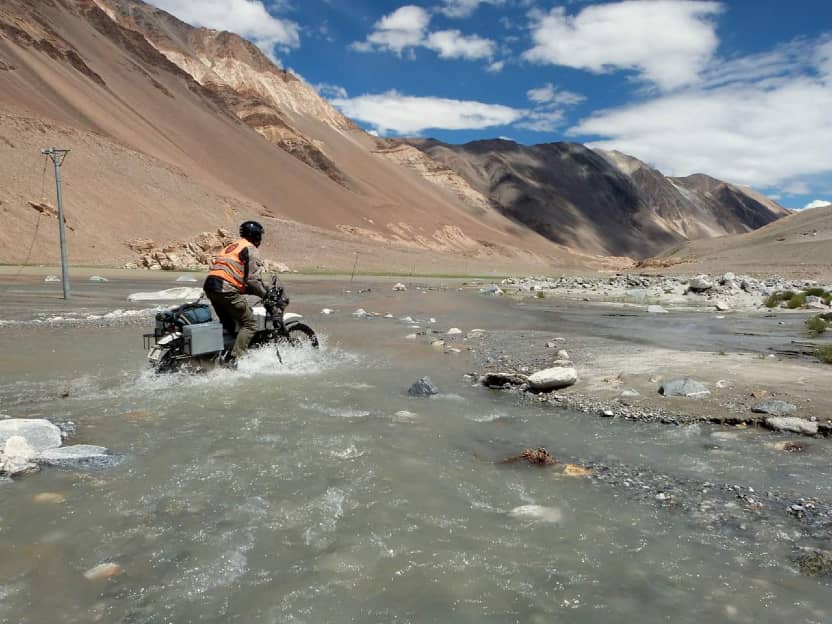 Keep these few things in mind while planning a trip to Ladakh in August –
At high altitudes, there is Acute Motion Sickness. The oxygen level drops, which may cause headaches, head spinning, or even more serious problems. So, carry medicines with you.
Acclimatize in Leh for 2 days before coming to Ladakh to avoid getting sick.
You must have a permit issued by the District Magistrate Office.
There is a lot of slushes on the Manali route, so make sure to check the road before driving and if you get stuck, ask for help. Drive slowly.
Do not rent a motorcycle outside Leh. Come to Leh and rent a bike to go further to Ladakh.
There could be landslides and road blockage, and you might get stuck. So, keep buffer days.
Due to Independence Day, there is a heavy occupation of Indian Army forces, especially at the Srinagar Leh Highway. They might block the roads for some time if they find anything suspicious, so keep buffer days.
Hiring buses, taxis, or bikes will not be an issue. Ladakh receives a lot of tourists, and the transportation services are improving day-by-day.
Any prepaid SIM card will not work in Ladakh except on the BSNL network.
If you are with family members and at a high altitude, if anyone is feeling uneasy, take immediate precautions.
There are no hospitals in Ladakh, the nearest ones are in Leh city. So, if you have an emergency, seek help from the Indian Army.
Considering all of the above points, we hope your doubts about planning a trip to Ladakh in August are clear. If you still have, contact us directly or drop in a query. Our travel experts will contact you to solve the issue and help you plan the best Ladakh tour in August. For hassle-free travel, book Ladakh tour packages by bike, car, or flight 2023 from Tourism of India, which are equipped with meals, transfers, sightseeing, and stays.
Frequently Asked Questions for Traveling to Ladakh in August
Ques. Is there snow in Ladakh in August?
Ans. No, there is no snow in Ladakh in August. You can find it only at the top passes.
Ques. Does it rain in Leh in August?
Ans. No. It hardly ever rains in Ladakh in August. If you are lucky enough, you may witness rainfall. Most rain occurs on the Manali Leh Highway and Srinagar Leh Highway.