Heaven of white-sand beaches, land of breathtaking views, and home to stunning islands, there are many beautiful Island in The Maldives for honeymoon. Beautiful overwater bungalows are far and wide famous for giving a one-of-a-kind experience. But the romantic Islands of Maldives for couples offer numerous opportunities to ignite the spark of love between both of you.
The list of best islands in the Maldives for a honeymoon will give you many good reasons to celebrate your love journey here. No wonder! The Maldives features beautiful islands that match your dreamy holiday destination.
Here is the list of Romantic Islands of Maldives for Honeymoon
1. Malé Island: The Best Island to Know Maldives Culture
Male Island is one of the best islands in the Maldives for couples to get luxury and exotic fun. The major international airport of Maldives is located on this island, and you can explore this island at the beginning or the end of your honeymoon. You can get insight into the Maldivian culture and weave some sweet memories with the thread of love. A touch of modernity and culture allows enjoying a sightseeing tour on this Maldives honeymoon. Undoubtedly, it is one of the perfect choices to start your honeymoon tour.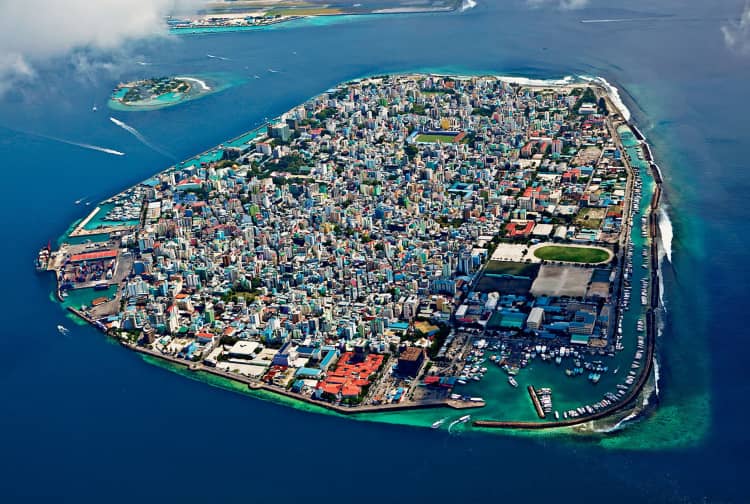 For romantic experiences:
You both can plunge into Male's protected ocean pool called Artificial Beach.
Enjoy lunch together at the seaside.
Indulge in underwater experiences like Snorkeling, Underwater scooter rides.
Island hopping together.
Explore Mal- Fish Market, Mal-s National Museum, and Tsunami Monument.
Famous for: The incredible history
The perfect time to visit: November to April
How to reach: Male International Airport is the nearest one
Enjoy food together at: Seagull Café and Belle Amie Bistro
2. Maafushi Island: Have fun at white beaches and blue ocean
This exquisite island covers each attraction that every couple wishes to experience on their honeymoon. Sparkling blue ocean water, imposing resorts, and adventurous activities are some of the attractions of this island. By offering this kind of element with numerous guest houses, Maafushi Island stands as one of the best islands in Maldives for honeymoon.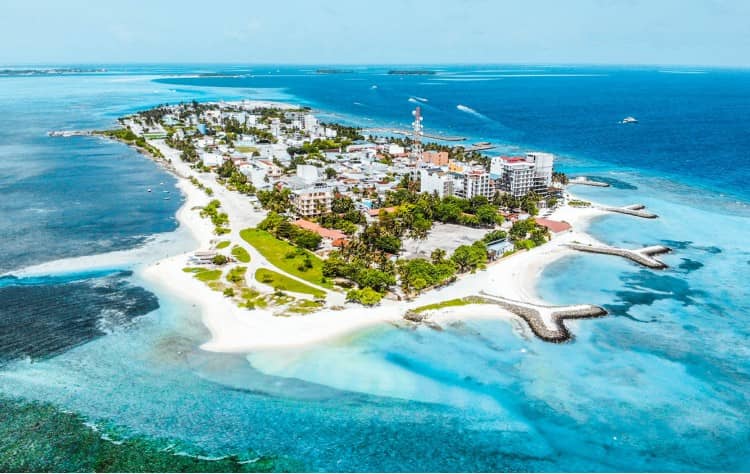 You will witness the perfect balance of lifestyle and convenience at this hidden gem of Maldives. Maafushi island adds rejuvenating and relaxing vibes to your honeymoon with a touch of several kinds of attractions. Overall, it is the perfect island in Maldives for honeymooners to enjoy the vacation with every dimension of fun.
For romantic experiences:
Explore Marine Life by Enjoying Snorkeling together.
Witness the Cute water creature with Dolphin Safari.
Enjoy Sandbank Tour to explore around.
Get some sunlight at Bikini Beach.
Visit Floating Bar and have some beer.
Famous for: Blue Ocean and alluring coral reefs
The perfect time to visit: January and February
How to reach: The ideal way to get to this island is the Maafushi ferry.
Enjoy food together at: Blossom Cafe and Bandharu Kada
3. Velassaru Island: An Island for splendid Water Villas
Enjoy the tropical affair by discovering the unique natural environment of the Maldives at Velassaru island. Behold the rich and deep colors of Maldives on a romantic journey to this island. From celebrating the exotic daytime to experiencing the elegant evening, you will create memories for a lifetime together. Pleasant weather and beautiful surroundings make it one of the romantic islands of Maldives.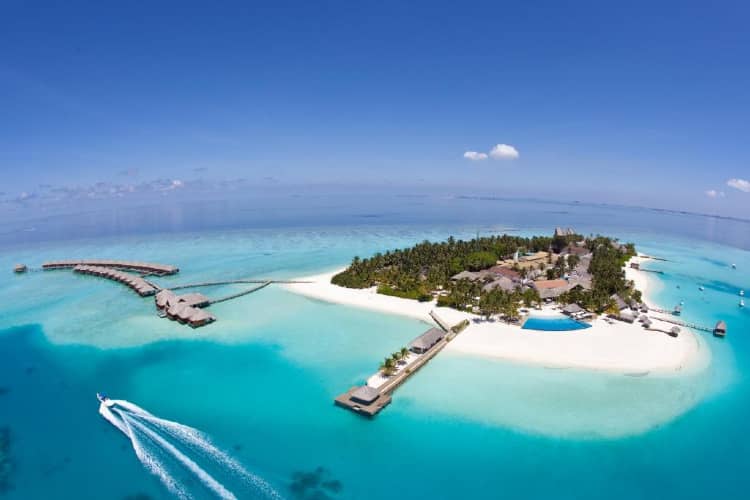 Imagine yourself holding the hands of your beloved while covering the distance through eyes from white sand beaches. It is something that gives you some of the best moments of your life. Whether you want to enjoy the overwater spa treatment or want to experience the thrill underwater, this island makes your honeymoon in Maldives remarkable.
For romantic experiences:
Go on a Sunset Cruise.
Enjoy fishing together.
Click some photographs to fill your honeymoon album.
Explore the nearby areas with a romantic walk.
Famous for: Night snorkeling and night fishing
The perfect time to visit: November to February
How to reach: You can get there from Male by speed boat, which takes around 25 minutes.
Enjoy food together at: Chill Bar, Etesian, Fen Bar, Teppanyaki
4. Bandos Island: Ancient culture and True Island Vibe
It is one of the most beautiful private islands in the Maldives located in the North Male Atoll. Bandos Island is also a charming private resort island that offers couples the next level of fun and enjoyment.
You can enjoy the quintessential facilities of staying and the opportunity to explore the island as per your desires. This island is encircled by around 40 diving sites that are windows to the surprising underwater world. You can enjoy the view with your better half and get rejuvenation. If you want some adventure, indulge in plenty of water sports activities and make your bond stronger. Staying facilities like a water villa with restaurants and bars give this island the title of a lovely place to celebrate honeymoon in the Maldives.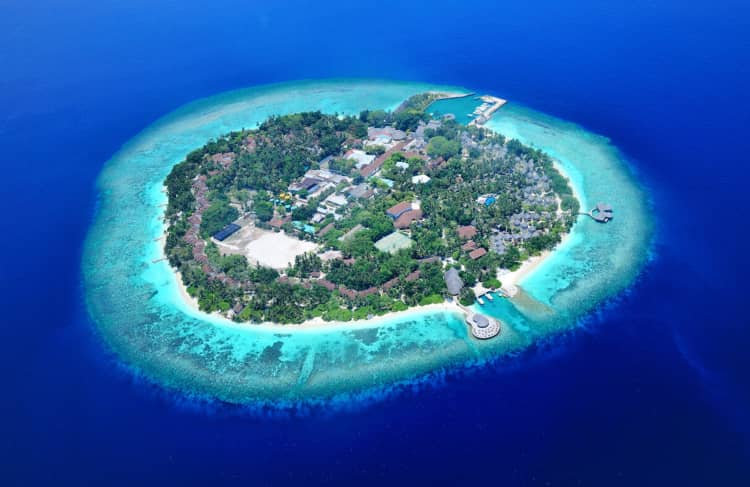 For romantic experiences:
Behold the underwater world together by snorkeling.
Catch some sweet moments while catching the fish.
Enjoy other fun activities like windsurfing, wakeboarding, and parasailing.
Stroll around the nearby places.
Famous for: World-class amenities and Water sports activities
The perfect time to visit: December to February
How to reach: The closest airport from this Island is Male International Airport.
Enjoy Food together at: Bandos Pool Bar, Sea Breeze Cafe Bandos, Sander Bar
5. Kuramathi Island: An ideal spot for Wedding Photography
Witness a panoramic view, enjoy the sunlight, and have fun with turquoise beaches at Kuramathi Island. This island is one of the most famous islands of the Maldives that is set at the North Ari Atoll. Experiencing the calm sunset together while strolling on this peaceful island will excite you from head to toe. A romantic vacation at Kuramathi Island will introduce you to a different form of beauty. Every moment you spend with your partner on this island would be a memorable one because of its charm and ambiance.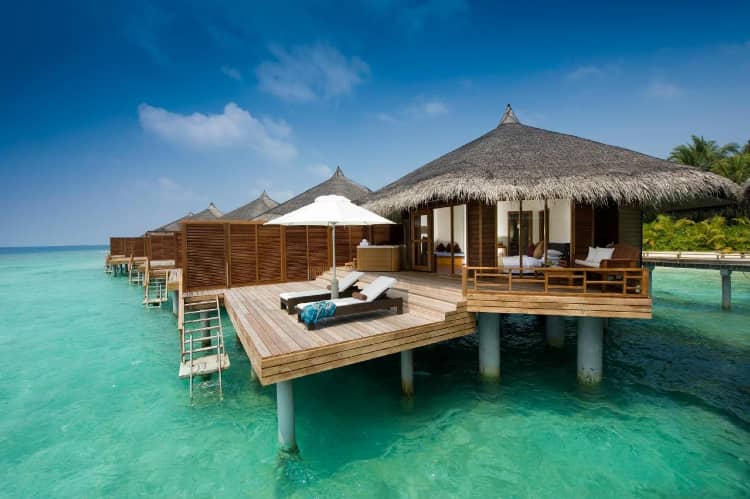 For Romantic Experience:
You both can enjoy the traditional Spa
Discover together The Kaleidoscopic Marine Life
Hopping around the island
Enjoy the Thai dining experience.
Famous for: Tranquility and Dining experiences
The perfect time to visit: November to April
How to reach: Take a speed boat from Male.
Enjoy food together at: Siam Garden, Tandoor Mahal, The reef, Palm, Island Coffee Shop, and Sand Bar.
6. Komandoo Island: Delve into Incredible Marine life
Create charming memories and an inspired connection with your romantic holiday pace at Komandoo island. It is one of the top honeymoon islands in Maldives that offers romantic vibes, pleasant views, and relaxation. You can stay in a romantic villa and experience the next level of tranquility and relaxation. Komandoo Island is fully packed with various romantic and leisure choices that give you everlasting memories.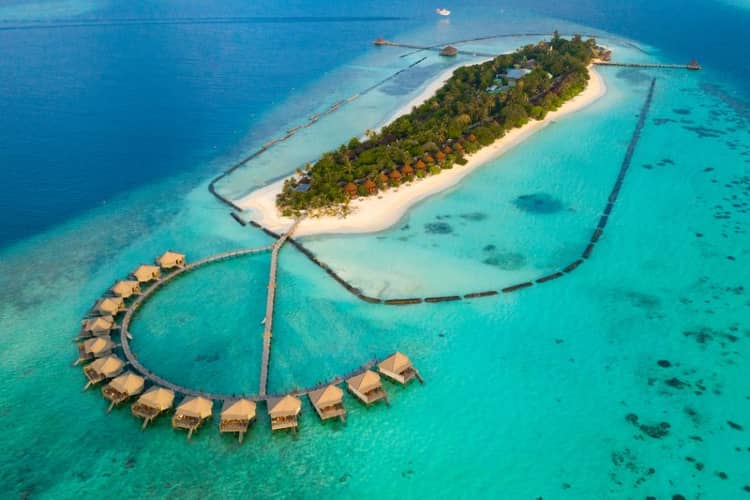 Every moment you spend at Komandoo Island with your partner offers you a memorable experience. The relaxation, intimacy, and wonderful natural surroundings make your honeymoon extraordinary and give you an experience that will last forever. This island is surrounded by fascinating marine life that offers you a chance to explore the underwater world. You can spot reef sharks, manta rays, and turtles quite easily. After enjoying your day, you can complement your day with spa therapy and make this lovey-dovey journey special.
For romantic experiences:
Diving and Snorkeling
Strolling around the Islands
Add Rejuvenation at Duniye Spa
Capture the moments
Enjoy candle-light dinner at beaches
Go on an underwater date at 5.8 Undersea Restaurant.
Famous for: Water Villa and its panoramic view
The perfect time to visit: February to April
How to reach: You can take a seaplane flight from Male international airport to Komandoo Island.
Enjoy Food together at: Falhu restaurants and Aqua.
7. Ellaidhoo Island: Explore Natural house reef
It is home to everything you need to rejuvenate your mind, body, and soul. You can enjoy the vibrant coral reefs and discover white sandy beaches, a turquoise lagoon, and pristine nature here. There is no second thought as to why this island got the place in the list of the popular islands of Maldives for the newlywed couple. The fun of the underwater world will give you an adrenaline rush into your body.
From thrilling activities to soothe your senses with relaxation, this island has it all for you. You will get numerous opportunities to create lovely memories that will never fade from your heart.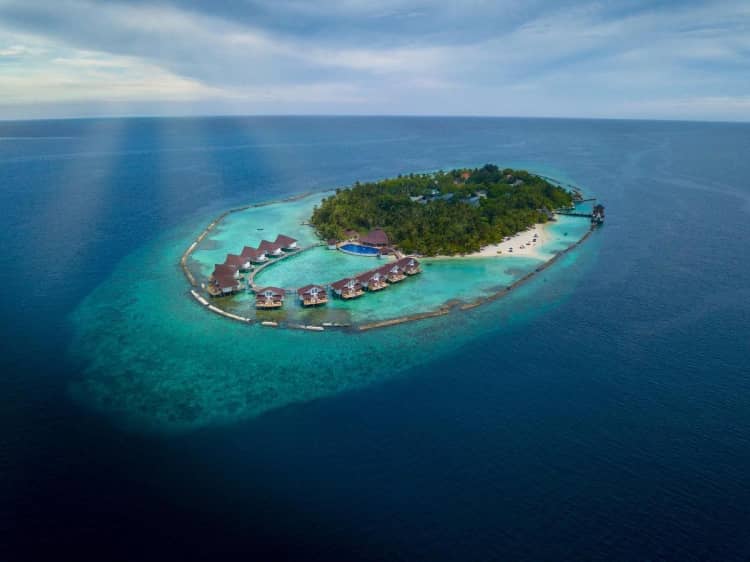 For romantic experiences:
Explore the beaches.
Stroll around the beaches by holding each other.
Enjoy the photographic session.
Get dive together into the water fun.
Soothe your mind and body with a spa therapy.
Famous for: World-class amenities, natural surrounding
The perfect time to visit: December to February
How to reach: The nearest airport from Ellaidhoo Island is male International Airport, located at a distance of 65 km.
Enjoy food together at: Malamathi restaurants & bars
8. Villingili Island: Enjoy the oceanic adventure and luxurious water villas
Celebrate the love mood on this romantic journey of your life at Villingili Island, which offers different forms of attractions. You can enjoy your honeymoon vacation in Maldives on this idyllic island by staying at luxurious villas, exploring the white sandy beaches, and enjoying spa therapy. Whether you want to stroll on beaches or spend some priceless moments with your darling, this island perfectly befits your mood and interest.
Apart from enjoying the fun-filled activities and experiences and creating everlasting memories, you can enjoy the Spa treatment together. If the word adventure is connected with your heart, you should not miss the water sports activities on this island.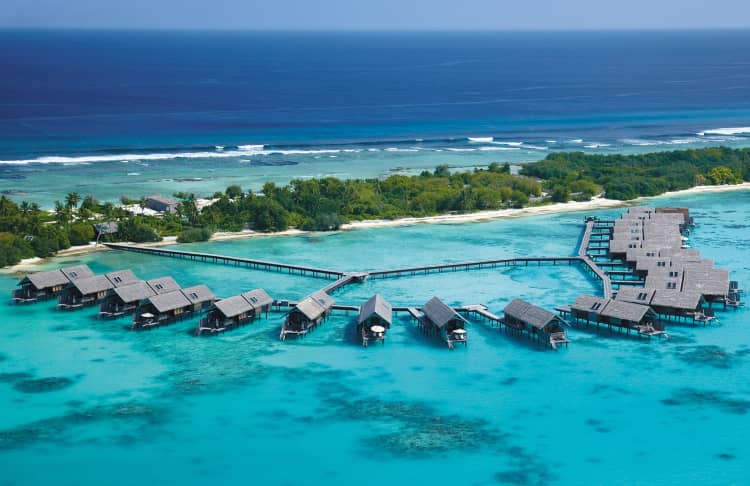 For romantic experience:
You both can indulge in the tranquility of CHI.
Enjoy the Spa together.
Hiking through the tropical forest.
Add a relaxation touch by spending time at sandy beaches.
Famous for: Golf courses and natural surrounding
The perfect time to visit: January and February
How to reach: The best way to reach is a 5-minute boat ride from Gan Airport on Addu Atoll
Enjoy Food together at: Palm Village and Fashala
9. Kuredu Island: Plunge into the Underwater world
It is one of the top-rated islands of the Maldives that is admired for its mesmerizing view. It is a perfect place to celebrate the honeymoon, as the vibe of this island is something else. When you step into this island, you will realize that romantic weather adds an extra charm to your journey. You can make your honeymoon unforgettable in so many ways. You can enjoy the bath in the swimming pool that merges into the ocean.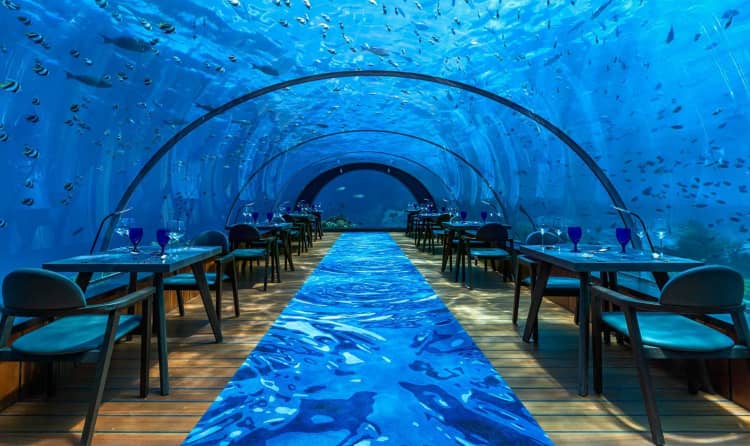 Kuderu island offers you a unique experience of dining. You can go on a romantic date and have a meal on the ocean's edge. The aircraft ride over the island will make you and entice you to admire the beauty of this island. If thrill is the thing that makes you excited, don't forget to explore the marine life of Kuderu.
For romantic experiences:
Go on a date at the underwater restaurant in Kuredu
Enjoy photography session
Discover the incredible marine life of Kuderu
Take a walk to remember the islands.
Enjoy the comforts and facilities of your resorts
Indulge in water sports activities.
Famous for: This island gained popularity because of its remote beauty and abundant marine life
The perfect time to visit: February and March
How to reach: You can get into this island Via a fleet of 55 De Havilland twin-otters.
Enjoy food together: Beach Shack and Sangu Restaurant
10. Hulhumalé: An Artificial Charm of Maldives
With 'No Littering Policy', this artificial island of Maldives is settled in the North Male Atoll. Honeymoon couples can enjoy island life with a perfect blend of urban life and natural beauty. This island's dreamy coastline is ideal for spending some time in seclusion. On top of that, the lack of tourists makes this island a perfect choice for honeymooners.
There are multiple recreational and nightlife activities that you can enjoy. You will get a golden opportunity to spend a romantic walk around the coastline on this beach. Besides that, you can have delicious food at the restaurants of Hulhumalé Island in the Maldives. Overall, you will get plenty of chances to weave memories that will stay in your heart forever.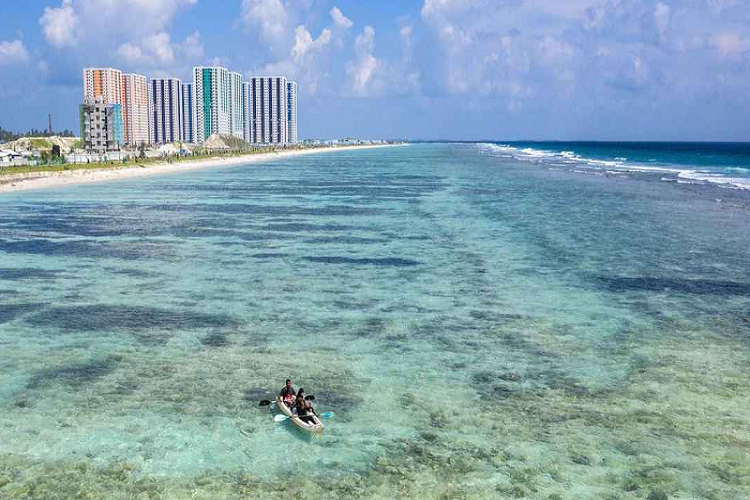 For Romantic Experiences
Take a romantic walk in the Hulhumalé National Park
Indulge in water sports to know the depth of the underwater world
Spot the dolphin together at the Island
Enjoy shopping at Centro Mall
Famous for: Peaceful environment, beaches, natural beauty
The perfect time to visit: December to April
How to reach: You can reach Hulhumalé Island by flying to Velena International Airport. After landing, take a cab or taxi to reach Hulhumale Island.
Enjoy food together at: Bombay Darbar, GG's Kitchen and Bistro, Oishii – The House of Sushi, and Zaatar Café.
11. Funadhoo Island: Enjoy Nature and Romance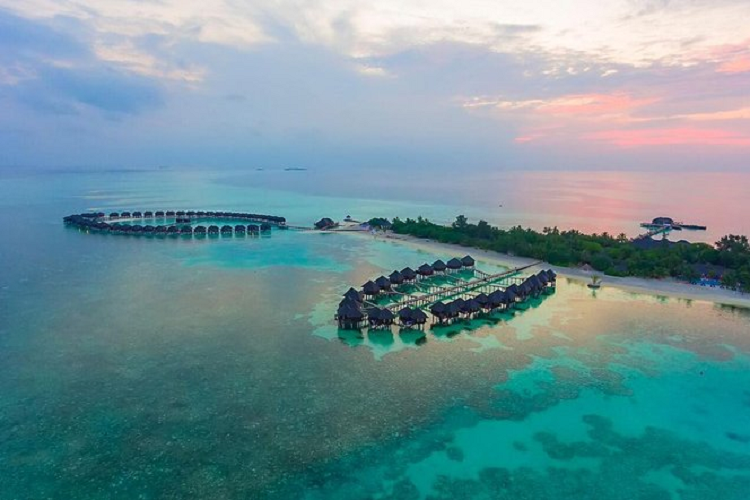 It is one of the most romantic islands in the Maldives that features beautiful elements for lovebirds. Notably, it belongs to the Miladhunmadulu Atoll and is one of the largest inhabited islands of the Northern Maldives. Funadhoo Island is 3000 meters long, and its widest point is around 585 meters.
The best part is that its lagoon is developed into a mangrove region. The surrounding beauty of this island is captivating that keeps your eyes busy admiring it. The highlight of Funadhoo Island is Gabaa Kulhi, which has a rich wildlife and adds beauty to the island. Moreover, its Northern region has Goni Lake.
For Romantic Experiences
Dive into the water together for swimming and snorkeling
Stroll on the beach and witness the natural beauty around you
Explore the ruins of an ancient mosque and tombstones near the island
Enjoy food together at beautiful restaurants near the Island
Famous for: The lush greenery of Gabba Kulhi on this Island is a major attraction.
The perfect time to visit: December to February 
How to Reach: Seaplane and ferry are ideal for reaching this Island of Maldives.
Enjoy food together at: Leaf Garden, Finivaa Cafe, and Pixfood.
12. Feydhoo Island: Delve into the Maldivan Lifestyle
Feydhoo Island is one of the beautiful islands of the Maldives that is dotted with trees, green vegetation, and shorelines. Each of these natural gifts makes it an ideal spot for sweethearts to celebrate their honeymoon.
This famous island of Maldives has captivating stories behind its foundation and formation. It is all about enjoying the natural beauty with unique experiences. The authentic Maldivian life is reflected on this island, and you can be a part of it.
The tight housing blocks and leafy streets are some features of Feydhoo Island that make your Maldives honeymoon special. Natural beauty and ceaseless shorelines are two factors that befit your lovey-dovey journey. If you want to enjoy the natural beauty, beach life, and Maldivian culture, you know where to move.
For Romantic Experiences
Explore underwater ecology and the natural beauty of the beach
Taste delicious seafood and Maldivian cuisine together
Stroll in the street to learn about the Maldivian lifestyle
Make sweet memories by indulging in bicycling, snorkeling, diving, and fishing
Famous for: It is widely known for preserving the true Maldivan lifestyle.
 The perfect time to visit: December to April
How to reach: You can choose to take a flight to Gan or you can opt to hire a ferry or jetty to observe the coastal beauty throughout your journey.
Enjoy food together at: Fashala, Tasto Restaurant, and Palm Village. 
Now you have been introduced to some of the best islands for honeymoon vacation Maldives. Each destination offers amazement and has the potential to make your love life remarkable. Whichever destination you choose, the romantic vibes, fun, thrill, and comfort await you. So what are you waiting for, choose your destination, pack your bag, and hold the hand of your darling to enjoy the best moment of your life in Maldives?
Why is the Maldives famous among honeymooners?
The Maldives is a unique and lovely honeymoon destination that offers privately-owned artificial resorts for a romantic honeymoon experience. Newlywed couples or love birds can hardly find any place that offers an exotic blend of luxury, comfort, and island-hopping sprees.
There are many beautiful islands to visit in Maldives for Honeymoon. It is a perfect coastal destination for honeymooners to enjoy the privileges of all modern world amenities with privacy. Island hopping, couple spa therapy, and underwater experience are some of the best attractions of the Maldives for couples.
Read Also: Best Resorts in the Maldives for Honeymoon
Faqs About Islands in the Maldives for Honeymoon
Q: Which island is best to stay in the Maldives for a honeymoon?
Ans. The Maldives has plenty of beautiful and romantic islands to stay on for newlywed couples. Fihalhohi Island, Maafushi Island, Veligandu Island, and Alimatha Island are some of the best islands to stay in the Maldives. The best quality, great service, and next-level comfort on Maldives villas will make your stay enjoyable and comfortable.
Q: Which Maldives island is best for a honeymoon?
Ans. The Maldives is dotted with many romantic islands that are befitting for a honeymoon vacation. Whether you want to spend some quality time or an adventurous dose of water sports, the Islands in the Maldives are ideal for you. Biyadhoo Island, Male Island, Hulhumale Island, Alimatha Island, and Maafushi Island are some of the best islands for a honeymoon celebration.
Q: Which is the best month to visit the Maldives for a honeymoon?
Ans. December to April is the best time for honeymooners to celebrate the love union in the Maldives. During this time, Maldives experiences dry weather with little rain or no rain. Most importantly, the weather is pleasant for indulging in outdoor activities and exploring the islands of Maldives.
Q: Is a passport required for the Maldives?
Ans.Yes. A  valid passport for six months is required to enter the Maldives.