Planning a trip to Ladakh in June? We have made a comprehensive guide on 'How to Plan a Trip to Ladakh in June' to help your plan better and more efficiently.
Ladakh is one of the top destinations to visit on every adventurer's bucket list. Isn't it? Be it any month of the peak season, Ladakh is visited by many travelers from across the globe. However, June is one of the best months to plan a visit to Leh Ladakh as the routes from Srinagar and Manali are no longer covered in snow, the accommodation is open for all, the tourist places are no longer covered with snow, and you can enjoy the warm weather of this region.
Read Also: Best time to visit Ladakh
The best part? All the adventure activities in Ladakh in June operate in full swing inviting an influx of adventure seekers from near and far.
Go on and use this guide to get detailed information about visiting Ladakh in June, the weather conditions, the routes, road conditions, what to pack, festivals you can attend, and much more.
Is June A Good Time to Visit Ladakh?
June is definitely a great time to visit Ladakh. Hotels and guesthouses start to operate full-fledged, the tourism-related activities begin along with bike rentals, taxis, and public transport services get available. The roads in Ladakh get cleared of snow and open to Nubra Valley,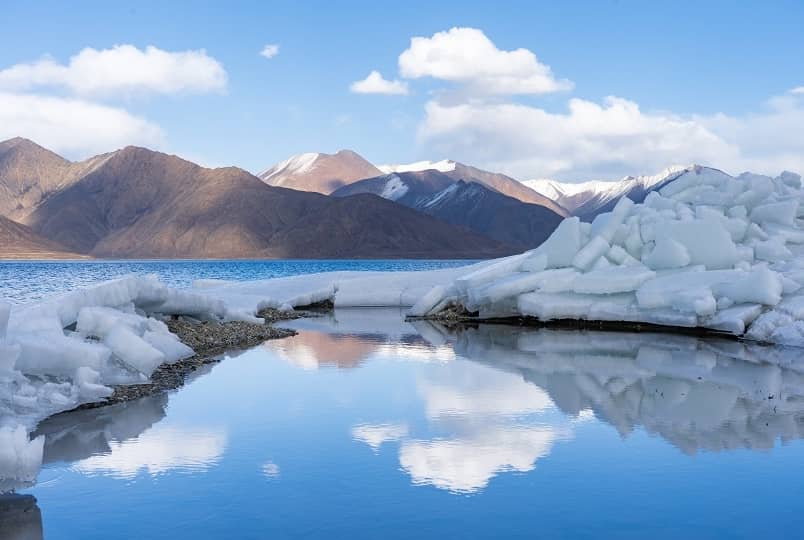 Pangong Lake, and Tso Moriri as well. Apart from this, the risk of the landslide from monsoon is almost non-existent during June. So, you do not have to worry about much. Of course, snow will be present at high-altitude passes with spectacular views of the mountains and blue sky.
Read Also: Lakes in Ladakh
Weather Conditions in Ladakh in June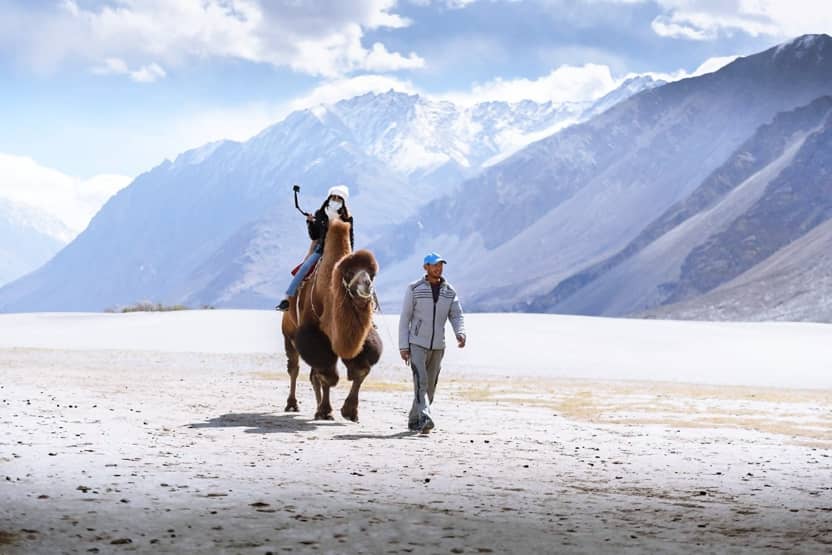 The weather will be quite pleasant in Ladakh during the month of June. The temperature remains around 25°C to 30°C during the daytime, which is not that hot in Ladakh and during the night it drops to around 10°C to 15°C. So, we recommend you take light woolens as the air will be cooler at times. Avoid sitting in the shade for too long as you will start to feel the chill after some time.
Routes to Reach Ladakh in June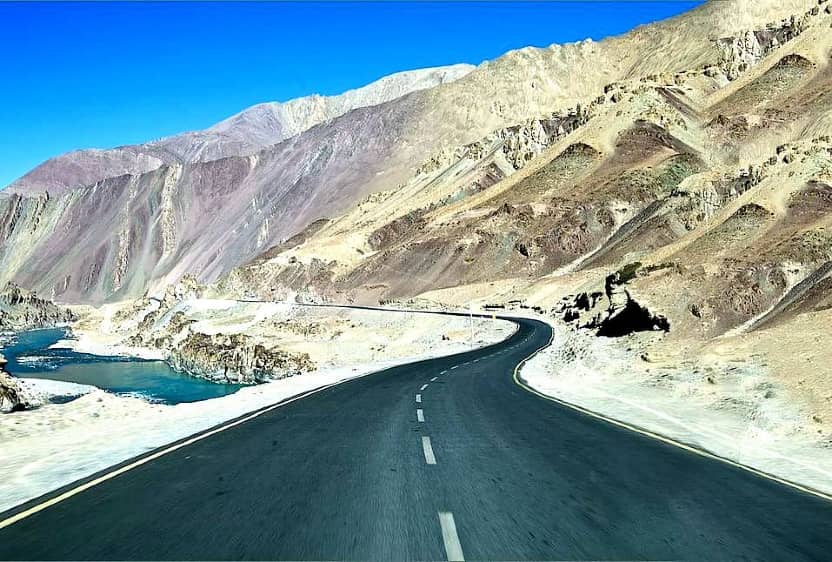 There are two routes for Ladakh – Srinagar Leh Highway and Manali Leh Highway. The Leh-Srinagar road opens in April but the Leh-Manali road opens in late June or early June.
Srinagar to Leh by Road in June
This route to Ladakh is operational in June. It opens in late April/early June. Due to the peak tourist season, there is a lot of traffic at Zojila. So, check the traffic timings before beginning your journey to Ladakh otherwise you will get stuck in the traffic for hours. There will not be that much snow on Zojila too.
Manali Leh Highway in June
Manali Leh Highway opens in June but it highly depends on the weather conditions. It is best to plan your trip to Ladakh during late June to enjoy a ride on this highway. The road can also be closed for a day or two. So, if you wish to visit in early June, you can go by the Srinagar route and come back by the Manali route. This will allow the route to get stable.
Is It a Good Option to Arrive Leh Ladakh in June By Bike Over A Car?
Yes. Traveling to Ladakh by bike in June is a great option to enjoy the beautiful weather, views, and journey. It will give you the much-needed adrenaline rush and there won't be many water streams to cross also. The preferred route will be Manali Leh Highway. And if the road conditions on this route are bad, you can definitely go by car, which will be much easier and safer.
Is It a Good Option to Arrive in Ladakh By Air in June?
If you are taking your family or senior citizens within the age limit with you, it is best to go to Ladah in June by air. This ensures hassle-free travel and makes your journey convenient.
Also, you wouldn't want as many days as you need when traveling by car or bike. This will give you plenty of time to explore the popular tourist attractions with ease. Make sure to book your flight tickets in advance to avoid the last-minute hassle.
Read Also: Ladakh by Road
Public Transportation in Ladakh in June
The buses and shared taxis from Leh will be available. They also run on a daily basis at affordable prices. So, transportation will not be an issue. If you are coming to Ladakh and want to rent a bike from Manali or Srinagar, you can make use of it to visit Leh only. And once you reach the hotel, leave it there and rent another bike in Leh for local sightseeing and visiting Nubra Valley, Pangong Tso, and Tso Moriri. Keep this in mind and if they catch you, you will be sent back to the hotel.
Local Transport in Ladakh
The availability of public transport in early June in Ladakh can be a problem. You will however get buses from Srinagar to Leh. Also, HRTC buses will be running. Internal buses will be operational in Ladakh along with shared taxis.
Road Conditions in Ladakh
The road conditions in Ladakh in June will not be that great. Around Zojila, there will be a slight slush. Because of the snow melting, there will be mud and water streams caused by it. The worst-hit route will be Manali Leh Highway. BRO may close it temporarily to clear it and stabilize it. Therefore, it is best to choose the Srinagar Leh Highway and come back to the Manali Leh route.
Places to Visit in Ladakh in June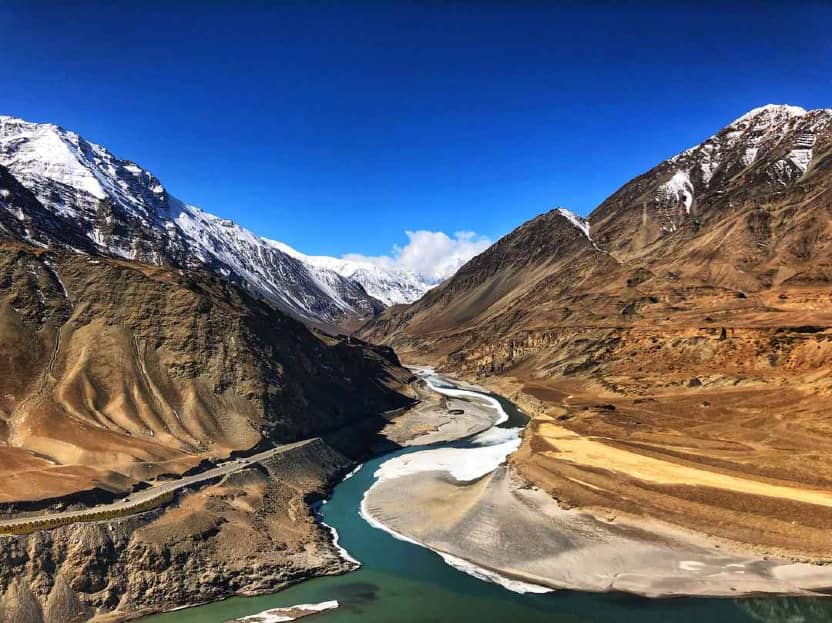 Ladakh has some of the most stunning places on the planet and all of them will be accessible in the month of June. You can visit the major as well as the remote tourist attractions and make your trip memorable. Keep extra days with you to explore the best attractions like Pangong Lake, Tso Moriri, Nubra Valley, Hunder Village, Thiksey Monastery, Khardungla, and more.
Read Also: Places to visit in Ladakh for Couples
Things to do in Ladakh in June
June is the time when a lot of adventurers visit Ladakh to enjoy adventure activities. So, apart from photography, you can indulge yourself in these activities in Ladakh in June –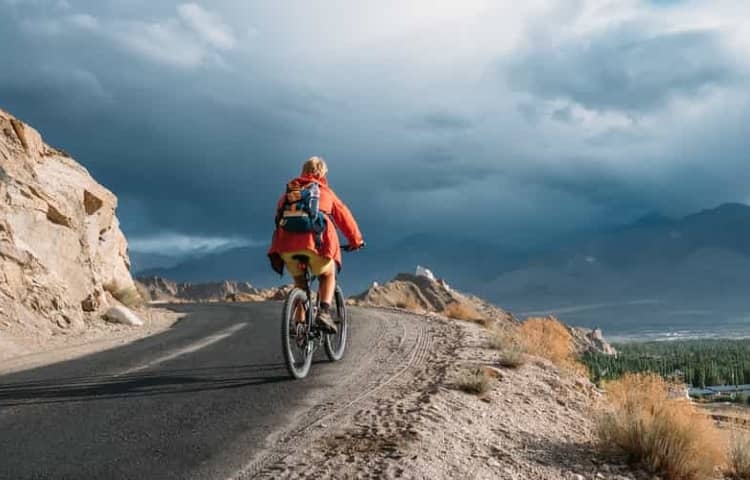 Camping
Shopping
Experiencing local culture
Savoring local food
Attending the festivals
Stargazing
Read Also: Snow Leopard Trek in Ladakh
Festivals Celebrated in Ladakh in June
Here are some festivals you can attend in Ladakh in June to get an insight into the local culture –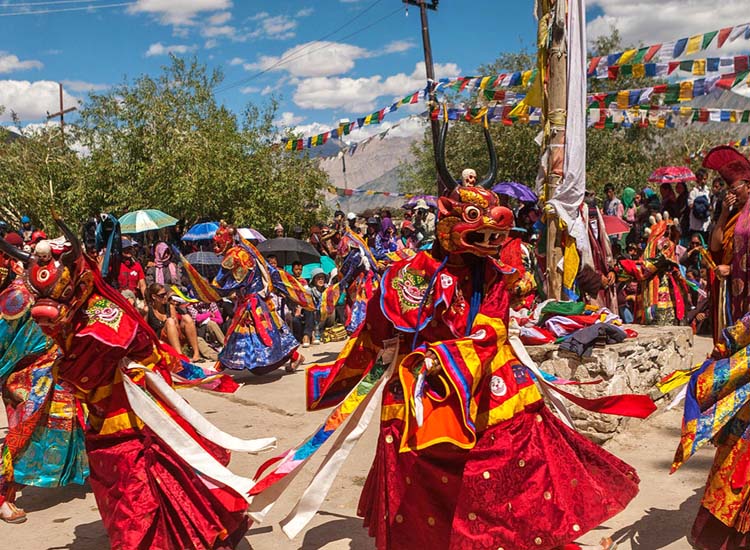 Saka Dawa
Yuru Kabgyat
Hemis Tsechu
Sachukul Gustor
Sindhu Darshan Festival
Silk Route Festival


Where to Stay in Ladakh in June
In June, all of the hotels, camps, and guesthouses are open. You can book a stay at one of those as per your needs and budget. If you wish to do camping in Ladakh, you will find campsites at Sarchu, Pang, and other places on the Manali to Leh route.
Clothes for Ladakh Trip in June
June is a warm month but still gets chilly at times. Thus, you must pack accordingly. The temperature remains at 15°C during the day and dips to 5°C at night. If you have kids, make sure to carry extra woolens with you.
Here is the list of clothes to pack for the Ladakh trip in June –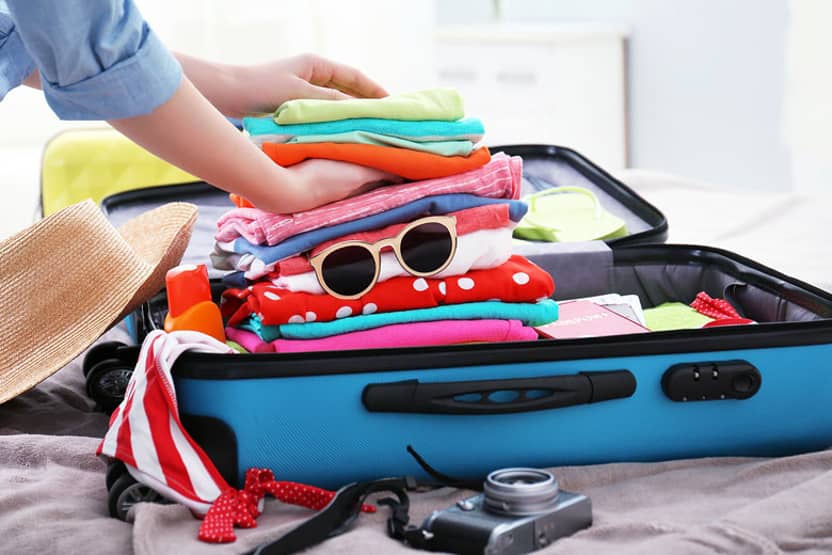 Windproof and waterproof jacket
Cotton t-shirts and shirts
Light woolens for night
Light gloves
Woolen cap
Good pair of sports shoes
Sunglasses and sunscreen lotion
Cold cream and lip balm
Other than this, pack –
Toiletries
pain relief spray
first aid kit
basic medicines for fever, cold, and cough
Tips for Traveling to Leh Ladakh in June
Keep these few things in mind while planning a trip to Ladakh in June –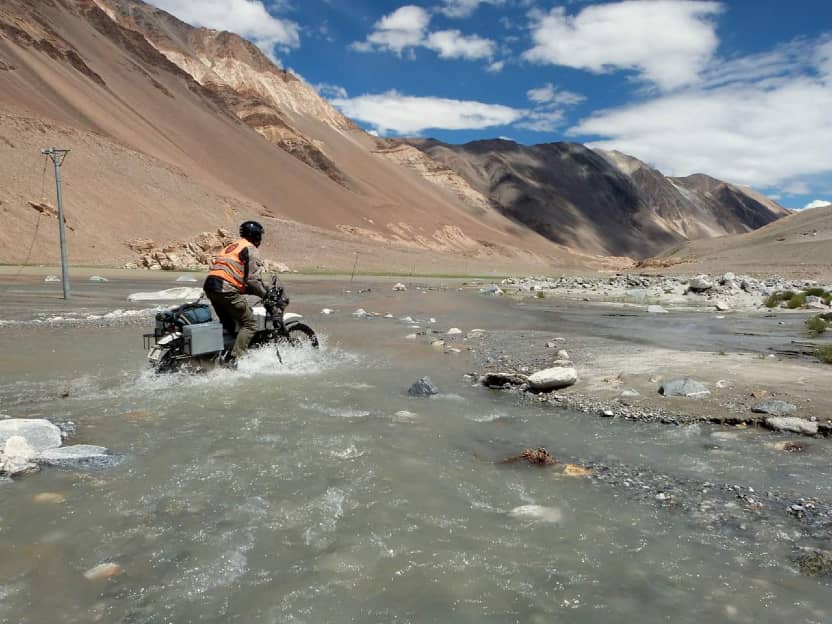 Acute Motion Sickness is a common problem in Ladakh. Thus, you must stay in the lower part of Leh Ladakh to acclimatize first.
Take a postpaid number with you as prepaid does not work in Ladakh. The nearest place where you will find a good network is Leh city.
Medical help is only available in Leh and Kargil. You will find no hospitals in Nubra, Pangong, etc. In such cases, you can take help from the nearest Indian Army post.
Due to high altitude, there is a decrease in oxygen levels. This may cause altitude sickness. So, read about AMS in Ladakh beforehand and the remedies you need to prevent it.
If you have family members with you, take precautions and take care of your health to avoid any unnecessary problems.
To see snow, you can visit the top of Khardung La in June.
Honeymoon hotels are available.
Always keep buffer days in between to get maximum experience on the Ladakh trip in June.
Hope this Ladakh travel guide will guide you on your trip to Ladakh in June. Take all the imperative measures and you will have an unforgettable and safe journey in Ladakh.
Read Also: Reasons to visit Ladakh
Frequently Asked Questions for Traveling to Ladakh in June
Ques. Is there snow in Ladakh in June?
Ans. No, there will be no snow in Ladakh in June. With that being said, you can visit high-altitude passes like Khardungla to see snow.
Ques. Does it rain in Leh in June?
Ans. No. It hardly ever rains in Ladakh in June. The sun shines brightly in June, so make sure to carry sunscreen and sunglasses with you.
Read Also: Best Places to visit in Ladakh