Singapore is one of the most glamorous cities you will come across. Marvelous feats of engineering backed by the latest technological expertise have given rise to the city's ultra-modern shopping malls, amusement parks and vertical gardens. All that glitz and glamour exists side by side with traditional neighborhoods and towns which showcase the country's diverse cultural heritage.
This does not mean that Singapore cannot be enjoyed by those with a limited budget. On the contrary, there are several activities which let you see the best that this city has to offer. There are so many things you could do on a shoestring budget like enjoying safaris, visiting museums, attending concerts and taking a trip to parks. Singapore can be a very expensive destination, but not if you know the right places for having a great time on a limited budget. In this blog, we are going to show you the things to do in Singapore on a budget which will let you have a great time without burning a hole in your pockets.
Take a Night Safari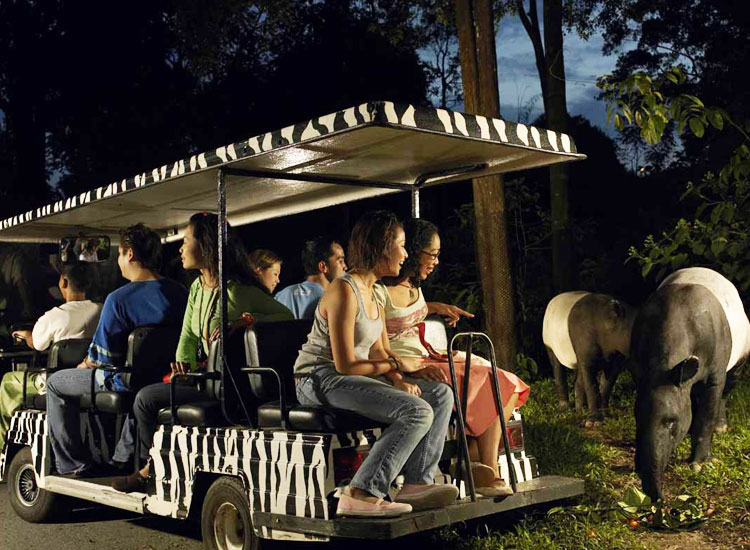 You simply cannot come to Singapore and not take a night safari. Night Safari is the world's first nocturnal park and has been the recipient of several awards. Its main mission is to promote biodiversity and the main focus of the park is on the breeding of threatened species.
During the course of the safari, you will be greeted with over 2500 resident animals belonging to over 130 species. Many of these are indigenous to this region like the endangered Asian elephant, Malayan tapir and Malayan tiger. The friendly creatures like deer are left out to interact with the visitors, while the fiercer animals like leopard are placed behind secured bars. However, to get the best from your safari, it would be better to take one of the four walking trails rather than the tram. One of the most famous trails of the safari is the Leopard Trail, which is home to the largest collection of wildlife indigenous to Southeast Asia.
[ Plan a  trip to Singapore with this customized package ]
Enjoy a visit to Singapore Zoo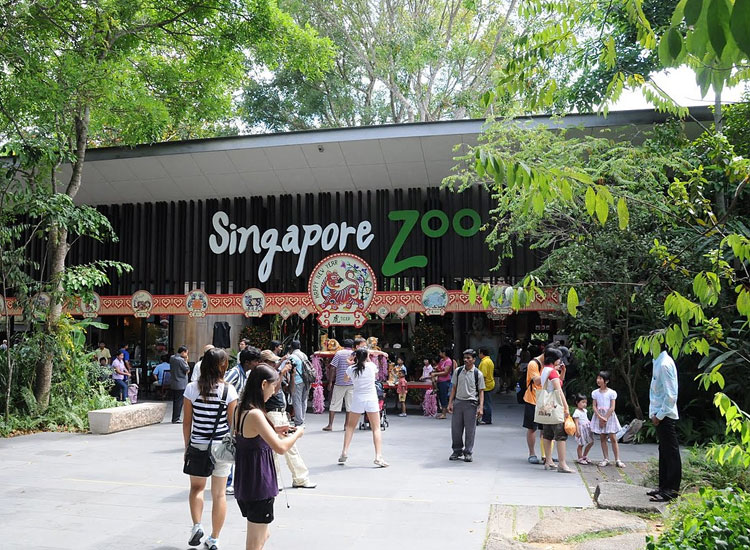 Singapore Zoo combines the elements of a zoo and botanical garden into one. This zoo is known for having one of the most comfortable enclosures in the world, with over 2800 residents. Here, you get a chance of getting close to orangutans, dodging Malaysian flying foxes and even sneaking around a replica African village. One of the main attractions is the Jungle Breakfast with Wildlife, where you get a chance to enjoy the morning breakfast in the company of orangutans.
If you are bringing your kids along, they too will enjoy themselves to the most. Rainforest Kidzworld, is a wonderland offering pony rides, swings, slides and farmyard animals, and ensuring that the kids have a gala of a time. In case you forgot to bring your own swimwear, don't worry. There is a dedicated wet area with swimwear available for purchase just in case you forget to bring your own.
[ Enjoy holiday in Singapore with this package ]
Prepare to be fascinated at Gardens by the Bay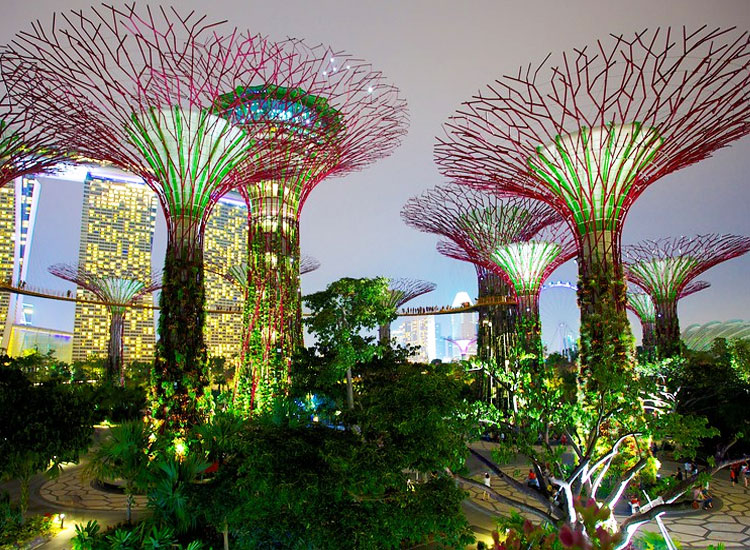 One of the most interesting things to do in Singapore on a budget is to explore the Gardens by the Bay. This incredible park, built in the futuristic style of architecture in the bay area of Singapore, consists of an impressive skywalk over the gardens, greenhouses that are shaped like seashells and hundreds of plants and trees that promise to keep a visitor engaged.
A dominating structure in the garden is the steel-framed "tree" plantation which towers over the other parts of the garden. These colossal vertical gardens are adorned with over 200 different species of plants and flowers. At night, they are the main attraction of the gardens' light and music show. Their casting a glow over the park gives you the feeling of being in a modern fairytale.
Explore a wealth of flora at Singapore Botanic Gardens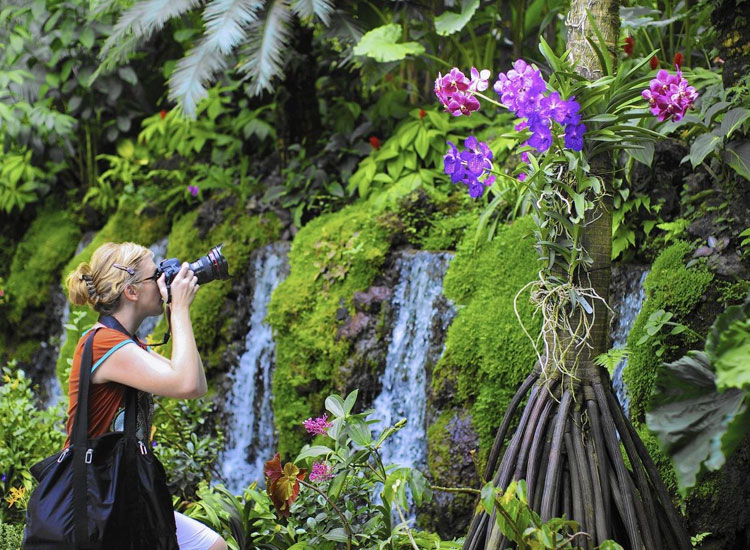 One of the most popular attractions in Singapore is the Singapore Botanic Gardens. It is also a famous landmark and is home to a small tropical rainforest, a ginger garden and an orchid garden. There are more than 300 species of flora on the island while the trees on it reach a height of almost 40m. This picturesque location not only presents great opportunities for viewing various kinds of exotic plants, flowers and trees, but also for simply hanging out and having a great time.
Apart from this, there are various kinds of colorful birds and insects to be admired as well. Some of the birds which one can spot here are oriental pied hornbills, crimson sunbirds, spotted wood owls and stork billed kingfishers. National Orchid Garden, which is also a major attraction in itself, is a part of Singapore Botanic Garden and home to almost 1000 species and 2000 hybrids. It would be interesting to know that the world's biggest display of tropical orchids are exhibited here. In the ginger garden which lies adjacent to it, you will find more than 250 species of curious plants. Also explore this package.
Attend free concerts and incredible performances at The Esplanade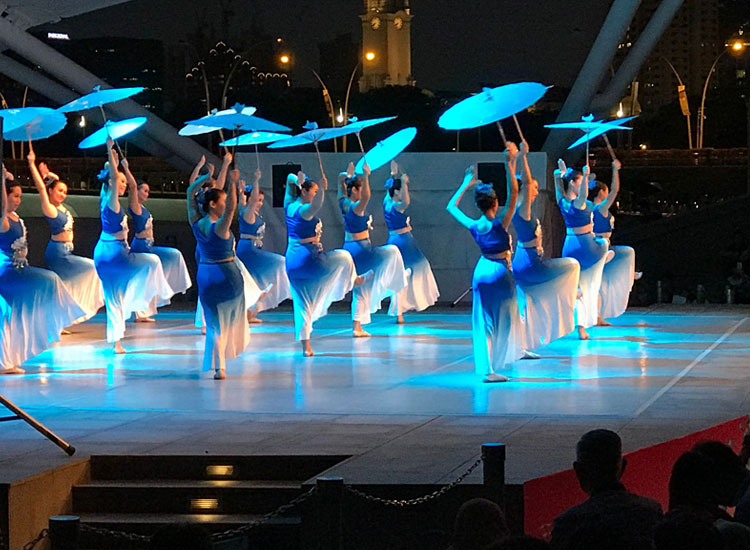 We all know how expensive concert tickets can be, but who would have thought that you could attend free concerts in Singapore? If you are a music lover, then this one is certainly for you. At The Esplanade, you get to attend free concerts and tap your feet to exciting music and enjoy some incredible dance performances. Somewhere there is music, somewhere there is chatter, but nowhere is there a dull moment to be had. If unlimited enjoyment is what you seek, then this is the place to be. In addition, you should also check the Esplanade Roof Garden and Music Library, which is free too!
Spend some quality time at the Waterfront Promenade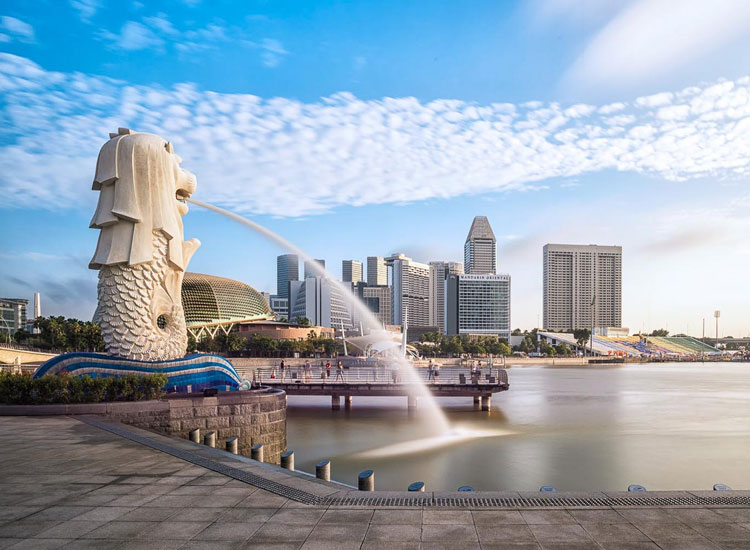 The Marina Bay Waterfront Promenade is a 3.5km walkaway just beside the bay which offers some wonderful sightseeing along with the opportunities of enjoy a leisurely walk. The first among these is the promenade, which is as environment friendly as it gets. It can get very hot sometimes in Singapore, so there are mist sprays which provide relief to the guests from the heat.
From the promenade itself, you can get marvelous views of the bay, as well as enjoy several exciting activities. There is a fountain which allows children to have a merry time. Couples can also be seen enjoying a romantic walk along the fountain and enjoying the incredible views. If you are a practitioner of Yoga, you can enjoy a yoga session at the lower boardwalk. The beautiful sunset views, however, never fail to impress everybody. Tourists are also entertained by the various outdoor performances held at this place.Check this customized package.
Take an exciting river safari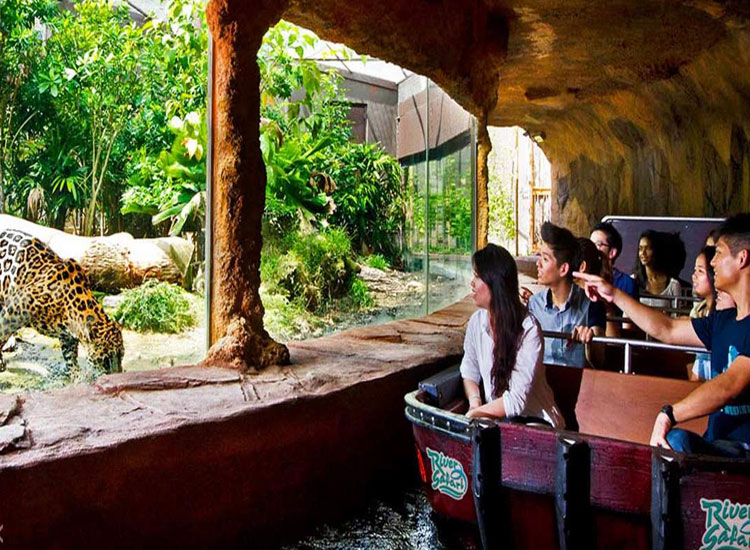 Taking a river safari is one of the most fun things to do in Singapore. It is Asia's first and only river-themed wildlife park. The park is spread over an area of 12 hectares and developed at a cost of million 160$. There are about 400 species of plants and over 8700 aquatic and terrestrial animals which represent close to 160 species in the park. Apart from this, the park also consists of one of the largest collection of freshwater collections in the world.
Taking a river safari can be an extremely exciting affair. Apart from the role which it serves in providing unlimited fun and entertainment, the park also seeks to protect fragile freshwater ecosystems. It consists of various kinds of threatened species like the manatee, giant panda and Mekong giant catfish. These are housed in themed exhibits which depict the major rivers of the world, from Mississippi to Amazon.
Merlion Park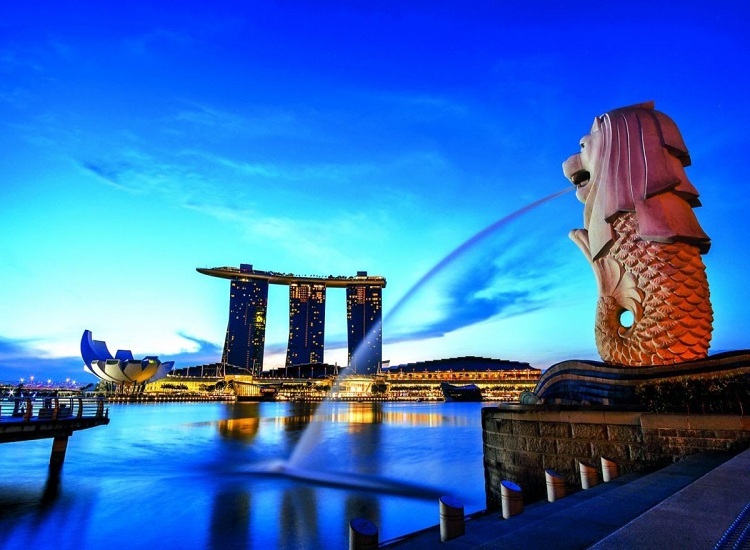 During your visit to Singapore, you should make it a point to visit the Merlion Park, which is also home to Singapore's national icon, the Merlion. It's a mythical creature with the head of a lion and the body of a fish. The body of the statue is a symbol of Singapore's humble beginnings as a fishing village, while the head represents Singapore's original name, "Singapura", or, Lion City in Malay.
This statue is the foremost attraction at Merlion Park. A continuous stream of water gushes forth from its mouth, while the statue itself stands tall at 8.8 meters and weighs 70 tons. At the club, you can take a photo with the statue, admire the breathtaking views from the Merlion Park and take a river cruise on a restored bumboat. It's a great place for hanging out casually and enjoying the incredible views staring you at the face.
Singapore Flyer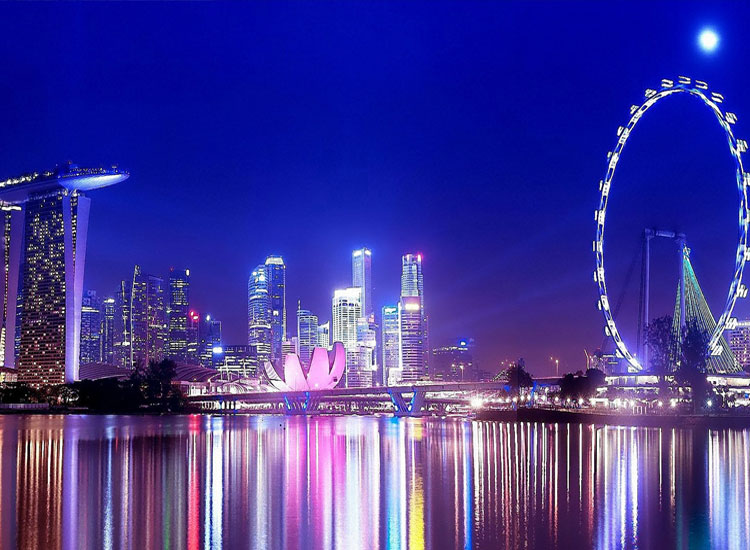 If it's thrill and excitement you are looking for, then Singapore Flyer is your first bet. Standing at a height of 165m, it is one of the world's largest Giant Observation Wheel and also one of the greatest tourist attractions in Asia. The credit for designing and conceiving this incredible structure goes to Dr. Kisho Kurokawa along with DP architects in Singapore.
Of course, there is the excitement which taking a ride on any Ferris Wheel brings. As the flyer completes one enormous rotation, you experience the thrill of touching the skies at one moment and then touching the ground in the other. However, the Singapore Flyer offers more than magnificent views. It captures the entire panoramic view of the Marina Bay's skyline, along with offering a glimpse of neighboring Indonesia and Malaysia.
Clarke Quay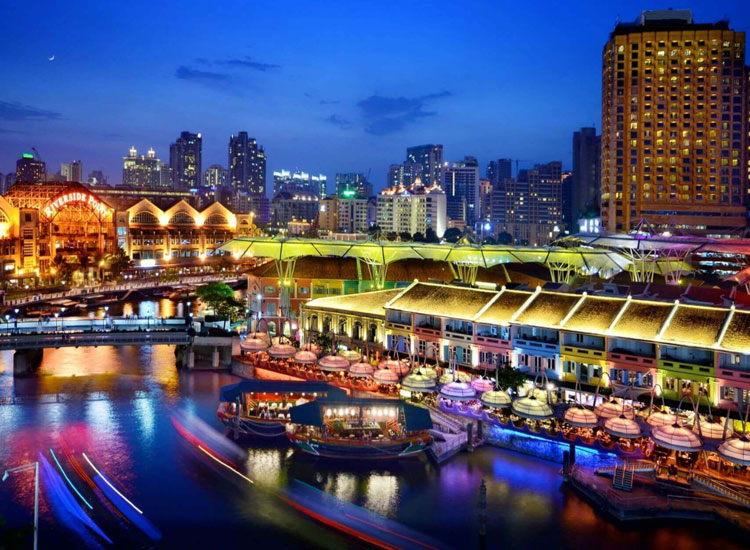 Clarke Quay is one of the most fun places to go in Singapore. Not only does it offer the most exciting nightlife scenes but it's also lined with a series of excellent restaurants which are great for enjoying a dinner, or a meal anytime of the day. Once, this place consisted of old colonial shop-houses, but that has been replaced with chic pubs, nightclubs and restaurants today.
One of the main attractions here is the Singapore River, which also plays host to this area's vibrant nightlife. Visitors can also take boat tours. At a walking distance from the quay is the Asian Civilizations Museum, which houses Singapore's finest collections and exhibitions depicting the region's fascinating history. A prominent landmark at Clarke Quay is the G-Max Reverse Bungee. The thrill of getting launched into the air at 60ft with a speed of almost 200km/h is simply unbelievable. Indeed, this place is one of the most bustling places in Singapore.
Jurong Bird Park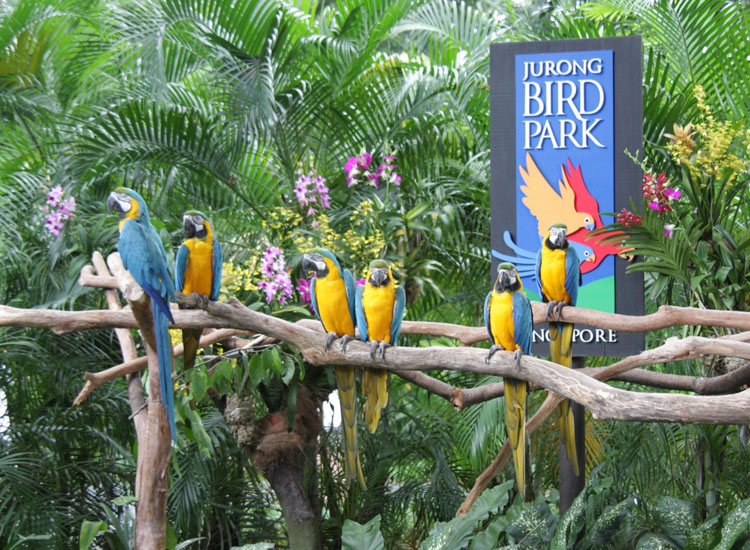 Jurong Bird Park is extremely popular among tourists and is perhaps one of the best maintained bird parks in the world. Jurong Bird Park was inaugurated in the year 1971 and is Asia's largest bird park. The park is home to almost 3500 birds belonging to across 400 species. The park is extremely famous for its enormous walk-in aviaries like Lory Loft, Jungle Jewels and Waterfall Aviary. The other famous exhibits are Penguin Coast and Pelican Cove.
Apart from the various bird species found in this park, it is also the first of its type in the world to breed the Malayan black hornbill and twelve wired bird of paradise. For this heroic effort, it also received an award from the American Pheasant and Waterfowl Society. Another major attraction is the Lory Loft, a 3000sq.m and nine story high flight aviary. It is especially famous among visitors because they get a chance to feed lories and lorikeets while walking across suspended bridges.
Art Science Museum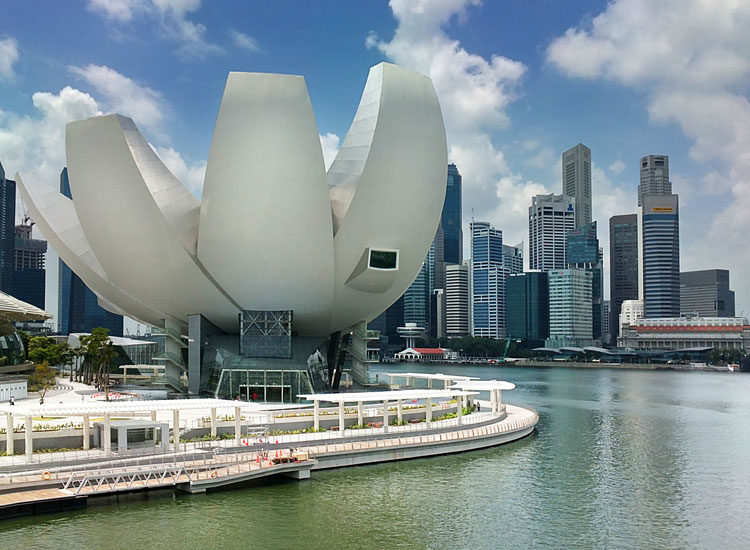 One of the most fascinating things to do in Singapore with Singapore tour packages on a budget is the Art Science Museum located at Marina Bay Sands. It beautifully combines elements of art and science for conveying interesting stories. The museum hosts several interesting exhibitions featuring the latest advancements in the field of science, knowledge and technology. Arts related themes are also exhibited inside the museum.
There is also a permanent exhibition inside the museum called Future World: Where Art Meets Science. It features a 1500sq.m digital universe of interactive art installations which touch the themes of nature, park, town and science. The design architecture of the museum is also immensely captivating. The museum's structure symbolizes the welcoming hand of Singapore with ten fingers. Inside, there are 21 galleries spread over three stories with a total floor space of about 50,000sq.ft.
National Gallery Singapore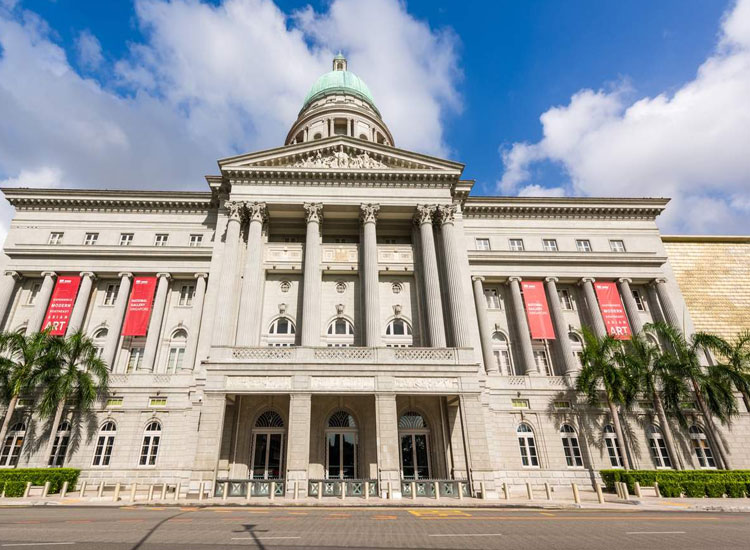 This is the perfect place for art lovers, and a haven for lovers of modern art. National Gallery Singapore is a visual arts institution which houses the largest collection of modern art in Singapore and Southeast Asia. The gallery, situated in the heart of the Civic District, houses two national monuments, City Hall and former Supreme Court.
The gallery, which attracts art lovers in large numbers, showcases Singapore and Southeast Asian art through special exhibitions. National Gallery Singapore has also been the recipient of several awards under various titles such as, "Best Attraction Experience", "Breakthrough Contribution to Tourism" and "Best Customer Service (Attractions)".
Siloso Beach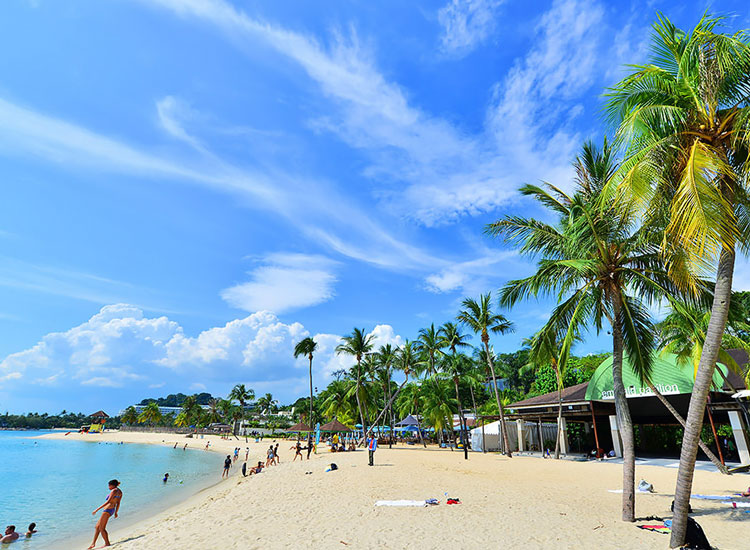 If you are visiting Singapore with your loved one and looking for things to do in Singapore for couples, then Siloso Beach is where you need to head to. Siloso Beach is where the fun lies and where there is not a moment of boredom to be had. Here, you come across the coolest bars and restaurants and meet people looking for fun and excitement.
Feel like taking a dip? Do so. Fancy a cocktail? Try the various themed bars on the beach. Surf a man-made wave or feel the thrill with a whirlpool bath on the beach. There a variety of shopping options as well as attractive menus from the best bistros and restaurants. You can try skim boarding and kayaking, along with cycling, rollerblading and other beach activities. The entire ambience gets really festive after sunset with parties, music, restaurants and lively bars.
You can also check out more international tour packages offered by Tourism of India.
Related Post: