A sacred tour of Char Dham is delightful for every Hindu Devotee who is in search of spiritual connection. Char Dham Yatra gives you new experiences of life. People believe that Char Dham Yatra is all about Kedarnath, Yamunotri, Badrinath, and Gangotri. But, a holy journey of these shrines is called Chota Char Dham, which is nestled in the lap of the Himalayas and is known as a sacred place as per the Hindu religion. Bada Char Dham includes Badrinath, Dwarka, Puri, and Rameshwaram, and these four abodes are present in the four directions of the country.
It is believed that everyone should do Char Dham Yatra once in a lifetime to get a blessing from God. The Chota Char Dham is also referred to as Char Dham of Uttarakhand, whereas a tour or visit to the four shrines in all four directions of the country is called Bada Char Dham. If you want to dive deep into the Char Dham Yatra, keep reading. Here, you will learn about the name and places of Char Dham Yatra and its value, history, and opening & closing of door timings.
Let's take a look at the details of Char Dham Yatra in India List with Names and Places
Bada Char Dham Yatra Places and Name-
Chota Char Dham Yatra Places and Name-
Bada Char Dham Yatra Places
1. Badrinath
It is one of the most sacred towns in the Hindu religion, dedicated to Lord Vishnu, and is situated in the Chamoli district. Badrinath temple is located at the height of 10,279 ft. It is the only temple among the four Char Dham which is nestled in the Himalayas and encircled by snow-clad mountains. Badrinath is nestled between the Nar and Narayan mountain ranges in the shadow of the Nilkantha peak. Badrinath amazes you in every moment with its turquoise lakes, holy ponds, and water bodies.
Start your soulful journey with our customizable Badrinath Yatra Packages!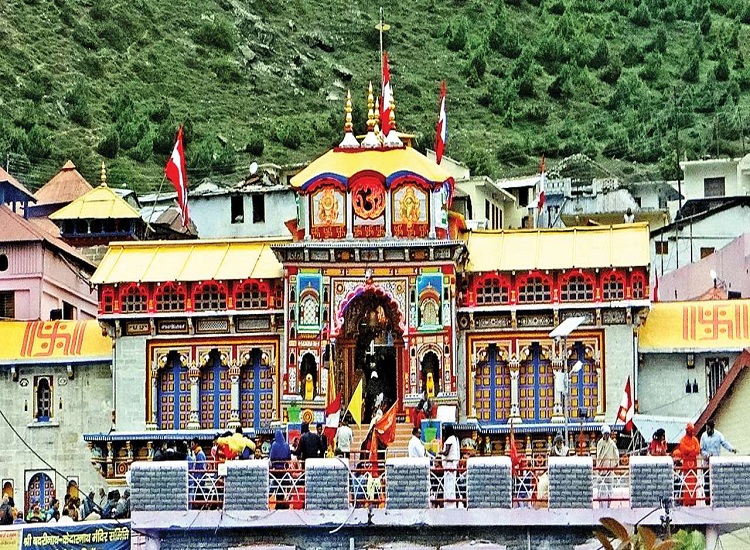 History
As per Hindu belief, Badrinath came to light when Nar-Narayan, an avatar of Lord Vishnu, did Tapasya there. At that time, this place was full of berry trees, and in the Sanskrit language, Berries mean Badri. Therefore, this place was named as Badrika-Van due to the abundance of Berries trees. Badrinath temple is a particular spot where Nar-Narayan did Tapasya, and a large berry tree saved him from rain and sun.
Local people believe that Mata Lakshmi became a tree to save Lord Narayan. After completing the Tapasya, Narayana said people will always take her name before him. Hence we always refer to Lakshmi-Narayan. All these happened in Satya Yuga, and therefore it is considered the first Dham. It comes in both Chota Char Dham yatra and Bada Char Dham Yatra circuits. The meaning of Badrinath is Lord of Berry forest.
Why Visit
Badrinath is a source of the holy Alaknanda River. You can behold the charm of this divine shrine as it offers traditional Garhwali wooden architecture. A 3.3 ft tall statue of Lord Badrinarayan at the entrance of the temple is one of the main attractions in Badrinath Temple that is made of black stone (Saligram stone). The image is supposed to have Vishnu in the dual form of Nara and Narayan. This temple is mentioned in sacred texts such as Bhagavata Purana, Skanda Purana, and Bhagvat Geeta.
You can witness the Neelkantha, which is named after Lord Shiva, and he was sitting in meditation from a distant peak. It is also famous as the Garhwal Queen. Neelkanth receives the first ray of sun that shines in the valley. A trip to Badrinath also exudes spirituality through nature, and areas nearby Badrinath, like Charanpaduka, Vasudhara falls, Bheem Pul and Brahma Kapal, give you matchless experiences. Badrinath is home to beauty, serenity, and natural wonders that will win your heart, relax your soul and delight the senses.
Opening and Closing Time:
Badrinath opens during the holy eve of Akshaya Tritiya at 4:30 am tentatively in May. The closing ceremony takes place on the auspicious eve of Bhai Dooj and is set to take place in November.
Dwarka
Dwarka is widely known as the city of Lord Krishna, a hub of Ancient temples and beautiful beaches. This temple town is settled on the bank of the Gomti River in the western land of the Indian state of Gujarat. It is one of the most significant sacred destinations in India. Being one of the sacred shrines in the Bada Char Dham Circuit, this holy place is soaked in spirituality. The aura of Dwarka attracts thousands of devotees from every corner of the world to indulge in holy worship. The mix of reality and myth surely leaves you on a spiritual high. This city's spiritual, historical, and legendary past offers fascinating stories and attractions for devotees.
Plan Dwarka Trip with our well-curated packages.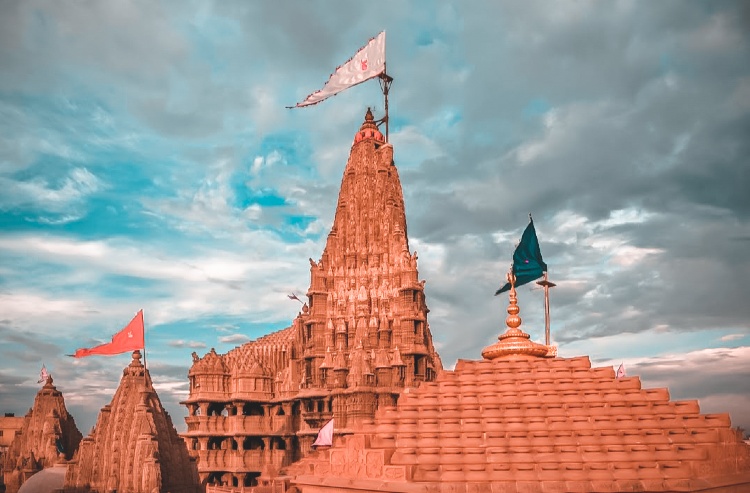 History
Dwarka has a significant place in the history of India. In earlier times, it was recognized as Swaravati or Kushasthali and was a great kingdom situated at the shoreline of Saurashtra. It is said that around 1500 BC, Lord Krishna left Mathura after killing Kansa and established the golden city of Dwarka on the banks of River Gomati. It is also considered that after the death of Lord Krishna, an extensive flood came into the sea and the city got sunken under the water. Archeologists and historians believe that Dwarka has submerged in the sea six times, and the present-day Dwarka is the seventh such city to be built in the area.
Why Visit
The city of Lord Krishna equally embraces everyone, whether you are a pilgrim, adventurer, or peace lover. A visit to Dwarka for the Char Dham yatra offers you an intriguing mix of attractions: captivating beaches, narrow lanes crisscrossing colorful markets, sacred lakes, and the stunning Gujarat coastline. You can explore the  Beyt Dwarka, an island, and it is believed that it is the focal point for many events surrounding Lord Krishna's life. Get ready to witness the architectural marvel of ancient times. Yes, we are talking about Dwarkadhish Temple, one of the most sacred sites in the country.
It is believed that this Five Storey -temple was built by the Vajranabha( The great-grandson of Lord Krishna). If you are a bird nature lover, you can spend some time at beaches and witness majestic winged creatures like Demoiselle Cranes and other migratory birds. Then, take a tour to Dunny Point, a hidden gem of Dwarka that will mesmerize you with the richness of marine biodiversity and corals along the Gujarat coast.
Opening and Closing Time:
The temple timing is 6:30 to 9:30 pm at night.
Puri
It is one of the most popular and holy cities in Odisha. This city is well known for the veneration of Jagganath, which is one of many names of Lord Krishna. Moreover, it is famous for being the only holy place with the most prominent goddesses like Lakshmi, Durga, Sati, Parvati, and Shakti. The chariot festival is celebrated in Puri, and it is also called Rath yatra. This Chariot Procession is being taken from the famed Jagannath Temple to Shri Gundicha Temple and covers a 3 km distance. The fascinating thing that makes Puri more enchanting is Govardhan Matha, one of the four mathas discovered by Adi Shankaracharya in the four directions of India.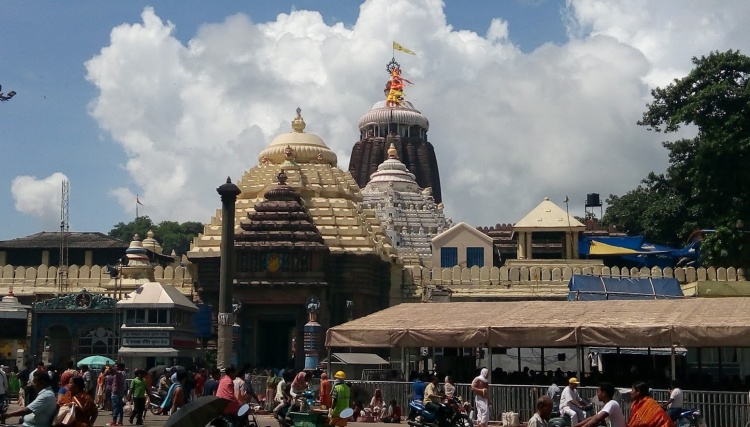 History
In the past, Puri was not the name of this holy place. As stated by a Chinese pilgrim, it was Charitra, but there is room for doubt and speculation with interpretation. At the time, when Chodaganga Deva built the temple of Purusottama Jagannath with the leading idol Lord Krishna as Jagannath with his Brother and Sister, the place came to light as Purushottam Kshetra or Purushottam Puri. The name was shortened, and today it is well known as Puri. From the British to the Mughal region, Puri has seen many changes. The Rath Yatra is one of the oldest and most crowded chariot processions held regarding Jagganath.
Book Orissa Tour Packages and Begin Your Holy Journey today!
Why Visit
Puri is the ideal destination to connect with nature while exploring the old temples that give cheerful feelings. From wandering travelers to nature lovers, this holy place is a gem for everyone that offers many opportunities to explore the beauty, art, and natural wonders. Moreover, you can enjoy picnic time with your family at the most popular beaches of puri—Swargadwar and Puri Beach, where you will unwind and give yourself relaxation.
Experience the dynamic sunrise and sunset at Chilka Lake, and enjoy birdwatching. Jagannath Temple is one of the eye-catching temples that will give you a spiritual ambiance, and after visiting the temple, you can spend your time at Puri Beach, which offers delicious foods and breezy shores. You can visit Raghuraj Artist Village to know about the tradition and culture of Odisha. See the crafts like palm leaf engravings, stone, wood carvings, Tussar paintings, and wooden masks. Exploring Bhubaneswar will surely give you unforgettable memories that you can cherish for a lifetime. If you want to get in close to the architectural arts and marvel, Konark is just the finest place for you.
Opening and Closing Time:
Jagannath temple opens at 5:00 AM and closes at 11:00 PM
Rameshwaram
Rameshwaram is one of the most sacred places in India that embraces followers of Lord Shiva from everywhere to visit the Jyotirlinga installed in the Ramanathaswamy Temple. Settled in Ramanathapuram district, the town is a fraction of Pamban Island. It is also identified as Rameshwaram Island staying connected with the legendary temple, which is formed in the spectacular Dravidian style of architecture. The island is settled at the point of the Indian peninsula and linked to the Indian mainland by Pamban Bridge on Pamban Channel in the Gulf of Mannar.
Enjoy sightseeing of famous temples with Tamil Nadu Tour Packages!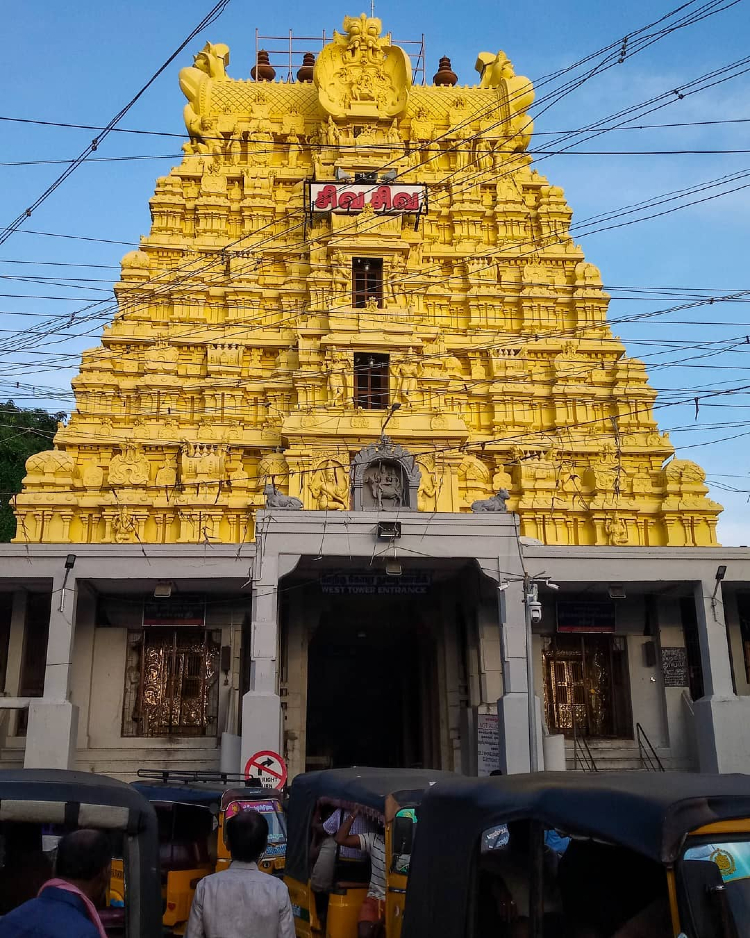 History
Rameshwaram Temple is the center of attraction in this town for every person who follows Hinduism, Lord Shiva, and Lord Vishnu. It is believed that Rameshwaram is the place from where Lord Rama started his journey to get his wife Sita back from the king of Lanka Ravana. Lord Rama was helped by the 'Vaanar Sena', an army of legendary monkey-humans, which was served by Hanumana, the Paramount devotee of Lord Rama.
It is also said that Rama and Sita installed Shiva Lingam to worship Lord Shiva as a part of penance for Brahmahatya (killing of Brahmana). Ravana was also a  staunch follower of Lord Shiva. It is believed that the Rameshwaram Temple, which was built in the 12th century, has the same Shiva Lingam.
Why Visit
Visiting Rameshwaram is all about indulging in religious vibes and attractions that will blow your mind. The foremost attraction in Rameshwaram is the Panch-Mukhi Hanuman Temple. Lord Hanuman, Lord Adivaraha, Lord Narasimha, Lord Hayagriva, and Lord Garuda are the five faces that Lord Hanuman showed at this temple. The most captivating thing about this temple is that you can witness floating stones used for building temporary Sethu Bandhanam to arrive in Lanka. In addition, 17th-century architectural excellence also attracts travelers around the country.
You can visit Jada Thirtham as this place has its significance. It is believed that it is a place where Rama worshiped Shiva Linga after killing Ravana, and the giant bird Jatayu passed away while trying to save Goddess Sita from Ravana. Explore Ram Setu bridge, a historic bridge that connects Rameshwaram island of India to the coast of Sri Lanka. Rameshwaram is not just about religious places. It has more things to offer you in the form of Bird Sanctuary and sun-splashed Beaches.
Opening and Closing Time:
Rameshwaram temple opening and closing time is
Morning Hours: 5:00 am – 1:00 pm
Evening Hours: 3:00 pm – 9:00 pm
Planning Chardham Yatra 2022? Chardham Yatra Opening and Closing Dates are here!
Chota Char Dham Yatra Places
Kedarnath Dham
Nestled in the glorious mountain peaks and covered by snowstorms, Kedarnath is one of the holiest pilgrim sites in Northern India. Kedarnath is dedicated to Lord Shiva and among the 12 Jyotirlingas. Gauri Kund is a base camp for treks to the holy shrine. Touch the waving scenery of this region at an altitude of 11,755 ft above sea level. Several options are available to hire a Palki/Pony to complete the trek, or you can complete the trek by walking. In winter, the statue shifts to Omkareshwar Temple, Ukhimath, and pilgrims can visit there to get blessings from Lord Shiva. Kedarnath will surely give fascinating and enchanting feelings.
Book holy Kedarnath Yatra Packages with us today!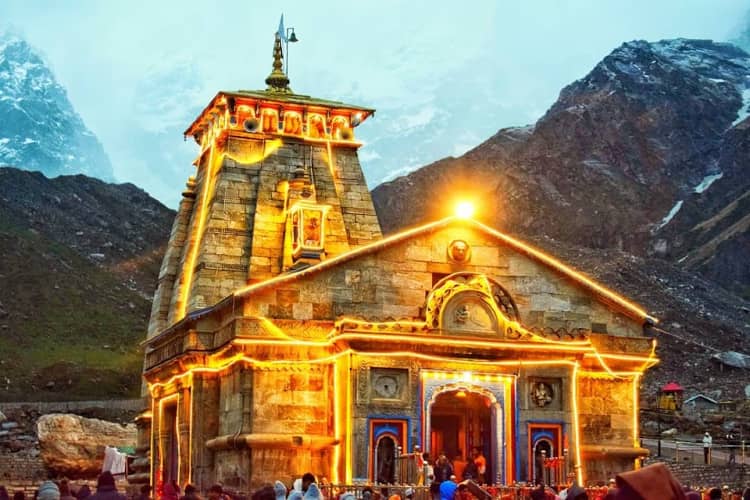 History
It is said that after the epic battle of Kurukshetra, Pandavas of Mahabharat started their journey to Varanasi to get the blessing from Lord Shiva because they were guilty of killing their friends and relatives. But, Lord Shiva refused to meet them and hid in Guptkashi. When Pandavas reach the location, Lord Shiva transforms himself into a buffalo, so they cannot recognize him.
Noticing that they are coming closer, Lord Shiva decided to get invisible underground. When this thing was happening, one of the five Pandavas, Bhima, tried to stop him by holding the legs and tail of the buffalo. Unfortunately, the Lord disappeared and left his hump, which is today worshiped at Kedarnath Temple.
Why Visit
Kedarnath is one of the holiest places that is also one of the Panch Kedar of the Garhwal Himalayan range. It is believed that Pandavas built the Kedarnath Temple, and Adi Shankaracharya restored the present temple. Gauri Kund is also one of the sacred places to visit, which is at an elevation of 1982 m that allows you to experience a more spiritual atmosphere.
You can go to Vasuki Tal, a tourist attraction that attracts every kind of tourist. This is a lake at an elevation of 4135 m, nestled between snow-clad mountains that give a fantastic view. By visiting this place, you can also behold the sight of Chaukhamba Peaks with your eyes. Chopta is undoubtedly a destination for adventure lovers as it is one of the most appealing natural wonders and is blessed with imposing hills and lush meadows.
Opening and Closing Time:
The opening month of this temple is May and the closing month is November.
Book : Kedarnath Yatra Packages

Read Also: Chota Chardham Yatra Places
Badrinath Temple
It is one of the prominent temples in the country according to the Hindu religion, which is dedicated to Lord Vishnu. Apart from being a part of the Chota Char Dham Circuit, this shrine is also included in the Bada Char Dham circuit of the Hindu Pilgrimage. This temple is home to the idol of Lord Badrinarayan in a meditative posture. In the wintertime, The idol is shifted to Vasu Dev Temple in Joshimath for worship. You can also visit Mata Murti Temple, dedicated to Lord Badri's mother, and near Badrinath Dham and  Tapt Kund, a warm spring with medicinal properties.
Make your Badrinath Temple visit memorable. Check out Badrinath packages here.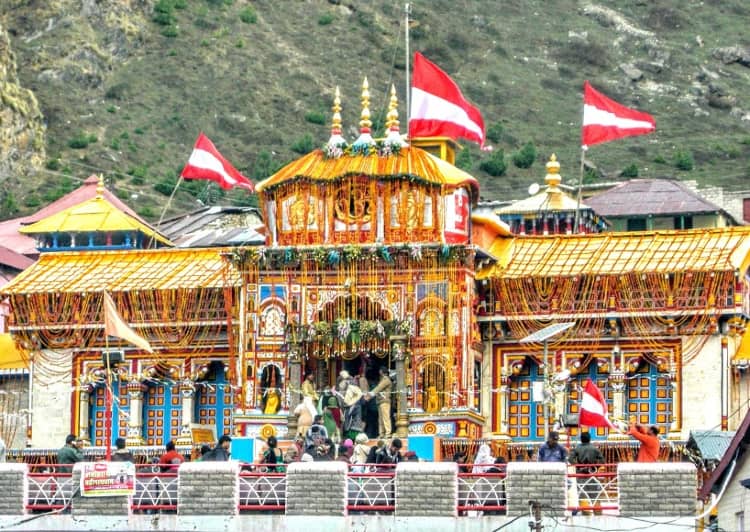 History
As we know, Badrinath Dham is the only Dham that holds a place in both circuits of Dhams. It is the prominent temple among the Panch Badri and one of the 108 Divya Desams of Lord Vishnu. The iconic 1 m tall black stone idol of Lord Vishnu is one of the eight Swayam Vyakta kshetras that mean self-manifested statues.
It is said that the two sons of Dharma, Nar, and Narayan, wanted to take shelter in the Himalayas. They were searching for a place to set up their hermitage, and during their search, they discovered four sites of Panch Badri:- Yog Badri, Dhyan Badri, Bridha Badri, and Bhavisya Badri. Finally, they got a place bestowed on hot and cold springs behind the Alaknanda River. They named this place Badri Vishal, and at that time, this town got its name.
Why Visit
Badrinath is full of attractions that amaze you at every turn and will surprise you with a blend of spiritual vibes and natural beauty. Get ready to behold the gleams of snow-covered hills at Neelkanth, a delightful destination. Neelkanth is a place that is equally fascinating for both nature lovers and devotees. Also known as Queen of Garhwal, the great peak is settled at an altitude of 6,597 m and allures an abundance of tourists. Another eye-catching attraction is the charming rock called Charan Paduka, which rests at a high altitude and is about 2 miles from Badrinath Temple. It is said that if anyone takes the blessings of Lord Vishnu's footprints, he will get retrieved from all the disturbances and troubles of life.
Opening and Closing Time:
The temple remains closed in the heavy winter season and opens from May to November for Pilgrims
Gangotri Dham
This holy shrine is a beautiful city immersed in tranquility, breathtaking natural beauty, and thrilling activity. Starting from the holy river of Ganga, Gangotri is situated on the bank of river Bhagirathi in the beautiful state of Uttarakhand. In the winter season, the temple closes because winter is very cold and harsh here.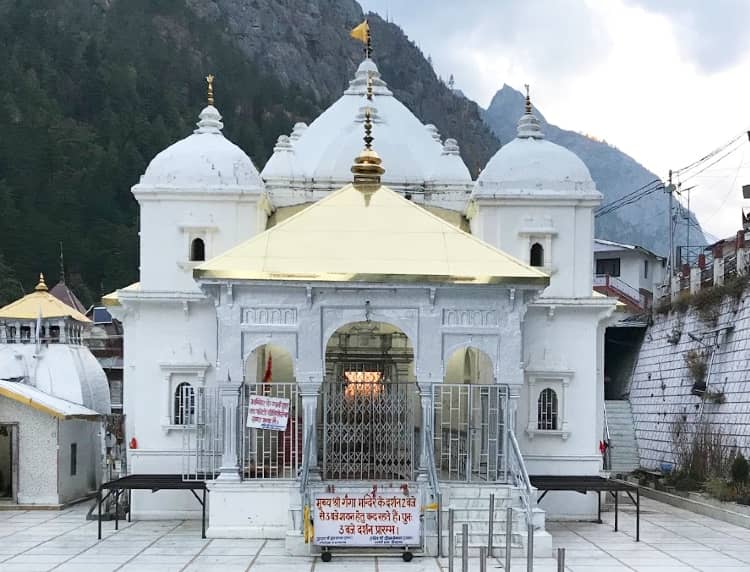 The idol shifts to the Mukhimath Temple in Mukba in the winter season, which is the winter place of Goddess Ganga. Calming aura, pure ambiance, and emerald beauty will win your heart in every sense. Snow-clad mountains and the holy water of the river Ganges add glory to this destination and make it a wonderful spot that makes every kind of traveler happy.
Enjoy Darshan at Gangotri Temple with sightseeing. Check packages here!
History
The ancient Hindu mythologies show the history of the holy destination Gangotri. As per the Hind mythology, King Sagar's grandson Anshuman failed to bring Ganga to earth, and the same was with his son Dilip. But, King Anshuman's grandson Bhagirath was strong enough for this task and started meditation at Gangotri.
After many years of meditation, Ganga arrived from heaven but lived in the coils of Lord Shiva's hair. After that, King Bhagirath started meditation to win Lord Shiva and was impressed with the meditation and determination Lord Shiva released in three streams. One of these streams came in the form of Bhagirathi. The rock on which it is believed that King Bhagirath did meditation is known as 'Bhagirath Shila', which is close to the shrine of Ganga.
Why Visit
Gangotri is widely praised for its religious as well as archaeological beauty. Apart from its religious vibes, Gangotri also offers some places for thrilling activities like camping. Tapovan is a camping place situated at the height of 4460 m. If you are a pilgrim and an adventure seeker, then Tapovan also amazes you with a perfect trekking route that gives you a remarkable experience of a real adventure.
You can weave some delightful memories by witnessing the sight of the Shivling peaks and lush vegetation. First, visit Submerged Shivling, which is believed to be a natural rock Shivling, where Lord Shiva sat to keep the Ganga in his hair curls. Then, behold the enchanting view of Gomukh, where the holy river Ganga originates. The peaceful ambiance of Gomukh mesmerizes everyone and makes it a most sought-after place to visit while on a trip to Gangotri.
Opening and Closing Time
The temple opens at 6:15 am and carries on till 2:00 pm. After a little pause, the temple reopens at 3:00 pm and carries on till 9:30 at night.
Yamunotri Dham
It is one of the Chota Char Dham of Uttarakhand dedicated to the Yamuna and the second most sacred river in India that originated in Yamunotri. This sacred place is situated at the height of 3293 m, where pilgrims visit to worship and seek blessings. It was built by Maharani Guleria of Jaipur and rebuilt by Maharana Pratap Shah of Tehri Garhwal. The temple is home to the silver idol of Goddess Yamuna. At Akshaya Tritiya, it opens for pilgrims to complete a holy journey, and thousands of devotees come here to complete their holy journey of Char Dham. Goddess Yamuna was the daughter of Lord Sun and the twin sister of Yama.
Explore the Yamunotri packages 2022 and plan your tour with us!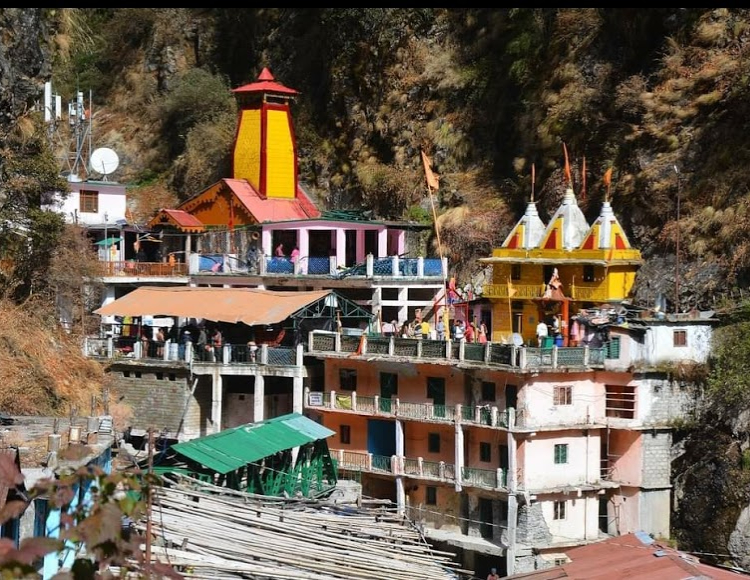 History
The history behind the present place of the temple is dedicated to River Yamuna. It relates to Asit Muni, who had revered the River Ganga ritualistically and never broke the routine of bathing in its holy waters. But maintaining this routine became more difficult with old age, then it was sensed by the Goddess Ganga, and she arrived next to the hut of the sage in the form of Yamuna.
Why Visit
Yamunotri Dham keeps a special place in Hindu mythology. It is believed that the bath in the divine water of the Yamuna River is said to refine all sins and protect the person from an unfortunate or unpleasant death. You will need to trek from Janki Chatti to reach the holy home of Goddess Yamuna, which gives you a rare experience. It is said that Lord Hanuman arrived here after firing the Ravan's Lanka and quenching the fire of his tail in the water of the Yamuna River at Bandarpoonch. This sacred place will enchant you with its glaciers and thermal springs, and no doubt it is a gift for nature lovers. Catch the magnificent views while walking beside the gushing streams.
Opening and Closing Time:
The opening time is at 7 am or 8 am, and a short break of 1 pm to 4 pm, then after 4 hours the temple doors close for the day at 8 pm the night.
When you are on the way to this divine journey-Char Dham Yatra, you can also visit other tourist places that fill your Yatra with cheerful moments along with spirituality. Each destination has its own significance.
Explore Chardham Yatra Packages and get them customized today!

Read Also: Chardham Yatra Registration 2021