Planning a trip to Gangtok? We have prepared a list of the best places to visit in Gangtok that you can add to your sightseeing tour. Resting on the tributary of the Teesta River in Sikkim, Gangtok is a spectacular hill station. Home to several monasteries, tea yards, lakes, and valleys, Gangtok never leaves one disappointed.  With the kind of beauty Gangtok possesses, it becomes tempting to keep one from exploring the best places in Gangtok.
Here are the Best Places to Visit in Gangtok for a Memorable Holiday –
1. Rumtek Monastery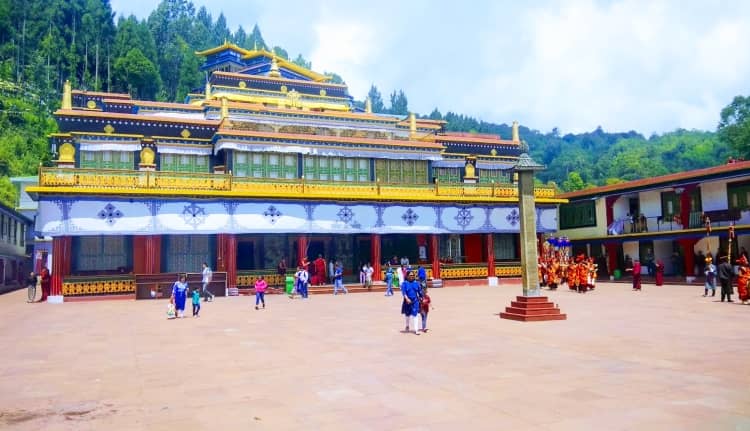 Sikkim's monasteries are always on the top list of every traveler, and the Rumtek Monastery is not an exception. A melting pot of rich culture and tradition, it is one of the best places to visit in Gangtok in 1 day. Rumtek Monastery is a great example of classical Tibetan gompa-style architecture with three storeys. It obeys the school of Tibetan Buddhism and is particularly famous for its Kagyu teachings. Witness the amazing architecture and peaceful moments of this monastery in Gangtok.
Timing: 6:00 AM – 6:00 PM
Entry Fee: INR 10
Facts about Rumtek Monastery: 
Rumtek Monastery is a three-story building with incredible architecture.
It is an artwork of thangkas and Mughals
The temple celebrates the birthday of his Holiness, Losar festival, and Dungdrub Puja.
The golden stupa is 13 ft. high.
Travel Tips:
It is advised to the travelers that they should have a guide with them to help them with a better visiting experience.
While you are in the monastery, follow their custom of circling the shrine in the clockwise direction.
Leave some donations in the donation box.
It is strictly prohibited to enter the premises under any influence of drugs.
You cannot drink outside or inside the premises.
Smoking around and inside the monastery is an offense.
Do not talk too loudly in the monastery and follow all the rules.
2. Tashi View Point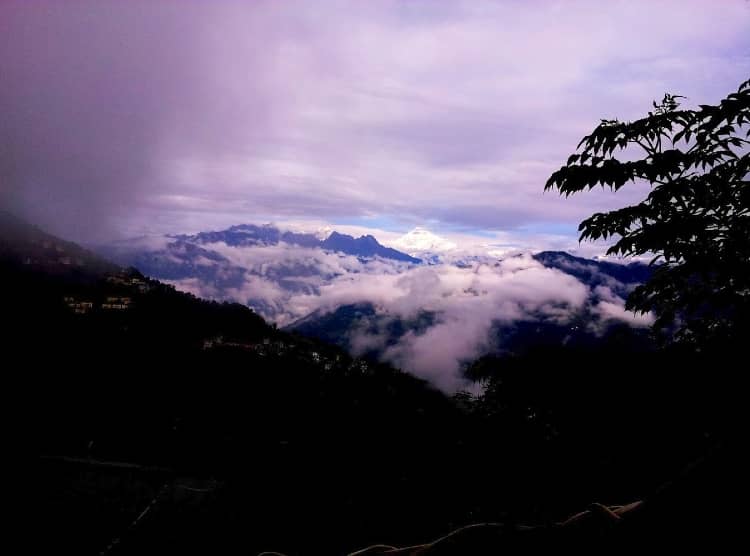 One of the best places to visit in Gangtok in January, Tashi View Point is a must-visit place for panoramic views. It offers a mesmerizing view of sunrise and sunset through majestic Kanchenjunga. Tashi Namgyal, the king of Sikkim (1914 – 1963) built this place, and that's how the site got its name. Locals visit here for picnics due to the cafeteria and shed located here. For foreigners, it is suggested to visit Tashi View Point during the morning to experience a transparent view of the mountains against the sun's golden hues.
Timing: 5:00 AM – 6:00 PM
Entry Fee: No entry fee (But you will have to pay 10 INR for binoculars and telescope use.)
Facts about ViewPoint:
The viewpoint is located approximately 8 km from the nearest town.
You can get a glimpse of the famous monasteries of Phodong, Gangtok, and Labrang.
You can also witness the changing colors of Siniolchu and Kanchenjunga Peak.
Travel Tip:
Stick to the timings if you want to enjoy the view offered by Tashi Point.
Visit here between March and June to see the clear sky and the entire valley.
You can use taxis to commute from Gangtok to the viewpoint and then back.
Book private guided tours in Gangtok with our well-curated packages.
3. Yumthang Valley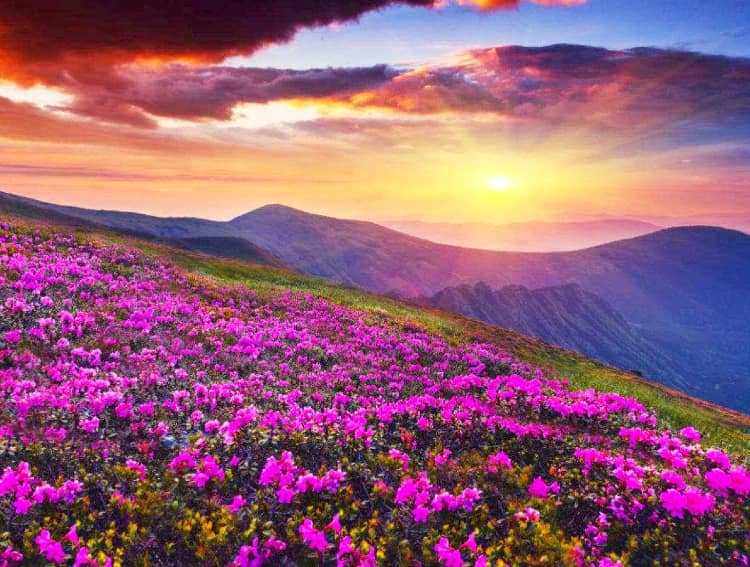 One of the hidden treasures in North Sikkim, the Yumthang Valley of Flowers, is a place for those who admire the beauty of nature. It is one of the best places to visit near Gangtok and nearby as the valley boasts a wide variety of colorful and exotic Himalayan flowers. Surrounded by lush green mountains and crawling rivers, it attracts peace-loving travelers. In addition, it is considered one of the most photogenic places in Sikkim.
Timing: 24×7
Entry Fee: You just have to obtain a PAP to visit here.
Facts about Yumthang Valley:
You will have to obtain the Protected Area Permit to visit Yumthang Valley from the Gangtok Office.
You will have to stay at Lachung which is the nearest settlement to the valley.
The visitors will not get any accommodation in the Yumthang Valley.
It is also known as Zero Point because it is the last point of all civilian roads.
Travel Tips:
Whatever time you visit here, do ensure that Yumthang Valley remains cold. So carry enough cold clothes.
You should carry cash because you won't find any ATMs around.
It is better to stay at Lachung for a day and then head for the valley.
Adventure lover? Plan a trip to Gangtok with us and enjoy Skiing in Yumthang Valley
4. Lachung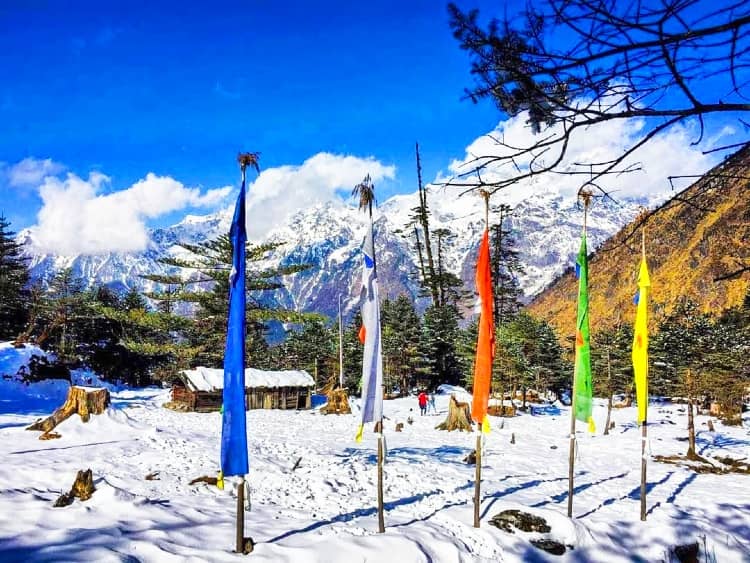 The list of places to visit in Gangtok in 3 days cannot overlook Lachung. It is a peaceful high-altitude village and one of the best places to visit in North Sikkim. Lachung is an abode to the Tibetan and Bhutia community.
The magnificent Lachung Chu River, also known as Lachung Gompa, adds a great appeal to this mountain village. Resting at 8,858 feet, Chu River is known for its beautiful surroundings. It is nestled amidst the snow-capped mountain peaks, stunning waterfalls, meandering glacial rivers, and fruit orchards. Lachung is a must-visit place in Sikkim to experience a serene escape. If you are a fan of snow, the winter months are the best time to visit Lachung.
Timing: Anytime
Entry Fee: No Entry Fee is required
Facts about Lachung:
The Lachung Zero Point is at an altitude of 15,300 ft.
You will have to obtain the Inner Line Permit to visit here.
The Lachung Zero point is 26 km away from Yumthang Valley.
Lachung is located at an altitude of 8588 ft.
Travel Tip:
The best time to visit Lachung is during the summer season.
Do visit the Lachung Monastery, Chungthang, Yumthang Valley, Chopta, Thangu Valley, Shingba Rhododendron Sanctuary, and Seven Sisters Waterfall.
You can also enjoy trekking at Mount Katao.
Become a part of the mask dance at the monastery.
5. Kanchenjunga National Park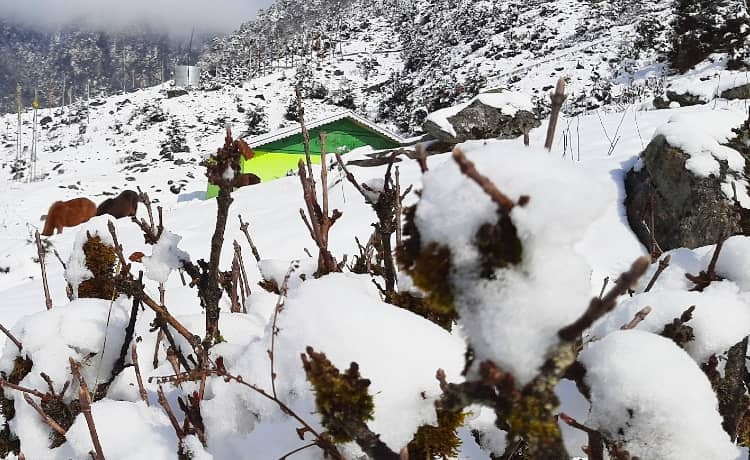 Covering an area of about 1,784 sq km, Kanchenjunga National Park is a high-altitude national park located in Yuksom. It is one of the places to visit near Gangtok in summer with kids; the park is known for its rich wildlife.
Rare wild animals such as Red Panda, Snow Leopard, Great Tibetan Sheep, Bharal, and Musk deer can be spotted here. Nature and wildlife lovers around the globe visit here to admire its beauty. Apart from its flora and fauna, this national park is blessed with a unique variation of plains, dense valleys, tranquil lakes, gleaming glaciers, and striking, snow-capped mountains covered with ancient forests.
Timing: 24 hours
Entry Fee: INR 560 per head for the first seven days and then an additional charge of INR 80
Facts about Kanchenjunga National Park:
The national park is a UNESCO World Heritage Site.
An inner Line Permit has to be obtained to visit the park.
Travel Tips:
Summer is the best time to visit this national park.
Wear warm clothes and hiking shoes.
Keep a water bottle in your backpack and enjoy the trek. Also, keep some snacks like chocolate bars.
Take a guide to avoid getting lost and get a better trekking experience.
Go on a mountain expedition in Sikkim and watch the sunrise over Mount Kanchenjunga, the world's third-highest mountain.
6. Tsomgo Lake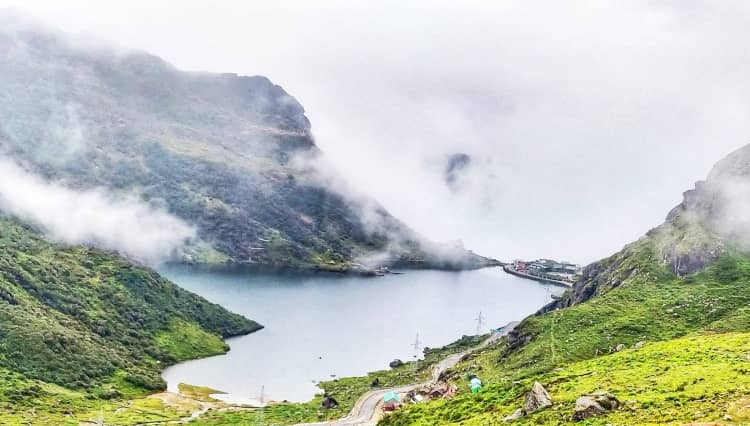 A glacial lake located at an altitude of about 12,310 feet above sea level, Tsomgo Lake is one of the most prominent and beautiful places to visit in Gangtok.
The lake is renowned for its tranquility and breathtaking beauty. Witness the icy blue waters of the lake reflecting the grand peaks of the Himalayas, which is a beauty to behold. Adventure lovers can enjoy trekking, nature photography, birdwatching, and yak riding. These make Tsomgo Lake an ideal tourist spot.
Timing: Sunrise to Sunset
Entry Fee: None (You will have to get the permit for Tsomgo Lake)
Facts About Tsomgo Lake:
A permit is required to visit Tsomgo Lake, which we can arrange for you.
You do not have to pay anything to enter Tsomgo Lake other than the agent fee.
It is the perfect location for people who wish to enjoy bird-watching activities.
You will have to trek to the lake, and that's the best part for travelers.
Travel Tips:
The best time to visit here is between April and May.
Get the restricted area permit to visit Tsomgo Lake.
It is better to get the permit before you reach here because it takes a day or two to get issued.
Make sure you carry enough warm clothes to cover yourself up.
You can also rent the plastic boots if you don't have the trekking shoes and they will cost you INR 50 only.
It is advised to visit here during early mornings so that you can do all your photography and enjoyment and leave before evening.
Avail Private Guided Tour to Tsomgo Lake with TOI.
7. Namgyal Institute of Tibetology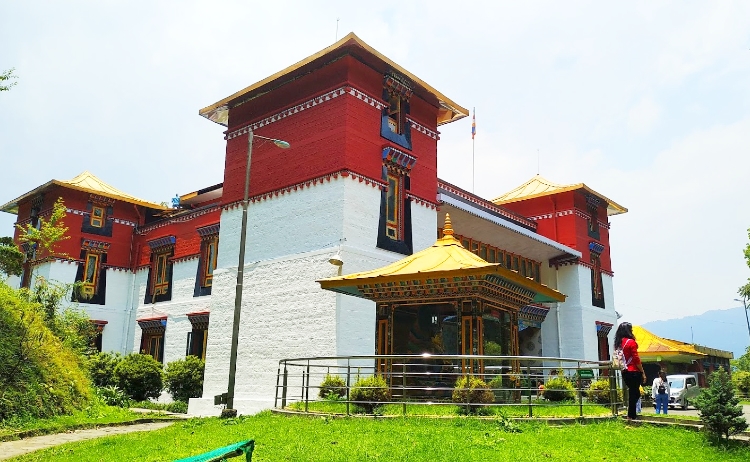 Tibetology Museum or Namgyal Institute of Tibetology is one of the places to visit in Gangtok in June. Once you visit this place, you will learn about a deep understanding of rich Tibetan culture.
The museum houses numerous statues, coins, hand paintings, embroidery work – known as thangkas, ancient manuscripts in various languages such as Sanskrit, Tibetan, Chinese, and Lepcha, and Tibetan artworks and artifacts as well. The rich library of Namgyal Institute of Tibetology has a collection of more than 50,000 books. It is one of the best places to visit in Gangtok with family.
Timing: Monday – Saturday: 10:00 AM – 4:00 PM (The institute is closed on second Saturdays, Sundays, and all the government holidays.)
Entry Fee: INR 10
Facts about Namgyal Institute of Tibetology: 
The best place to buy some souvenirs is Ashtamangala Art.
You can buy some Sikkimese art pieces and clothes from Asta Mangala Art.
The library at the institute has more than 60,000 volumes of translation.
There is a 135 volume encyclopedia and other books, but none can be rented to read.
Travel Tips:
Respect and follow all the rules of the tourist attraction.
Remove your shoes before you enter the museum.
Inside the museum, no visitors are allowed for photography.
You can have something from Baker's cafe opposite the institute building.
Select from our collection of Gangtok tour packages
8. Banjhakri Water Falls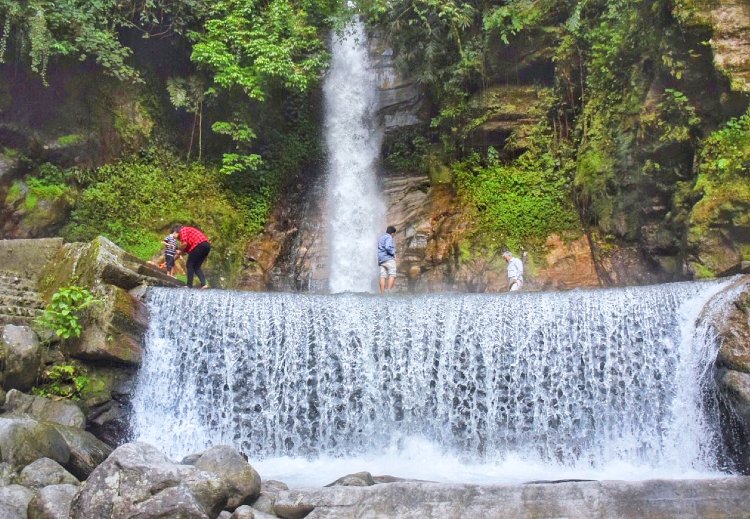 "Banjhakri" refers to the woodland shaman. It is a combination of Ban and Jhakri where Ban denotes "forest" while Jhakri denotes "priest." Banjhakri falls is a prime tourist spot in Gangtok. The serene surrounding and the milky white water cascading down soothe your senses and let you soak in the tranquility.
The sounds of the water are somewhat loud and engaging and can be heard from a long distance. So enjoy being in the lap of nature and make your holiday in Gangtok a memorable one.
Timing: 8:00 AM – 6:00 PM
Entry Fee: INR 50
Facts about Banjhakri falls:
The cascade of the waterfall is 40 ft.
The main attraction here is the Energy Park.
The other attractions around the waterfalls include Mangpas, Lepcha, Ban Jhakri ancestors, and Lyam Lymay.
Travel Tips:
The best time to visit here is between October and February.
Make sure you have your hiking boots in your backpack.
Keep an extra pair of socks and clothes.
9. Do Drul Chorten Monastery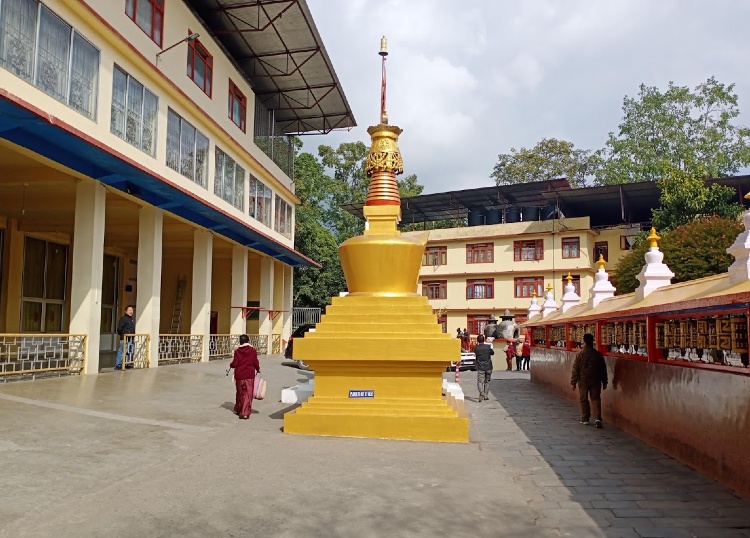 Located close to Tibetology Institute and Gangtok Center on a hillock, Do Drul Chorten Monastery is one of the peaceful places in Gangtok. It is also called stupa, marked by a golden dome that can be seen from different places in Gangtok.
Do Drul Chorten Monastery was built by the Venerable Trulshik Rinpoche, head of the Nyingma order of Tibetan Buddhism, in 1945. Surrounded by Chorten Lhakhang and Guru Lakhang, where you can witness the two large statues of Guru Padmasambhava, who was a legendary Indian Buddhist mystic. The Stupa is regarded as one of Sikkim's most significant Buddhist stupas.
Timing: 8:00 AM – 5:00 PM
Entry Fee: None
Facts about Do Drul Chorten Monastery:
There are several small stupas around the main one.
It was built in 1945 by the head of the Nyingma order of Tibetan Buddhism.
The building can accommodate 700 monks.
Travel Tips:
Wear appropriate clothes.
Respect the local culture.
Remove your shoes before entering the monastery.
Maintain the sanctity of the place.
10. Enchey Monastery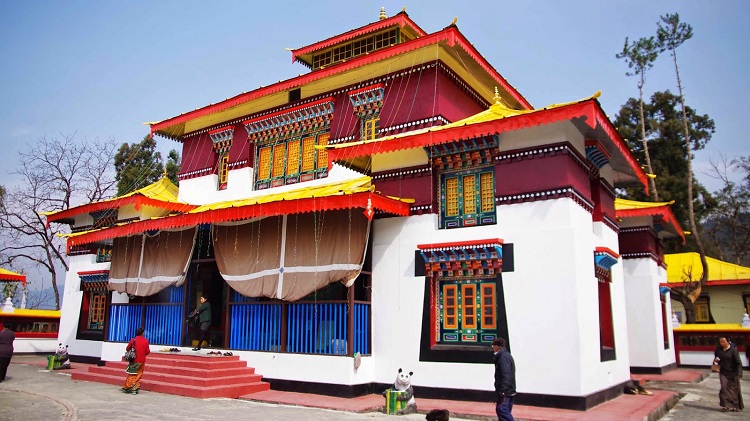 Meaning the solitary temple, Enchey Monastery, is among the must-see places in Gangtok. This is a beautiful Buddhist pilgrim site amidst excellent tall pine trees and flower-decked meadows. You can also enjoy the views of magnificent Kanchenjunga Hills while being immersed in the feeling of being at a stunning place in Gangtok.
The monastery is a significant seat of the Nyingmapa order of the Vajrayana school of Buddhism. People also say that Lama Druptob Karpo, a famous tantric blessed with flying powers, flew from Maenam Hill and built a hermitage here. Attend the Pang Lhabsol festival that brings the Bhutias and the Lepchas together on the 18th and 19th days of the 12th lunar month of the Tibetan calendar.
Timing: 6:00 AM – 4:00 PM
Entry Fee: None
Facts about Enchey Monastery:
This monastery is 200-years-old.
90 monks stay at Enchey Monastery at present.
The monastery was constructed in 1840 by the eighth Chogyal.
Loki Sharia, Lord Buddha, and Guru Padmasambhava are worshiped here.
There is an extensive collection of masks here, used for the various ritual dances held every year.
Travel Tips:
Attend the Detor Cham festival celebrated every year in September and October.
It is situated at a high altitude, so it becomes difficult to reach
Make sure to wear a sturdy pair of shoes, especially during the rainy season.
For a hassle-free tour, contact us for all-inclusive Gangtok Packages.
11. MG Road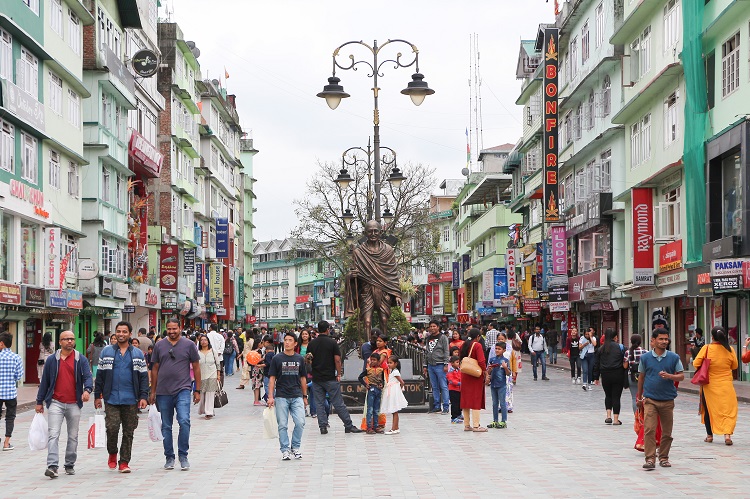 MG Road is a popular shopping hub in Gangtok that offers a variety of things to buy. From Sikkim's traditional teacups to Choksee tables in different designs. The Thangkas are quite famous here, which you can take back home as souvenirs. Garments, shoes, trinkets, and many more items can be found at MG Road.
Besides shopping, MG Road also has good places to eat in Gangtok. You will find many eateries and restaurants like The Roll House (famous for rolls of various kinds), Baker's Cafe (known for their coffee, momos, patties, and pastry), PUB25, Parivar, and Rasoi (place for pure vegetarian food).
Timing: 8:00 AM – 7:00 PM (closed on Tuesdays)
Entry Fee: None
Facts about MG Road:
MG Road is among the unmissable places in Gangtok.
It looks like a mall but is open.
This area is smoke-free, litter-free, and devoid of vehicles.
Travel Tips:
You cannot smoke at MG Road. If caught, you will be fined.
No vehicles are allowed on this road, so you can safely move around with kids.
Attend the fun Gangtok Annual Food and Culture Festival every December, organized by Sikkim Government.
12. Ganesh Tok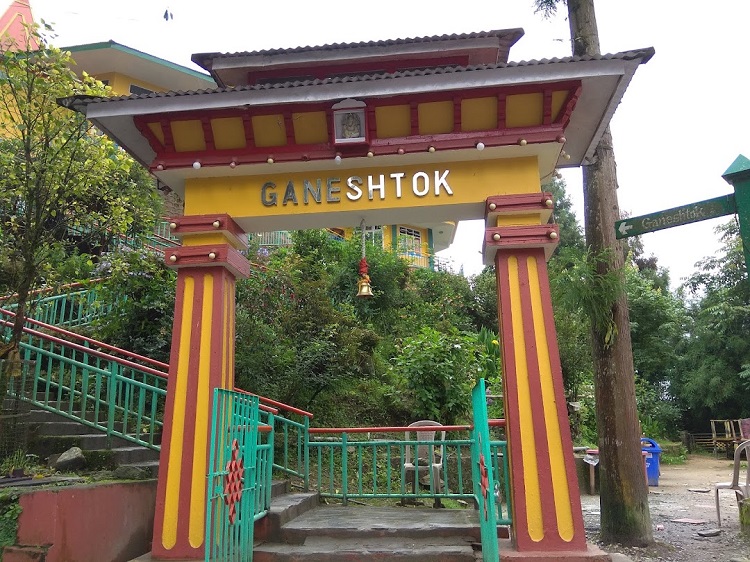 A small temple, Ganesh Tok, is situated atop a hill, dedicated to Hindu God Ganesha. It is so tiny that it fits only one person at a time. Besides, Ganesh Tok is a famous viewpoint and offers mind-stirring views of the Kanchenjunga Hill. For the best views, visit during sunrise.
Colorful flags can be seen tied around the stairs, making it stand out. You can sit in the lounge or stand at the balcony, the temple's highlights. Ganesh Tok is among the must-visit places in Gangtok in summer to enjoy the natural beauty and comforting ambiance.
Timing: 6:00 AM – 7:00 PM
Entry Fee: None
Facts about Ganesh Tok:
Ganesh Tok is situated at the height of 6,500 meters above sea level.
You can witness mesmerizing views of Kanchenjunga Hill.
Temple only fits one person at a time.
Hanuman Tok is another temple dedicated to Lord Hanuman near Ganesh Tok.
Travel Tips:
Wash your hands and keep your shoes in a safe place before entering the temple.
Wear appropriate clothes for visiting temples.
Visit here early to catch great views and feel the tranquility.
Conclusion:
Now that you have a list of the best places to visit in Gangtok, you can add them to your itinerary as per your interests. Tourism of India offers private guided tours for hassle-free sightseeing in Gangtok. Book Gangtok tour packages with us equipped with meals, transfers, sightseeing, and accommodation to enjoy your holiday worry-free. Our experts will be connected 24×7 with you to ensure a memorable and smooth holiday in Sikkim.
Best time to visit Gangtok
October to March is the best time to plan a trip to Gangtok. The temperature also ranges between 2°C and 7°C, making your outdoor activities a pleasant affair. You can enjoy great views of the snow-capped peaks and indulge in snow adventures. For a cultural experience, winter in Gangtok is the best time as monasteries organize many festivals.
Summers are also pleasant if you want to escape the heat. The warm sun and cool breeze make a trip to Gangtok enjoyable. Moreover, honeymoon couples can indulge in romantic experiences, making their holiday unforgettable.
Monsoons, i.e. July to September, is a great time too, as the swift rainfall lends an unmatchable charm. But, keep in mind there will be landslides and rock blockage.
How to Reach Gangtok
Fly from any major Indian airport to Bagdogra Airport, the nearest Gangtok. From there, you will be provided transfers to your hotel in Gangtok by Tourism of India. Helicopter services are also available if you want a different experience. They are provided by the Sikkim Tourism Development Corporation and operate daily (20 min ride).
Traveling to Gangtok by road will offer you a scenic, memorable ride. The nearest places you can plan a road journey to Gangtok are Siliguri, Darjeeling, and Kalimpong. We will provide you swift transfers in hygienic vehicles and if you want to drive on your own, permission for intercity drives.
Select from our collection of Gangtok tour packages