"माटी बांधे पैंजनी, बंगड़ी पहने बादली, डेडो डेडो बावड़ो, घोड़ मथोड़ बावड़ी…"
This is the famous song of Rajasthan Tourism which invokes the wanderlust to explore Rajasthan. It is India's best tourist attraction in every aspect. If you want to explore the 'land of the royals,' start your expedition with Jodhpur.
Jodhpur in Rajasthan carves a deep, lasting impression on a traveler. Sitting on the edge of the Thar Desert, this city in Rajasthan tells the tales of the history of Rajputs, their lifestyle, and big forts. A combined visit to Rajasthan with Jodhpur in your itinerary will allow you to come across the great synergy of Rajasthani heritage, culture as well as modernity.
Additionally, Jodhpur graces the pages of many travel magazines and online travel publications because of its blue alleyways. Jodhpur is India's Own Morocco because it has streets laden with blue houses. Rajasthan's second-largest state shows Rajasthan at its most colorful, iconic, and exotic best. It is also one of the most Instagrammable cities in India.
Why Jodhpur Receives Lakhs of Footfall Annually?
Firstly, Jodhpur is synonymous with the Blue City of India and has many heritage hotels that redefine luxury. Secondly, the Mehrangarh Fort of Jodhpur is the ultimate vantage point that allows tourists to soak the panoramic views of the sprawling blue and white-washed houses. Also, Jodhpur has many rooftop restaurants around the fort where tourists cherish spectacular night view Mehrangarh Fort and also see the famous clock tower on the other side.
Tickle your wanderlust by exploring the top attractions and Places to Visit in Jodhpur in 2021
Put on your reading glasses because Jodhpur has a striking resemblance with Morocco's Blue City – Chefchaouen. Although, there are many other highlights, attractions, and places to visit in Jodhpur.
1. Mehrangarh Fort
Highlight: Several festivals are held at Mehrangarh Fort, including Rajasthan International Folk Festival in October and World Sacred Spirit Festival in February, giving you a sneak peek about Rajasthani culture.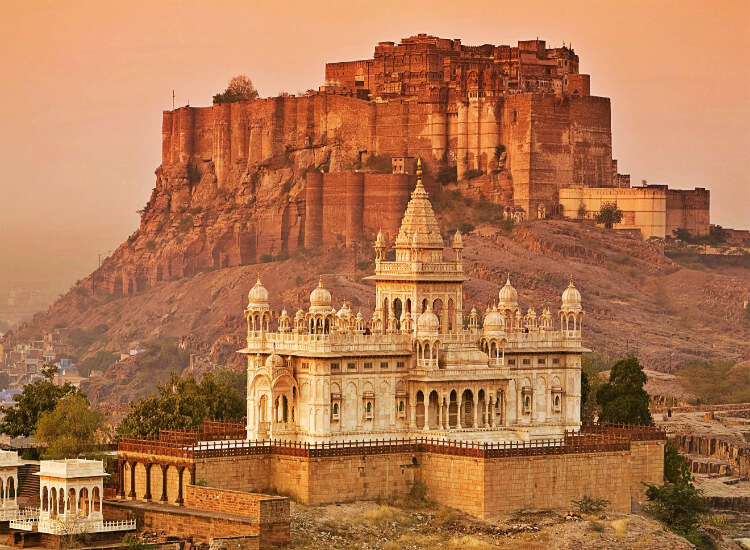 Timings: 9 AM – 5 PM
Ticket Price: 100 INR (approx.) for Indians, 600 INR (approx.) for foreigners.
Best Time to Visit Mehrangarh Fort: October – March, and early summer and monsoon.
Mehrangarh Fort is the blue enigma of every Rajasthan holiday. Rudyard Kipling has said about Mehrangarh Fort that "the fort is the palace that might have been built by the Titans and colored by the morning sun." Now you can guess why Mehrangarh Fort is one of the best tourist places to visit in Jodhpur. Mehrangarh Fort is a perfect place for those who love architecture and photography. It is one of the largest and arguably India's best-maintained forts. The fort sits on the rocky cliff at 410 ft (approx.) and provides majestic views of the Blue City.
The fort was built in 1459 by Rao Jodha and is made of red sandstone. The walls of the Mehrangarh Fort tell the glory of the royal era as they stand strong even today after encountering so many battles in the past. A visit to Mehrangarh Fort is like stepping into the 500 years back time machine. Several mahals are within the fort. There are a total of 7 gates, but the most talked-about ones are Jai Pol, Fateh Pol, Dedh Kangra Pol, and Loha Pol. The museum here is counted in the list of India's famous museums. From the sword to the spear, from the attire of the kings to the utensils, you will get to see the sari items found in the king's palace.
Places to See Inside Mehrangarh Fort
Shringar Chowk: It is the first courtyard inside Mehrangarh Fort, whose corners have a marble throne.
Mehrangarh Fort Museum: This fort is a treasure trove and consists of seven-period rooms and six galleries. The 7-period rooms are Sheesh Mahal, Phool Mahal, Moti Mahal, Jhanki Mahal, Deepak Mahal, Takhat Vilas, and Sardar Vilas. All of them showcase the unique artistry work of the Rajput era with fine architecture.
Things to Do Inside Mehrangarh Fort
Admire the intricate Rajasthani carvings and design on the fort.
Pay a visit to 2 ancient temples within the fort.
See the artifacts of the royal family inside the museum.
Enjoy the traditional melody when you enter the fort premises.
Note: Photography, videography, audio guide charges extra.
2. Umaid Bhawan Palace, Jodhpur
Highlights: Umaid Bhawan is the last royal palace built in India before Independence. It is one of the best heritage hotels for a destination wedding in India.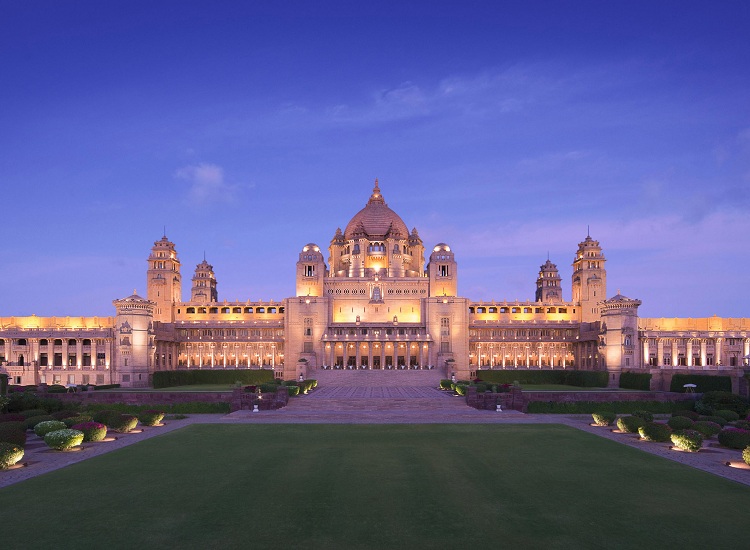 Venue Options: 4 indoor and 6 outdoor
You can guess the splendor of this lavish heritage hotel by knowing the fact that several celebrities host their wedding here. Umaid Bhawan Palace because it is a piece of magnificent Rajasthan heritage. It is the same luxurious heritage hotel where Priyanka Chopra and Nick Jonas have exchanged their wedding vows. Umaid Bhawan Palace provides honeymooners the chance to romance in the erstwhile era of royals. Forget your usual hotel welcome. You will be welcomed with the rose petals floating from the terrace as you ascend the plush red-carpeted stairs on entry.
Umaid Bhawan is divided into three areas, and one of them is still owned by the royal family of Jodhpur city. The second part is a museum, and the third one is converted into a heritage hotel to provide the utmost royal experience. During your stay at Umaid Bhawan Palace, embrace the peacocks roaming in the gardens of the property. Take a tour to Umaid Bhawan Palace Museum to see vintage clocks and arts. The Umaid Bhawan Palace provides clear views of the glorious Mehrangarh Fort.
The palace built by Maharaja Umaid Singh is made of sandstone of at least 1 million square feet of marble and special methods. This sandstone is also called Chittar, and due to this, many people also know this palace as Chittar Mahal. You will have a full tour here in about three hours. There is also a beautiful antique thing market on the way here, you must go there too.
3. Jaswant Thada
Highlights: Jaswant Thada is known as the Taj Mahal of Rajasthan because it is entirely built with white marble and lovely domes.
Timings: 9 AM – 6 PM
Ticket Price: 30 INR (approx.) for Indians, 50 INR (approx.) for foreigners.
Best Time to Visit Jaswant Thada: October – March, and July to September.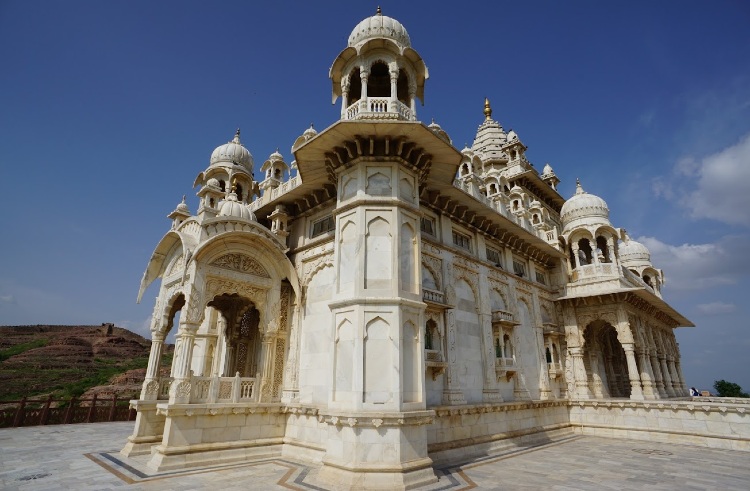 This is yet another popular tourist place to visit in Jodhpur, located next to Mehrangarh Fort. Jaswant Thada is the cenotaph built in honor of Maharaja Jaswant Singh in 1899 and is adorned with precious white marbles. This charisma is built like a temple. The architecture of this brilliant landmark deserves to be admired. This place looks even more beautiful due to a small pond and garden. Filled with carvings and sculptures, Jaswant Thada becomes a distinct identity of its own.
Explore this major landmark in India's 'Blue City' to have a sneak-peek into Rajputana architecture. Go on a day trip to Jaswant Thada on a guided excursion to understand the history of this place. If you are lucky, expect to see a bunch of migratory birds. There is a lake behind the Jaswant Thada, which is a picturesque spot.
Note: Video camera and still camera charges extra.
4. Ghanta Ghar
Timings: 10 AM – 8 PM
Entry Fee: Free of cost
Ghanta Ghar or Clock Tower market located on the new road is the most famous market in Jodhpur. If you are fond of local things, then coming here will be very beneficial for you. Spices, Rajasthani costumes, jewellery and handicrafts items will be available at this market at a good price.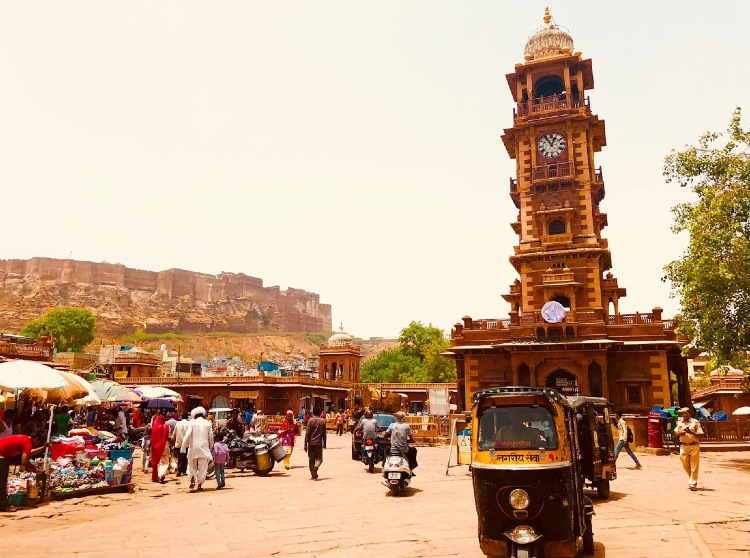 The workmanship of Bandhani is very popular here, and you should definitely try to see and buy it. During the night, Clock Tower is decorated with lightning which becomes a sight to behold.
5. Kaylana Lake
Highlights: You will find it hard to control your temptation for a boat ride in the crystal clear water.
Timings: 8 AM – 6 PM
Best Time to Visit: October – March, and early summers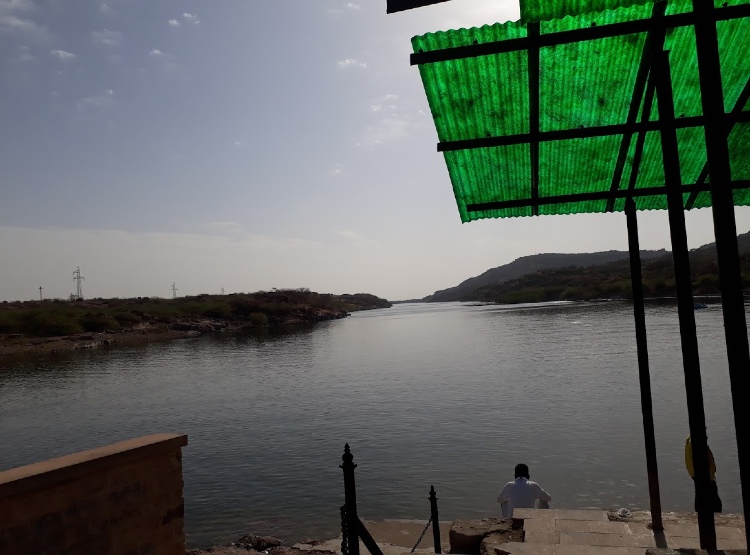 Kaylana Lake in Jodhpur is a picturesque spot to visit with family. It is an artificial lake that was constructed by Pratap Singh in 1872. The area around Kaylana Lake is considered ideal for birdwatchers. The lake is enveloped with lush greenery worldwide and is one of the best tourist attractions in Jodhpur to witness the sunrise and sunset. You can explore the lake on a boating excursion and click pictures to amp up your social media game.
Sprawling to 84 sq km (approx.), the lake's surroundings are known to house bears and other animals. During ancient times, it was the hunting ground for the royal kings. The cool breeze at the lake in the early winters is quite soothing and refreshing. Once the situation gets better for the travel, stop by these famous attractions and places to visit in Jodhpur for that ultimate royal, cultural, and historic affair.
6. Bal Samand Lake
This is yet another picnic place in Jodhpur, located outside 5 kilometers (approx.) from Jodhpur Mandore Road. As the name suggests, Bal Samand Lake is an artificial water body that was constructed back in 1159 AD by Balak Rao Parihar.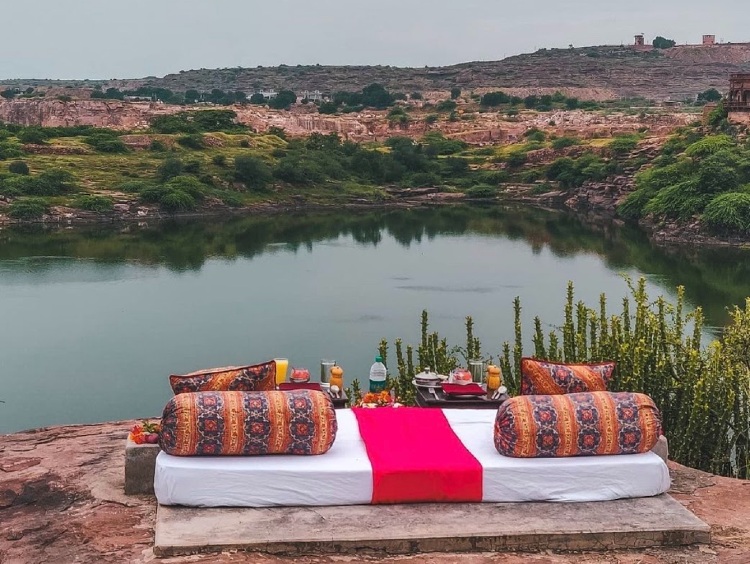 It was constructed to provide water to the people of Mandore. You will enjoy a good relaxing time at Bal Samand Lake as the place is embraced with the emerald greenery drenched with the trees of pomegranate, plum, and papaya. Keep your cameras ready because migratory birds and peacocks flock in the garden. One magnificent red sandstone summer palace perched on the lake shores, which is now a luxury heritage hotel. Give Bal Samand Lake a visit on your Jodhpur holidays in 2021.
Timings of Lake and Garden: 6 AM – 8 PM
Entry Fee: Free of cost
7. Mandore Garden
People who plan to visit the tourist places to visit in Jodhpur with family must include Mandore Garden in their itinerary. It is a lush green garden and it has architectural marvels within it.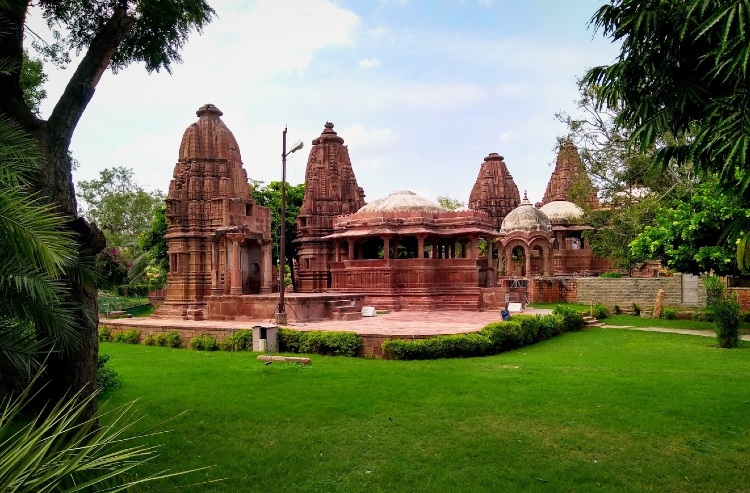 You will get the opportunity to tour back in the princely era of Jodhpur city because Mandore has a history dating back to the 6th century. There is a museum inside the gardens that features a temple dedicated to the Indian Gods. Mandore Garden qualifies as the family-friendly place to visit in Jodhpur because of the abundance of greenery.
Timings: 9 AM – 8 PM (approx.)
Ticket Price: 50 INR (approx.)
Best Time to Visit Mandore Garden: October – March, and early summer and monsoon.
8. Machia Biological Park
Watch Rajasthan's well-preserved rich biodiversity at Machia Biological Park with your near or dear ones. This place is one of the best attractions and tourist places in Jodhpur to spot the majestic tigers, lions, jackals, and other wild resident members.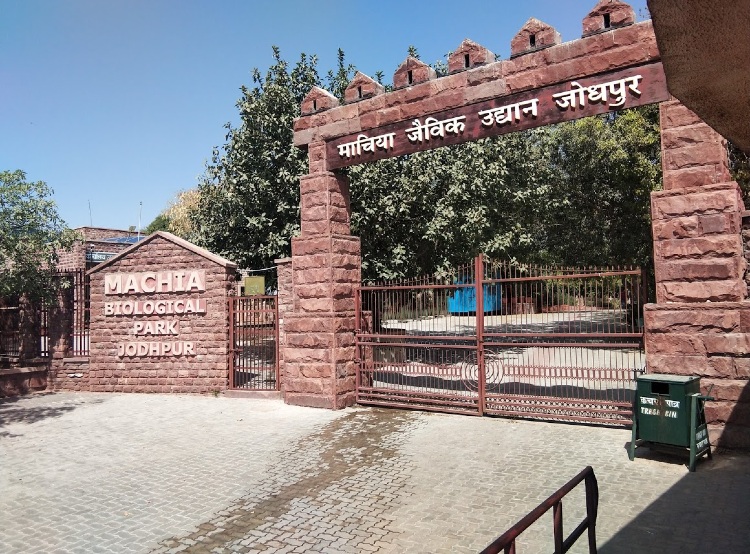 You can have a safari excursion inside the Machia Biological Park to enjoy the wildlife on wheels. Keep your cameras ready because it is also an excellent bird-watching point. You can observe the views of Kailana Lake from here. This place is relatively a newly established zoo in Jodhpur where unique animals like giraffes and zebras are found.
Timings: 8:30 AM – 5 PM (approx.)
Ticket Price: 30 INR (approx.) for Indians and 300 INR (approx.) for foreigners.
Best Time to Visit Machia Biological Park: October – March, and early summer and monsoon.
Note: 80 INR (approx.) for the still camera and 200 INR (approx.) for the video camera.
9. Sardar Market
Sardar Market is a popular shopping place to visit in Jodhpur and has shops, eateries, rooftop cafes overlooking the Mehrangarh Fort. This place is like the Chandini Chowk version of Old Delhi in Jodhpur. You can go on a walking tour of the Sardar Market and buy leather items, Rajasthani artifacts, and local souvenirs at pocket-friendly prices. Women can test their bargaining skills at the Sardar Market in Jodhpur. This local market is named after the last king of Jodhpur, Sardar Singh. There is a huge assortment of street food you can binge on here.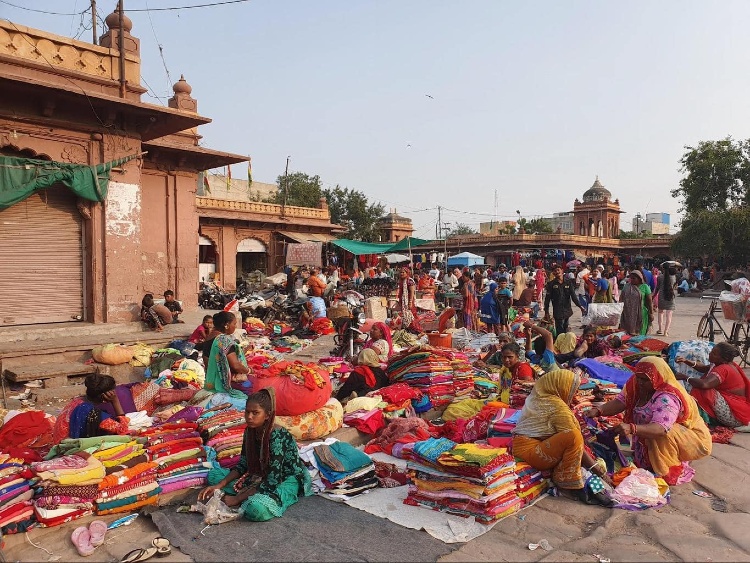 Timings: 7 AM – 8 PM (approx.)
Things to Buy: Fabric work, Rajasthani sarees, carpets, and gemstones.
Toorji Ka Jhalra Bavdi
10. Toorji Ka Jhalra Bavdi
If you want to dig into the history of Jodhpur, explore this fabulous architecture of the 18th century. Toorji Ka Jhalra Bavdi is a stepwell that features intricate sandstone carvings.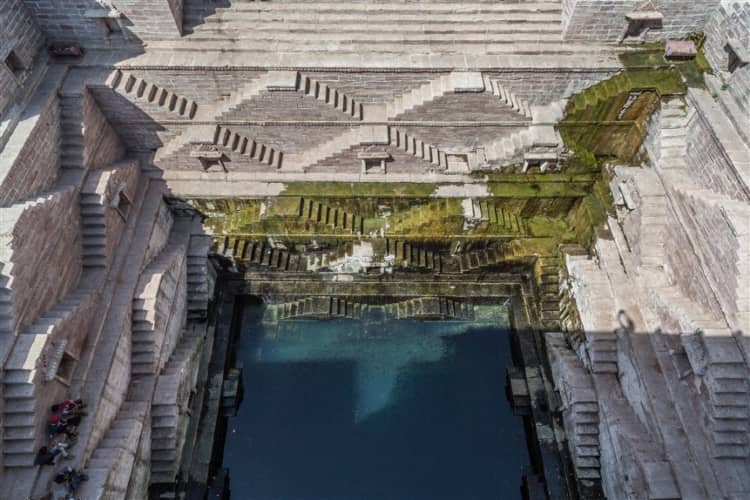 It is basically a stepwell where the famous Gangaur festival is celebrated. In today's time, several cafes and small shops are scattered around the Toorji Ka Jhalra Bavdi, making it one of the best places to visit in Jodhpur with a girlfriend or family.
Timings: 24 hours
Entry Fee: Free of cost
Read Also: Places to visit in Rajasthan