Now that you have made through one of the biggest days of couples life, the adventure begins. You are finally married now. But before that journey begins, you will be presented with the ultimate vacation of your life – your honeymoon.
You should not have to deal with any stress on your honeymoon. So, we have carefully picked the best places to visit in December in India for your picture-perfect vacation.
Be it a vacation to a tropical paradise or a cozy hill station, your honeymoon is your first celebration of love, and it should be phenomenal.
Best Winter Honeymoon Destinations in India For 2021:
1. Shimla
Shimla is a one of the best destinations to explore in winter for romantic honeymoon. Many tourists plan their trip during the Christmas and new year to see snow in Shimla.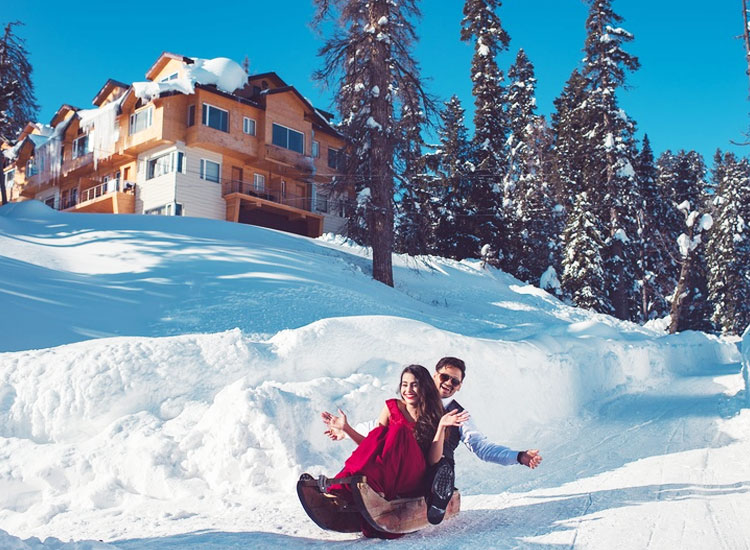 Romantic Experiences:
Couples can enjoy a romantic dinner at restaurants in Shimla.
Ice-skating near Scandal Point
Watch the sunrise from Chadwick Waterfalls
Shopping at Lakkar Bazaar
Best Time to Visit Shimla for Honeymoon: March to June and December to January in winter.
[ Explore Shimla Tour Packages ]
2. Gulmarg, Kashmir
Encounter the Meadow of Flowers like the main leads of a romantic Bollywood movie at this winter destination in north India. Lay in the flower fields and have a sweet conversation with your beloved. Sing songs or stroll through this beautiful hill station. The serene surroundings, snow-capped mountains, and spectacular scenery of Gulmarg will enhance your romance. Whether you seek calm or adventure, Gulmarg has a lot to offer. The beauty of Gulmarg is not justified through pictures, so plan your honeymoon to experience the charm of Gulmarg.
Believe it or not, these are the most romantic places in North India.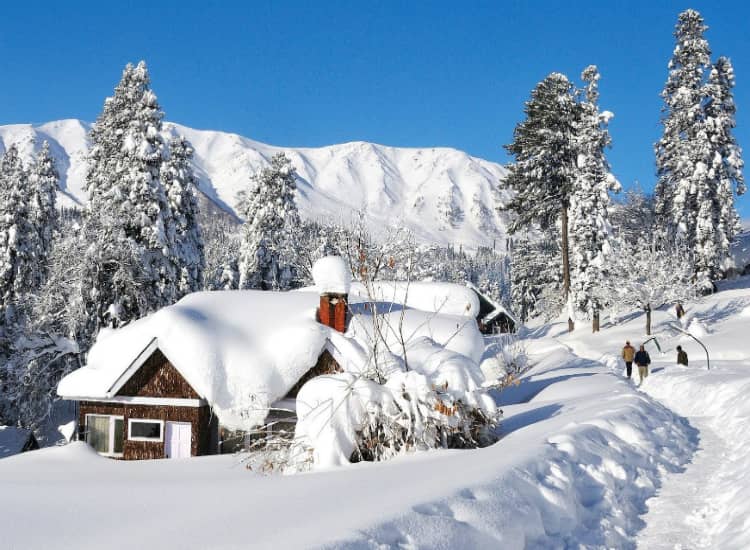 Romantic experiences:
Take a Gondola ride to Kongdori
Admire the scenic views from Apharwat Peak
Experience snowboarding and skiing together
Dine-in for a romantic date
Have nature walks amidst serene surroundings
Enjoy a pony ride at Alpathar Lake
The best months to visit: January and February
[ Explore Gulmarg Tour Packages ]
3. Andaman and Nicobar Islands
Splash waters and celebrate your newly married life at this slice of paradise. Andaman and Nicobar Islands are nature's bliss with clear turquoise waters, stunning coral reefs, and spotless beaches. Put your busy life aside for some time and spend quality time with your partner. The islands provide pleasant weather in winter, which will make your honeymoon trip more exciting. This tropical paradise is sure to fill your hearts with love and romance.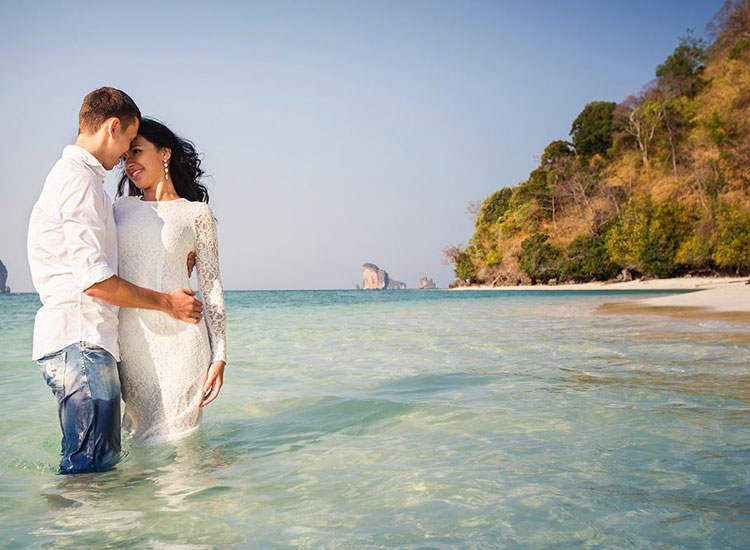 Top Romantic experiences:
Take deep sea diving
Have a romantic candlelight dinner on the cruise
Walk hand in hand on the beach
Enjoy a glass-bottom boat ride
Catch sunsets together
De-stress with a couples massage
Trek to Secret Beach in Havelock
The best month to visit: October
[ Explore Andaman Tour Packages ]
4. Munnar, Kerala
Emerald surroundings, rich culture, delicious food, and serene backwaters put Munnar on the list of good places to visit for a honeymoon in winters. Take your better half on a ride to God's Own Country. If you are looking for something more than cold weather, huge mountains, and snow; plan a visit to Munnar in winter season. The pleasant weather in December will put you in a good mood for a remarkable honeymoon.
Romantic experiences:
Enjoy a morning walk in tea gardens
Have a romantic dinner
Adventure seekers try Meesapulimala Trek
Stay at a resort with mesmerizing views
Call your partner's name at Echo Point
Have fun at Chinnakanal waterfalls
The best months to visit: December to February
[ Explore Munnar Holiday Packages ]
5. Udaipur
Enjoy the coming winter in the city of lakes 'Udaipur'. It is one of the best options to enjoy with your loved ones if you are living in Delhi and Don't miss these beautiful honeymoon places near Delhi. It is one of the most romantic cities in India as it is situated between the famous lakes and the ancient Aravelli Hills.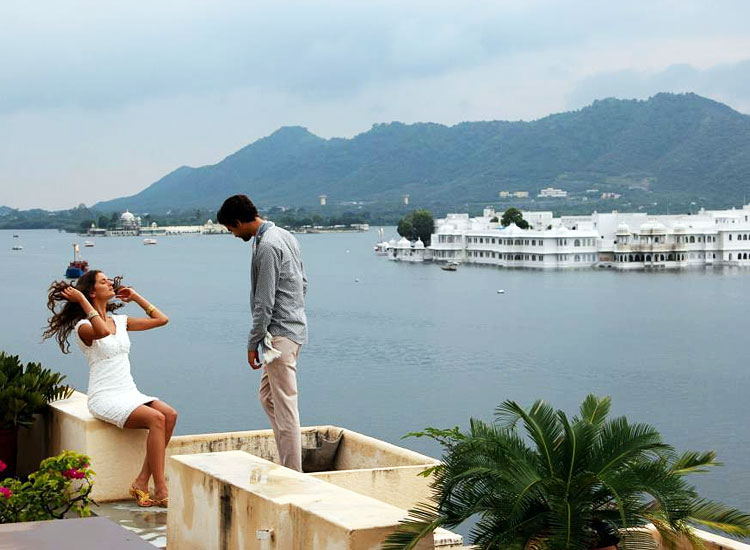 If you are planning to visit Udaipur in winter, there are many wonderful places here that can be fascinate you like City Palace, Lake Pichola, Fateh Sagar Lake, Vintage Car Museum and Sajjangarh Palace. Here are Top-Rated Places you can visit around Udaipur.
Best Time for Visit: The best time to visit Udaipur is the winter season.
[ Explore Udaipur Tour Packages ]
6. Manali – Snow Destination
How can Manali not be on this list? Snow-clad peaks, fluffy snow, cold weather, and delicious warm food make Manali a couple's favorite. No wonder, it is among the best destinations in December in India for a love trip. Escape to Manali to spend time in privacy away from the hustle-bustle of cities. Bundle up into the coziness and make the most of your honeymoon in Manali. If you love adventure, indulge in adventure sports like skiing, snowboarding, paragliding, etc. Do not forget to take lovely pictures together with a mesmerizing backdrop of snow-covered mountains.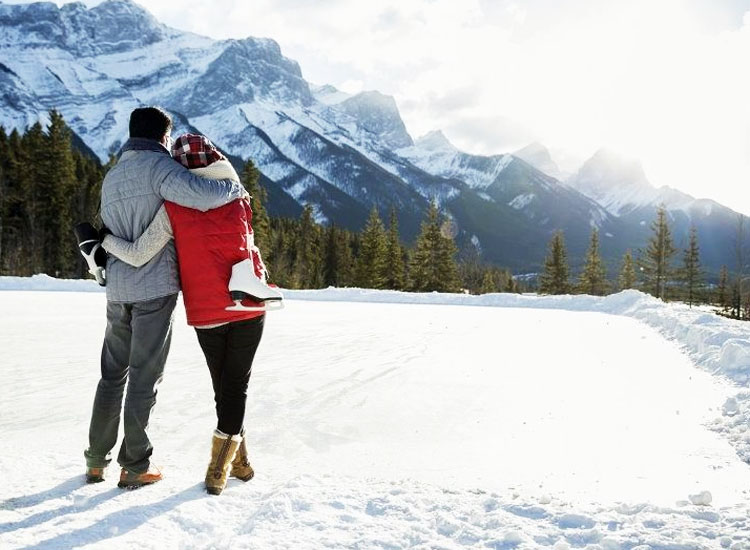 Romantic experiences:
Have a hot spring bath
Spend time at Pandoh dam
Find inner peace at a monastery
Have a snow fight at Rohtang Pass
Lie in the lush meadows of Solang
Shop your heart at Mall Road
Try paragliding
Seek blessings at Hadimba temple
The best months to visit: October to February
[ Explore Manali Tour Packages ]
7. Gangtok, Sikkim
Tucked in the lap of the Himalayas, Gangtok offers surreal spectacles that you cannot refuse. From staying at stunning hilltop hotels to sitting by the serene lakes and gushing waterfalls, there are plenty of romantic things to enjoy. Spend time together in the calming atmosphere and explore the city's attractions.
Romantic experiences:
Witness Gangtok through the cable car ride.
Experience Yak safari amidst mountains.
Fly high with paragliding.
Indulge in local cuisine.
Witness sunset at Tashi View Point.
Embrace the peace at Tsuk La Khang Monastery.
Take a walk through Hanuman Tok.
8. Goa
A lovey-dovey Goan holiday is probably every newlywed's dream. Relaxing on the beach with your favorite drink, having deep romantic conversations by sparkling sands and ocean water sounds like a perfect plan. Goa is dotted with gorgeous beaches, historical monuments, ravishing nightlife, and lively nightclubs. All this makes it one of the best honeymoon places to visit in December in India.
The Chapora Fort, Grand Island, Butterfly Beach, and Dudhsagar Waterfalls are some of the famous places to explore together. The pleasant weather in winter will make it even more fun to go on an adventure in this beach haven.
Romantic experiences:
Camp and enjoy a romantic bonfire
Stroll hand-in-hand on the beach
Walk amidst historical churches at Old Goa
Enjoy a couple's massage
Stay in a beautiful beach shack
Try water sports together
Dine-in Goa's best restaurants
The best months to visit: November to February
9. Ooty, Tamil Nadu
The old world colonial charm, fresh weather, tranquil surroundings, and delicious South Indian delicacies make Ooty one of the beautiful places to visit for a honeymoon in winter. Hold each other's hand and take a romantic stroll through this beautiful hill station. You will be spoilt for choices when it comes to places to visit in Ooty like botanical gardens, breathtaking waterfalls, scenic peaks, national parks, and much more that ensure a memorable honeymoon. So, plan your honeymoon to experience the beauty of Queen Of Hill Stations.
Romantic Experiences in Ooty
Here are some of the best things to do in Ooty with your beloved-
Enjoy Nilgiri Mountain railway ride.
Cherish the scenic views from Doddabetta Peak.
Explore the Ooty Botanical Garden.
Enjoy nature walks amidst serene surroundings.
Enjoy boating at Ooty Lake.
The best months to visit Ooty: October to February
10. Puducherry (Pondicherry)
Winding roads, French-style cottages overlooking blue waters, and spotless beaches, awaits you at Pondicherry. Fill your hearts with love and romance while strolling through the stunning streets of this town. Its specialities turn it into one of the must-visit destinations in December in India for a honeymoon. Admire the buildings or sit at a beautiful cafe for fresh pancakes and coffee. Pondicherry has a lot to offer to every couple, you just have to decide what you both like. Here are more must-visit places in Pondicherry.
Romantic experiences:
Catch a ferry to the Paradise Beach.
Enjoy the peaceful atmosphere at Serenity Beach.
Go for a couple's spa.
Experience the heavenly dawn at Ousteri Lake.
Try water activities at Karaikal Beach.
Go on a bicycle tour.
Walkthrough the seafront.
Have a blast together at nightclubs.
Plan romantic dinner nights.
The best months to visit Pondicherry: October to February
[ Explore Pondicherry Tour Packages ]
11. Jaipur, Rajasthan
Enhance your Shudh Desi Romance in the royal city of Jaipur. This city will cast a spell on you and make you fall in love again. Its rich heritage, art, tradition, and monuments will take you to a beautiful ride. The grand monuments in Jaipur will transport you to the times of the Maharajas. Jaipur offers a lot of activities for couples that makes it one of the best winter honeymoon destinations in Rajasthan.
Read: Best Places Near Jaipur That You Should Visit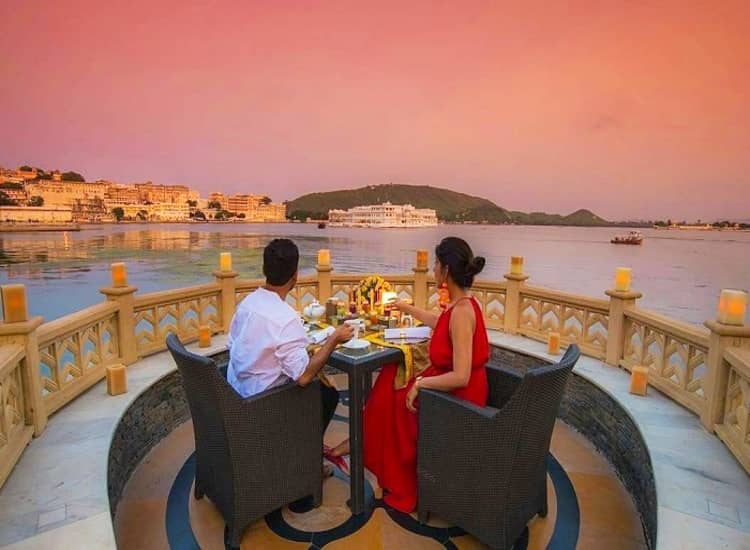 Romantic experiences:
Enjoy romantic dinner on the royal palace's terrace
Lazy walks in the Sisodia Rani Garden
Witness spectacular views from Nahargarh Fort
Relive Jaipur's history at Jaigarh Fort
Spend quality time at Jawahar Circle Garden
The best months to visit: October to March
12. Kodaikanal, Tamil Nadu
Princess of Hill Stations, Kodaikanal is the perfect honeymoon place that imparts a rejuvenating experience. This honeymoon destination offers a calm atmosphere, lush green surroundings, splendid waterfalls, and scenic viewpoints. Explore the destination together and visit Bryant Park, Green Valley View, Bear Shola Falls, Pillar Rocks, and Dolphin's Nose. Have all the private time you want on your honeymoon in Kodaikanal.
Romantic experiences:
Take a walk on Coaker's Walk.
Enjoy a boat ride in Kodaikanal Lake.
Go for an adventurous trek to Dolphin's Nose.
Admire the flora and fauna at Berijam Lake.
Seek blessings at Kurinji Andavar Temple.
The best months to visit: October to March
[ Go to here for Kodaikanal Tour Packages ]
13. Dalhousie, Himachal Pradesh
Dalhousie is also known as the Switzerland of India. It enchants the couples with its snow-clad peaks, Victorian-style British mansions, and abundant natural beauty. Plan your honeymoon to Dalhousie in winters for an enthralling experience. Take your partner on romantic walks, spend quality time at cozy hotels, explore the old world charm of the town, and relish the pristine ambiance. Apart from this, the quaint hill town has a lot of adventure activities that you can try on your honeymoon trip.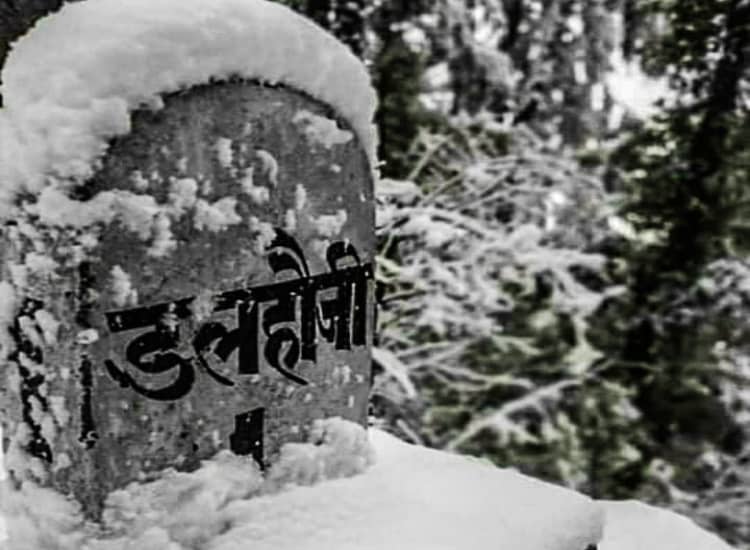 Romantic experiences:
Take a boat ride at Chamera Lake.
Have a picnic day at Khajjiar.
Hike together at Kalatop Wildlife Sanctuary.
Pay a visit to Subhash baoli.
Offer your prayers at Chamunda Devi Temple.
Shop at Tibetan Handicrafts Market.
Stroll through Garam Sadak.
The best months to visit: October to February
You know more about best time to visit Dalhousie.
[ Explore Dalhousie Tour Packages ]
A honeymoon is an exceptional time where you hop on an adventure together. There are no worries, lots of cuddles, private quality time, and just both of you. Rekindle that love and express how important you are to each other. Plan a honeymoon to one of these love-filled honeymoon destinations to visit in December in India and let the magic of love happen.
Don't miss these top honeymoon destinations in India in 2021.
Choose from our well- customized honeymoon packages in India and provide the best experience of the places you visit.
Read Also: Places to Visit in Winter in India