Hyderabad is an upcoming IT hub of India that frequently receives footfalls for job opportunities. It has an unmatched blend of history and modernity that hypnotizes everyone who steps into it. Hyderabad is visited for the charm of its historical monuments, lip-smacking food, entertainment parks, and so are its natural getaways.
The buzzing city is surrounded by gorgeous getaways where people can flock to for a short escape. Among these lies lovely waterfalls, gushing in the lap of nature. So, partaking in nature's extravaganza is a good idea to be pampered with natural therapy.
Read also: Tourist Places to visit near Hyderabad
That is why we bring you some of the selected waterfalls near Hyderabad. Plan your next weekend getaway and explore these natural cascades near the land of Nizams.
Most Beautiful Waterfalls around Hyderabad
For your convenience, while listing the waterfalls in proximity to Hyderabad, we have bifurcated them as per the distance. Thus, it will be easier for you to plan a trip as per time in your hand.
Some of the Best Waterfalls near Hyderabad in 2021 (Summer):
Waterfalls near Hyderabad within 100 kms & 200 kms
1. Mallela Theertham Waterfall
Cascading in the Nallamala Forest, this waterfall pours in full force on a rock that resembles Shivling. It originates from the river Krishna and flows through the forest. You have to step down to be at the best spot for a visual treat of this waterfall. Visit during monsoon or after to witness its beauty in full bloom. Also, it is believed that many priests dedicate prayers to Lord Shiva at this spot. Apart from this, adventure lovers can enjoy various activities such as camping, river crossing, and trekking.
Height: 150 feet
Distance from Hyderabad: 173 km (approx.)
Best Time to Visit: October to February
2. Bheemuni Paadam Waterfalls
The scenic waterfall is surrounded by calm lakes and offers an ethereal play of colors during sunrise and sunset. This is one of the most scenic waterfalls near Hyderabad to visit in August. It drops through a rock that is similar to the footprint of Bheema – one of the Pandavas. And thus, the name – Bheemuni Paadam. Visit this waterfall in monsoons when it is in full swing and dazzling white. Unlike other waterfalls, this one is not surrounded by temples. However, there is an enclosure where idols of Lord Shiva and Nagadevatha are revered. You can also visit a 10 km long cave here.
Height: 70 feet
Distance from Hyderabad: 199 km (approx.)
Best Time to Visit: July to September
3. Ethipothala Falls
Pouring in Guntur, Andhra Pradesh, Ethipothala Waterfalls are ideal for those who want to go trekking and camping. It is a union of three mountain streams – Chandravanka Vagu, Tummala Vagu, and Nakka Vagu that join at the top and fall into a lagoon. The picture it presents is a treat to the eyes. Two temples – Dattatreya Temple and Ranganadha Swami Temple rest at the base of the fall, adding spiritual vibes to the area. Furthermore, there is a crocodile breeding center inside the pool. Apart from these attractions, you can also visit prehistoric caves that extend to Srisailam.
Height: 70 feet
Distance from Hyderabad: 166 km (approx.)
Best Time to Visit: July to February
Waterfalls near Hyderabad within 300 kms
4. Pochera Waterfalls
Located on the Kadem River, this waterfall holds pristine natural beauty. It is an ideal place for wildlife enthusiasts as the forest houses a variety of animal and bird species. The deepest waterfall in Telangana, this beautiful sight comes with caution for keen swimmers. The place is also a good choice for hikers. The scenic splendor is added with spiritual significance as Narasimha Swamy Temple is located nearby. If you want to visit a waterfall near Hyderabad in December, this is your place to be.
Height: 40 feet
Distance from Hyderabad: 265 km (approx.)
Best Time to Visit: July to December
5. Kanakai
Also known as Kanakadurga Waterfalls, Kankai is a gushing stream plunging from a cliff into a large pool. From the clifftop, you can delight in the bird's eye view of the area. Two other waterfalls – Bandrev Falls and Cheekati Gundam Falls flow in the region that command your visit. Enjoy peaceful times here, away from the hustle-bustle of the city. Devotees also visit Kanaka Durga Temple near the waterfall. And what's more? The place also offers exciting trek opportunities. So, if you are looking for waterfalls near Hyderabad to visit in August, head to this one.
Height: 30 feet
Distance from Hyderabad: 280 km
Best Time to Visit: August to October
6. Sahastrakund Waterfall
Fed by Penganga River, Sahastrakund Waterfall presents a strategic location from where you can view the shimmering crystal-clear water pool. Special rock formations are the highlights of this place that resembles a metal when splashed with water. Your sightseeing spree enhances with visits to the temples in proximity. Panchamukhi Mahadev Temple, Ram Temple, and Banganga Mahadev Temple are major temples you can visit.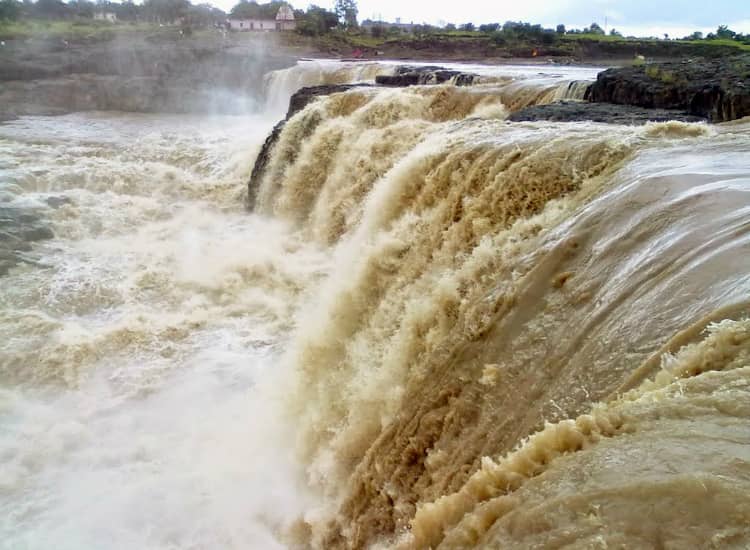 Height: 50 feet
Distance from Hyderabad: 283 km
Best Time to Visit: August to October
7. Kuntala Falls
Highest in Telangana, this waterfall flows amidst the Sahyadri mountain range. It originates from Kadam River and falls down wildly on two steps. After the rains, it looks like two separate falls. Thick forests surround these lovely waterfalls, adding to the beauty. The name Kuntala is derived from Shakuntala, the wife of King Dushyant. As per the legend, she used to bathe here when their love story began.
Height: 147 feet (200 feet as per some accounts)
Distance from Hyderabad: 260 km (approx.)
Best Time to Visit: September to December
Waterfalls near Hyderabad over 300 km
8. Talakona Waterfalls
Cascading in Sri Venkateswara National Park in Chittoor, this is the highest waterfall in Andhra Pradesh. The waterfalls are believed to have therapeutic powers as it is rich in minerals.  You can also find some rare species of flora and fauna here. No wonder, the waterfall area is a good choice for wildlife aficionados and nature lovers, alike. Additionally, the place holds religious significance as Siddheswara Swamy Temple is located nearby.
Height: 270 feet
Distance from Hyderabad: 563 km (approx.)
Best Time to Visit: July to September
9. Kapila Theertham
Situated at the base of Sheshadari Hills, Kapila Theertham waterfall pours at the periphery of Kapila Theertham Temple. It is believed that Lord Shiva appeared to Saint Kapila Maharshi – one of his devotees, who lived here. Thereafter, the place came to be known as 'Kapila Theertham'. People flock here to seek the blessings of Lord Venkateshwara, whose idol is in the fourth cave above the waterfall. Devotees have to trek to the cave to worship the Lord. The area is wrapped in the serenity that makes it perfect for religious at heart and nature lovers, alike.
Height: 100 feet
Distance from Hyderabad: 588 km (approx.)
Best Time to Visit: November to February
Soothe your eyes and calm your senses with a trip to these waterfalls. Take time to indulge in nature's extravagance and make your short trip worthwhile. Visit these waterfalls as per their best season and you will marvel at the magic of nature like never before. Which ones of these are added to your bucket list now? Do let us know.