Awaited and celebrated with the highest levels of enthusiasm, Holi in India is a festival that paints not just skin but also hearts with colors of happiness. The best places to celebrate Holi festival in India bathe you with unparalleled festive fervor.
The choice of places to visit for Holi celebrations in India also varies as per the experiences you are looking forward to. Several activities and Holi traditions are celebrated as per the customs across the country, but the preparations and celebrations set each apart. Marking the onset of the harvest season and spring, Holi infuses the atmosphere of unrestrained joy.
Holika Dahan, guzzling bhang thandai (a refreshing milk and saffron drink infused with dry fruits) or gorging on bhang pakoras (fritters), DJ parties, and musical performances set the Holi mood. Temple rituals, colorful parades, and royal celebrations all collectively make Holi celebrations in India something to travel for from far and wide. No wonder India witnesses a huge influx of international tourists during Holi.
13 Best Places to Celebrate Holi Festival in India (2023)
The festival garners the most attention from international vacationers among the religious festivals of India. This year, Holi is approaching with the Easter festival in tow, giving the most suitable time for foreign travelers to delight in the festivities. As Indians indulge in the play with colored powders and pigments, foreigners join in the revelry and are open-heartedly welcomed. People are free to let their hair down and partake in the carousing. If you want to explore various parts of India for Holi, here are the best places for Holi celebration in India that you should check out.
1. Mathura, Uttar Pradesh
Effervescent celebrations in Janmbhoomi of Lord Krishna
Holi in Mathura is glorified, and all because of obvious reasons. After all, why won't a place be famous for the festival that has its roots there? Being known as the birthplace of Lord Krishna and the place that holds some evidence of His miracles, Mathura is largely sought-after by devotees, most especially during Holi. Temples in Mathura host elaborate events to celebrate the festival. Some of these are the most spectacular and grandest Holi celebrations in India. Being a part of these festivities is a lifetime experience.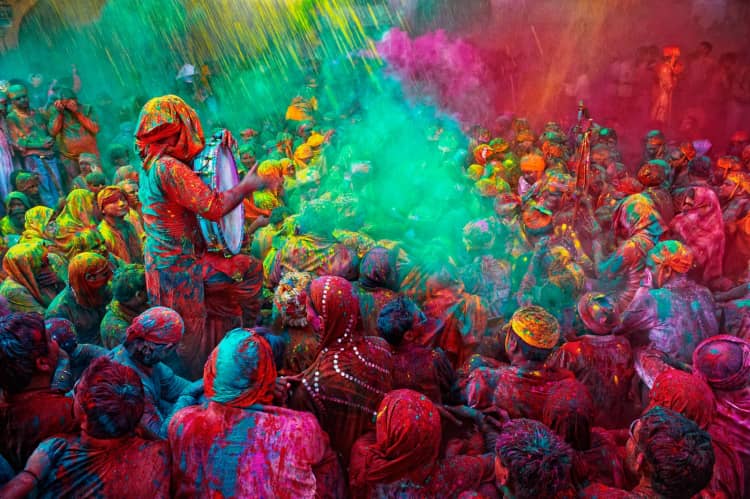 The colorful Holi procession commences late noon from Vishram Ghat and finishes near Holi Gate. The major attraction for Holi celebrations is the Dwarkadheesh Temple, where teeming devotees gather on the morning of Holi. They delight in the festive fervor with music and dance and a chant in a gulal-infused environment. Sri Krishna Janmasthan temple holds a famous show in the week before Holi. Do visit Mathura to see the beauty of this Indian festival.
Be part of Holi celebrations at one of India's best Holi places. Explore Mathura packages here.
2. Vrindavan, Uttar Pradesh
Joy and carousing in the sacred town
Lord Krishna's playland – Vrindavan, is highly revered by Hindus and frequented all through the year. Holi in Vrindavan is an occasion that receives a huge influx of Vaishnavas. The epicenter of the Holi celebrations in Vrindavan is Banke Bihari Temple. The merriment continues for a week, commencing with flower splashes or Phoolon ki Holi, proceeds with Widows Holi, and concludes with a riot of colors a day before Holi. You will find people bathed in different colors in this Krishna-obsessed town.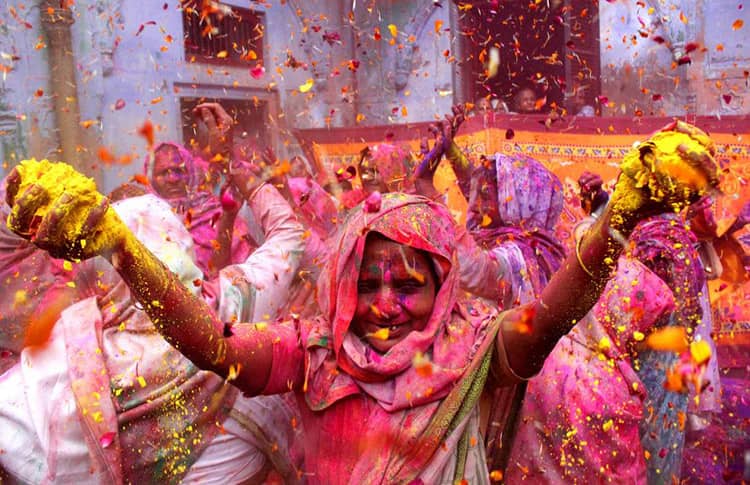 The Gopinath Temple is another prime attraction that witnesses the unique color play by widows. A whopping amount of marigold flowers with clouds of gulal make the scene beautifully unreal, somewhat like a live picture! Krishna's devotional songs add to the charm of Vrindavan Holi. Don't miss out on this marvelous sight, and do visit Vrindavan for such an amazing Holi bash! This will be your best trip to Vrindavan.
Explore stunning Lord Krishna's temples with our Vrindavan tour packages. Contact us to customize today!
3. Barsana, Uttar Pradesh
The famous Lathmar Holi
Barsana is among the top places for Holi celebrations in India. Holi celebrations in Barsana are, also known as Lathmar Holi that intrigue people. This is the Holi festival celebration with a twist where men need to safeguard themselves from the playful beatings by women. Women from Barasana and Nandgaon – the two sub-urbs of Mathura beat men with sticks, while men have to protect themselves from the hits under shields. Lathmar Holi takes place a week before the main Holi day. In 2023, Holi will take place from 2nd March 2023 to 10th March 2023 in Barsana and Nandgaon on 12th March 2023.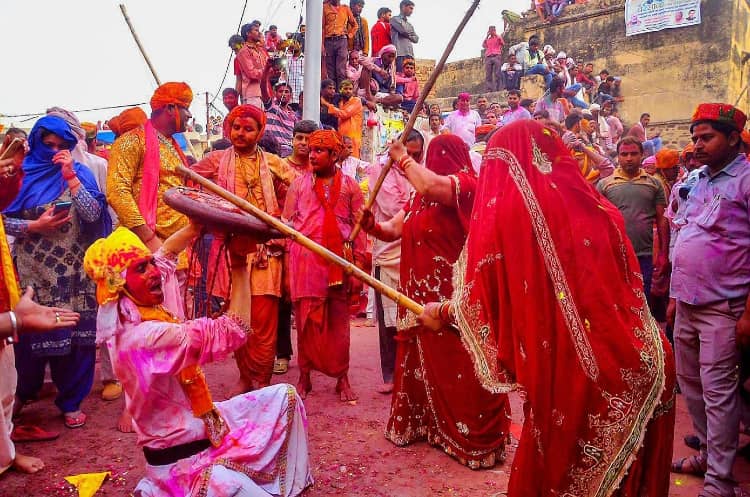 These sub-urbs of Mathura are witness to the love story of Krishna and Radha. As per the legends, Krishna was jealous of Radha's fair complexion as he was dusky. So, he used to paint her face with colors to maintain that there is no skin tone difference between them. He used to visit Barsana from Nandgaon with his friends to color Radha and her friends. In the playful affair, the ladies used to beat the men with sticks. This became a tradition, which is now known as Lathmar Holi. Apart from Lathmar Holi in Barsana, also partake in the sweet festivity – Laddoo Holi at Shriji Temple, which will be held on 8th March in 2023.
4. Agra, Uttar Pradesh
Colorful celebrations in the Taj City
The Holi festival in Agra sets the city at the pinnacle of festive fervor. This Indian festival is celebrated with much zeal and gusto ion this city and brings forth colorful opportunities to indulge. As people gulp glasses of bhang and delight in playing with colors, you know that the celebratory mode is at its top. Partying, dancing, savoring sweets and another fare, and making merry knows no bounds. Colorful parades with folk songs highlight the Holi celebrations in Agra.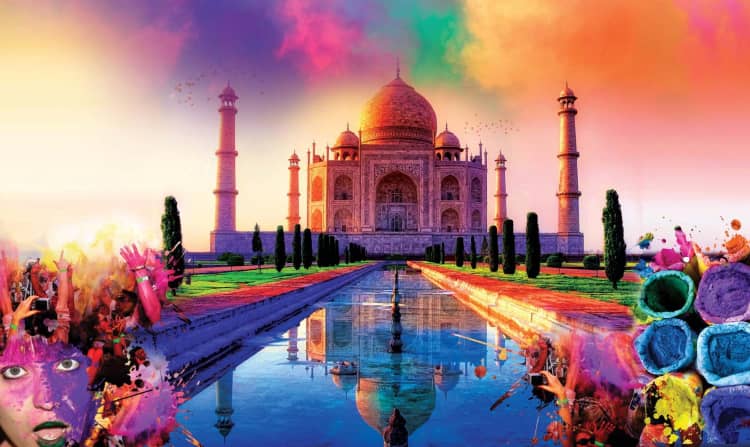 Like many other destinations in India, the festivities kick start with the bonfire on the full moon night. Street corners are lit up with traditional fires that symbolize warding off evil spirits and bad omens. Thereby signifying the burning of Holika. The following day has, people, enjoy colors, and in the evening, people greet each other at Holi mela or by visiting each other's houses.
Visit the City of Love, Agra, and witness the spectacular Taj Mahal. Book Agra tour packages today!
5. Udaipur, Rajasthan
A Royal Holi
To witness Holi celebrations in royal style, do visit Udaipur. Holi in Udaipur is an imperial affair that involves the participation of the royal family. The celebrations begin with Holika dahan, where the local Maharaj lights the ceremonial bonfire in the royal palace's courtyard. This is known as Mewar Holika dahan. Next, the locals perform 'Gair'- a folk dance, around the bonfire. After that, a royal procession takes off from Shambhu Niwas Palace and concludes at Manek Chowk royal residence. The royals are seated on bedecked elephants, horses, and camels in the parade, accompanied by the royal music band. The palace now serves cocktails and dinner to its guests. Finally, the celebration culminates with amazing fireworks.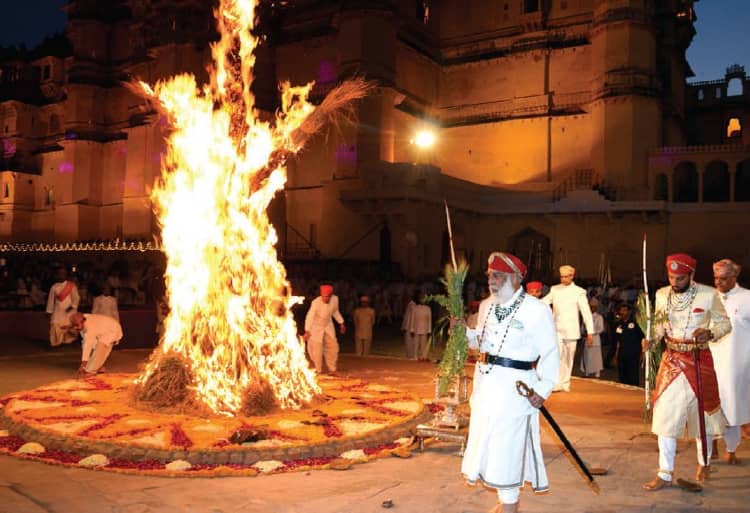 The next day people rejoice with the play of colors. Traditional sweets are prepared in households, and people enjoy sharing the sweetness of the festival. The festivities are not confined to the royal palace and Manek Chowk but also to the narrow alleys of the city. Overall, the Holi celebration in Udaipur is an experience to be a part of.
Grab this chance to explore the City of Lakes with our tailor-made Udaipur tour packages.
6. Jaipur, Rajasthan
Holi in the capital city
Holi in Jaipur transforms the Pink City into a rainbow. The highlights of Jaipur Holi celebrations are the gala celebrations in the palace. It is hosted by the royal family to support local charities. The old Khasa Kothi Hotel organizes functions with support by the local tourism office. Programs here include customary Rajasthani folk music and dance along with a decent gulal play. At the Govind Dev Ji Temple in the City Palace, a devotional atmosphere is created, where idols of Krishna and Radha are offered marigold flowers. Bhajans or hymns echo around, adding a soulful impact to the environment there.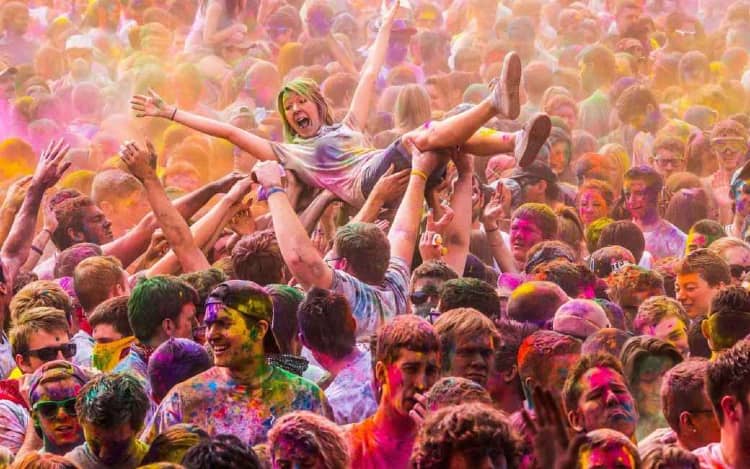 Other aspects that make Jaipur Holi unique include 'Gulaal Gotas' or 'Water Cannon Bowls. These are eco-friendly as made by melting lacquer. Bollywood theme parties are also organized at various resorts and luxury hotels as well as chic venues.
Partake in Holi Celebrations in Jaipur and explore the heritage sites. Check Jaipur packages here.
7. Hampi, Karnataka
A unique South Indian Holi festival
Holi in Hampi will begin on 8th March 2023.
It is a common notion that Holi celebrations are only confined to North India. However, Holi celebrations in Hampi are remarkable exceptions. Here, temples and other venues reverberate with the festivities of Holi. It is because of this revelry that Hampi is listed among the top places to visit for Holi celebrations in South India. Beginning with the Holika Dahan bonfire, the festivities include songs and dance around it. The next day, people get indulged in a delightful and colorful cheer. Drumbeats echo all over, adding dynamism to the festive fervor.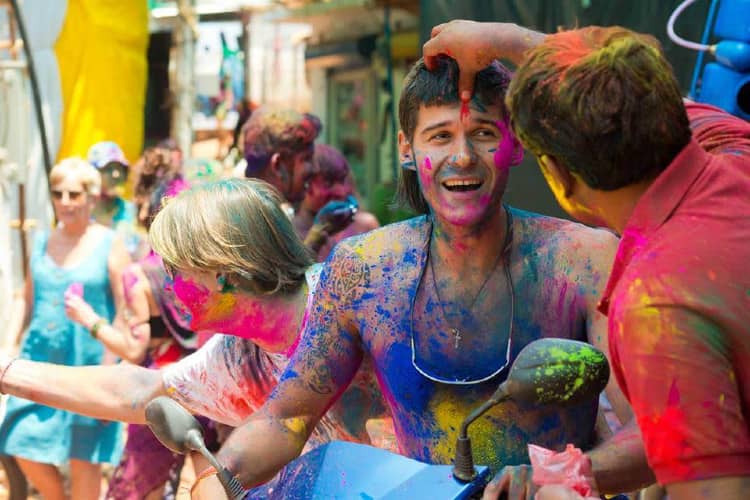 After enjoying the colorful play, people join at River Tungabhadra to dive in. This cleanses colors from the bodies. This practice is backed by the belief that a dip in this river washes away your sins. The highlight of the festival is that people gather around the ruins of the grand Vijayanagar Empire for the festivities. Do visit Hampi for its unique Holi celebrations.
8. Holi at Shantiniketan, Kolkata
Holi celebrations as Basant Utsav
This famous place in Bolpur near Kolkata, West Bengal, celebrates Holi as Basanta Utsav. Also known as Spring Festival, this Utsav was introduced by the famous Indian poet Rabindranath Tagore. Recreating the magic of Holi, it is celebrated in a unique way. The entire university joins in this merrymaking, smeared in various colors, among which, yellow is dominant. People are clad in yellow attires, adding to the beauty of the celebrations.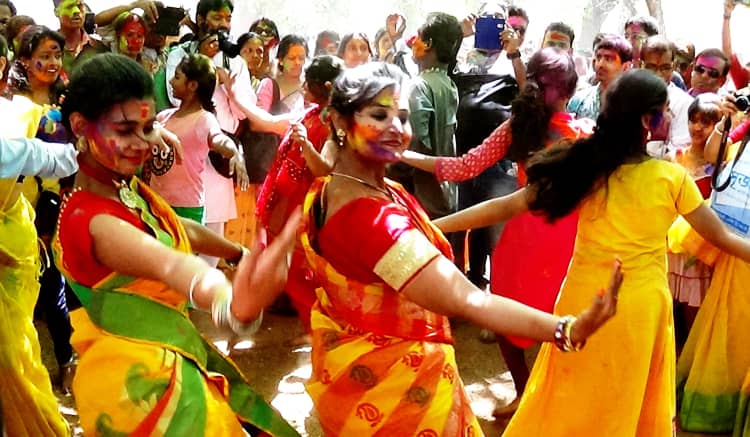 A cultural program is organized where students perform as per their talent. With melodious songs and enchanting dances, you get an experience to cherish. The festival not just welcomes one and all to celebrate the season's charm but also welcomes the spring in a beautiful way. All these include Shantiniketan among the best places to celebrate Holi in India. Teachers and students apply gulal on each other to delight in the joyous nature of the festival to the fullest.
9. Pushkar, Rajasthan
Holi festivities in the holy town
The holy town of Pushkar celebrates Holi with much vim and vigor. The main square hosts a grand party here with lively music and color-bathed people enjoying. Their excitement is further upped with bhang thandai or lassi. The scene of color bombs being thrown around and the pulsating crowd all set to enjoy the day to its max.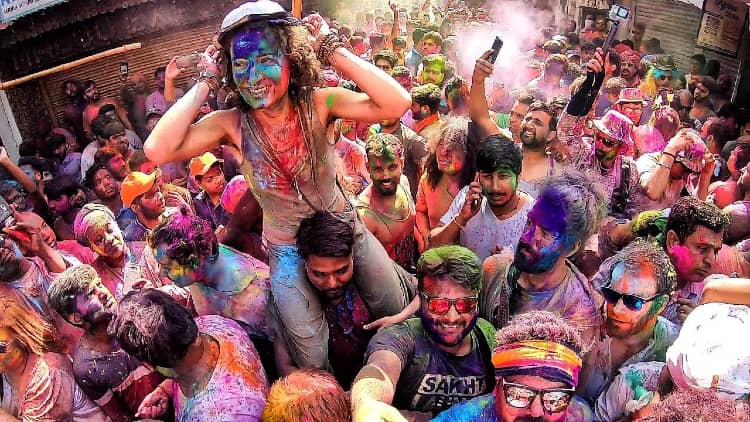 Holi celebrations in Pushkar begin with the traditional Holi bonfire on the eve of Holi. The view of Holika Dahan is worth enjoying as with wooden logs and garlands thrown into fire, the flames rise higher and higher. Cheers add to the delight of the environment. After the fire extinguishes, people take embers to their homes to symbolize auspiciousness. The next morning witnesses the peppy play of colors, making the town look like flamboyant heaven.
10. Delhi
Generous dollop of colors in the capital city
Holi festival in Delhi in 2023 will be on the evening of 8th March 2023.
Holi in Delhi is an enthusiastic affair that transforms the metro city into a vibrant rally. Colored water-filled balloons are thrown everywhere, pichkaris spray colors, and clouds of gulal paint the city into a colorful scenery. If you wonder where to go in Delhi for Holi celebrations, the Holi Moo Festival (previously the renowned Holi Cow Festival) welcomes you. Here, you will enjoy good Holi celebration times with performances by several Indian and international artists. Frenzy Adventure, the Garden of Five Senses, Janmashtmi Park, Maharana Pratap ISBT, Gamesforest, and Jawaharlal Nehru Stadium are some of the places where happening Holi parties are hosted.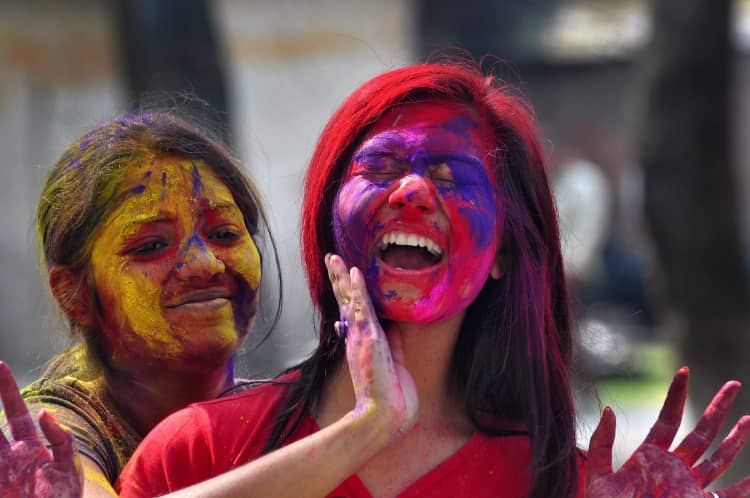 With organic/non-toxic colors, bhang drinks, lip-smacking treats, and sprinklers, a safe and enjoyable environment is assured during the Holi events and parties in Delhi. Enjoy DJ music, live performances, rain dances, and more in Delhi Holi celebrations.
Explore the rich heritage sites in Delhi, India's capital. Contact us today to book Delhi tours and grab amazing deals.
11. Mumbai, Maharashtra
Dreamy merriment in the city of dreams
Mumbai Holi celebrations in 2023 are worth partaking in. all the top-notch resorts, clubs, and grounds of the city get ready to throw pulsating Holi parties in Mumbai. Every nook and corner of this city ooze with Holi cheer. With a host of unique Holi events in Mumbai, people are spoilt for the choice to select where to go for Holi celebrations. Every year, the Holi celebrations in Mumbai are more vivid than before, offering the best trip for festival celebrations to the tourists. By doing so, you can be sure of having festive memories to cherish.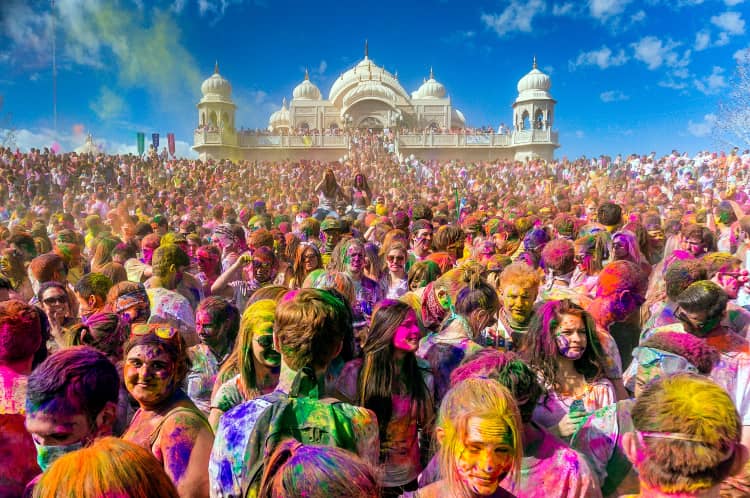 Have an amazing revelry with colors, music, and fun at Mumbai Holi parties and events. Groove to the tunes of thumping beats at luxurious hotels, partake in rain dance, and soak in the merriment. Water parks also host Holi events where the unrestrained color spray will take you to childhood days. Delight in a greener celebration at nature camps if you have planned to travel to Mumbai for Holi.
12. Purulia, West Bengal
Where even the Hills celebrate Holi
Purulia is a gem tucked in the westernmost West Bengal that keeps its pristine beauty intact. The land is blessed by emerald landscapes, verdant hills, and dense woods. Its rustic ambiance and peaceful surroundings make it a must-visit destination. Another unavoidable reason to visit this place is its Holi celebrations. People here celebrate Holi in the traditional style three days before. Holi or Dol festival (as locally called) is organized around Bandhar Deul – a temple dating back to the 8th century. Chau dance, Natua dance, Darbari Jhumur, and songs of Baul musicians mark the merriment of Holi in Purulia. These dances and music add a unique color to the colorful festival and its festivities.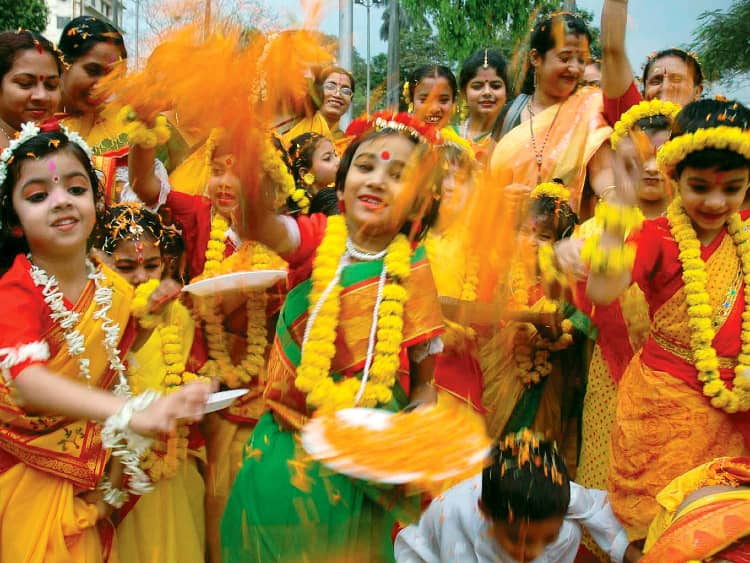 What's more makes Purulia Holi unique is the fact that its Ayodhya Pahar is bathed in red color during the season in which Holi is celebrated. It is because of the generous shower of Palash flowers. That is why it is also called the land of Palash. The entire hill covered in the lovely red flowers presents an amazing sight to behold. Don't forget to sip on Mohua – the local brew during Holi/Dol celebrations in Purulia.
13. Holi at Anandpur Sahib, Punjab
Holi with Martial Arts
Holi has various hues – gulal and wet colors are just mediums through which this festival of colors is celebrated. Love, happiness, and valor are among the several hues of the festival. Among these, Anandpur Sahib celebrates Holi with the color of valor. The event is called Hola Mohalla and is more of like the Sikh's colorful display of pageantry. Celebrations include the Sikhs demonstrating martial arts in a three-day-long event. In addition, they celebrate the foundation of the Khalsa (Sikh brotherhood) through this event that is held after Holi.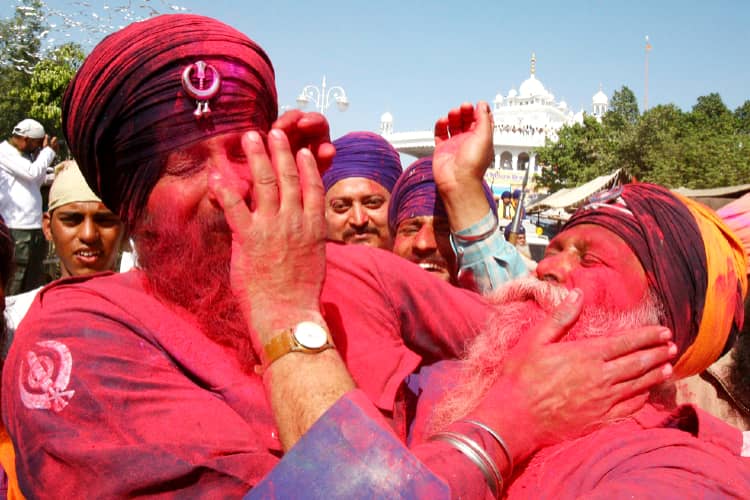 Nihangas lead a procession, where they are clad in traditional costumes and showcase mock battles. Wrestling and sword fights are among other activities during the procession. The horse riding show is the highlight of this event in which amazing stunts are performed. Weapon exhibition, poetry reading followed by kirtan, singing, dancing, and community service such as Langar (voluntary community kitchen) are other features of this event.
Types of Holi Festival Celebration in India
As you already know, India is home to various cultures. Thus, there are different ways of celebrating Holi across the country. Take a look at the types of Holi festival celebrations in India and choose which one you want to be a part of –
Lathmar Holi in Barsana Village, Uttar Pradesh
People say Holi began in Barsana and other places including Vrindavan, the home of Lord Krishna. On Holi, women dress like 'Gopis' and chase men using 'lathis' or wooden sticks. Unlucky men who get caught are dressed as women and are made to dance in public.
Enjoy a fun-filled adventure with our Special Holi Tour Package 2023.
Khadi Holi in Kumaon Region, Uttarakhand
The Kumaoni people celebrate the musical Holi. They wear traditional dresses, sing Khari songs, and dance in groups. They go around the village in groups and greet people as they pass by. This type of Holi celebration is further categorized into Mahila Holi and Baithaki Holi.
Hola Mohalla in Punjab
Celebrated at Gurudwara Anandpur Sahib in Punjab for 3 days starting after Holi, Hola Mohalla is also known as the Warrior Holi. Observed by Nihang Sikhs, it is basically to display martial arts, sing devotional songs, and remember the teaching of their gurus.
Dol Jatra/Basant Utsav in West Bengal
At Shantiniketan, Basant Utsav is celebrated to welcome the spring season. Kids can be seen in saffron-colored clothes, singing, and dancing. On the contrary, Dol Jatra is celebrated on the day of Dol Purnima, where idols of Krishna and Radha are carried in the streets while locals throw colors at them.
Shigmo in Goa
This is a major celebration in the smallest state of India, Goa. Hindus celebrate this festival here by performing traditional folk dances. Even tourists can be seen taking part in the festivities with enthusiasm.
Yaoshang in Manipur
It is a 6-day celebration of the Holi festival that starts on the full moon day. A combination of Hindu and indigenous traditions, the major highlight of Yaoshang is the Manipur folk dance called Thabal chongba.
Manjal Kuli in Kerala
Travel to the state of Kerala to enjoy a unique style of Holi celebration in India. Here, it's known by the name of Manjal Kuli and is rejoiced in the Konkani Temple of Gosripuram Thirumala.
Phaguwa in Bihar
In the local Bhojpuri dialect, Holi is called Phaguwa in Bihar. Before playing it with water, powered colors, and dancing to the folk songs, it is considered important to light the Holika pyre.
Phakuwa in Assam
Assamese people call Holi, Phakuwa, similar to West Bengal's Dol Jatra. Here, it is celebrated for 2 days. On the first day, people burn clay huts that signify the legend of Holika Dahan. And on the second, they paint each other with colors.
Rang Panchami in Maharashtra and Madhya Pradesh
Holi in Maharashtra starts early. On the 5th day after Holika Dahan, color celebrations are performed, also called Ranga Panchami.
Royal Holi in Udaipur, Rajasthan
Last but not least, the Royal Holi of Udaipur starts with locals lighting bonfires. This marks the occasion and gets rid of the evil spirits. The Mewar royal family of Udaipur celebrates the Holi festival at a grand level, where processions are carried out with decorated horses and the royal band.
How Indians Celebrations Holi
One day before the festival, different parts of India light large pyres to signify the burning of evil spirits called Holi Dahan. People throw wood, dried leaves, twigs, etc., into the fire and pray for peace and prosperity.
On the day of the Holi Festival in India, the streets in various towns carry out processions. People throw powdered colors in the air and dance to the beating drum with their loved ones. Then, people splash water and paint each other with different shades of colors.
Water guns are used to squirt water, and water balloons filled with colored water are also thrown at each other from rooftops. Families get together for festive meals and distribute sweets among friends and neighbors. A special sweet is also prepared, largely called 'gujiya'.
Holi Safety Information & Tips
What should we do for a safe Holi?
Wear a generous amount of sunscreen on exposed areas like the face and arms
Apply oil to your hair to protect them from harsh chemicals
Make sure to buy organic, eco-friendly handmade Holi colors
If out in the sun for a longer duration, make sure to keep yourself hydrated
Save water by using water guns and dry colors
Keep a medical kit handy for emergencies
Take a bath after Holi with curd, turmeric, and gram flour as it helps to remove colors properly.
What should we not do for a safe Holi?
Avoid using mud or egg to celebrate Holi
Do not use colors around the eyes, nose, mouth, and open wounds
Do not throw water balloons with force as they can hurt somebody
Don't play with colors if you have an allergy or are asthmatic
Kids should not be left unattended by strangers
Do not use kerosene to wash away colors
Do not put colors on dogs and other pets
Splashed by a host of happening places to celebrate Holi in India, you can never go wrong with the location of your choice. And what's more? There are even more places in India to celebrate Holi than those mentioned above!
So, choose your favorite destination and celebrate the joy with colors that paint your skin and tint your soul with happiness. No matter where you go, a unique experience is waiting for you to enrich your visit and make the festival a beautiful memory. Have you decided where you are heading for Holi? Do let us know in the comments below.
Frequently Asked Questions Holi in India
Q: Why has Holi become popular outside India?
Ans. Millions of Hindus are living all around the world. Like Diwali, communities get together and play Holi with sweets and colors. Even foreigners who are intrigued by Indian culture can be seen playing Holi with their Indian friends in major parts of the world.
Q: When is Holi celebrated?
Ans.  Holi Festival of Colors is celebrated on the last full moon day of the lunar month (Phalguna). This comes around the end of March, but the exact date varies each year. So, if you are in India during Holi celebrations, grab a drink,  paint each other with colors, and dance to the beats of drums.
Q: What rituals are performed on Holi?
Ans. One day before the Holi, Holika Dahan also known as Kamudu pyre is performed. A bonfire is lit and twigs, dried leaves, etc. are thrown into it to signify the victory of good over evil. On the day of the Holi Festival India, special foods and drinks are prepared like malpuas, bhang, thandai, mathri, and gujiya, and distributed among neighbors and friends. People play with color and water and dance to songs.
Q: Which Indian state celebrates Holi?
Ans. Holi Festival celebrations can be seen in various states across India like Udaipur, Delhi, Agra, Assam, and Kerala. For example, in Uttar Pradesh's Barsana Village, people celebrate Lathmar Holi, Maharashtra celebrates Holi as Rang Panchami, West Bengal celebrates Dol Jatra, and similarly, Goa, Assam, Manipur, Uttarakhand states rejoice in these festivals with different names.
Q: How should I dress for Holi?
Ans. Anything you wear on Holi will be destroyed with colors. So, do not buy fancy clothes. Instead, wear affordable white clothes like t-shirts, pants, and long dresses. Kurta pajamas are the most common attire among Indians on Holi.
Q: Is Holi festival powder safe?
And. Depends. You can make natural colors at home or buy from organic stores. Unfortunately, cheap chemical-based products will damage your skin and may also leave you with a lifetime allergy.
Q: Why do we celebrate the Holi festival in India?
Ans. Holi signifies the arrival of spring and the victory of good over evil. It also celebrates the Hindu God Krishna and the legend of Holika and Prahlad. Thus, Hindus in India celebrate Holi with colors, water, and sweets.