Everything about the small town of Neemrana is engaging and enticing, right from the fact that it serves as an ancient historical town in the Alwar district of Rajasthan, India. The places to visit in Neemrana, or the spectacles you will witness here are arduous to get in any other popular destinations of India. Neemrana is the town where you can put your eyes on an engaging blend of nature, modernity, and history.
For multiple decades, Neemrana has been an excellent destination to enjoy a short escape from cities like Delhi, Gurgaon, and Jaipur. Neemrana is a treasure of a destination that is simply ideal to spend some quality time with family, friends, solo, or that special and close to heart. Although it is a small town, the throng of some of the popular attractions to visit in Neemrana are enough to keep you fastened for a weekend or a complete week.
Here is the list of some of the most famous places in Neemrana that will make your Neemrana trip memorable, which you can cherish for a lifetime. So, without any delay, let up begin the list of best places to visit in Neemrana.
Top 6 Places to Visit in Neemrana with Family, Friends, or Solo
Neemrana is one of those holiday destinations that offer great recreation, a peaceful stay, and ultimate sightseeing. There are lots of other places, which will excite you somehow. Head to these top tourist places in Neemrana on your short or long vacay:
1. Neemrana Fort Palace
This 15th-century old medieval fort cum hotel is one of the best places to visit and stay in Neemrana. The Neemrana Fort Palace is the epitome of beauty, luxury, and ecstasy. Staying at this antique luxurious retreat offers a unique experience in comparison to staying at any other regular hotel. Within its magnanimous walls, pamper yourself with the modern amenities and warm hospitality. You can also explore the fort and admire its beauty.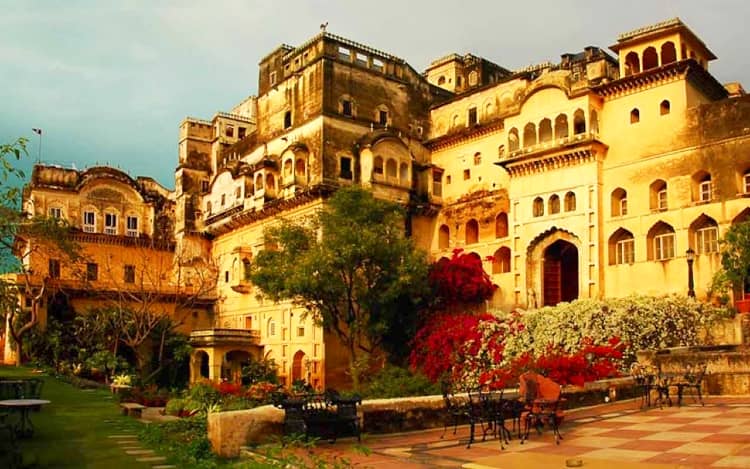 Timings: 9:00 AM to 3:00 PM
Entry Fees:
On Weekdays- INR 500 per person (12 years and above)
On Weekends- INR 750 per person ( 12 years and above)
Hotel's Tariff: INR 4,500 onwards
Ideal Duration for Stay: 2-3 days
Ideal Duration to Explore the Fort: 2- 3 hours
Best Things To Do:
Revel in adrenaline rush activity – zip lining
Enjoy a vintage car ride
Go for an audio tour of the fort
Enjoy lip-smacking cuisines at the on-site restaurant
Pamper yourself with the spa therapy
2. Sariska National Park
Peacefully tucked in the slopes of mighty Aravali, Sariska National Park or Sariska Tiger Reserve is one of the most visited wildlife reserves in Alwar, Neemrana. Sprawling over an area of about 800 sq. km Sariska National Park is abode to various species of herbivore and carnivore animals, this park is evergreen and renowned in the world for the Bengal tigers. Surrounded by rolling meadows, arid deciduous forests, cliffs, and rocky spectacles, this national park attracts wildlife lovers, who wish to make the holiday fascinating and exhilarating. Do not miss out on the jeep safari once you visit here!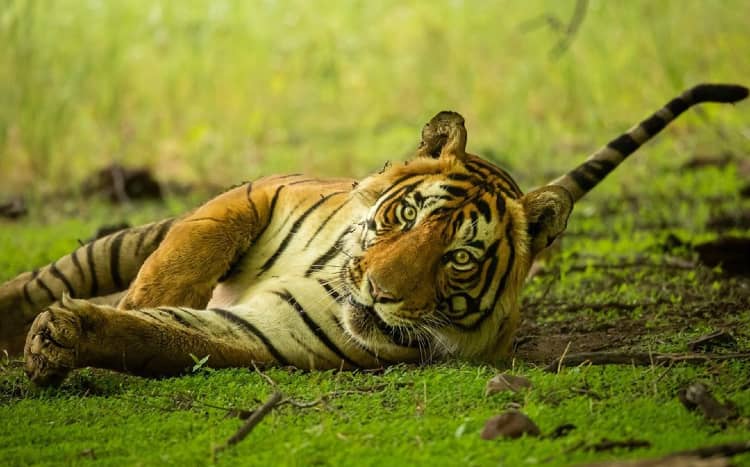 Timings:
7:00 AM – 4:00 PM (October to February)
6:00 AM – 5:00 PM (March – September)
Entry Fees:
INR 75 (Indian)
INR 500 (Foreign Nationals)
Ideal Duration to Explore the Park: 3 – 4 hours
Read Also: Ranthambore National Park
3. Bala Quila or Alwar Fort
An ideal addition to the list of popular places to visit in Neemrana with friends as well as family, Bala Quila or Alwar Fort is one of the oldest forts in Rajasthan, which is perched on a hilltop in the Aravalli Range. This ancient marvel ruin represents an excellent architectural work, which was created under the regime of Hasan Khan Mewati, a Muslim Rajput ruler of Mewat State. The fort boasts about 15 large and 51 small towers and offers stunning views of the city from its top.
Timings: 10:00 AM – 5:00 PM (daily)
Entry Fees: Free
Ideal Duration: 2-3 hours
4. Siliserh Lake
Siliserh Lake is one of the top places to visit around Neemrana, which you can consider in your Neerana sightseeing list. Visit with your family, friends or go solo, the peaceful atmosphere of this place won't disappoint you. This scenic water body is one of the most sought-after picnic spots near Neemrana. Visit Siliserh Lake during dawn or dusk, and gaze at one of the most gorgeous sunrises or sunsets you will ever see. A boat ride is one of the best things that can be enjoyed here, enjoy the backdrop of Aravalli Hills while boating and soak in the tranquility. Do not forget to bring your camera if you wish to capture the sights of the migratory birds and other winged creatures.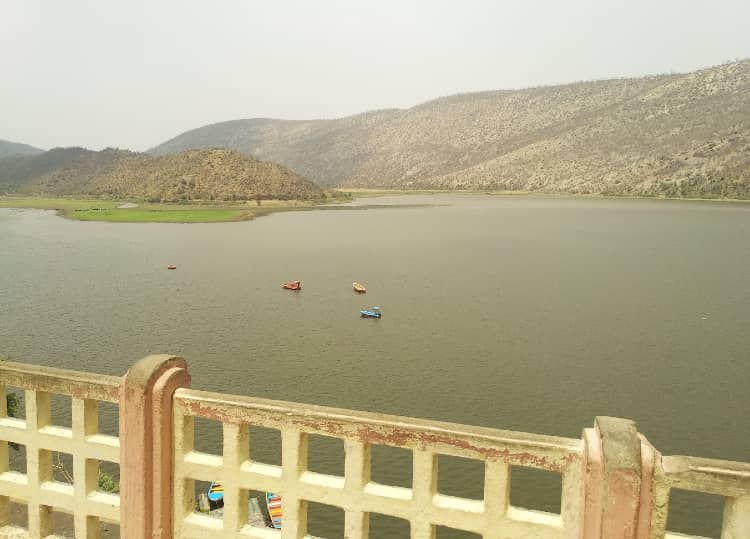 Timings: 9:00 AM to 6:00 PM
Entry Fees: Free
Ideal Duration – 2- 3 hours
5. Vinay Vilas Mahal or City Palace
One of the best places to visit in Neemrana, the Vinay Vilas Mahal or City Palace is a fascination for tourists, especially among history lovers. This 18th-century palace was founded by Maharaja Vinay Vilas, which depicts a delicate blend of the architectural marvels of the Rajput and Mughal styles. This historical monument has several attractions to explore. Moosi Maharani ki Chhatri, Purjan Vihar are some of the prominent attractions, and the Alwar Museum inside is the most popular among all. The museum has a vast collection of artifacts. Visit this popular attraction to soak in royalty.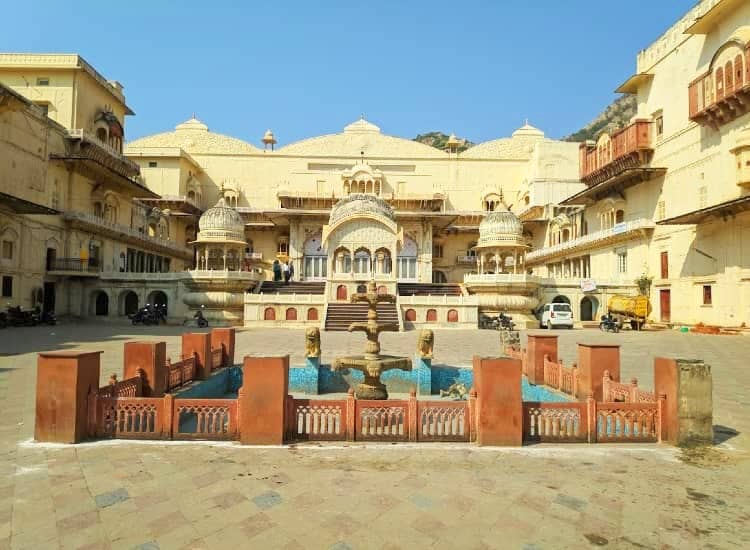 Timings:
10:00 AM to 4:00 PM (Monday to Saturday)
9:45 AM to 5:15 PM (Sunday)
Entry Fees: Free
Museum Entry Fees:
INR 5 (Indian)
INR 50 (Foreigners)
Ideal Duration for Visit: 2-3 hours
6. Baori
As a serene and famous historical attraction, Baori is a multi-storied underground stepwell, which is abandoned, and one of the largest and deepest Baori in India. Boasting about 200 steps, this underground stepwell represents the excellence of old-age architecture. Once you start going down you can feel the cool and humid environment. While exploring the place you will also sense the early town's lifestyle as well as the abandonment of the place. Neemrana Baori is the best example of old-age architecture.
Timing: Open 24 hours
Entry Fee: Free
Ideal Duration: 1-2 hours
Now you know that there are several places to visit in Neemrana, which are undoubtedly must-visit attractions. So, get delighted after visiting these amazing destinations. What are you waiting for? Plan a trip to Neemrana with your family, friends, or solo and head out on a holiday.