A honeymoon celebration at a beautiful destination is something that most newlywed couples wish for. And if you have chosen Darjeeling as your lovey-dovey destination. Then you would be glad to know that it is one of the most romantic destinations in India. The list of honeymoon places to visit in Darjeeling for couples reflects every beautiful element you could ask for on your love vacation.
Romantic honeymoon places in Darjeeling offer floating clouds, lush green valleys, green tea gardens, thrilling cable rides, and many more.
To plan a profound love journey, here is the list of the best places to visit in Darjeeling for couples.
1. Tiger Hill
It is one of the most romantic places in Darjeeling that is situated at 2593 m from sea level. You and your partner can witness the dazzling sunrise view over Kanchenjunga and enjoy a good time here. The best thing about this place for couples is its imposing view that suits their love mood. Tiger Hill will make you feel above the clouds and make your romantic trip wonderful.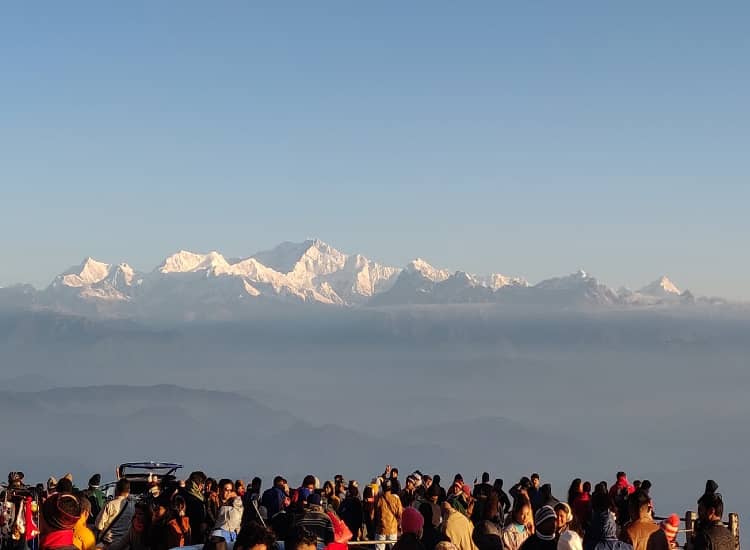 Spending some precious moments with your beloved and gazing at snow-clad Himalayan peaks is one of the lovely things for you. Get panoramic views of Lhotse, Makalu, Kanchenjunga, Kabru, and Janu peaks that offer photographic scenes. Capture the moments to fill the diaries of memories and make this honeymoon trip in Darjeeling sensational.
The ideal time to visit: October to December
For romantic experiences:
Witness the scenic view together
Photography
Uncover your thoughts while enjoying the view.
Explore the oldest tea plantation while getting back.
Good to know for couples:
Take your camera with yourself
Observe the effect of sun rays on the mountains, giving a magical experience of colors from white to pink to pink+golden to golden and back to white.
It is better to leave the resort and hotel a couple of hours before the daybreak because traffic may be a hurdle for you.
While waiting for the sunrise and looking into the east, you can behold the magical blush of the Kanchenjunga by looking slightly west.
Seize a ringside place in the viewing gallery for a better view.
2. Lamahatta
Romantic, calm, and beautiful words describe this ecotourism destination in Darjeeling. It is a peaceful place surrounded by pine trees, offering a mesmerizing view of the emerging Kanchenjunga Mountain. The beauty of silence and greenery make it one of the top honeymoon places in Darjeeling.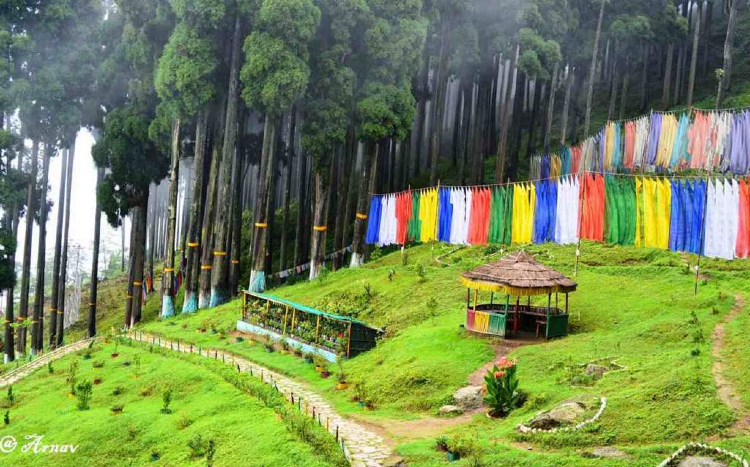 Many beautiful reasons make this place an ideal choice for lovebirds. Couples can enjoy the undisturbed environment and natural beauty to make the moments last forever. Enjoying each other's company at Lamahatta Eco Park is one of the romantic things to do in Darjeeling for couples. You both can trek together amidst the greenery and enjoy the dreamy walk with your partner amidst nature. No wonder it is an idyllic place for couples to celebrate and express their love for each other.
The ideal time to visit: Between November to March
For romantic experiences:
Explore various rare and exotic species of orchids
Enjoy the view of Kanchenjunga Mountain, Sikkim Hills, River Teesta, and Rangeet from Watchtower
Soak in the charm of Lamahatta Eco Park by sitting on a wooden bench
A romantic walk amidst the greenery.
Get insight into its unique Bong Culture
Explore the cave temple
Get blessings from Lamahatta Village Monastery
Good to Know for couples
The entry fee of the Lamahatta Eco-Park is 10 INR per person.
Plan your trip in winter as the flower is in full bloom and the climate is pleasant.
Strolling through the maze of Dhupi Jungle is a good to add wilderness to your tour.
Make sure to wake up early in the morning to enjoy the priceless moments in the lap of nature.
You can take your romance to a new level by soaking in water beauty at Peshok Waterfall.
Explore Lamahatta by enjoying a walk together.
3. Darjeeling Ropeway
If you want to celebrate your honeymoon in Darjeeling with a touch of thrill, then Darjeeling Ropeway should not be missed from your bucket list. It allows you to witness the entire vistas with this thrill ride from one end to another end of the city. It is also called Rangeet Valley Passenger Cable Car, which would be the highlight of your love tour.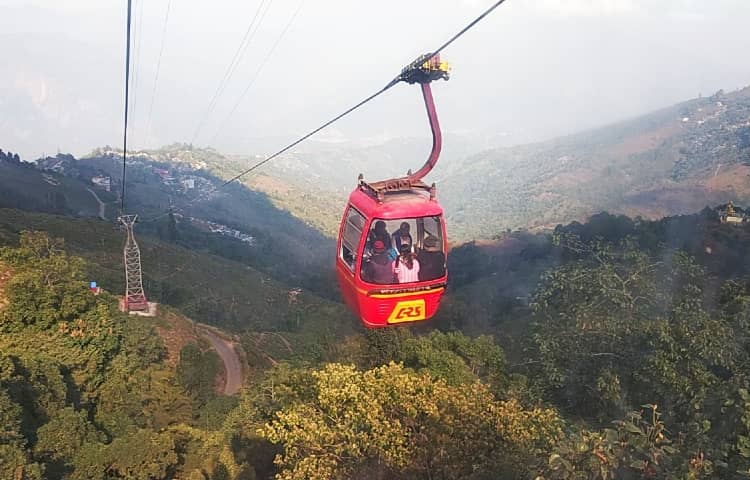 A ride in Darjeeling ropeway is phenomenal in many ways and gives you a breathtaking experience. While enjoying this ride, you can see the picture-perfect view of the valley, lush greenery of the tea garden, dense forest, streaming waterfalls, and striking snow peaks in the background. Each moment you spend on this ride will forever leave an insatiable mark on your heart. Holding the hand of your beloved during this ride would be the cutesy moment of your Darjeeling honeymoon tour.
The ideal time to visit: Each season
For romantic experiences:
Explore the tea estate and taking a guided tour of the tea factory
Enjoy the light trek with the green gardens and enjoy an appealing view
At every 19th of the month, it is closed due to maintenance
Have some tea or coffee with some snacks and gaze into each other eyes
Admire the natural ambiance and relax at the sit-out.
Good to know for couples
Opening hours are different according to high and low seasons
10: 00 am to 4: 00 pm (During off season-winter and downpour)
10: am to 2: 00 pm (During high season- summer and autumn)
Try to reach early to avoid the long lines for tickets
The ticket price is 200 per person for a 5 km round trip
Holding hands with each other on this thrilling ride make it more exciting
4. Rock Garden
Take your darling in nature's treat by visiting the Rock Garden. This garden is one of the best places to visit in Darjeeling for couples. It has every element that makes this love trip more beautiful. When you arrive at this park, you will see the shops for snacks and shopping items, which you can buy as souvenirs. The moment you step into the garden, you will be mesmerized by looking at the art and design of this park.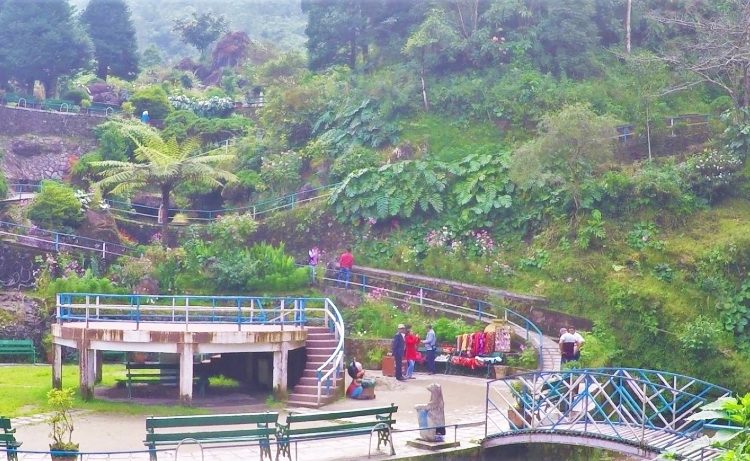 When you step into the garden, you realize this park has been built by cutting rocks at different levels, you would understand the logic behind its name. The seating arrangement at different levels allows you to enjoy the view together and make an unbreakable love bond. The more you explore Rock Garden, the more you will be impressed. You can keep climbing to behold the striking waterfall, stunning and the highlight of this garden. Set your feet there and spark the love between both of you.
The ideal time to visit: Every season of the year
For romantic experiences:
Morning or evening walk in the park
Explore the beautiful flowers gardens
Experience nature at its best at the waterfall
Capture the scenic view of the mountain
Awaken the photographer in you and enjoy the scenic view
Shop together to know each other choice
Have a snack and set a mini romantic date
Good to know for couples:
It is also renowned as the Barbotey Rock Garden
Don't forget to bring your camera
On your route, enjoy the natural beauty
Make sure to get there early in the morning to spend quality time.
A nature walk in the rock garden is an exciting and lovely experience.
5. Nightingale Park
Fill your mind and soul with a high vibration of natural beauty and a spectacular glimpse of the Kanchenjunga ranges. Let the feeling of happiness and ecstasy connect with you for no reason when you stroll here. Every corner of this park is something that allures you to stop the time. No wonder! It is one of the top sightseeing places of Darjeeling that will amaze you at every moment.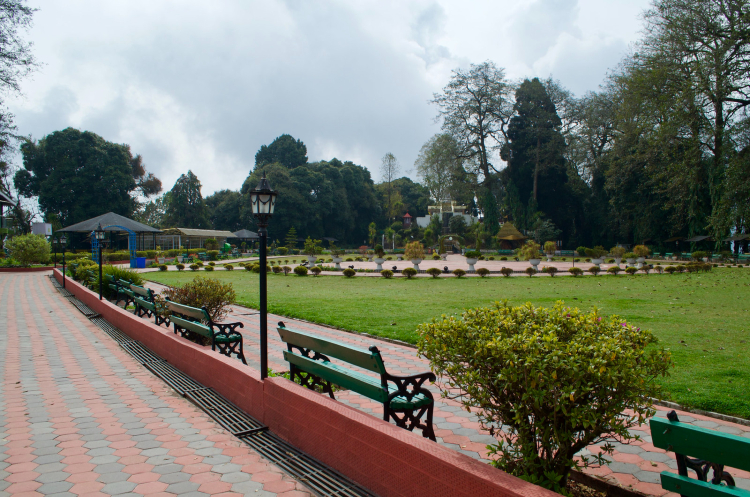 The moment you step in with your better half, you will learn about the charm of incredible history with a touch of spirituality. Yes, you heard it right. Another surprise is its spiritual aura which would be a feast for your soul. A giant statue of Lord Shiva is the highlight of Nightingale Park. And what could be better than starting your new journey of life with the blessing of Shiva? Vibrant meadows and musical fountains are other elements that will fill your heart with beauty.
The ideal time to visit: October to December
For romantic experiences:
Enhance the traveling experience by spending some time at artificial waterfalls and musical fountains.
Witness the cultural function in the evening
Enjoy the walk on the pebble walkway
Climb marble stairs and try to match the speed with each other.
Unwind yourself at the colorful beaches and delve lost in each other's eyes.
Good to know for couples:
The fee for entry is 20 INR per head
Opening hours of this park are 8:00 am to 8:00 pm.
Come at 4:00 pm to watch the cultural program.
You can shop from Chowrasta mall for a profound experience of traveling
In the evening, different colors of light are illuminated and make it one of the beautiful places of Darjeeling for couples.
6. Tukvar Valley Tea Estate
Overlooking the majestic view of snow-capped Mount Kanchenjunga, Tukvar Valley Tea Estate has been listed as one of the best Darjeeling honeymoon spots. You will never find any dull moments while exploring this destination. Each corner has something fascinating and extraordinary for you that holds the potential to make your romantic trip unforgettable.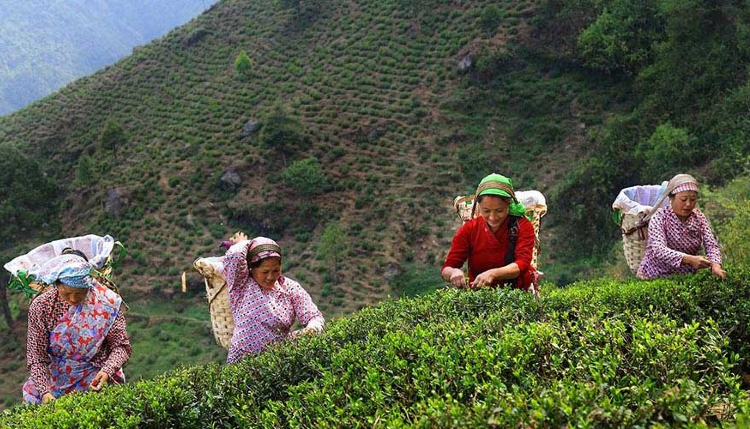 You both can make your bond stronger by enjoying the picnic at Rangeet River. You can enjoy a commendable view with your partner and weave some memories that will make this honeymoon trip to Darjeeling more fascinating. The natural surroundings, pleasant climate, and enjoying scenic views with your most lovable person is not what you ever dreamt of.
The ideal time to visit: August to December
For romantic experiences:
Enjoy the stay in tree houses
Capture the beautiful moments in your camera
Explore the nearby places with natural walk
Make lovely memories by enjoying the snacks
A romantic walk around amidst the greenery
Good to know for couples:
Plan your trip as per the best time for a better experience.
You must respect the culture and connect with locals for more information about the incredible history.
Walking in the morning and spending some time in tree houses is better.
Stroll around the aromatic and verdant tea gardens.
7. Kanchenjunga National Park
Holding the position of world heritage site by UNESCO, Kanchenjunga National park is one of the best national parks of India. If both of you keep a special place in your heart for nature, then it would be wrong to miss this park while celebrating the love in Darjeeling. Picturesque caves, serene lakes, and full flowing rivers make it one of the best places for couples to visit in Darjeeling. This national park is home to endangered species, such as Himalayan tahr, snow leopard, and red panda.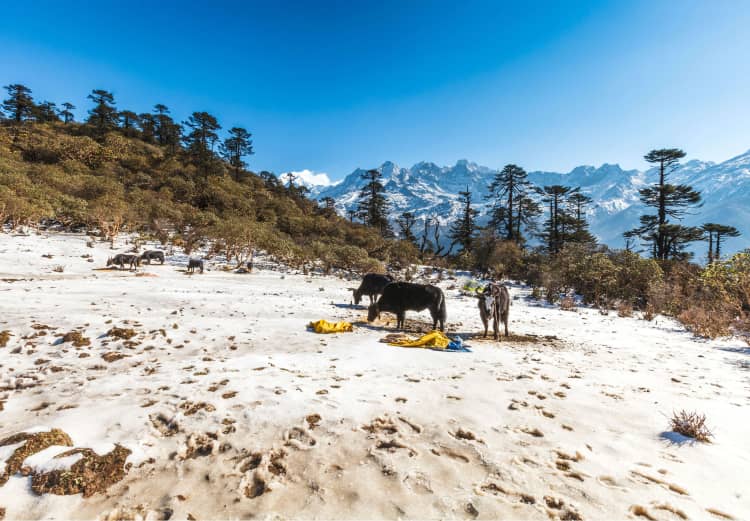 Without exploring this national park, your Darjeeling couple trip seems incomplete. This high-altitude national park in Yuksom adds a layer of thrill to your love trip. There is no shortage of attractions here, and every side would allure you to explore it. Zemu Glacier is one of the most captivating elements that attracts honeymooners as they get blessings from there. This national park is also home to beautiful bird species, including the Black-necked Crane, Grus nigricollis, Grey Peacock Pheasant, Himalayan Snow Cock, and Tibetan Snow Cock. Apart from a sightseeing tour, you can enjoy trekking and get blessings from Tholung Monastery.
Best time to visit: March to June or October to February
For romantic experiences:
Trek together and weave some cherishable memories.
Witness the beautiful creature and enjoy birdwatching.
Add a touch of wilderness to your tour.
Relax at the corner and enjoy each other company.
Good to know for couples:
Be well prepared to enjoy the trekking under your guidance.
All non-biodegradable garbage has to be kept to the point of disposal.
If you plan your winter trip, carry extra woolen with you.
The treks are arranged by the forest and state department.
Avoid firewoods in forested areas.
Do not swim in the lakes and rivers in the national park or restricted area.
You must not play loud music, but you can listen to each other's heartbeats.