You have to read to believe about the mysterious temples in India that are more bizarre than the Bermuda Triangle. Warrant a visit to as many of them in 2022.
When did you last channel your spiritual side?
Have you ever enlightened your soul with the blessing of mysterious deities?
Ever wondered what makes foreign tourists get attracted to the Indian spiritual side?
If not, we will give you reasons to embrace spirituality uniquely in the most mysterious temples in India. The mystery of the unusual temples of India will give you goosebumps. Yes! You have heard that right! The country, known for housing 330 million temples (approx.), has some temples sure to shock you with their mysteries. Adding a dash of mythological significance, we present to you the extremely mysterious Hindu temples with spine-chilling and unsolved mysteries. If this sounds exciting, then lend us your ears!
Here is the list of 13 Mysterious Temples in India You Should Visit Once:
1. Mehandipur Balaji Temple: Dausa, Rajasthan
Mysterious Things: Exorcism by priests is still carried out to free a person from negative spiritual influence.
Dedicated To: Sankat Mochak Lord Hanuman
Timings: 7:30 AM to 11:30 AM in the morning and 12:00 PM to 8:30 PM in the evening (every day)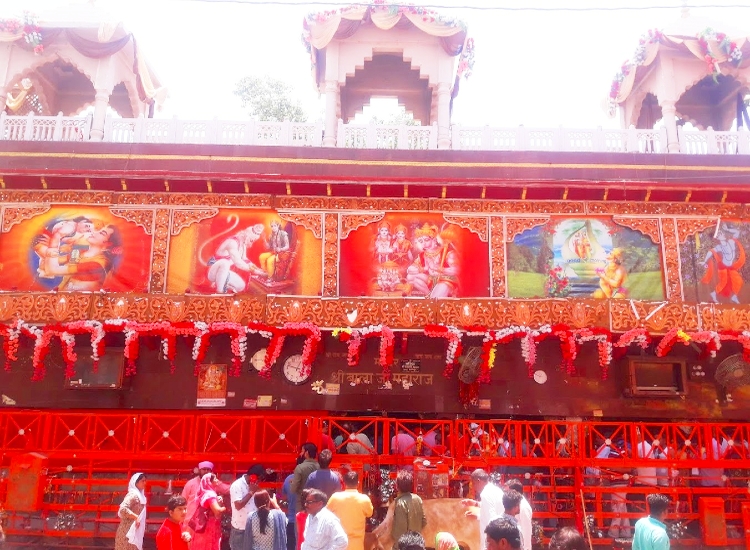 Imagine hearing the loud scream of possessed men and women at the temple. Mehandipur Balaji is one of the well-known mysterious temples in India and is an extraordinary pilgrimage site in Rajasthan. The priest here practices exorcism to free a person from a negative spirit in any form. However, it is a site of Lord Hanuman.
Every day, thousands of people flock to Mehandipur Balaji to cure their family or relative under the influence of black magic or an evil spirit. Remember that a visit to this temple is disturbing for many because of sights like people hanging and pouring boiling water on themselves, and people who are possessed with negative spirits are chained by a priest.
This is not just a regular temple in India because of its strange rituals but also a must-visit place in Rajasthan to attend the evening Arti ceremony on Tuesday, as it is dedicated to Lord Hanuman.
Note: You should not eat anything given by anyone inside the temple. Also, don't look back while making your way out of the temple premises. We urge you not to touch anything inside the temple. And don't you even dare to photograph the possessed people you will find at Mehandipur Balaji Temple.
2. Kamakhya Devi Temple: Guwahati, Assam
Mysterious Things: The temple has no sculptures to worship, and the Goddess in every monsoon menstruates.
Dedicated To: Goddess Sakthi
Timings: 5:30 AM – 10:30 PM (every day)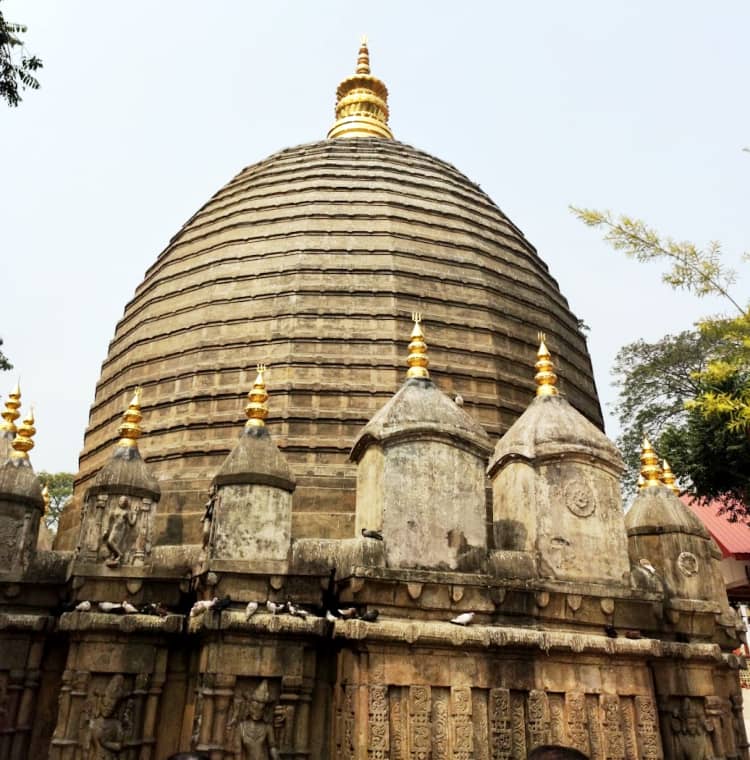 Celebrating womanhood and menstruation because the Goddess of this temple bleeds annually during monsoon, Kamakhya Devi Temple in Guwahati is a mysterious temple in India. This temple is situated atop Nilachal Hill and is amongst the century-old and one of the famous 51 Shakti Peethas in India.
When you enter the temple premises, you will see no deity but a stone-shaped vagina or "Yoni," which devotees worship. Pilgrims used to cover it with a red saree. The temple annually remains closed enduring June because the Goddess bleeds, making the underground water reservoir red.
A current of bizarreness will flow through your body once you visit the Kamakhya Devi Temple of Guwahati. Ambubachi festival is celebrated during the monsoon season every year to celebrate the Goddess fertility for three days. During that time, the temple remains closed and reopens on the fourth day.
Note: There is no entry fee for the general public. However, parliamentary and defense forces need to pay 10 INR (approx.) per person. There is a special entry of 101 INR (approx.) option and 501 INR (approx.) for direct entry.
3. Sree Padmanabhaswamy Temple: Thiruvananthapuram, Kerala
Mysterious Things: Only those devotees are allowed who profess the Hindu faith. Because of the protection of sanctity, no other religious people are allowed.
Dedicated To: Lord Padmanabhaya, Avatar of Vishnu
Timings: 3:15 AM to 12:00 AM, and 5:00 PM to 7:20 PM (every day)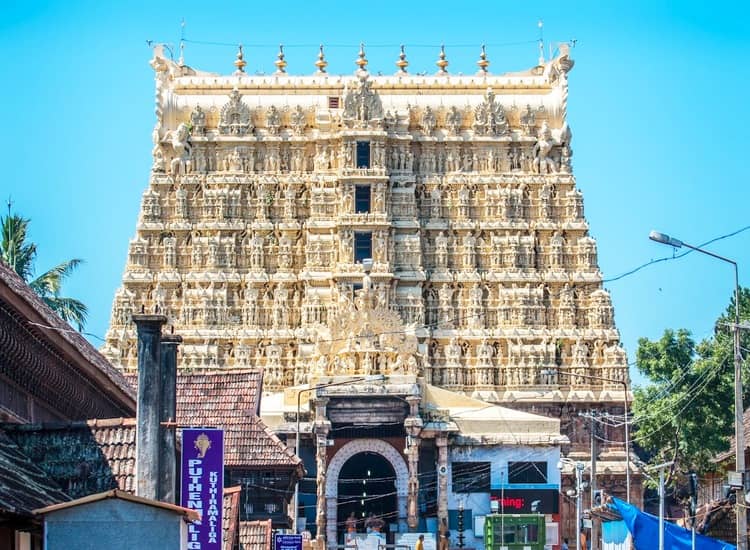 Thiruvananthapuram is the capital town of Kerala, where Padmanabhaswamy Temple is located. Plenty of do's and don'ts are considered before entering the Padmanabhaswamy Temple. No modern dress code is allowed inside the temple. Men have to wear 'Dhoti', and women are allowed if they wear a 'Saree.'
Padmanabhaswamy Temple is currently run by a trust headed by the Royal Family of Travancore. Any sort of electronic equipment is not allowed. The Government authorities provide Z-Security to secure the wealth inside the cellars.
In Hinduism, this mysterious temple in India is potent in making the wishes come true of all the devotees who visit it. History experts revealed Padmanabha Temple dates back to the 8th century CE. The Chera style of architecture inspires the design of this mysterious shrine in India. It is one of the 108 Divya Desamas (holy abode of Maha Vishnu).
Venkateshwara Temple: Tirumala, Andhra Pradesh
4. Venkateshwara Temple: Tirumala, Andhra Pradesh
Mysterious Things: To lead a more spiritually fulfilling life, devotees donate their hair to the deity to express gratitude.
Dedicated To: Lord Venkateshwara, an incarnation of Lord Vishnu.
Timings: Morning (6:00 AM to 11:00 AM), Evening (2:00 PM to 7:00 PM), Night (8:00 PM to 1:00 AM).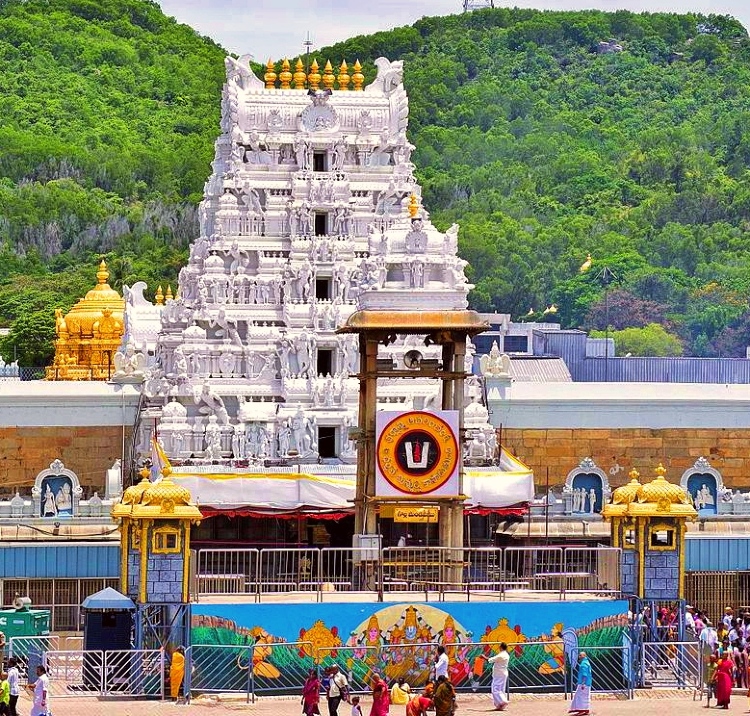 The aura of this mysterious temple in the Tirupati region of Andra Pradesh can't be explained in words. And that is why around 50,000 (approx.) pilgrims come to worship Lord Venkateshwara/Balaji/Vishnu every day. What makes Venkateshwara Temple the most mysterious temple in India is its entry procedure.
You must submit the declaration form to enter the temple mentioning your faith in the preceding deity, Lord Venkateshwara. This reason makes international tourists crazy about this mysterious temple in Tirupati. The deity placed inside the shrine wears real hair and has been found sweating several times. Also, the idol's backside gets moist even though priests keep on making it dry.
The most enigmatic fact about Venkateshwara Temple is that devotees can hear sea waves crashing upon carefully placing their ears on the deity's image backside. Tirumala Venkateswara Temple is one of India's most revered and richest shrines. Venkateshwara Temple is one of those temples in India that don't rely on donations from devotees.
Instead, India's richest temple, whose annual turnover is a whooping 6.5 million USD (approx.). The temple is also famous for celebrating the pious Tirupati Festival. Are you brave enough to shave off your head? Because thousands of devotees, both men, and women, do that.
Note: Temple timings vary on Thursday and Friday. There is access to the temple via VIP entry of 300 INR (approx.). Physically challenged or handicapped people can attend special Darshan from 10:00 AM to 3:00 PM (approx.)
5. Meenakshi Amman Temple: Madurai, Tamil Nadu
Mysterious Things: The only temple in India where Lord Shiva could be seen in a smiling face. Locals believe Lord Shiva has a strong significance with this temple, particularly the whole city of Madurai.
Dedicated To: Meenakshi (Goddess Parvati) and Sundareswarar (Lord Shiva)
Timings: 3:15 AM to 12:00 AM, and 5:00 PM to 7:20 PM (every day)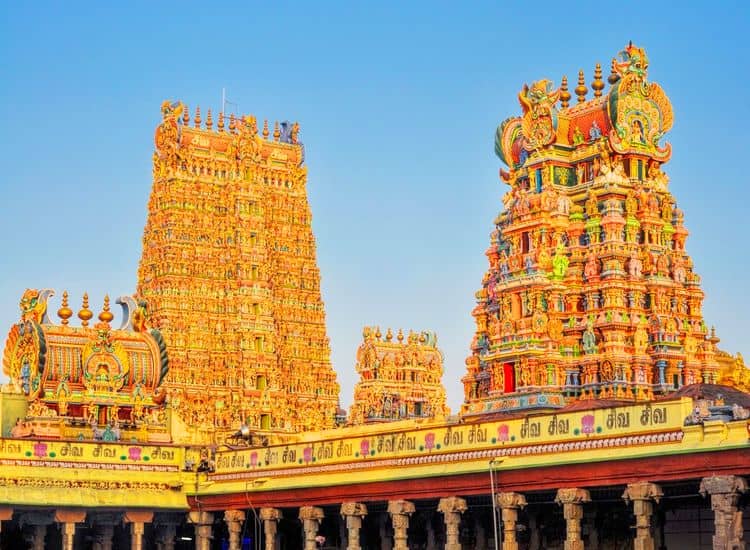 Occupying a huge 14-acre area in the heart of Madurai, you will find that a mysterious superpower prevails in silence at Meenakshi Amman Temple. You will feel the divine presence once you enter the temple complex. Considered one of India's most talked-about mysterious temples, this shrine holds historical and mythological importance.
It is a folk tale about Meenakshi Amman Temple, which is the same place where Lord Shiva turned into Sundareswarar (the handsome one) to marry the Goddess Parvati (Meenakshi). Dravidian inspires the architectural style of this temple in Madurai. Around 33,000 sculptures are inside the temple complex, dating back 3000 years (approx.). Meenakshi Amman Temple is the finest example of excellent craftsmanship.
There are around 4000 pillars (approx.), each made of a single rock. It was also nominated as wonder of the world but couldn't make it to space in the World list's Seven Wonders. Did we mention Meenakshi Amman Temple is the cleanest iconic place in India under the Swachh Bharat Mission?
Inside the temple complex are gigantic images of God and Goddesses, including mythical beasts like a lion with elephants' heads. Although the temple is dedicated to Lord Shiva and Goddess Parvati, locals always worshipped Meenakshi Amman first because she is the incarnation of Parvati. Amman in the native language means mother, and devotees worldwide believe that anyone with a pure heart inside the temple would be rewarded with their prayers answered.
6. Veerabhadra Temple: Lepakshi, Andra Pradesh
Mysterious Things: Out of 70 huge pillars, one pillar stays intact without any support leaving the bottom space that doesn't let it touch the ground with a few margins.
Dedicated To: Lord Kal Bhairav Nath (reincarnation of Lord Shiva)
Timings: 5:00 AM – 8:30 PM (all days of the week)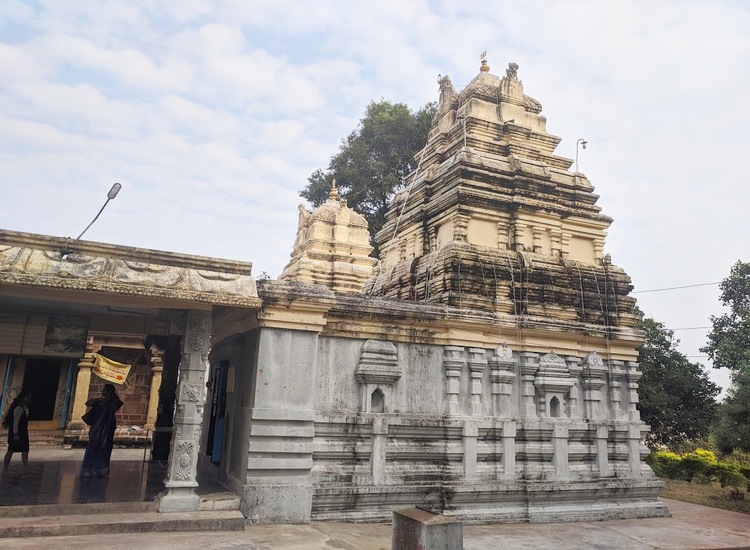 Famous for its one hanging pillar out of 70, Veerabhadra Temple in the Lepakshi district of Andra Pradesh is a mysterious temple in India. Its history dates back to the 16th century, and its architecture depicts the Vijaynagar style. Due to its one pillar dangling from the roof, many tourists find it intriguing, and thus, Veerabhadra Temple has become a famous temple not only in Andhra Pradesh but across the country.
You can also put a cloth under the recognizable space to test the magical gap between the pillar and the ground. When you enter the temple premises, get ready to be amazed by the cultural and ancient engineering marvel. You will see various deities of God and Goddess carved on the temple walls, including pillars. Make sure to witness roof painting to marvel at the ancient Indian culture and traditions.
7. Kailasa Temple: Ellora Caves, Maharashtra
Mysterious Things: The temple is built on an amazingly carved mountain with intricate details.
Dedicated To: Lord Shiva
Timings: 6:00 AM – 12:00 PM, 5:30 PM – 8:00 PM (every day)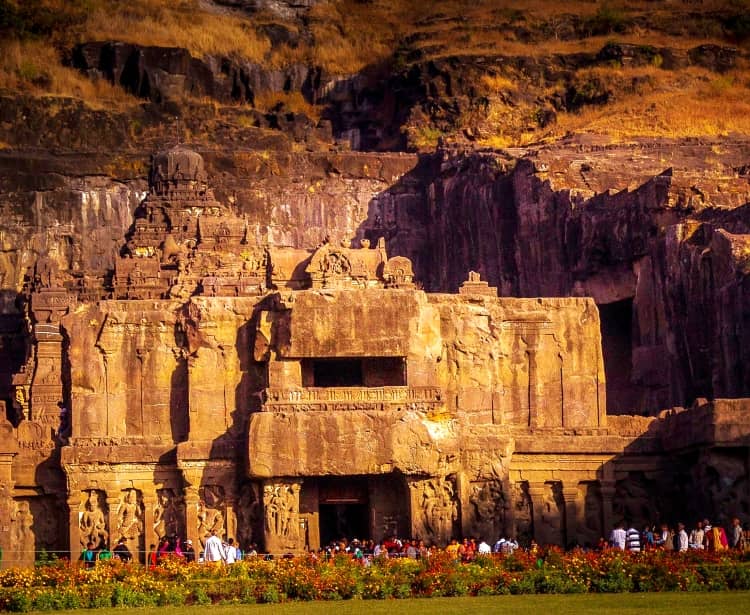 Kailasa Temple is the largest rock-cut Hindu temple in 16th-century Ellora Caves. This temple will give you a reason to enhance your knowledge of Indian mythology like never before. The structure of Kailasa Temple is monolith which means this cave temple is built on a single rock.
Inside the Kailasa Cave Temple, the rendering of the Ramayana is engraved in it. This three-story tall temple structure has intricate carvings, which came to the notice of the Brutal Mughal King, Aurangzeb, and later, he ordered to destroy the caves, but nothing happened to Kailasa Cave Temple.
According to the archaeologist, there are supposed to be 30 million Sanskrit carvings that are yet to be decoded to understand their meaning. No human in this time has that refined craftsmanship, so many believe it is a mysterious temple in India. Once you visit it, you will feel the divine vibes inside the holy temple complex.
8. Lingaraja Temple: Bhubaneshwar, Odisha
Mysterious Things: Due to the optical illusion factor, the Lingaraja Temple looks much larger than it is. Also, the Shivlinga inside the Garbh Grihya is supposed to be self-originated.
Dedicated To: Lord Shiva as Linjaraja
Timings: 5:00 AM to 9:00 PM (all days of the week)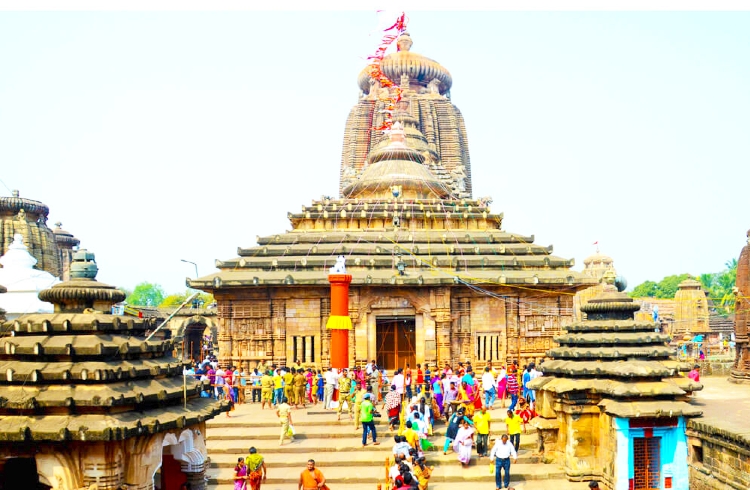 Revered by Hindu devotees with utmost faith, Lingaraja Temple is the largest temple of all Bhubaneshwar, with 54 meters of Mandir dedicated to Lord Shiva. This mysterious temple in India dates back to 1090 to 1104 C.E and was supposed to be built by the king of Jaipur, Jajati Keshari when he shifted his dynasty to Bhuvneshwar city.
There are many small shrines within the main temple complex. Although, it is believed that the smaller shrines or most of the part of the temple was originally constructed back in the 6th century and later given full-fledged status in the 11th century. There is one lake, Bindu Sagar Lake, north of the temple where festival activities are organized, like Shivratri.
The mysterious thing about Lingaraja Temple is that when it was on the verge of completion, Lord Shiva and Lord Vishnu's presence were felt because the Jagarnath cult started taking its shape. Inside the Garbh Griha, the "Lingam" is self-originated and, thus, called "Swayambhu." Thousands of devotees flock here to pay homage to the granite-built Lingam, followed by milk and bhang.
When you enter the temple via its main gate, you will see the two mustachioed yellow lions guarding. Lines of Hindu devotees approach with hands folded to express their gratitude. Lingaraja Temple is divided into 4 distinct parts, including Yagra Griha (Sanctum Santorum), Bhoga Mandap (Prasad offering place), Natya Shala (dance and music hall), and Yagna Shala (Prayer hall). Upon your visit, fascinated to watch Kalinga-style architecture.
9. Kodungallur Sree Kurumba Bhagavathy Temple: Kodungallur, Kerala
Mysterious Things: Devotees enter the temple following abusive words to the Goddess.
Dedicated To: Goddess Bhadrakali
Timings: 4:00 AM – 8:00 PM
A current of bewilderment will pass through your body once you visit this temple in the Thrissur district of Kerala. Kodungallur Sree Kurumba Bhagavathy Temple is famous for its Bharani Festival, which helps annually between March-April. This festival is unique and commences according to the Malayalam month of Meenam. Earlier, animals' lives were sacrificed in the name of ritual, but now it is completely banned.
What will amaze you about Kodungallur Sree Kurumba Bhagavathy Temple is that devotees from their village enter the temple following drinking as a ritual. According to the ritual part, the more bizarre thing is devotees chant abusive words and sing lewd bhakti songs. Both men and women actively participate in the festival for 7 days annually and carry swords in their hands.
They also hit themselves in the head with swords, which makes blood pours freely. After the bizarre festival ends, the temple premises remain shut to clean bloodstains. Don't you think Kodungallur Sree Kurumba Bhagavathy Temple is a mysterious temple in Kerala?
10. Ananthapadmanabha Lake Temple: Kasaragod, Kerala
Mysterious Things: A vegetarian crocodile, Babia, guards the temple without harming anyone. And there hasn't been any case of human flesh-eating till now!
Dedicated To: Sri Padmanabha or Lord Vishnu
Timings: 5:30 AM to 12:30 PM and 5:00 PM to 7:30 PM (all days of the week)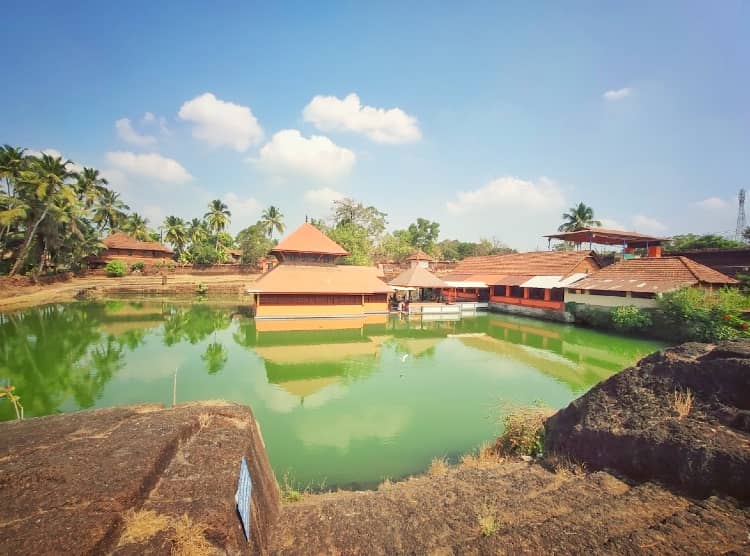 Resting in the middle of the lake, Ananthapadmanabha Lake Temple is indeed the mysterious temple of India. The mysterious thing about Ananthapadmanabha Swamy Lake Temple is that it is guarded by a predatory animal who embraces a vegan diet. The world's most ferocious meat-eating creature, the Crocodile, feeds only on the temple prasad, including cooked rice and jaggery.
After the noon worship, Devotees feed the prasad to the soft-hearted carnivorous with their hands without any hitch. Babia has been living in the pond or lake for the last 70 years (approx.), and he mingles very well with humans. The history of this mysterious temple in Kerala dates back to the 9th century. Inside the pavilion ceilings, you will come across an exceptional collection of wood carvings that displays the scenes of 10 incarnations of Lord Vishnu.
The priest of the temple and Babia, the vegan crocodile, share a unique chemistry. A few months back, Babia came out of the pond and entered the temple premises. But upon requesting from the priest, Babia took a u-turn and returned to the pond.
If this doesn't entice you to visit Ananthapadmanabha Lake Temple, what else entices you? Did we mention several fishes in the pond but none of them have been attacked by the vegan crocodile? Ananthapadmanabha Lake Temple is indeed an enigmatic temple of India.
11. Stambheshwar Mahadev: Kavi Kavoi Village, Gujarat
Mysterious Things: The temple gets swallowed up during high tides and is not visible until the tides are low.
Dedicated To: Lord Shiva
Timings: 6:30 AM – 10:00 PM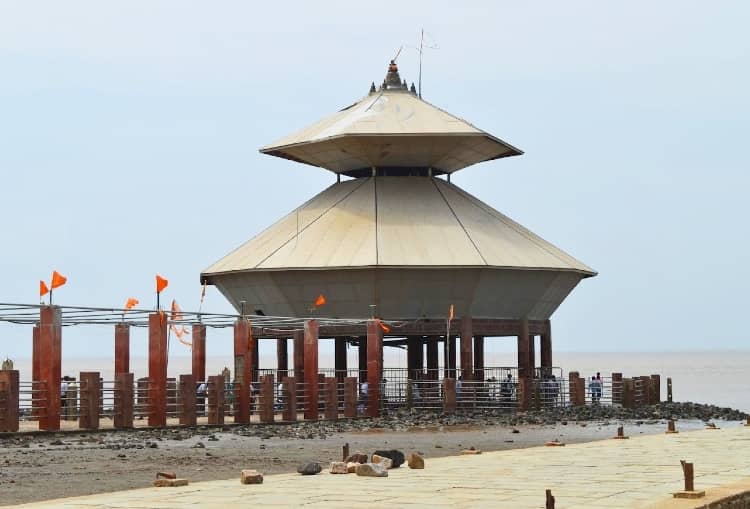 A soulful devotion to nature's amazement is best observed at Stambheshwar Mahadev Temple near Vadodara. It is famous as a submerging Shiva temple every day and gets visible during low tides. If you, too, want to seek blessings from the mysterious temple of Stambheswar Mahadev, include it in your Gujarat itinerary. It is located near Vadodara, and you can reach it easily from any city in Gujarat. Visit this famous Hindu Temple of Gujarat to feel God's presence around the waves as the temples are sandwiched between the Arabian seashores and the Bay of Cambay.
12. Kal Bhairav Nath Temple: Varanasi, Uttar Pradesh
Mysterious Things: Offering to God is made in the form of wine or whiskey into the deity's open mouth. 
Dedicated To: Lord Kal Bhairav Nath (reincarnation of Lord Shiva)
Timings: 5:30 AM – 1:30 PM, and 3:30 PM – 10:00 PM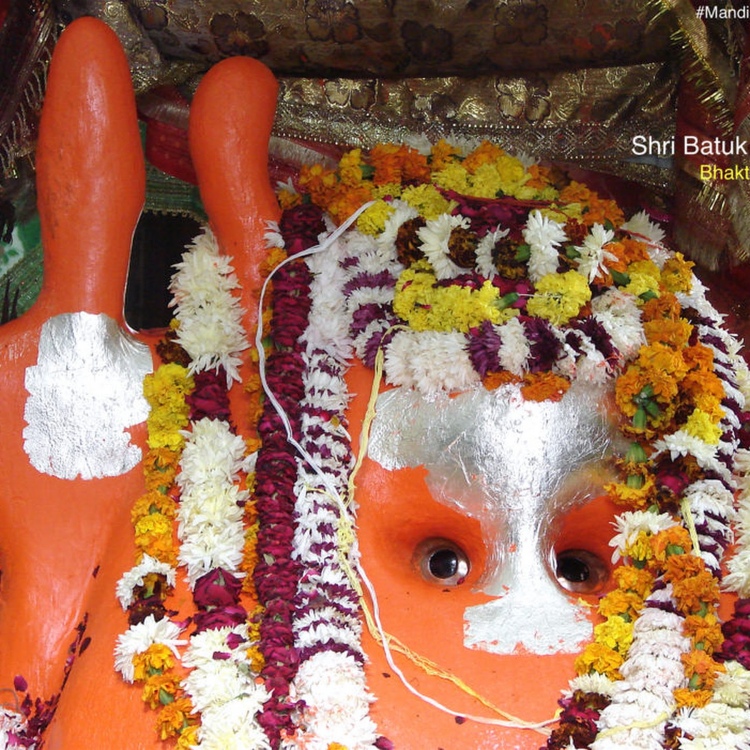 Do you want to visit a mysterious temple in India where prasad is offered in the form of wine or whiskey? If that sounds what you need, head away to Kal Bhairav Nath Temple in Varanasi. Several stalls sell wine or whiskey outside the temple, which devotees buy before entering the temple premises. Unlike other temples in India, you will not find garlands or sweet shops.
You should worship Kal Bhairav for unlocking courage and happiness on your Varanasi tour package. Expect to stand in long queues because it is worth seeking blessings. To see the best magical enthusiasm of crowds, visit Kal Bhairav Nath Temple on special Hindu occasions.
1. Channapatna Dog Temple: Ramanagara, Karnataka
Mysterious Things: Dogs are worshipped inside this temple.
Dedicated To: Lord Shiva
Timings: 6:00 AM – 12:00 PM, 5:30 PM – 8:00 PM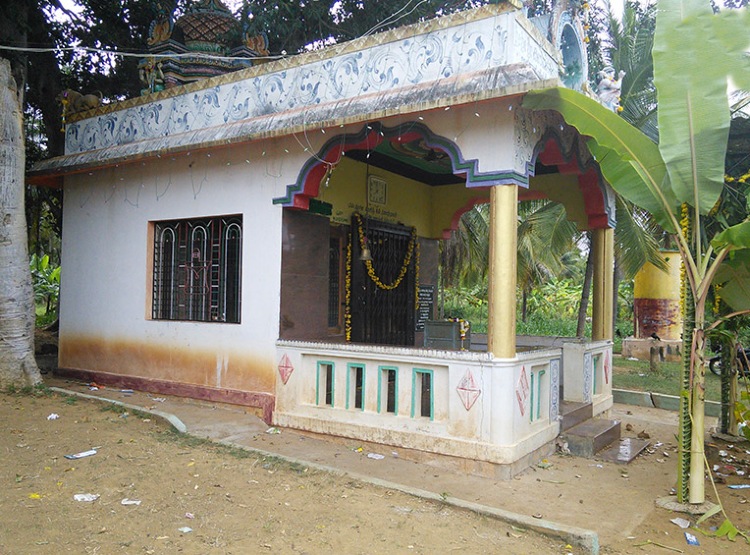 In the Ramanagara district of Karnataka, which is located at a 50 kilometers (approx.) distance, you will see that dogs are more valued than humans. Channapatna Dog Temple worship's man best friend.
The locals of this village believe that dogs are part of the Egyptian God of death; hence, they worship them to walk on the path to salvation. This is an offbeat place near Bangalore, which you should visit if you plan your Bangalore vacation in 2022.
Less for money and more for faith – that is what temples in India are known for! India already has 330 million (approx.) God but there are usual deities worshipped. But the list of 13 mysterious temples in India we brought to you is not the usual temple in India. Instead, they are the ones where the unusual deities are worshipped. With 20,00,000 (approx.) lakh temples in our nation, many other temples have fascinating beliefs.
Have you visited any temple in India that has an astonishing mystery connected to it?
If you want to visit these Mysterious Temples in India, then you can visit these temples with the help of our temple tour packages.
3 Answers to The Most Frequently Asked Questions About Mysterious Temples in India
Q. What are some top mysterious Shiva Temples in India?
+
-
The top mysterious Shiva Temples in India include Kedarnath Temple (Uttarakhand), Srikalahasti Temple (Srikalahasti - Andhra Pradesh), and Ekambareswarar Temple (Tamil Nadu).
Q. How many mysterious temples of Rajasthan are on tourist radar?
+
-
There are around 3 famously known mysterious temples of Rajasthan, including Kiradu Temples, Karni Mata Temples, and Mehandipur Balaji.
Q. Which are the mysterious temples in South India to visit in 2021?
+
-
The mysterious temple in South India to visit in 2021 includes Padmanabhaswamy Temple, Nachiyar Kovil, Betta Bhairaveshwara Temple, and Hasanamba Temple.