Feel the positive spiritual energy in the foothills of the Himalayas in quest of healing, soul connections, and mind purification. Dare I say the spiritual head of North India, Rishikesh, will broaden your spiritual and wellness travel experiences. So scroll on and get under the skin of India's one of the seven holy cities.
As the sun is for the universe and the air is for humanity, in the same way, Yoga is for Rishikesh. Unofficially but strongly earned the title of the Yoga Capital of India, Rishikesh is bisected by the holy Ganges in the foothills of the Himalayas. Also, Rishikesh is a stop for holy men and pilgrims heading to Himalayas Char Dham Yatra. As a result, places to visit in Rishikesh by themselves personify as a 'must visit.'
[ Explore Rishikesh Tour Packages ]
What is Special About Tourist Attractions in Rishikesh?
Rishikesh is the holy lifeline of Hinduism in India. Even more, a bit like Banff in Canada is felt at tourist attractions in Rishikesh. Imagine yourself clicking holy cow and orange-robed sadhu pics at sacred ghats. Harnessing the yoga power at the ashram and camping on the Ganges bed after a white water rafting experience. Rishikesh makes it a perfect place to broaden your mind with mindful practices of yoga, meditation, Ayurveda. Unknown to many, the preeminent band – Beatles visited Rishikesh.
How Beatles Made Rishikesh Attractions Famous?
The raw truth is; the legacy of spiritual enlightenment in Rishikesh dates back millennia of centuries ago! Additionally, The Beatles (Legendary British Rock Band) visit to Rishikesh made it famous beyond the Indian borders. This preeminent band visited the Ashram of Maharishi Mahesh Yogi in 1968. As a result, suddenly, Rishikesh welcomed upscale travelers, hippies, and counter-culture people. Yoga students, digital nomads, and adventure traveler.
14 Best Attractions to Visit in Rishikesh to Nourish Your Mind, Body, Soul
Jump at the attractions to visit in Rishikesh directly by clicking the place name. Or take your full time to find out where you can make a commitment to healing. Even more, this list covers most of the sights and spots associated with adventure (white water rafting, bungee jumping), Ganges Aarti (Ghats), temple hopping, and much more! So just put on your reading glasses and thank me later!
1. Lakshman Jhula – A Bridge Honored on the Name of Lakshmana
Walk on the bridge that was supposedly used by the Lord Laxmana to cross the Ganges. Laxman Jhula is a 450 ft height iron suspension bridge over the Ganges that connects two hamlets – Tapovan and Jonk. The former village is in Tehri Garhwal district (west bank of the Ganges), while the latter is in Pauri Garhwal (east bank of the Ganges).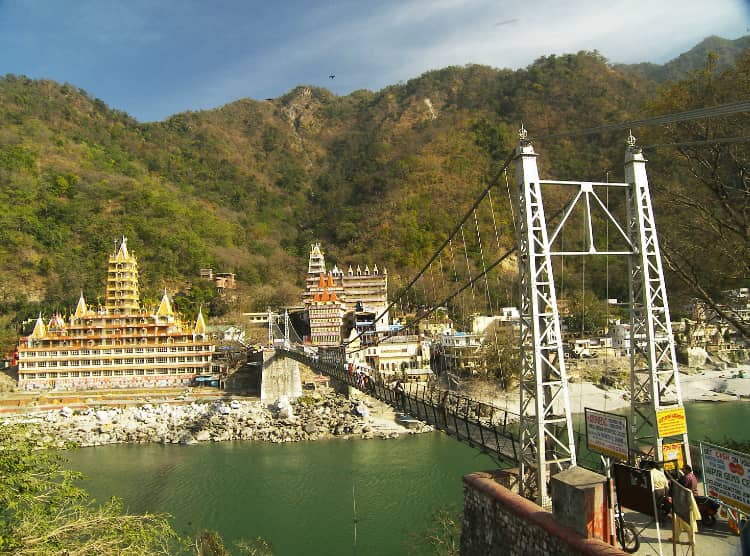 Laxman Jhula is one of the best places to visit in Rishikesh on a one day trip because of its proximity to the Rishikesh Railway Station. Its total length is 137 m. While you walk at it, enjoy the impressive views of the Ganges below.
Distance from Rishikesh Railway Station: 5.8 kilometers (approx.)
Visiting Hours: 24*7
2. Triveni Ghat – See the Confluence of Ganga, Yamuna, Saraswati
Triveni Ghat is the biggest, most visited, and hence, the famous ghats of Rishikesh alongside the Ganges. Dusk (morning) and dawn (evening) Ganga Maha Aarti are very famous at this pious site. Even more, the sight of floating lamps lit by oil diyas and priests performing the aarti in circular motion is a sight to behold when you are here.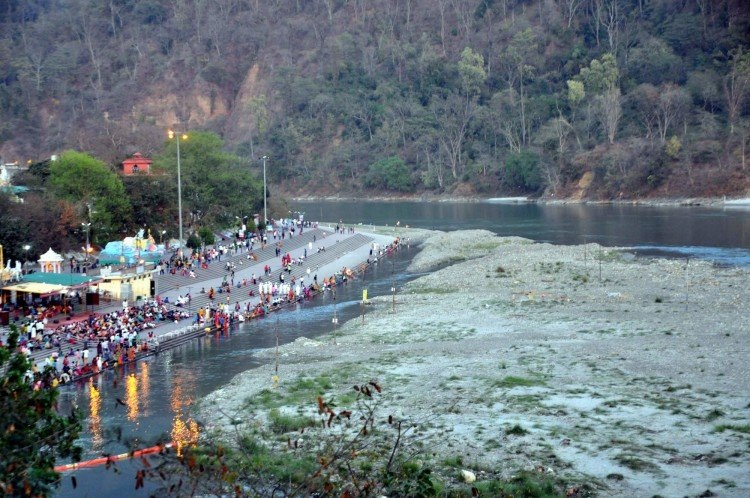 All these factors make Triveni Ghat one of the must-visit tourist attractions in Rishikesh. Moreover, Triveni Ghat's surroundings are dotted with various Dharamshala, an ashram for a stay without breaking the banks.
Dawn and Dusk Aarti Timings at Triveni Ghat: 6 PM evening aarti (15 min)
Hotels, Dharamshala Around Triveni Ghat: Aggarwal Dharamshala, New Kalikamli Dharamshala
3. The Beatles Ashram – Where Beatles Composed Dozens of Songs
Professed as 84 Kutiya or Chaurasi Kutia, the Beatles Ashram is a golden goose of Rishikesh tourism and was once the ashram of late Guru Maharishi Mahesh Yogi. It is now abandoned in ruins, but still, the hype of visiting it never goes out of fashion. Subsequently, the English Rock Band – Beatles visited this ashram in Rishikesh in 1968 to attend the transcendental meditation.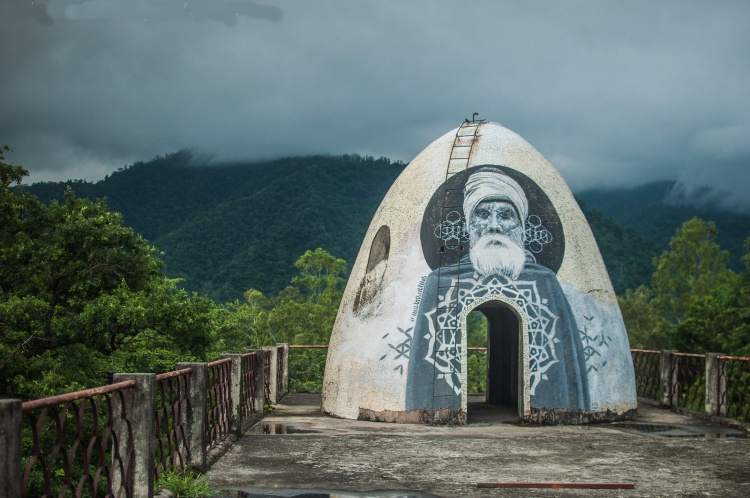 At the same time, the lush green surroundings triggered the Beatles to compose over 50 songs throughout their stay. The Beatles Ashram is under the Rajaji National Reserve, and hence, visitors need to buy an entry ticket. There is a canteen inside the ashram which serves snacks. Undoubtedly, the Beatles Ashram is a mecca for die heart Beatles fans.
Admission (Entry Price): INR 150 for Indians, INR 600 for foreigners
Visiting Hours: 10 AM – 4 PM
Ideal Duration: 2 hours (approx.)
Nearby Locations: 1 km Ram Jhula, 3 km Laxman Jhula
4. Tera Manzil Temple – A Multi-Story Temple on the Ganges Bed
Tera translates to 13 and mazil render to floors. Hence, Tera Manzil Temple constitutes a large thirteen-story temple dedicated to the multi deities. The temple bills itself as one of the best places to visit in the eastern banks of the Ganges in Rishikesh. Its proximity to the Laxman Jhula attracts tourists and locals alike.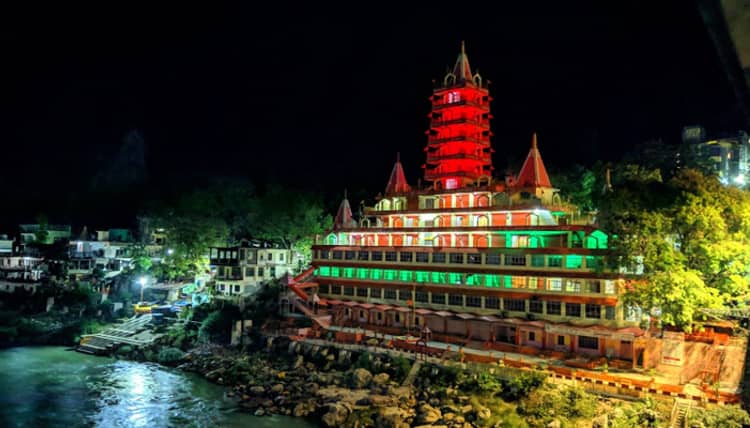 Even more, the different sections of the temples comprise Vedic work, and shops are present to buy religious souvenirs. One must visit this temple to witness the stunning sunset. You need to cross the Laxman Bridge to reach the Tera Manzil Temple. Moreover, buckle up enough time because the 13 floors of the temples demand an expedition if you are a first-time traveler to Rishikesh.
Distance from the Laxman Jhula: Just cross the Laxman Bridge to reach Tera Manzil Temple
Visiting Hours: 6 AM – 6 PM
5. Ram Jhula: Another Suspension Bridge Erected Over the Ganges
Although commissioned by the name of Lord Rama, this suspension bridge has no relevance to history and mythology. Unlike Laxman Jhula, Ram Jhula is new construction in Rishikesh to boost tourism relevant to the other suspension bridge.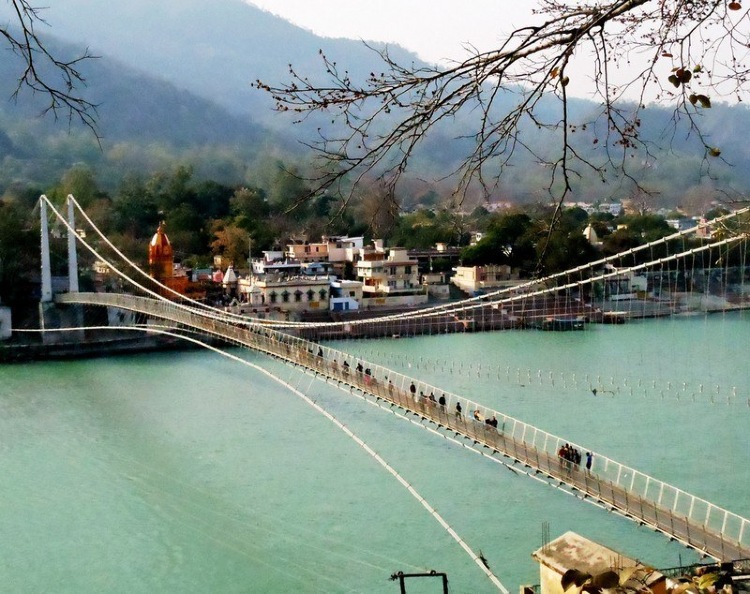 Both the Ramayana brothers are located close to each other. If you wanna see Ganga Aarti from the heights to skip the crowded ghats., Ram Jhula is one of the top attractions in Rishikesh in the evening.
Distance from Ram Jhula: 2 kilometers (approx.)
Visiting Hours: 24*7
6. Kaudiyala – The Birthplace of White Water Rafting in India
Located on the stretch of the holy river Ganges, Kaudiyala is one of the best white water rafting zones in Rishikesh. It falls on Rishikesh Badrinath Highway and is touted as one of the travel spots in Rishikesh where white water rafting was started for the first time. Kaudiyala is an idyllic small hamlet outside main Rishikesh and is dotted with several camping beds alongside the banks of the Ganges.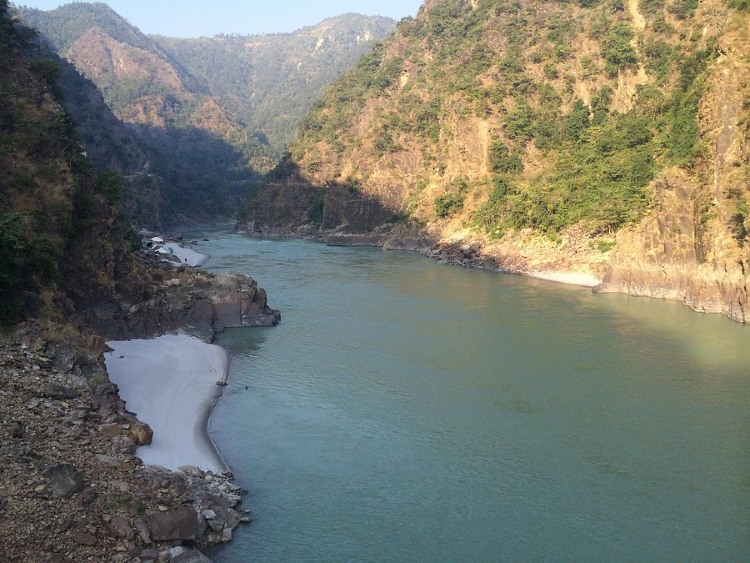 However, the stretch of Kaudiyala is roughly 36 kilometers, but its waters have acquired 4+ rapid. Consequently, the thick foliage of nature around the Kaudiyala village beacons nature lovers to embark on jungle treks and various other activities like rock climbing.
Best Time for Rafting Here: September to June
Average Age Limit for Rafters: 20-35 years
Distance from Rishikesh City Center: 40 kilometers (approx.) outside Rishikesh
7. Neelkanth Mahadev Temple – Bow Down at the Phallic Form of Shiva Lingam Inside the Sanctum
As the name suggests, Neelkanth Mahadev Temple is dedicated to the aspect of Lord Shiva – Neelkanth. Ideally, this temple is not located in Rishikesh's main town but a little outside it. But still, Lord Shiva devotees count Neelkanth Mahadev Temple as one of the best religious attractions in and around Rishikesh. Thanks to its spiritual aura and the mindblowing Dravidian architecture.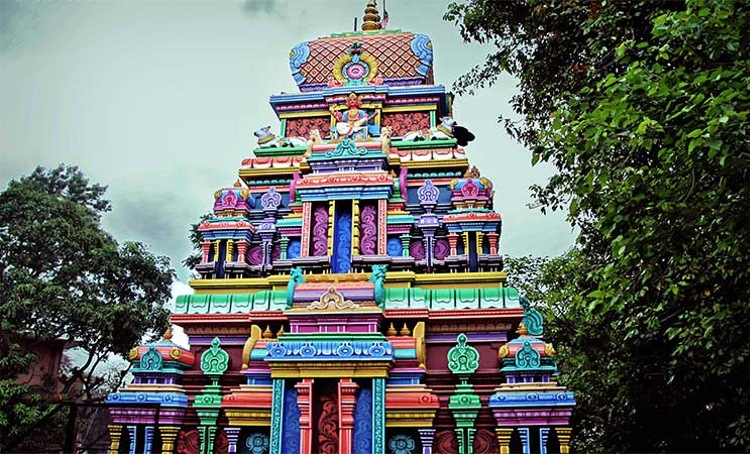 Neelkanth Mahadev Temple is a hillock temple at the height of 1,330 m (approx.). Hence, one needs to walk upward for 800-900 m (approx.) to reach the temple from the parking point. When you reach the temple's top, seek blessings and admire the lush green views of the three valleys Manikoot, Brahmakoot, and Vishnukoot, hugging the temple.
Distance from Rishikesh: 29 kilometers (approx.)
Visiting Hours: 9 AM – 5 PM
8. Rishikund – An Ancient Bathing Place for Rishis and Munis
Rishikund is synonymous with the ancient bathing place for the enlightenment experts Rishis and Munis. It is nestled inside the premises of the Raghunath Temple close to Triveni Ghat. The 'Pond of Sages' is a sacred bathing kund (hot water spring) and is known to cure skin diseases. To take a holy plunge into the pond (without shoes), 10 steps are present on all four sides of the pond.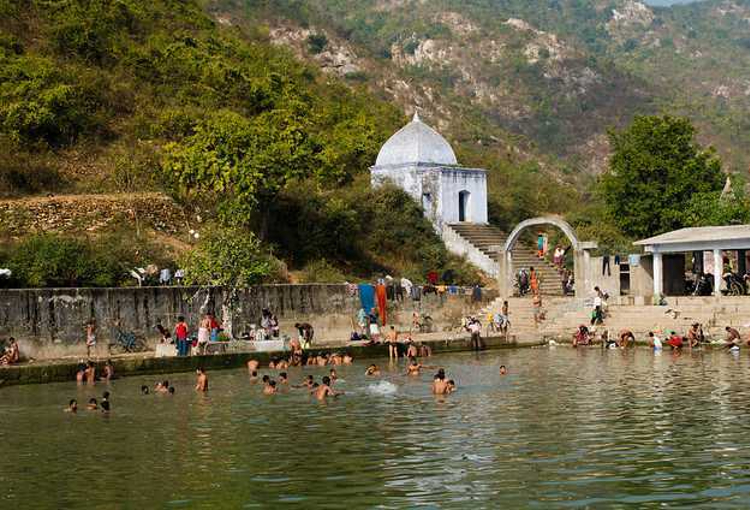 Distance from Triveni Ghat: 4 kilometers (approx.)
Visiting Hours: 5 AM – 9 PM
9. Jumpin Heights – India's Highest Bungee Jumping Spot
Are you seeking to see some out-of-the-box places to visit around Rishikesh's main town? Look no further than Mohan Chatti Village, close to Rishikesh. It is a picturesque hamlet and earned famed because of the bungee jumping spot. The whole experience is performed under the supervision of the trained experts from New Zealand and Australia alongside the ex-Army officers.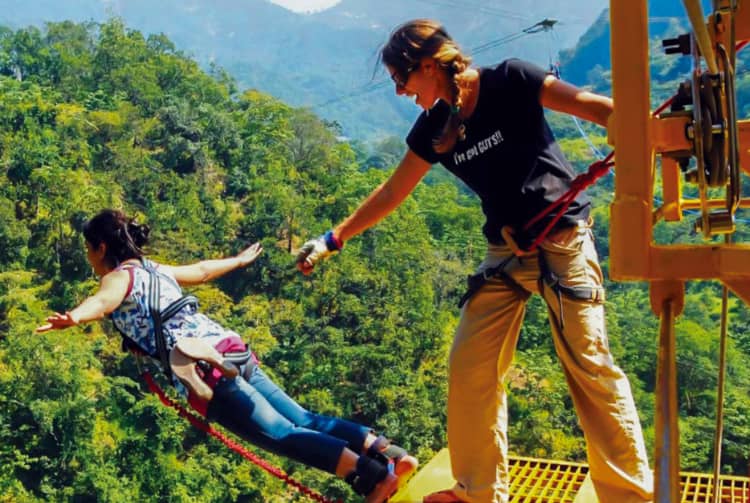 You will enjoy the leap of faith for a few seconds and can ask for the video with or without audio. Plus, when you conclude the jump, acknowledge the badge of honor.
Video Without Audio Price: INR 900 (approx.)
Distance from Rishikesh: 25 kilometers (approx.)
10. Vashishta Gufa – Meditate Amidst the Aromatic Burning Incense Sticks
Snuggled in the presence of Gular trees and the mighty Ganges alongside it, Vashishta Gufa is one of the best places to visit near Rishikesh. However, many tourists think it's in Rishikesh because of its proximity to the main town. But it's not!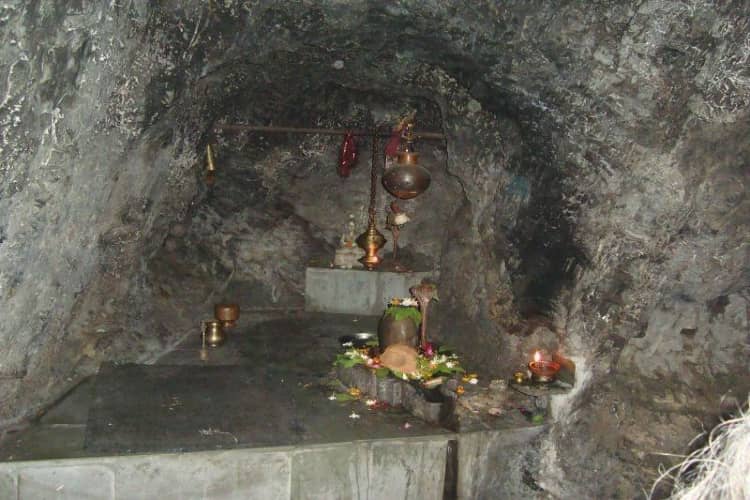 Well, the USP of Vashishta Gufa is its calmness where you can meditate, leaving the worldly trouble behind to focus on spiritual enlightenment. At the starting of the cave, there is a Shivalingam inclined vertically.
Visiting Hours: 9 AM – 12 PM, 3 PM – 6 PM
Distance from Rishikesh: 25 kilometers (approx.)
11. Geeta Bhawan – Where Devotees Can Stay Without Paying A Penny
How about staying in Rishikesh without shedding any penny? Yes! That's possible. Geeta Bhawan on the east bank of the sacred Ganges is one of the places in Rishikesh that offers roughly 1,000 devotees a roof to stay. This spot is just 5 minutes walking distance from Ram Jhula. Moreover, bathing at Geeta Bhawan Ghat is safer than raw river banks. Visit the main complex of the Geeta Bhawan, followed by the Gita Press book, to see a large collection of Hindu religious books.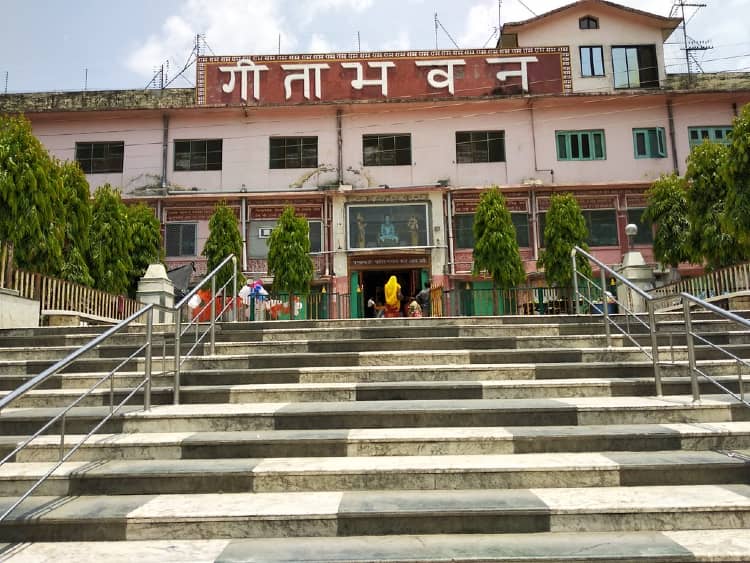 Keep in mind that Geeta Bhawan is a no photography zone, and one can see the Raam Naam Stamb temple built by the Geeta Bhawan trust and management. There is one canteen also that serves lip-smacking Kachori at a reasonable price. If you wonder if Geeta Bhawan has separate sections to stay for men and women, yes, it has! So plan a Rishikesh trip with your friends even if you are broke on cash.
Visiting Hours: 8:30 AM – 10 PM
Distance from Rishikesh Railway Station: 14 kilometers/35 minutes (approx.)
12. Neer Garh Waterfall – One of the Best Waterfall Treks in Rishikesh
Don't you think waterfalls are nature's waterslides? If you are shaking your head in agreement, an easy waterfall trek in Rishikesh awaits you! Embark on a Neer Garh Waterfall that cascades down a rocky terrain from the chest of the lush green dense forest. Locals call it Neer Gaddu because of its jade blue watercolors. It is a two-tier waterfall that has two bathing pools (small and big). At first, you will come across a small waterfall after 200 m (approx.) trek from the road. Afterward, continue towards 1.2 km (approx.) to arrive at the bigger natural pool.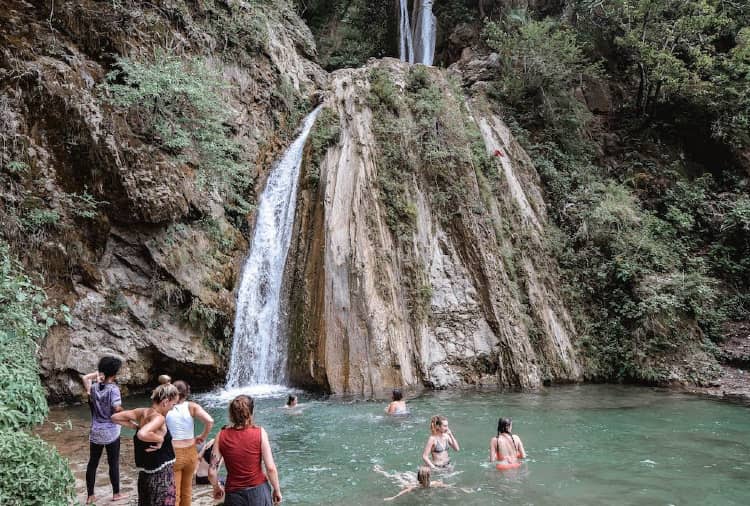 The best thing about visiting Neer Garh Waterfall is it is an Instagrammable attraction of Rishikesh. There are herds of colorful butterflies roaming around the jade-green waters and lush green foliage. Surrounding the falls are small tea/snack shops. Keep in mind that you must wear good hiking shoes, not slippers. Even more, little tourists can see this steep hike easily without any strong endurance.
Neer Garh Waterfall Trek Starts from: 3 kilometers away from Lakshman Jhula on Shivpuri Road.
Time Taken for Steep Hike Trek: 30-45 minutes (approx.)
Entry Fee (approx.): 30 INR for locals and INR 50 for foreigners
13. Shivpuri – Enjoy the Grade 3,4 Rapids of the Ganges on Rafting Excursion
Shivpuri is a town in Rishikesh which is very famous for its riverside camps on the banks of the Ganges. Moreover, Shivpuri is one of the famous rafting stretches that go till Laxman Jhula. Through the rafting adventure, adrenaline will hit you with grade 3,4 rapids of the Ganges. However, one must have a knack for rafting and adventure because the grades of Shivpuri are a little bit tough. Subsequently, the rafting activity at Shivpuri to Laxman Jhula stretch is performed under the supervision of trained experts.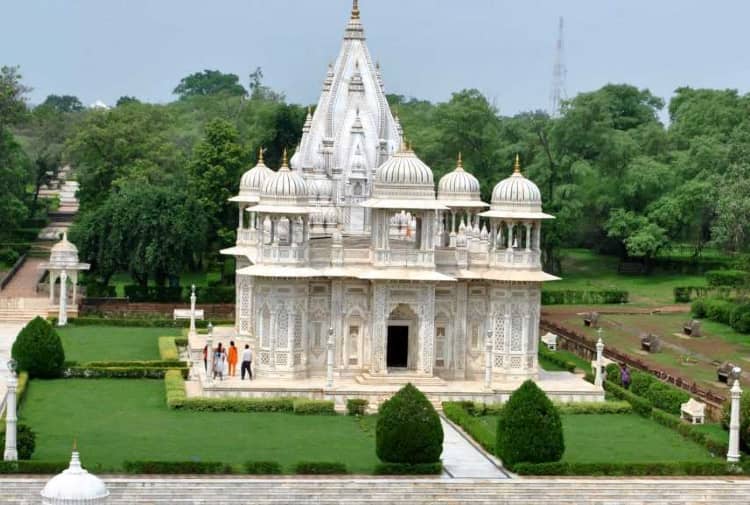 All you have to do is wear the life jackets and sit on the boating raft. At the same time, camping on the banks of the Ganges over a bonfire with the musical night is the icing on the cake. Several ashrams are scattered around Shivpuri, where you can stretch, tone, purify your mind, body, and soul with meditation and yoga practices.
Rafting Stretch of Shivpuri to Laxman Jhula: 16 kilometers (approx.)
Time Taken for the Same Activity: 3 hours (approx.)
Age for Rafting at Shivpuri: Above 14 years
Rafting Cost at Shivpuri (approx.): INR 1,800 onwards per person with accommodation, INR 650 per person excluding accommodation
Best Time for Rafting at Shivpuri Stretch: Mid October to mid-June
14. Kunjapuri Temple – A Temple Trek to Witness Himalayas and Doon Valley Views
Touted as one of the 51 revered Shakti Peethas of Goddess Shakti in the foothills of the Garhwal Himalayas, Kunjapuri Temple is a hillock temple at an elevation of 1,700 m (approx.). Thus, around 250 steps are required to reach the temple top. Once you reach the temple's summit, seek blessings inside the temple complex and witness the Doon Valley and the snow-capped Himalayas.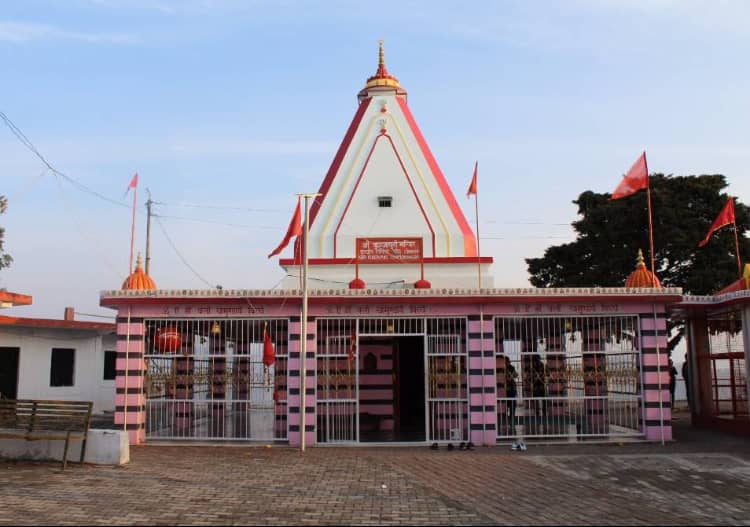 Visiting Hours: 6 AM – 8 PM
Distance from Rishikesh Railway Station: 26 kilometers/50 minutes
Wrapping Up
So, fellow travelers, isn't Rishikesh one of the best places to visit in North India for mindfulness and wellness travel experiences? This destination on the foothills of the Himalayas is the slice of the real North India with a bit of enlightenment and overwhelming spiritual energy. When you are in the town, meet the community of the reputed yoga gurus and spiritual leaders. As a result, you will definitely broaden your mind.
Tell Me Something I Don't Know About Rishikesh Travel and Tourism
Rishikesh is a Heaven for Digital Nomads Since Early '70s
You would be stunned to know that international travelers know the importance of experiential travel. Therefore, they flock to Rishikesh the most for mindfulness practices like yoga, meditation, reki. Also, digital nomads find Rishikesh's spiritual ambiance an icing on the wake more when it gets combined with adventure sports. Rishikesh is one of the most visited destinations for first-timers and returning visitors to India. You will find foreigners with their extended visas rambling around the Ganges in quest of solace.
Mindfulness Practices Were Harness by Yogi and Saints First Before Beatles
And those spiritual yogi and gurus come here for the ages. Frankly, tourism in Rishikesh was not founded by the Beatles. However, they did some great work when social media had not taken a toll. Their visit to Rishikesh eventually became the talk of the western world, and hence, the international tourists started flooding to Rishikesh. Later on, over time, Hinduism supremacy left no stone unturned to make Western people turn into Hinduism. Ofcourse, the title of one of the seven holiest cities to Rishikesh is given for some sake.
Cocooned in the Devbhoomi, Rishikesh Has Fascinating Legends
The most famous one goes like this; Rishikesh's name was derived from Rishikesh – amongst one of the names of Lord Vishnu. As a result, the town was always a boom for sages and Hindu devotees. If we talk about the evident historical facts, Adi Shankaracharya commissioned many ashrams and temples near the Ganges. After that, Rishikesh emerged as the spiritual center. Subsequently, the most fascinating legend of Rishikesh is; Lord Rama bathed with his brother Laxman in the Ganges after he finished Ravana. At the same time, Laxman crossed the Ganges using two jute ropes which are now touted as Laxman Jhula. Bridge.
Even Hollywood's Celebs Have A Knack for Rishikesh
From Paul McCartney to Ringo Starr, George Harrison and Will Smith have spent their holidays in the Rishikesh Ashram. Unknown to many, even Lennon composed a song called "Happy Rishikesh Song." Such is the hype of Rishikesh that it is a serious crowd puller for Hollywood celebs.