Why go to England to explore Colonial charm when you can have it in India without breaking your banks? Reward yourself with the Victorian and Edwardian era legacy in Nainital in Uttarakhand. Located 298 kilometers from Dehradun, Nainital has belonged to the family of summer capital Himalayan towns since the 19th century. Subsequently, places to visit in Nainital know how to enrapture the senses of the homesick tourists for cool temperatures even in summers. Thanks to its 2,084 meters (6,837 ft) elevation, which is still a persuasive pull for locals and overseas tourists alike.
15 Top Attractions to Visit in Nainital to Deeply Step in the Flavor of Nostalgia
Enthrall and educate yourself with the British legacy at the colonial era's villas, bungalows, and manicured lawns. Or choose from walking excursions in cypresses, deodar, and rhododendron forests. Binge at the elite lakeside cafes. Put on your reading glasses to find the 15 attractions to visit in Nainital.
1. Naini Lake – Enjoy Boating at Bean/Mango Shaped Lake
Poets, writers, artists – trigger your left/right brain with the tranquility of the kidney-shaped Naini Lake. It is the first places to visit in Nainital when you reach the town by public or private transport. The eye-shaped Nanita Lake is 2 miles in circumference and has a 1.5 km promenade for shopping, eating, and wrapping the Naini Lake.
Close to the lake are Naina Devi Temple, Boat House, and souvenir shops. A chain of luxury hotels is encircled around the lake arena. Rest at the hotel and stroll in the evening at Mall Road with your beloved one! At night, binge on the swanky eateries around the lake with impeccable views.
Types of Boats: Row Boat, Paddle Boat
Cost of Boating at Naini Lake (approx.): ₹ 160 for a half round and ₹ 210 for a full round.
Boating Timings: 6 AM – 6 PM, every day
Gypsy Tip: Keep a check on the water level during the monsoon.
2. Naina Devi Temple – One of the 51 Shakti Peethas
One of the famous places to visit in Nainital, this temple is located at the Northern end of the Naini Lake, so visitors club Lake with Naina Devi Temple. Family tourists, couples, and even youngsters seek blessings after/before indulging in boating at Naini Lake. You must visit this open-air temple from your hotel at Mall Road. Thanks to its proximity and the large parking space close to the temple.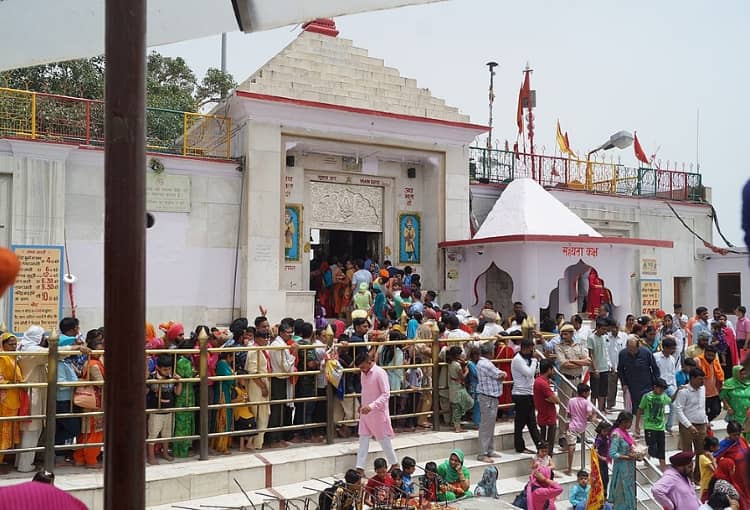 Moreover, the presiding deity of Naina Devi Temple is Goddess Naina Devi. Most importantly, Naina Devi Temple is one of the 51 Shakti Peethas. Hence, it is a must-visit place to visit in Nainital on a 2 days trip. Also, respect the norms and beliefs of the people and visit the Naina Devi Temple like a responsible traveler.
Entry Fee: Free for all
Visiting Hours: 6 AM – 10 PM
3. Tiffin Top/Dorothy's Seat – Enjoy Panoramic Views of Naini Lake Without Filter
Imagine walking in clouds, savoring the Maggie with the views of the snow-capped peaks. This is what a hike to Tiffin Top feels like. Plan an early morning hiking trip to Tiffin Top to gaze at the spectacular beauty of the deep valley where Nainital is snuggled. If you have kids with you, make them sit on the trained horses to reach the summit.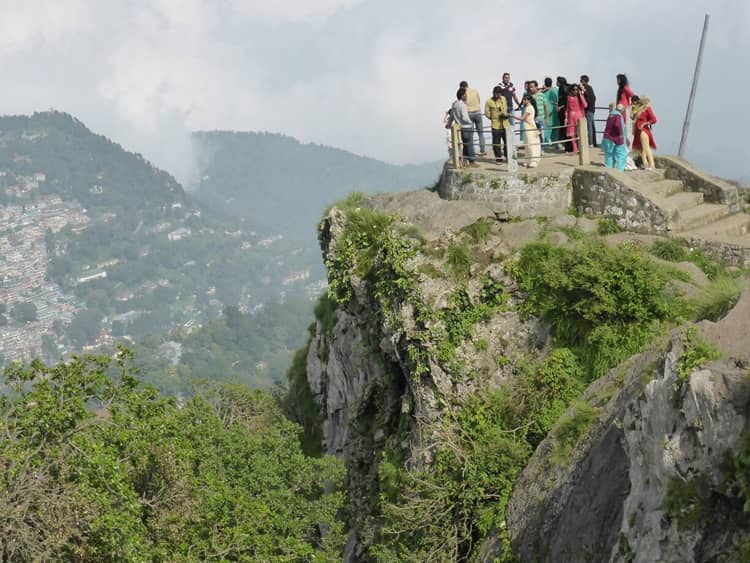 Else, the hiking option is best for youngsters and novice trekkers. At the summit, two restaurants serve drool-worthy chai-maggie. I strongly suggest you visit Tiffin Top in Nainital if you have more than 3 days to explore.
Trek Distance: 4 km (approx.)
(Trekking) Time Taken to Reach: 2 hours (approx.)
Horse Ride Takes: 20 minutes (approx.)
4. Nainital Zoo – One of the Three High Altitude Zoo Parks in India
Snuggled by the Himalayas and the Shivalik Ranges, Nainital Zoo is famed by the name G.B Pant High Altitude Nainital Zoo. Mountainous flora and fauna flourish at this high-altitude zoo. Thus, it is among the top places to visit in Nainital with kids. The Nainital Zoo is sprawled across 4.6 hectares (11 acres). It was opened in 1995 for public appearance. A day at the Nainital Zoo with family is an encircling experience as you will come across Japanese Macaque, Royal Bengal Tiger, Himalayan Brown Bear, and Himalayan Black Bear in herds.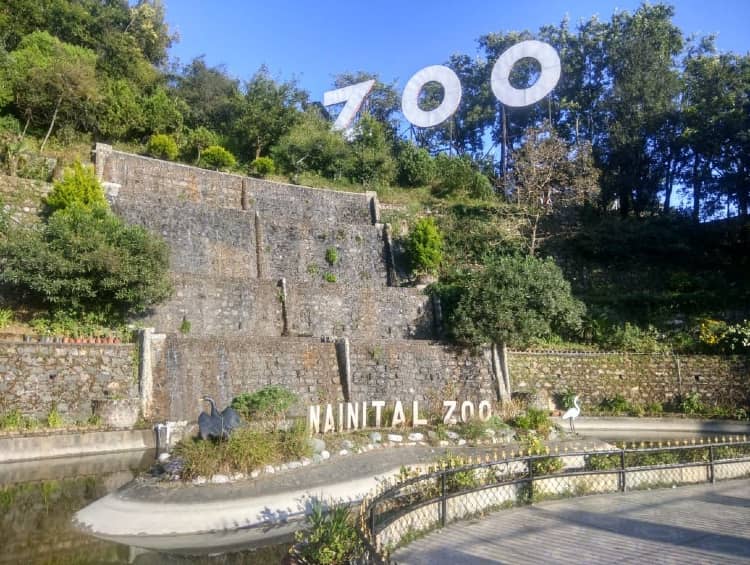 The G.B Pant High Altitude Nainital Zoo is located at a little higher elevation than Nani Lake. A two-side cab ride is the best way to reach the zoo base. Park your vehicle and take some stiff climbs to reach the zoo's main gate. At the exit gate, restaurants are available, like every zoo. Since it is in the mountains, the G.B Pant High Altitude Nainital Zoo is one of the cleanest zoological parks in Uttrakhand.
Visiting Hours: 10 AM – 4:30 PM
Entry Price (approx.): ₹ 50 for adults, ₹ 20 for children – all are per-person charges
Gypsy Tip: Still Camera (₹ 25) charges, and professional video camera (₹ 200)
Read Also: Honeymoon places in Uttarakhand for couples
5. Naini Peak – Hike to Cherish the Best Views of Snow-Capped Himalayas
Nainital's highest peak stands proudly in its grandeur above 2,600 m (approx.) sea level. Also called China/Cheena Peak, Nani Peak gives climbers notch-level views of the Nainital town like a bird. Not to mention, the hike is a little challenging, but rewarding views are guaranteed to spellbound you when you reach the summit.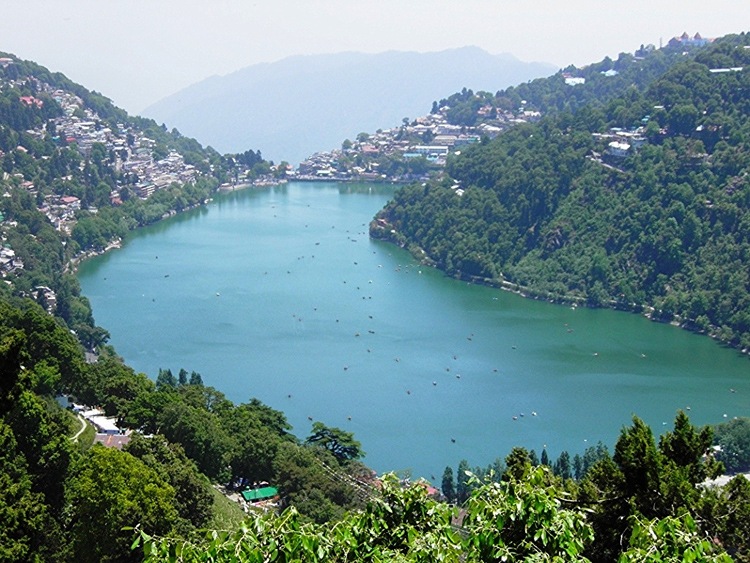 Novice trekkers would love to walk from the rhododendrons, deodar, and cypress trees. While family tourists or elders can reach the summit via horse ride. Naini Peak is one of the moderate-level treks of Nainital where strong endurance is not required.
Trek Starts from: Mallital
Trek Distance: 6 km (approx.)
Time Taken to Hike Up the Naini Peak: 1 hour 20 minutes
When to Avoid Trek: Peak monsoon (July to August)
6. Snow View Point – Cherish Eagle's View of Mango-Shaped Naini Lake
As the name indicates, Snow View Point is one of the best places to visit in Nainital to witness snow-capped Himalayan peaks. Nestled at a 2,270 m elevation above sea level, the peak is easy to reach via a hike or ropeway service. Rove your eyes to the snow-shrouded mountains tearing the clouds.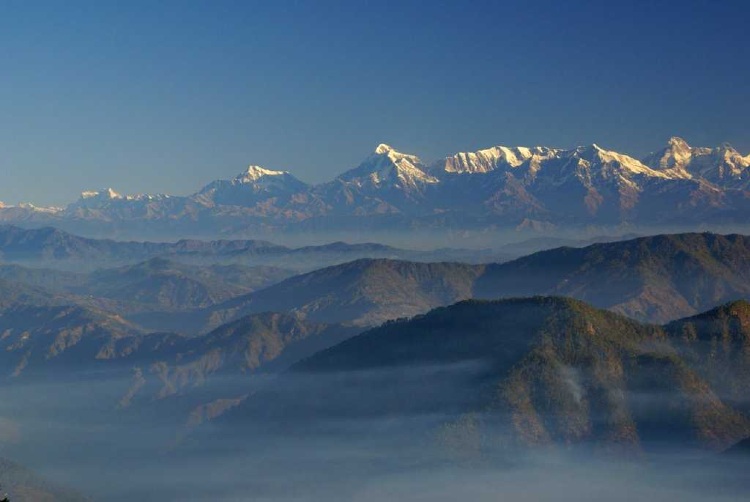 At the top, binoculars are installed. You will also come across a small temple at the peak. We suggest you embark on an early morning trek to witness the best sunrise in Nainital with tea and snacks at the top from the stalls.
Starting Point of Ropeway/Trek: Mallital
Trek Distance: 3 km (approx.)
Trek Duration: 1 hour (approx.)
Ropeway Ticket (approx.): ₹ 300 per person for adults, ₹ 200 per person for children
Ropeway Timings: 10 AM to 5 PM, Closed on Saturdays
Binocular Charges (approx.): ₹ 20 per person
Gypsy Top: Ropeway ride starts after 10 AM till sunrise. But trekkers can embark on the sunrise trek.
7. Khurpa Taal – A Popular Color Changing Lake Close to Nainital
Call it a Taal, aka Lake, but Khurpa Taal changes its color in dawn and dusk. You just need to travel outside of Nainital town to reach Khurpa Taal. Snuggled at an elevation of 1,635 m (approx.), Tall green trees encircle Khurpa Taal, among the best places to visit in Nainital. The only thing which you miss here is boating which is not available.
On the brighter side, the lake water is clearer than Naini Lake. Hence, Khurpa Lake/Taal is one of the romantic places for couples close to Mall Road.
Distance from Nainital: 11 km
8. Sattal – Ribbon of 7 Interconnected Lakes
Sattal is the alternative to Nainital's Naini Lake because of its proximity. Moreover, the cluster of 7 interconnected lakes – Nal-Damyanti Tal, Garud Tal, Sita Tal, Purna Tal, Laxman Tal, Hanuman Tal, and Purna Tal counted as one of the freshwater biomes of India.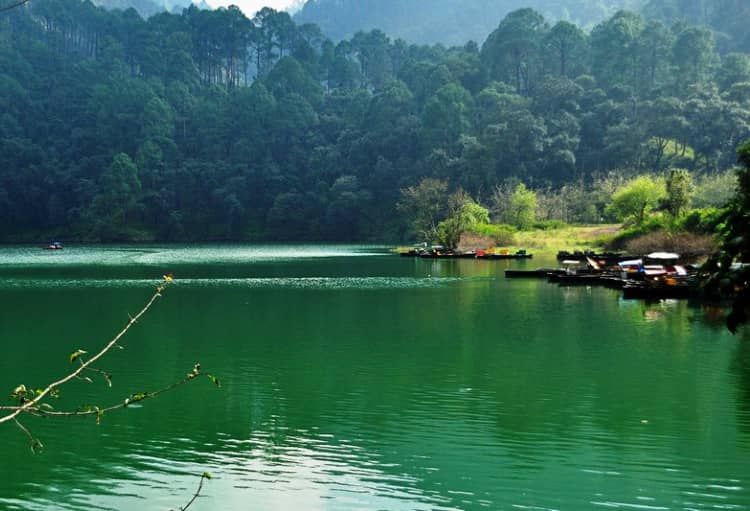 This prismatic lake has boating options for visitors. An added USP of Sattal is tranquility because of deodar, oak, and pine trees. Did we mention Zip lining and kayaking are the crowd-pulling activities of Sattal?
Distance from Nainital: 23 kilometers/55 minutes (approx.)
Best Time to Visit: 365 days
9. Kainchi Dham – A Hanuman Temple in the Hub of Kumaon
As the name indicates, Kainchi Dham is a sacred tourist attraction and one of the lesser-known places to visit in Nainital. It was established by a local and very profound saint – Neem Karoli Baba, in the 1960s. The native locals of the place believe that the temple's founder was the incarnation of Lord Hanuman. When you visit this Ashram to attain spiritual peace, the lush green mountains and forests reward you with fresh air.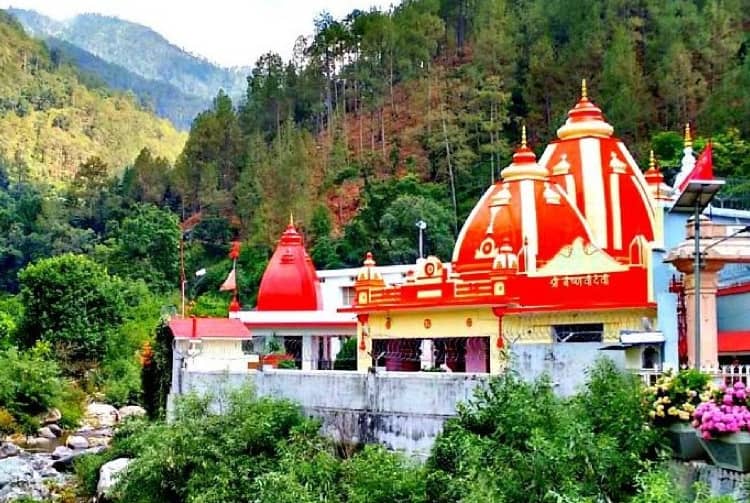 You would be stunned to know that Steve Jobs (EX-CEO of Apple INC) visited Kainchi Dham during his hustle to seek mindful, spiritual enlightenment. If you are looking for the best places to visit in Nainital in June, attend the Karoli Bagh's Birthday annually on 15th June.
Entry Fee: Free of Cost
Timings: 5:00 AM – 4:00 PM
10. The Mall Road – Touted As the Face of All the Hill Stations
The Mall Road and every other summer capital of India have a Mall Road gracing its beauty. Well, the concept of Mall Road was derived back during the 18th-19th century by British officials. They were homesick for their cool climate. Hence, they build Mall Road in each of their summer capitals. Earlier, the Mall Roads were the romantic playground in the evening for the British Army Officials and their wives.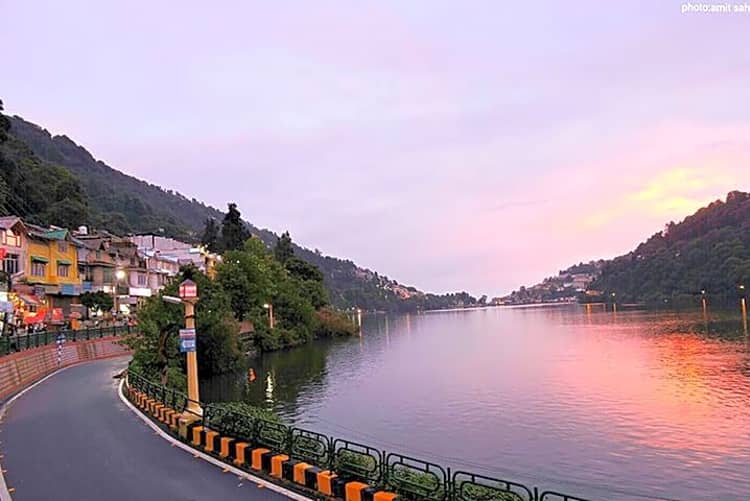 But as of now, Nanital's Mall Road is the shopping arena where restaurants, expensive hotels, gaming parlors, and souvenir shops are dotted. The Mall Road of Nanital encircles the Nani Lake and the Naina Devi Temple. Remember that vehicular entry is prohibited on Mall Road at a certain time.
Mall Road Visiting Hours: 9 AM – 10 PM (When the shops are open)
Gypsy Advice: Cycle rickshaws, light vehicles, and heavy vehicles are allowed at specific timings.
11. Eco Cave Gardens – Cluster of 6 Animal-Shaped Caves
Your trip to Nainital with a few tourists won't be complete without visiting animal caves built in the garden setting. Eco Cave Gardens, one of the best places to visit in Nainital for wildlife lovers, is a cluster of 6 animal-shaped caves, including Tiger Cave, Panther Cave, Bat Cave, Flying Fox Cave, Apes Cave, and Squirrel Cave. All of them are connected with each other via a tunnel. So let your kids pass through those tunnels.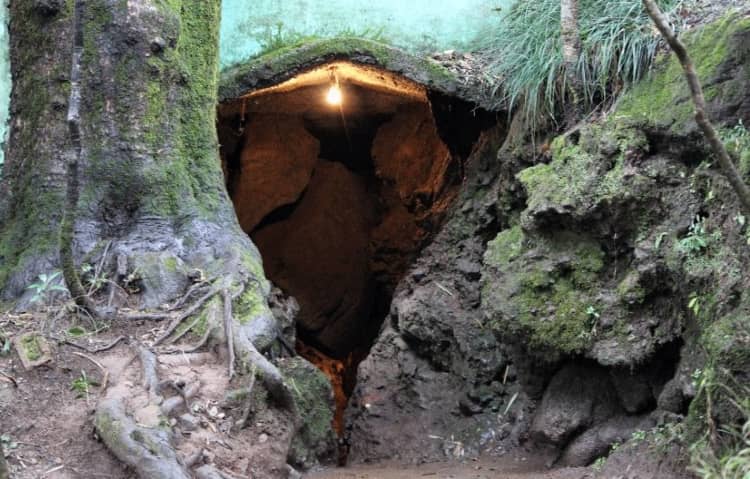 There is a musical fountain with audio and visual effects, which is the icing on the cake. Plus, the whole garden is beautified with old-school petroleum lamp lighting. Not to miss adventures for kids and adults alike at Eco Cave Gardens, including Zip Lining, and Bull Ride.
Visiting Hours: 9:30 AM – 5:30 PM
Entry Fee (approx.): ₹ 60 per person for adults, ₹ 25 per person for children
Zip Lining and Bull Ride Charge (approx.): ₹ 60 per person
Distance from Mall Road: 1.5 kilometers (approx.)
Gypsy Advice: ₹ 25 (approx.) charges will be imposed if you wanna enter with a camera.
12. Raj Bhawan: Buckingham Palace Inspired Gothic Style Architecture
Raj Bhawan is one of the symbols of the British Heritage legacy in Nainital. As a result, it is one of the top heritage tourist attractions in Nainital. In addition, visitors can explore a few sections of the residence of the Governor of Uttarakhand. The complex is a two-storied mansion with 113 rooms for visiting state guests.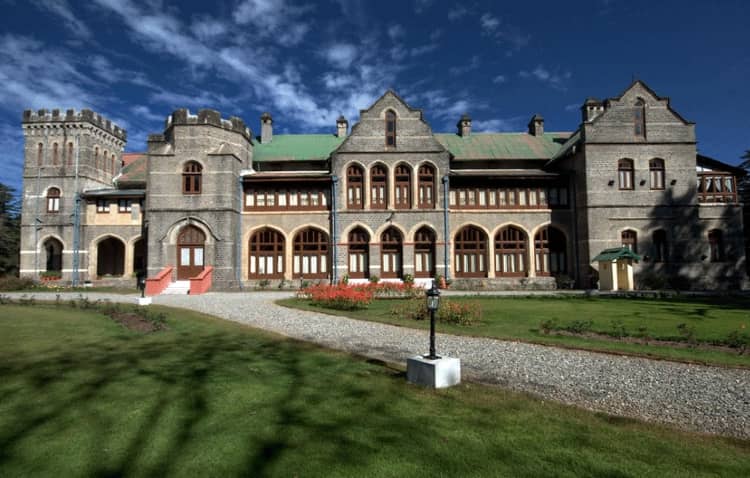 Equipped with a large garden, a 9-hole golf course (open to the public) is the highlight. Lastly, visitors must know about the time of the visit in each season (summer, monsoon, winter). Moreover, this heritage property remains closed on Public Holidays and Sundays.
Entry Fee (approx.): ₹ 50 per person
Golf Course Entry Fee (approx.): ₹ 450 per person
Visiting Hours: 8 AM – 5 PM from May to April, 8 AM – 6 PM from May to August, 8 AM (winters from November to December)
13. Gurney House: Was Once the Favorite Summer Residence of Jim Corbett
Once the summer abode of Eminent British Hunter, Jim Corbett is now privately owned heritage property. It dates back to the 1800s and is now named after the owner of the property – Dalmia's Gurney. Once the summer abode of British Hunter, Naturalist, and Tracker, the place is now revamped as a cottage snuggled in the manicured greenery close to Mall Road, Naina Devi Temple, and Naini Lake – walking distance away!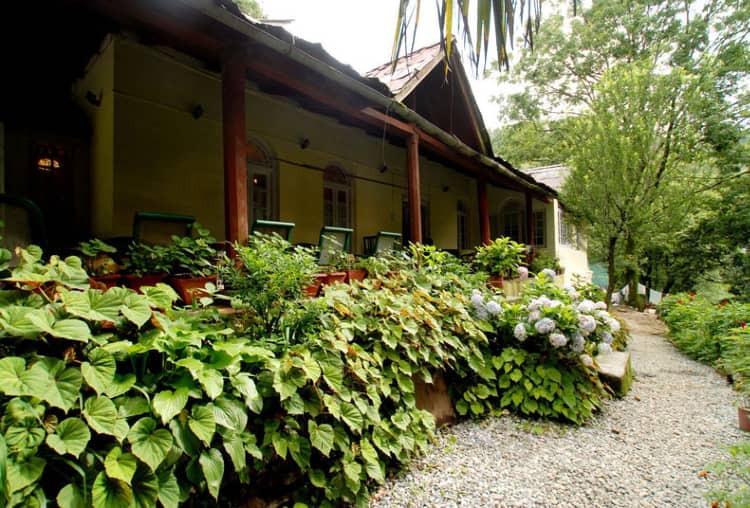 One of the best experiences at Gurney House is exploring the museum (free of cost), which beholds the prized possession of Jim Corbett -hunter. So if you are looking for tourist places to visit in Nainital without an entry fee, include Gurney House in your itinerary.
Visiting Hours: 8 AM – 5 PM
Entry Fee: Free for all
14. Jeolikot – Admire the Floral Culture
Do you know that Swami Vivekananda and Sri Aurobindo meditated in the Jeolikot during their heydays? Even more, the backdrops of the Kumaon hills and the Himalayan Range are the USP of Jeolikot. Touted as the gateway to Nainital, Jeolikot is a small hill town within the Nainital district. The floral culture of Jeolikot is the real crowd puller. Plus, the warm hospitality of the locals will bewitch your mind. If you are coming from the city to bask in the peaceful aura of hills, bookmark Jeolikot.
Additionally, the bee breeding center is a very popular attraction in Jeolikot. Surrounded by the thick green forests and manicured valleys, several easy to moderate-level hiking trails are available. Lastly, the town has a colonial influence, so British-style hotels and villas are available for accommodation. But homestays in the native villages are a pure retreat.
Distance from Nainital: 19 km/35 minutes (approx.)
15. Hanuman Garhi: Visit the Temple of Wind God on Hill
The epitome of strength, loyalty, and dedication, Lord Hanuman Temple, at an elevation of 6,401 ft, is one of the religious places to visit in Nainital. Close to the temple is Tallital Bus Stand (2.5 km). A giant statue of Pavanputra (Maruti) is installed, and locals believe he guards the hills and the native people. A beautiful golden umbrella is installed overhead the statue.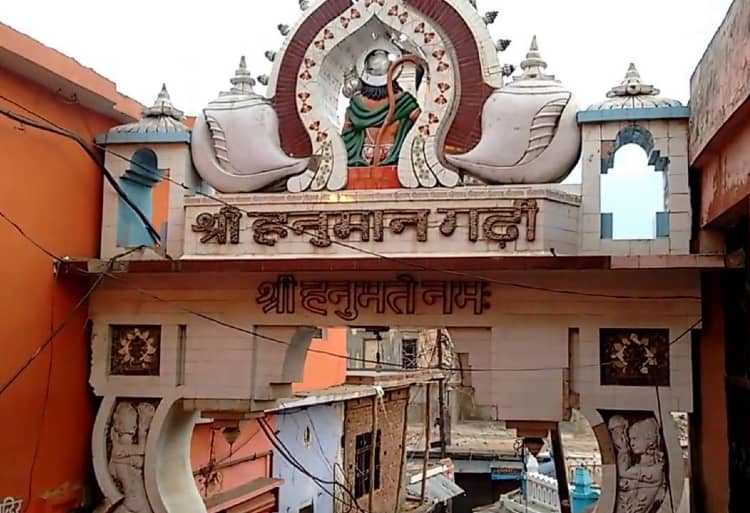 Inside the temple complex are shrines of different deities, including Lord Shiva and Lord Rama. During Ram Navami and Navratri, the temple gets overcrowded. Visit Hanuman Garhi on an easy hike or auto rickshaw from Mall Road. For sure, Maruti Nandan will bless you, too, with whatever you want!
Entry Fee: Seek blessings free of cost
Visiting Hours: 5 AM – 12 PM and 4 PM – 9 PM
Trek Starts From: Mall Road (3.9 km)
For now, Nainital is a cluster of 7 lakes. But in the mid- 18th century, there were supposedly 60 lakes in and around the town. Out of 7 tall, Tallital is the foot of the lake connected with Mall Road. Subsequently, Mallitaal is the head of the 2 miles circumference of Naini Lake.
Unknown to many, Devbhoomi is a serious crowd puller because of its strong spiritual influence. The divinity of Uttarakhand's town Nainital persuaded Steve Jobs and Mark Zuckerburg in the early '70s to visit the Kainchi Dham Ashram in Nainital. Afterward, they got the swings in their vision of establishing Apple INC and Facebook.
Read Also: Romantic Places in North India
Best Nainital Tour Packages