One of the awaited journeys of the year, Amarnath Yatra is organized in the months from July to August as per the Shravan month in the Hindu calendar. Families, friends, and companions embark on a spiritual Amarnath yatra route to find peace, enlightenment, prosperity, and most importantly blessings of the supreme being, Lord Shiva.
There are two Amarnath Yatra routes, one is longer and the other shorter. You can choose the route to Amarnath Temple as per your convenience and difficulty level.
In this blog, we have discussed in detail the route map of Amarnath Yatra with which you can plan your journey better.
Here are the Complete Details about Amarnath Yatra Routes
How to reach Amarnath
Before we discuss the routes, let's see how you can reach Amarnath –
From Delhi, Amarnath is located 971 km away, which can be covered by road. There is no railway station at Amarnath and the nearest one is located in Jammu, which is approx. 580 km away (10.5 hours drive). From Jammu, Amarnath is around 176 km.
Here are some ways to reach Amarnath from major cities in India –
By Bus – Book a bus ticket from Delhi to Amarnath online. The buses are categorized as A/C, non-A/C, and Volvo Bus. Private as well as government buses run on this route. If coming from other cities like Mumbai, Chennai, Hyderabad, Kolkata, and Jaipur, a road trip to Amarnath Cave will consume a lot of time. So, it is recommended to travel by air or rail. The state transport and private operators provide bus services as well from Jammu to Pahalgam and Baltal.
By Train – Traveling to Amarnath by train is a good choice. The nearest railhead is at Jammu, which is connected to prominent Indian cities. Jammu Rajdhani, Himgiri Express, Sarvodaya Express, and Jhelum Express are some trains that run between Mumbai, Chennai, Hyderabad, etc., and Jammu.
By Air – Flying to Srinagar Airport for Amarnath Yatra is the best way to come. The airport is around 90 km from Pahalgam, which is the base camp for Amarnath Yatra. Jet Airways, Indigo, and Air India connect major cities of India to Srinagar Airport.
Which Route Should You Take for Amarnath Yatra: Baltal or Pahalgam?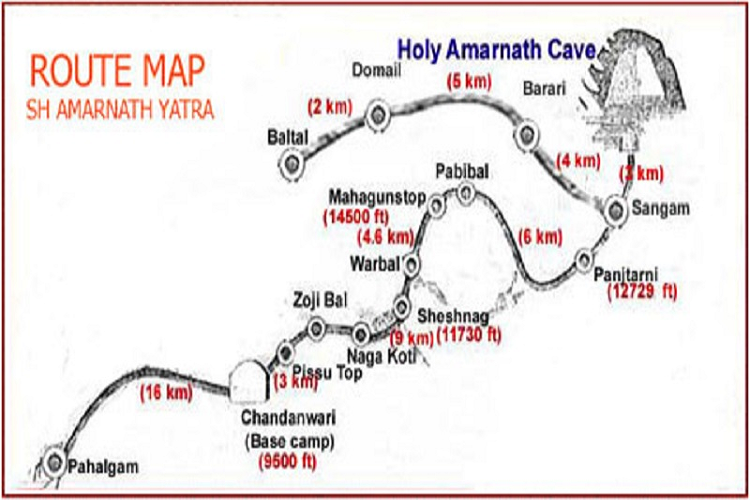 Amarnath Yatra Routes
Shri Amarnath Ji Shrine Board (SASB) offers two Amarnath route map – Pahalgam to Amarnath and Baltal to Amarnath.
1. Baltal to Amarnath Route
Route Map: Baltal – Domali – Barari – Sangam – Amarnath Cave
Amarnath Baltal route starts from Baltal to Domali. The distance is around 2 km. From here, there is another 6 km trek to Barari and afterward, 4 km more to Sangam. This leaves only 2 km to reach your final destination, Amarnath Cave.
This is the shorter route and takes only 1 to 2 days to complete (round trip). Baltal to Amarnath Cave distance is about 14 km, which is covered by a trek.
Remember that this route is a bit difficult and considering the weather conditions and region's terrain in mind, it is not recommended for elderly citizens. Keep in mind that there are no ponies available on this route. You can either walk or opt for Dandies.
2. Pahalgam to Amarnath Route
Route Map: Pahalgam – Chandanwadi – Pissu Top – Zoji Bal – Naga Koti – Sheshnag – Warbal – Mahagunas Top – Pabibal – Panchtarni – Sangam – Cave
Amarnath Yatra from Pahalgam starts from the base camp at Pahalgam to Chandanwari. This distance between them is approx. 16 km. Then from Chandanwari, a 13 km trek takes you to Sheshnag and a further 4.6 km trek to Panchtarni. From here, a 2 km walk will take you to Lord Shiva's abode, Amarnath Cave.
Pahalgam to Amarnath Cave distance is approx. 36 to 48 km and completes in around 3 to 5 days (one way). Most of the pilgrims prefer this route as it is not only a bit easier than the Baltal one but also scenic. So, if you have senior devotees with you, this is the better route. Plus, you can also hire ponies to make their journey easier.
Amarnath Helicopter Routes
Those who do not want to cover Amarnath Yatra on foot can also opt for Amarnath helicopter services. Tourism of India arranges helicopter services to Amarnath from Baltal and Pahalgam helipad. Plus, our Amarnath tour packages 2023 will also provide you with swift transfers, meals, comfortable accommodations, and sightseeing.
There are two Amarnath Helicopter routes – 
Baltal – Panchtarni – Baltal route (2 km trek to Holy Cave from Panchtarni)
Pahalgam – Panchtarni – Pahalgam route (6 km trek to Holy Cave from Panchtarni)
There are options to hire palkis to the Amarnath Cave as well. But they will also drop you 2 km before reaching the cave. So, this option is not available on the Baltal route.
Also Read:
To avail Helicopter services for Amarnath Yatra-
Pilgrims have to go through a Compulsory Health Certificate (CHC) issued by authorized institutions or doctors.
This test has to be done as per the instructions given by Shri Amarnathji Shrine Board (SASB).
Also, the list of doctors or institutions is available on the official website.
The test has to be done before the starting of the advance bookings.
Accommodation Facilities throughout Amarnath Yatra Routes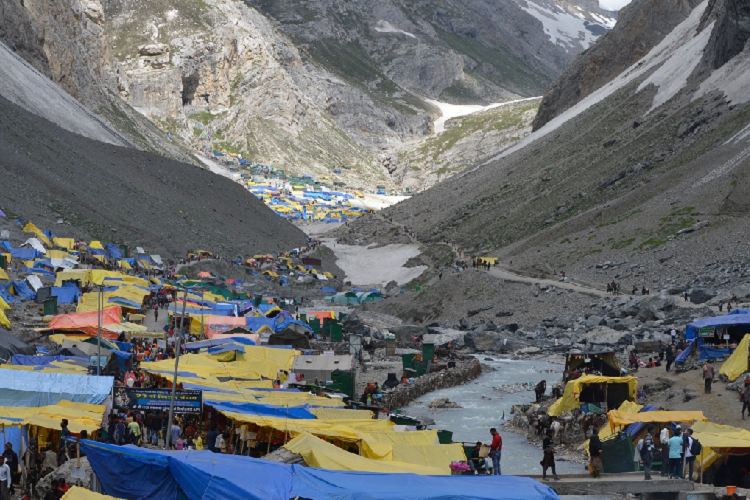 Now that you know the route map for Amarnath Temple, let's discuss the accommodation options available on Amarnath Yatra route.
You will find camps for night camp stays on the Amarnath route in various places like Baltal, Nunwan, Sheshnag, and Panchtarni. They are set up by Shri Amarnathji Shrine Board with the help of private contractors and cost somewhere around INR 250 – 400 per night.
If not, you can also stay at private tents and huts set up at multiple spots along the Amarnath Yatra route. They are equipped with quilts, blankets, pillows, and mattresses. These ones will cost you approx. 250 to 1000 per night.
Food Options on Amarnath Yatra Routes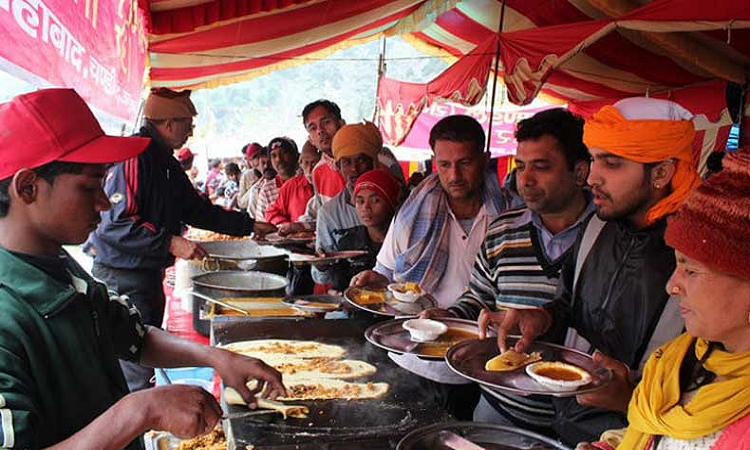 Throughout the Amarnath yatra journey, you will be provided with free food, water, and refreshment. Langar is provided at many spots as well. If you want ration to cook your own food, it is only available at government set up depots at Chandanwari, Sheshnag, and Panchtarni at affordable prices.
Along with this, tea stalls and small eateries are available. You are advised to carry snacks with you to keep yourself food and for an extra boost of energy. For example, canned food, dark chocolate, roasted chana, glucose biscuits, and dry fruits.
Apart from this, you will also find a cafeteria at Baltal Helipad. Of course, this is only available if you choose helicopter services for Amarnath.
Facilities Provided During Amarnath Yatra
Here are some facilities provided during the spiritual yatra to Amarnath –
Booking counters for buses at various places in major cities like Srinagar, Pahalgam. If you want a hassle-free journey, book Amarnath Yatra packages by Tourism of India.
Medical facilities are provided to yatris. Many Emergency Aid Centers (EAC), Medical Aid Centers (MAC), and base hospitals are set along the route to Amarnath Temple.
Cloakrooms are provided to keep your belongings by SASB at Baltal, Nunwan, and Amarnath Cave. These charge INR 10 for 24 hours.
If you arrive via personal vehicle, a parking facility is available at Baltal base camp for two-wheelers, LMVs, and MMVs.
BSNL network is also available during the Amarnath route. Pre-loaded yatra sims are provided by BSNL to the yatris at nominal prices.
Note: For safety reasons, pregnant women of more than 6 weeks, children below 13 years, and elderly above 75 years of age are not given permission for Amarnath Yatra.
Considering all of the points above, we are sure your doubts regarding the Amarnath Yatra routes are now clear. The two route maps – Amarnath from Baltal and from Pahalgam, both have their pros and cons.
Make sure to read about them carefully and get your medical test on priority before embarking on Amarnath Yatra. Tourism of India offers affordable and customizable Amarnath Yatra packages 2023 that you can book for a hassle-free journey.
You are provided with smooth transfers, meals, and stays. Plus, if you add other places like Gulmarg and Srinagar sightseeing tours, our experts can help you curate a personalized package.