Indeed, without a doubt, India is like a new fledgling bride, and its tourist attractions add a stroke of charm no matter what your travel taste is. Of course, international tourists flock to India throughout the year. But locals, especially with family and couples within India, know that July is the monsoon season in most of India, including coastal towns and hill stations. As a result, landslides in hills and hindrance in watersports at the beaches is mainstream in the monsoon most of the time. And to be very frank, why visit Indian tourist attractions when you can visit an international destination within the same budget? That is what we will talk about in today's blog post. Lend us your ears to know about the best places to visit in July outside India. 
If you, too, are planning for a holiday in July outside India on a budget, check out 11 budget-friendly international destinations to visit.
Budget-Friendly Countries to Visit from India with Family
The real science of travel is best experienced when you have your family next to you on holiday. And imagine the hype if you are vacationing internationally with your family – sipping the mocktail in an infinity pool, gazing at the lofty clouds from the towering heights, making beach affairs on white sand and pristine waters, along with witnessing the changing hues of the sun over the snow-capped the Himalayas. A holiday with the family has an unmatched experience. Have a look at budget-friendly countries to visit from India with family.
1. Bhutan
What's Unique: Bhutan is the world's only carbon-negative country.
Why Visit: Bhutan is one of the affordable international countries to visit from India.
Package Cost: 24,000 INR (approx.) per person excluding flights.
Ideal Days: 3-5 days (approx.)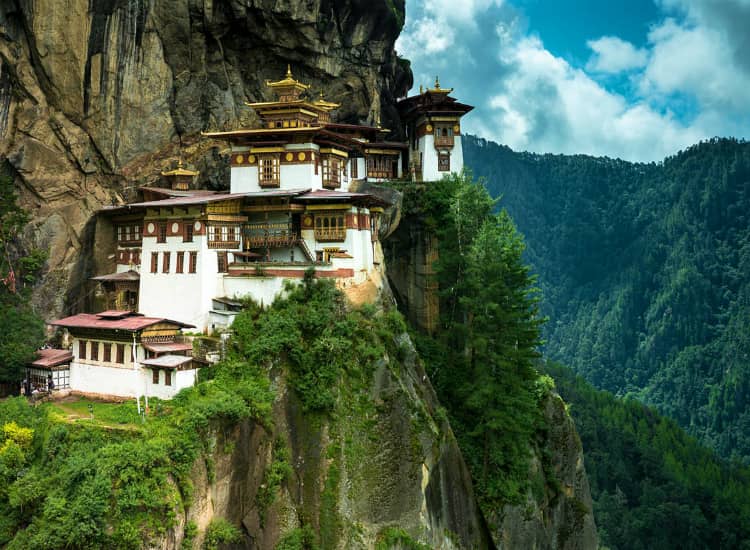 Family tourists can go international to Bhutan. The country has beautiful forts built on the mountains covered with forests, colorful houses made of wood, and Bhutanese people living in them stand ready to welcome you with arms outstretched. Dubbed as the last Sangri-La, Bhutan is crowned as the happiest country in the world. This country is neighboring India and brims full of natural beauty in the form of Buddhist monasteries, adventurous trekking trails, pristine lakes, and lots of greenery.
Things to Do in Bhutan With Family
Climb the Tiger's Nest Monastery.
Bow down to the beauty of Punakha Dzong.
Interact with Bhutanese people.
Enjoy thrilling river rafting at Po Chu River.
Witness the amazing landing at Paro International Airport, which is banged between 2 mountains.
[ Explore Bhutan Tour Packages ]
2. Nepal
What's Unique: Nepal don't ask Indians to provide a visa.
Why Visit: Nepal is the home of the Himalayas, with several pilgrimage sites.
Package Cost: 21,000 INR (approx.) per person excluding flights.
Ideal Days: 3-5 days (approx.)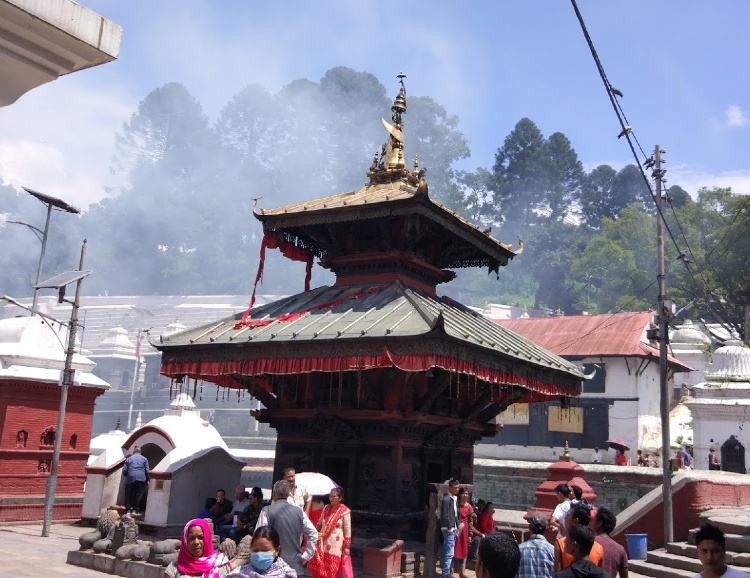 Nepal is touted as a backpacker's Disneyland because of the snow-capped Himalayan treks and the glorious Mount Everest. In vibrant culture, spectacular natural beauty, and historic sites, family tourists in Nepal can gaze at the pristine views of the snow capped mountains over the sun-glazed waters. This country holds a striking resemblance with India in spirituality.
Awaken your spiritual soul in Nepal at Kathmandu by visiting the temples. If you have a family of thrill-seekers, there are lots of adventure activities to do in Nepal for you! Consider making Nepal your holiday base in July outside India because this country is next to India and is super affordable for all tourists.
Things to Do in Nepal With Family
Admire the Newari community work at Bhaktapur.
Enlighten your soul with prayer season at Pashupatinath Temple in Kathmandu.
Satiate your adrenaline in Pokhara by boating, paragliding, trekking, and mountain biking.
Witness Royal Bengal Tiger at Chitwan National Park.
Fly in a helicopter over Mount Everest.
[ Explore Nepal Tour Packages ]
3. Jordan
What's Unique: Jordan is one of the forward-thinking countries of the Middle East.
Why Visit: Jordan is a safe tourist destination in spite of being in the Middle East war zone.
Package Cost: 45,000 INR (approx.) per person excluding flights.
Ideal Days: 7-9 days (approx.)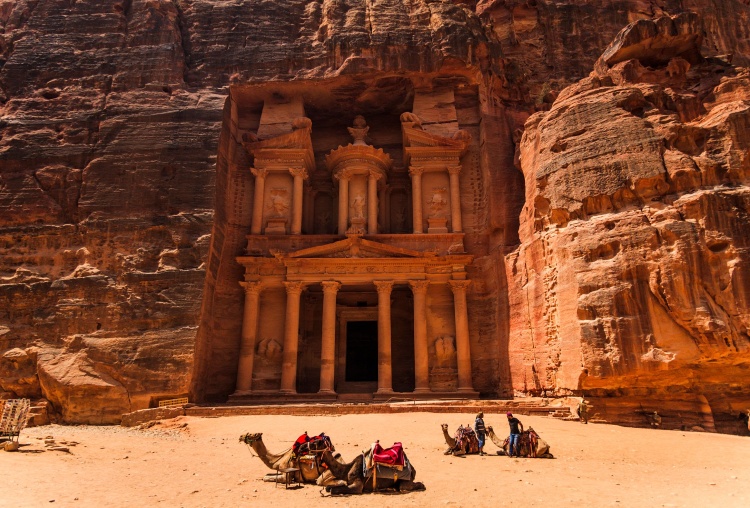 Jordan is dubbed as an open-air museum due to its wide range of historical heritage. The country welcomes tourists and has a scenic coastline, incredible cuisine, and stunning natural beauty. Countless empires have left their mark on Jordan, including Roman, Persians, and even Israelis.
Several UNESCO World Heritage Sites are located in Jordan, which are perfect for history-loving tourists. Start your expedition in Jordan from Petra to witness the structures carved out of sandstones. Then, make your way to the capital city of Amman to explore museums, galleries, and indulge in its nightlife. There are several camping sites in Jordan where you can stargaze.
Things to Do in Jordan With Family
Get rejuvenated with massage and mud treatment at the Dead Sea.
Enjoy glamping and stargazing at Wadi Rum.
Go for skydiving over the skyline of the Dead Sea.
Take glass-bottom boat trips at Aqaba.
Shop local souvenirs at Amman.
4. Dubai
What's Unique: Dubai spells luxury and opulence in every way.
Why Visit: Dubai is the mecca of flawless man-made architecture.
Package Cost: 26,000 INR (approx.) per person excluding flights.
Ideal Days: 5-6 days (approx.)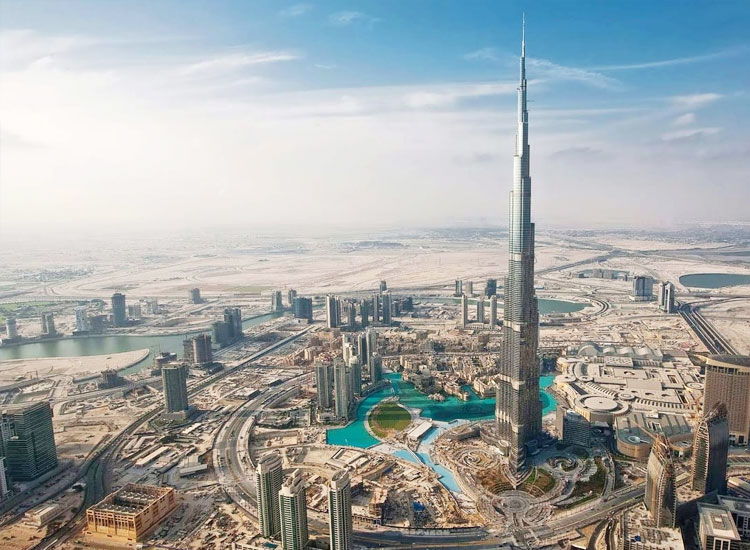 Big, bold, and unapologetic in its grandeur, Dubai is synonymous with luxury in every aspect. Whether in terms of accommodation, or experiences, or shopping, this destination in the United Arab Emirates has everything grand, fancy, and opulent. From the high-rise sky-touching buildings to stunning beaches, Dubai is a perfect place for family holidays with completed rejuvenation. Dubai is one of the most celebrated shopping destinations for ladies.
Kids in a family can enjoy dune bashing and desert safari at night. There are many theme parks and play centers for kids. Also, Dubai has many historical sites which you should explore with your family on a guided tour. If you don't mind spending cash with your family, Dubai should be your destination to travel outside India in July with your family.
Things to Do in Dubai With Family
Try watersports at Kite Beach.
Enjoy skydiving over the palm-shaped Palm Jumeirah Island.
See Dubai from the birds-eye view from the Burj Khalifa Observation Deck.
Experience an Arabian Desert fable on dune bashing and overnight desert safari.
Witness Dubai skyline from a helicopter ride.
[ Explore Dubai Tour Packages ]
5. Singapore
What's Unique: Singapore is one of the greenest countries in the world.
Why Visit: Singapore is Southern Asia's most family-friendly destination.
Package Cost: 29,000 INR (approx.) per person excluding flights.
Ideal Days: 4-6 days (approx.)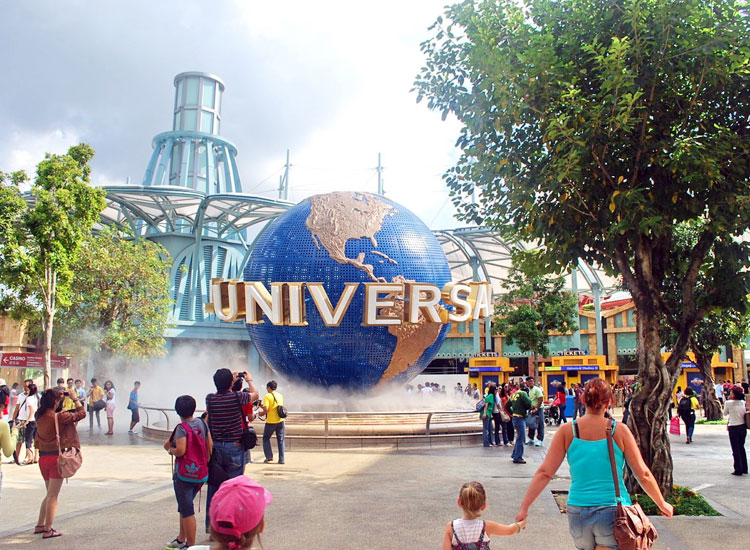 What Indian family tourists look after the most on holidays? It's the transportation, food, shopping, nightlife, and adventures. Guess what? You all get this in Singapore. Here you can explore modern art and architecture with your family. Ladies in your family can shop till they drop at Singapore shopping precincts. If you have kids in your family, they will love visiting the Universal Studios at Sentosa Island as it has several kid-friendly activities to do. Furthermore, family tourists can pamper themselves with authentic spa bliss at the finest hotels. When in Singapore, gaze at the city's skyline from a Singapore Flyer over 165 m (approx.) height.
Things to Do in Singapore With Family
Visit Vintage Camera Museum to check out vintage cameras.
Plan a family date with outdoor cinema at Sentosa Island.
Scream your lungs at the thrilling rides of the Universal Studios.
Get amazed with the rain vortex at Changi Airport indoor garden.
Scuba dive, snorkel paddleboard at various beaches.
[ Explore Singapore Tour Packages from India ]
Budget-Friendly Countries to Visit from India for Honeymoon
When it comes to honeymoon, couples seek a different kind of holiday vibe. Therefore, we have handcrafted the list of 7 budget-friendly countries to visit from India for a honeymoon in July 2022. From beaches to nightlife to historic hopping and island escape, these overseas destinations got you covered with every taste of honeymooner. Take a look:
6. Bali
What's Unique: Bali is the Indonesian island paradise enriched with pristine waters.
Why Visit: Bali provides visas on arrival to Indians for upto 30 days.
Package Cost: 32,000 INR (approx.) per person excluding flights
Ideal Days: 5-6 days (approx.)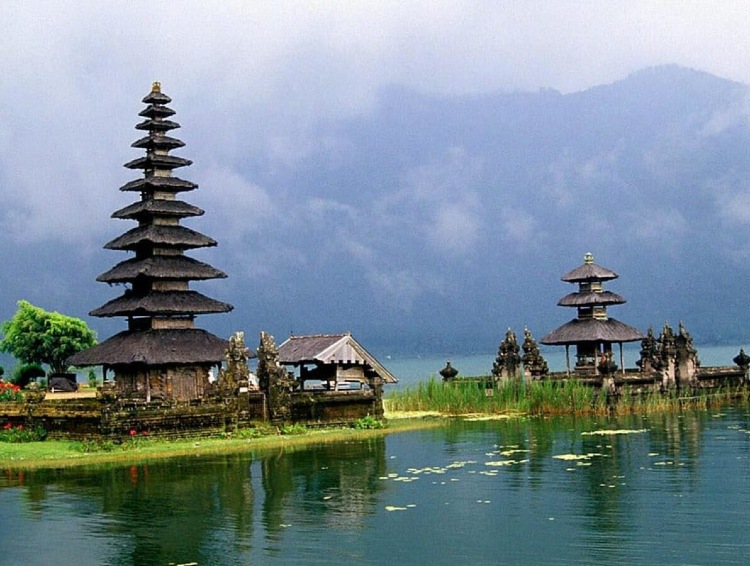 Bali, the island of Gods, is one of the top budget-friendly countries to visit from India on a honeymoon. Bali has luxurious beach resorts that are a destination in themselves. The list of extravagant crystalline blue beaches in Bali is very long. You could go island hopping on jet skiing and savor the marvelous island life like a local with your sweetheart. Honeymooners can rejoice in their romance on a Mount Batur Sunrise Trek to gaze at the panoramic views of Bali from the summit.
New-aged couples are creative, so there will be a day well spent at Ubud Monkey Forest. Capture the tech-friendly monkeys in your camera frame. Stroll at the emerald hues rice fields of Tegalalang Rice Terrace and Jatiluwih Rice Terrace. Among Bali's top experiences for honeymooners, the most popular ones include cycling trips, understanding village life, and complete rejuvenation with mindfulness practices in various yoga centers in Ubud.
Things to Do in Bali on Honeymoon
Shop local souvenirs from the Ubud, the cultural heart of Bali.
Enjoy the hippies' way at Canggu – the hippie's town of Bali.
Tickle snorkeling, scuba diving, and swimming at Nusa Dua beaches.
Relish scrumptious food in the evening at Jimbaran Bay.
Recharge your soul with a unique Balinese massage which is world popular.
7. Maldives
What's Unique: Bollywood and Hollywood celebrities flock to the Maldives on vacations.
Why Visit: the Maldives offers endless views of the turquoise Indian Ocean.
Package Cost: 37,000 INR (approx.) per person excluding flights.
Ideal Days: 5-7 days (approx.)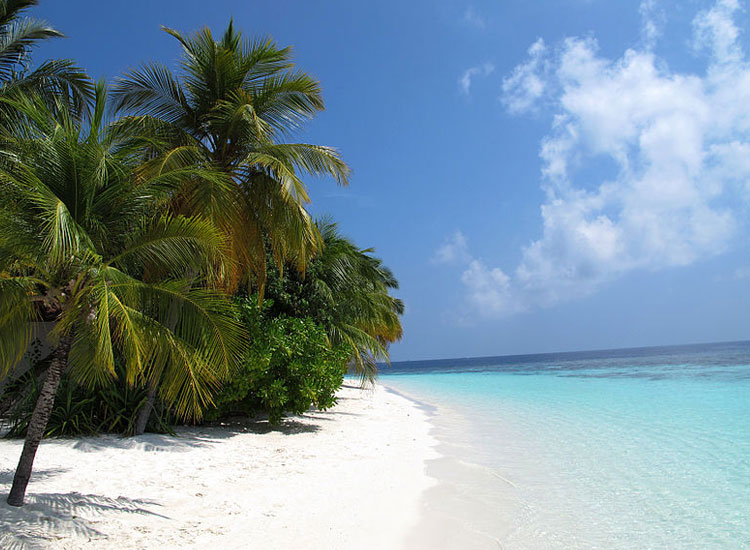 Modern-aged couples have honeymoon goals that could be relished at the overwater bungalows of the Maldives. This island nation has around 105 private island resorts that feature all facilities and adventures. Here you can choose to stay amidst the wide range of resorts according to your budget. The most popular and budget-friendly honeymoon island in the Maldives is Maafushi.
This island of Maldives has everything to entice couples, including water sports like kayaking, snorkeling, scuba diving, and night fishing. The crystalline blue waters of Maafushi Island will arouse your romance like never before. Did we mention celebrities like Arjun Kapoor, Alia Bhatt, and Disha Patani love the Maldives for vacations?
8. Seychelles
What's Unique: Seychelles is an exotic beach destination and is a cool native wildlife place.
Why Visit: To unlock a luxury honeymoon without getting broke.
Package Cost: 39,000 INR (approx.) per person excluding flights
Ideal Days: 6-7 days (approx.)
Seychelles, on the coast of East Africa, is a group of more than 100 islands. The country is known for breathtaking coral reefs and sugary white sand beaches. There are many beautiful islands in Seychelles like Mahe Island, Praslin Island on which you can spend quality time with your partner. If you are fond of scuba diving and surfing, then you can also enjoy these sports here. This tropical island paradise is a must-visit place for food bloggers also.
Talking of its wildlife, Seychelles is home to the world's largest tortoises and 12 endemic bird species. Seychelles is a hiker's paradise also, and its marine life attracts lots of honeymooners throughout the world. So elevate your romance in Seychelles in 2022 in July outside India.
Things to Do in Seychelles on Honeymoon
Sunbath at the sparkling blue beaches.
Make smiling locals your friends.
Enjoy biking along the stunning coastline.
Have a bit of exercise on your honeymoon by hiking lush green landscapes.
Unwind at your own private infinity pool overlooking the stunning beach.
9. Phuket, Thailand
What's Unique: Phuket is strongly developed for tourism.
Why Visit: Honeymooners flock to Phuket for relaxation and adventure.
Package Cost: 27,000 INR (approx.) per person excluding flights
Ideal Days: 4-5 days (approx.)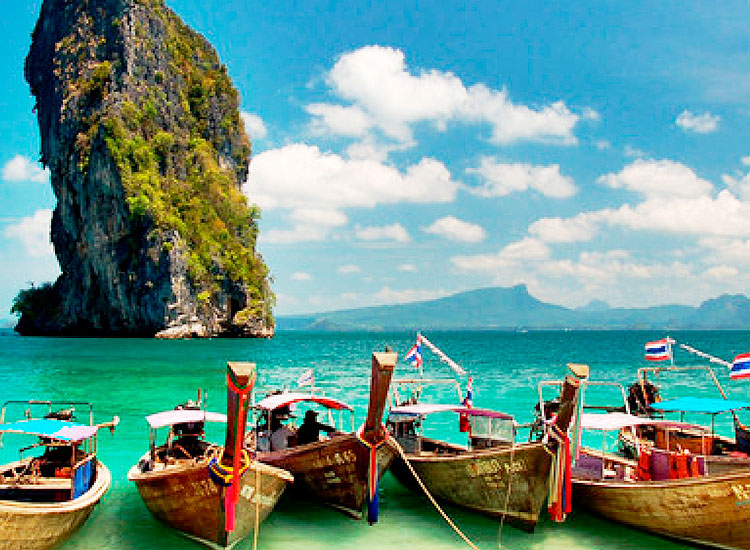 Phuket in Thailand is the most talked-about honeymoon attraction. Tourism in Phuket is heavily developed with world-class resorts. Thanks to the vibrant nightlife of Phuket that engages couples. Those who love watersports can satiate their thrill at the crystalline blue beaches of Phuket. Island hopping in and around Phuket is an amazing experience which you should try on your honeymoon. Phuket is a big honeymoon thrill for couples in every aspect, with several sunset points to gaze at the changing hues of the sun over the Andaman Sea.
Things to Do in Phuket on Honeymoon
Untangle the marine life on scuba diving fun at Koh Racha Rai and Shark Point.
Seek blessings at the Buddhist temples.
Enjoy a romantic walk on the beaches.
Pamper yourself with a couple spa massage.
Enjoy an aerial view of Phuket on a helicopter ride.
10. Turkey
What's Unique: The traditional Turkish Tea is world-famous.
Why Visit: Turkey has everything ranging from coastline to hills, and all of them are picturesque.
Package Cost: 47,000 INR (approx.) per person excluding flights.
Ideal Days: 7-8 days (approx.)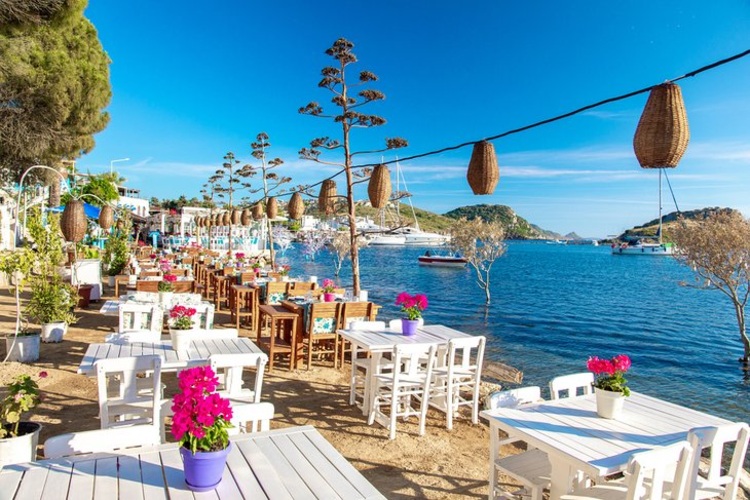 Turkey is a fascinating country with rich history and culture. The mountainous area of Central Turkey has Cappadocia, which is one of the magical Instagrammable places in the world with hot air balloons floating in the skies. This insanely beautiful country extends two continents – Asia and Europe.
Modern Turkey is embraced with Muslim culture, and thus, you can tour several mosques, old aged monasteries, and historical sites. Couples will wrap up their romance at the beautiful coastline and Mediterranean villages and stay in a luxury cave experience. Turkey has hazy mountains enriched with pristine lakes, making it a must-visit place for couples from India.
Things to Do in Turkey on Honeymoon
Enjoy a honeymoon stay infused with old-world romance at Safranbolu.
Have a beachfront resort living experience at Antalya.
Windsurf, kitesurf, snorkel at Bozcaada Island.
Satiate the bohemian streak in you at Kabak.
Ride a hot air balloon in Cappadocia.
11. Sri Lanka
What's Unique: The jewel of South Asia, Sri Lanka, could be explored in the Indian budget.
Why Visit: Sri Lanka offers visa on arrival to Indians for up to 30 days
Package Cost: 26,000 INR (approx.) per person excluding flights
Ideal Days: 6-7 days (approx.)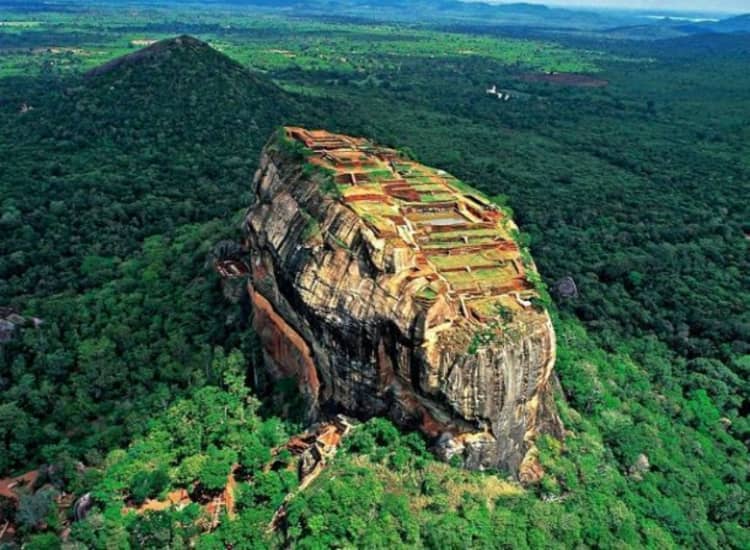 Sri Lanka is a tear-shaped island embraced for its natural wonders, UNESCO World Heritage Sites, stunning beaches, and spiritual experiences. Couples will love strolling the lush green tea gardens either on a foot journey or a scenic train ride that starts from Kandy to Ella – the scenic hill towns of Sri Lanka. Enchant your mind and soul with a waterfall trek in Nuwara Eliya.
Animals-loving couples must visit Pinnawala Elephant Orphanage to meet the giant elephants and spend a day with them. Those who want to witness the wildlife in Sri Lanka switch away from their mundane lives at Yala National Park. Sri Lanka has plenty of nightclubs located in Colombo. Furthermore, the cuisine of Sri Lanka is lip-smacking, which you should try on the Sri Lanka honeymoon in July 2022
Things to Do in Sri Lanka on Honeymoon
Try scuba diving, snorkeling, and surfing at Hikkaduwa Beach
Enjoy the epic train journey from Kandy to Ella, passing through lush green tea gardens
Explore the Little England of Sri Lanka, Nuwara Eliya drenched in greenery
Spot leopards and endangered species at Yala National Park
Seek spiritual blessings at Buddhist temples.
Where will you take your wandering heart in July outside India?