For a summer vacation, August is considered idyllic as it is neither too cool nor too hot. But the daunting task is to choose the places especially when we talk about holidays outside India. If this situation matches with yours, then let us clear the picture for you. You can enjoy the jubilant abroad vacation as there are many sensational places to visit in August outside India within budget. Whether you are planning a family vacation or looking for honeymoon destinations outside India in August. You will get a list of both that help you to plan your abroad vacation delightfully.
Why should you plan a family vacation outside India in August?
Having a summer vacation outside India with family is a dream of many people that gives many joyful experiences. A abroad vacation is the mode of life where you can add something new and exciting. A family can be mini or large with various age groups, and planning according to them would be the foremost thing. Before deciding the place, the time of your vacation is the cornerstone of planning. August is one of those months in a year that offers a pleasant and agreeable climate to suit everyone.
Best Places to Visit with Family Outside India in August
1. Dubai
You can say a groundbreaking international holiday and Dubai in one sentence. It is one of the most admirable family travel destinations that is worldwide renowned for its ultra-modern architecture. It is the ideal destination for adventurer families as it offers an element of surprises in every bit.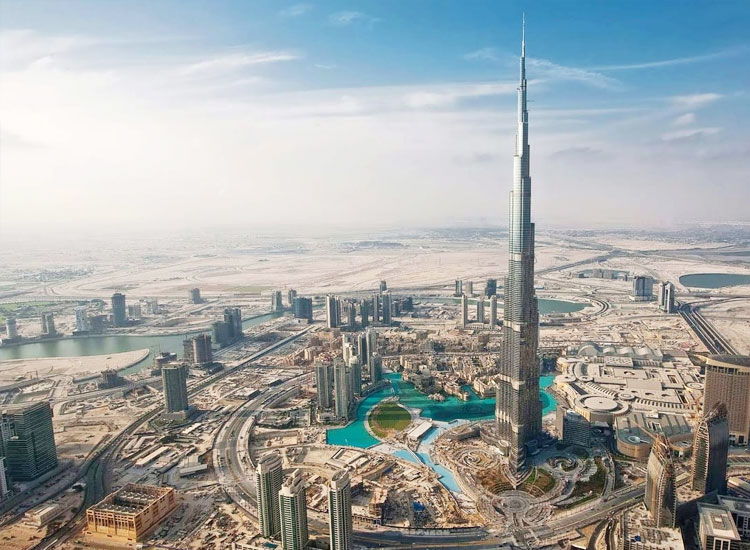 Apart from visiting Burj Khalifa, there are uncountable things that would steal your heart and give you awe-inspiring moments. From enjoying the desert safari to exploring the underwater zoo, you will never get any moment that will not offer a breathtaking moment. Activities to indulge in adventure and attractions have a wide range of diversity that store something special for every age. Every element is worth visiting and makes Dubai a popular tourist destination outside of India.
Attractions of Dubai
Burj Khalifa
Dubai Aquarium and Underwater Zoo
Palm Jumeirah
Dubai Mall
Dubai Miracle Garden
Bollywood Park
Things to do in Dubai with Family:
Enjoy skiing in Ski Dubai
 Get Bird eye-view with a Helicopter ride in Dubai
Lake ride in Dubai Fountain,
Feel the adrenaline rush in every moment at IMG world of adventure
Enjoy virtual fun at VR Park
Play with cutesy Dolphins at Dubai Dolphinarium
2. Bhutan
Bhutan is one of the blissful countries where the divine vibe and serene atmosphere will win your heart. It is widely known as one of the Happiest and peaceful countries. If you are planning a family vacation outside India, then Bhutan is ideal for it. While enjoying the weather of this country, you can create memories that you cherish for a lifetime. Being surrounded by the Himalayas, the scenic sites, lush green forest, and Monasteries are some of the elements that keep a smile on your face and soothes your mind and soul.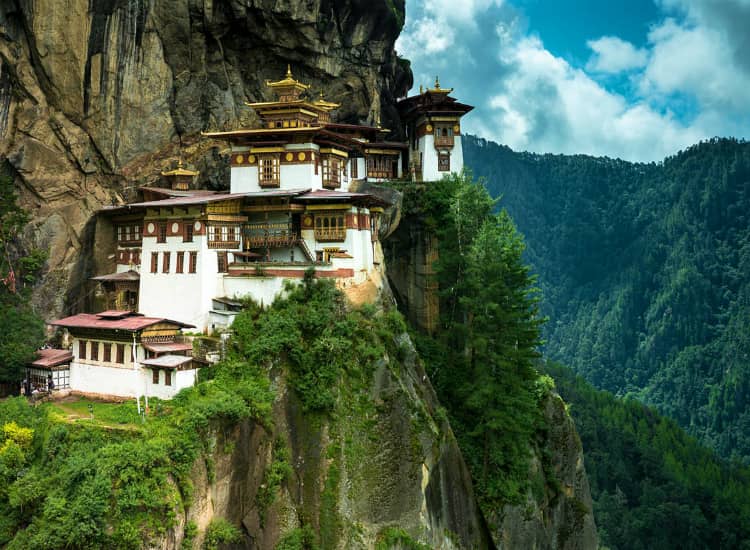 This land offers a great travel experience for every age of the group. No wonder! It is one of the best places to visit with the family on an abroad vacation.
Attractions of Bhutan
Thimphu
Paro
Jakar
Phuntsholing
Punakha
Trongsa
Things to do in Bhutan with your family:
Experience an enchanting car ride
Admire Manas Wildlife Sanctuary
Enjoy Rafting in Po Chu River
Trek together in Bhutan
Visit Taktsang Palphug Monastery in Paro
Behold the beauty of Dochula Pass, Kayaking
3. Borneo Island
The next in our list of cheapest destinations to visit outside India in August is Borneo Island. Plan your next vacation here and get a chance to feel the adventure in the air. You can explore the lush-green rainforests and unique species of flora and fauna on your abroad family vacation with this island. With the pride of being the third-largest island in the world, this island offers lots of things to explore that keep you entertained throughout your vacation. You can explore the rare wildlife with a breathtaking touch of natural beauty. So what are you waiting for? Head to this island and ready to store some rare experiences and to get a chance to delve into nature's beauty.
Attractions of Borneo Island
The Tusan Cliff Beach
Niah National Park
The Real Survivor Island
Brunei
Mount Kinabalu
Kinabatangan River
Things to do In Borneo Island with your Family
Spend some time with Spend A Day With Wild Orangutans
Observe the Dense Rainforest
Enjoy Scuba Diving
Trekk together to bring adventure
Enjoy the wildlife of the Kinabatangan River
Explore the Natural Cave
4. Singapore
Witness the beautiful mix of Modernity and traditional value with a touch of natural traits in Singapore with your family. It is one of the most popular tourist destinations outside India that offers amazing attractions. Whether you want to explore the fast pace of this city, or you want some peaceful time, Singapore has it all for you. You will find many amusement parks and zoos, which are ideal for a family trip, where you can weave unforgettable memories together.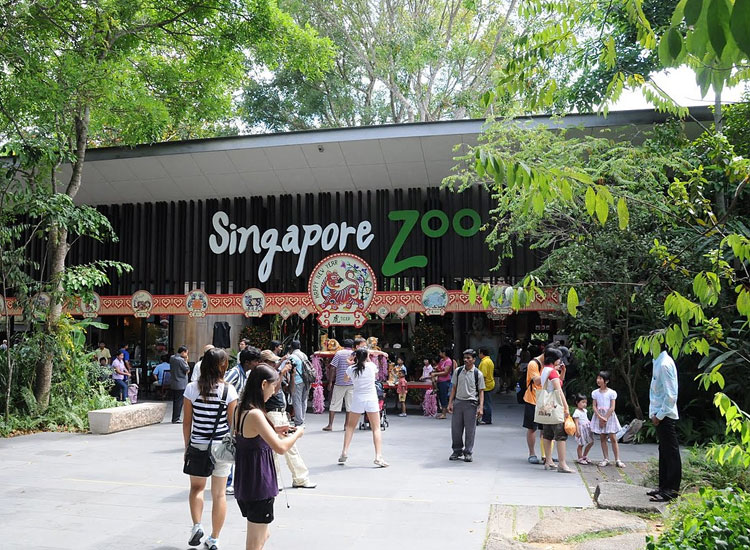 Apart from that, you can indulge in thrill-packed activities to satiate your hunger for the thrill. Enjoying the vibrant nightlife of Singapore with your closed ones is one of the best things to experience here. It is not fair to talk about Singapore's nightlife without mentioning its night safari, which is the first nocturnal zoo that is just something else here. The weather in August is a perfect experience for the sightseeing tour of Singapore.
Attractions of Singapore
Sentosa Island
Buddha Tooth Relic temple,
Garden by the bays
Marina Bay Sands Resort Complex
Universal Studio Theme Park
Things to do in Singapore with Family
Visit the underwater aquarium
Experience the world's only nocturnal Singapore Zoo
Feel the vibe of adventure in Sentosa Island Complex
Shopping in beautiful malls
Get a bird's eye view with Singapore Flyer
Enjoy the local delicacies of Singapore.
5. Langkawi
If you are willing to touch the different types of attractions with one visit, then Langkawi is just for you. Enjoy your abroad family vacation in August at Langkawi, which has top-class beaches, striking landscapes, beautiful parks, and historical structures. The list of places to visit in Langkawi exhibits diversity and gives you an enthralling experience. From feeling the height of the sky to enjoying underwater life, you will be amazed at every turn. One of the best things to experience with your family is the open-air garden Museum, where you can connect with excitement along with nature. Whether you want to fill this journey full of activity or enjoy a lazy evening with a serene ambiance, Langkawi offers everything.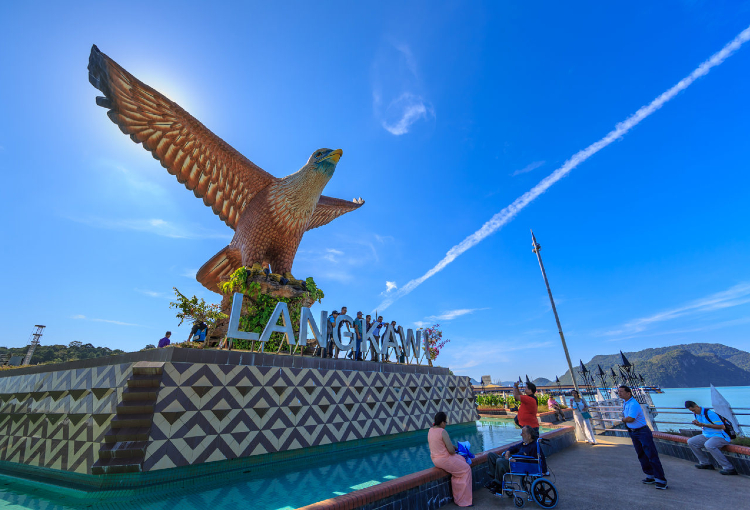 Attractions of Langkawi
Eagle Square.
Gunung Raya.
Underwater World.
Kilim Karst Geoforest Park.
Yellow Beach Cafe.
Tengkorak Beach.
Things to do in Langkawi with Family
Enjoy a walk to remember at Langkawi Sky Bridge.
Visit Wildlife Park and Bird Paradise.
Embrace a unique experience by riding Langkawi Sky Bridge.
Explore Tanjung Rhu.
Stroll in Ulu Melaka Night Market.
Travels Tips For Family Vacation with Kids outside India
Enjoying a vacation with your family is all about making cherishable memories that last forever. But a smart traveler understands that sometimes things don't go as we thought. You need to look at these family vacation travel tips to ensure safety and happiness with ease.
Here is the list of tips for a family vacation with your kids to make family travel go smoothly.
Choosing the destination for a family vacation is paramount. It is better to keep in mind the preferences of every member.
If your children are old enough, then involve them in the planning process. Ask them about their preferences.
Keep something for your kids like a scrapbook, and their favorite toys.
It is better to reach the airport early, as you don't have to face any stress that may impact your enthusiasm.
Children take a while to adapt to the new conditions like timezone, weather, and cuisine so, be patient with them.
Check out the Do's and Don't of the destinations.
Carry First aid kit and some essential.
Keep something that helps in your passing the time.
Try to pre-booked everything.
Give your kids a Camera, but always keep a track of your child.
If you are traveling with your baby, then keep extra diapers and wipes.
Why should you plan your honeymoon outside India in August?
A honeymoon is the lovely beginning of your new life that every newlywed couple wants to celebrate with full of zeal. Even though every place is beautiful and every destination is heaven when you are with your partner. But when we talk about the honeymoon vacation at an International destination, then it gives you some more excitement as the exotic touch can make your unforgettable moments more special. If you are tied in a knot of love and willing to celebrate your honeymoon outside India in august within budget, then you got the place for it. We have made a list of the most romantic international honeymoon destinations to visit in august.
Places to Visit in August Outside India for Honeymoon
6. Bali
It is home to iconic beaches, volcanic mountains, and beautiful rice paddies. These all are natural ingredients, which make Bali one of the most popular honeymoon destinations outside India. This land offers art museums, stunning temples, rich greenery, and picturesque vistas. From enjoying the beach to the nightlife of Bali, you will find that every moment is filled up with the beauty that gratifies your honeymoon mood. You can explore the natural wonder by enjoying trekking and soothe your mind, body, and soul by visiting the temples of Bali.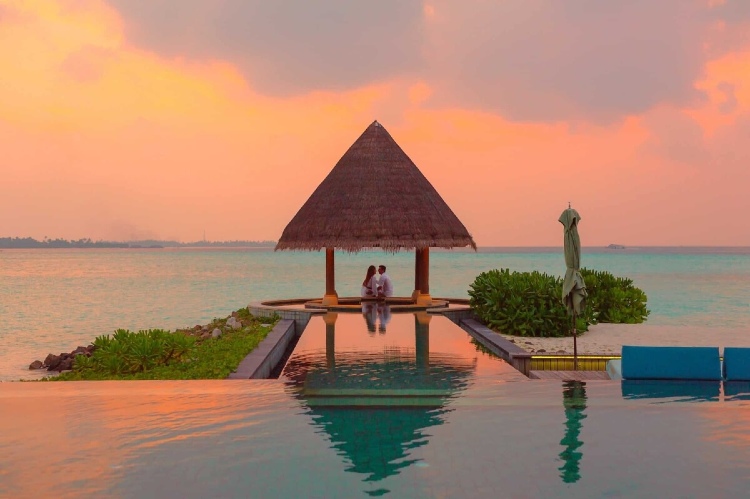 Sacred Monkey Forest is one of the most appealing hotspots of Bali that allows you to connect with nature. You can make your honeymoon more exciting by swinging on the Bali Swing, which is popular among couples. You can enjoy the pristine marine scene at Menjangan Island by holding the hand of your partner. What would be more beautiful than witnessing paddy fields during the sunset with your beloved. Is it not the moment where you both can delve into each other's eyes. Every corner of Bali has something special for love birds. You can enjoy the watersports and enhance your honeymoon experience by visiting in August.
Places to visit in Bali
Mount Batur
Monkey Forest
Tanah Lot Temple
Jatiluwih Rice Terraces
Bali Swing
Ubud Monkey Forest
Sekumpul Waterfall
WaterBom Waterpark
Bali Bird Park
Romantic Things to do in Bali
Enjoy a cycling ride with your partner at Ubud
Behold the Sunset at Tanah Lot
Enjoy romantic vibes at Tukad Cepung Waterfall
Pump adrenaline rush by enjoying at Waterbom Bali
Enjoy a romantic Bali Cruise Day trip
Have a romantic walk at Campuhan Ridge Walk
7. Maldives
It is the epitome of romantic vibes that you can enjoy at the beginning of the love phase. The Maldives is a budget-friendly honeymoon destination from India. You can take your love life to the next level by spending your honeymoon holding the hand of your darling. The scenic view, cool breeze, and water all around suit your romantic vibes.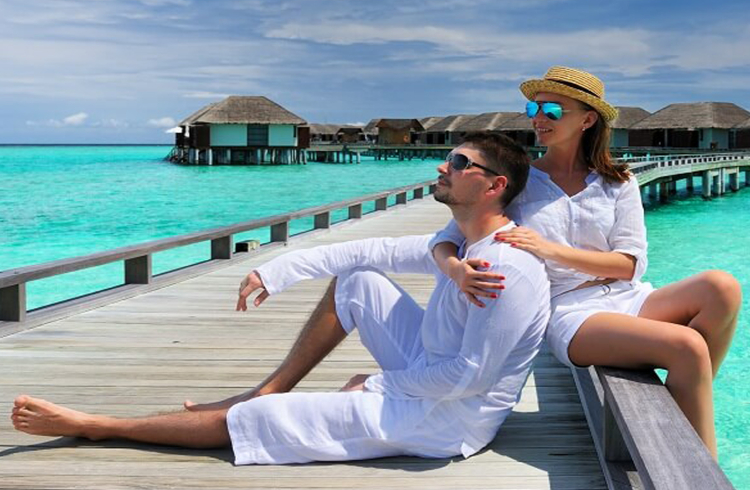 Let us make a word-paint picture for you that gives you an idea of your honeymoon vacation in the Maldives. Enjoy a starry night with your beloved in a thatched-roof bungalow on a private beach with beautiful islands. These all things make this destination the first choice of the majority of newlywed couples. The Maldives in August gives you so many cherishing experiences that you can enjoy with your better half.
Places to visit in the Maldives
COMO Cocoa Island
Addu Atoll
Male City,
Maafushi
Addu City
Artificial Beach
Malé Atoll
Fulhadhoo Island
Romantic things to do in the Maldives
Island Hopping
Enjoy a Massage together
A romantic date at Ithaa underwater aquarium restaurant
Explore the Depth of Ocean with Submarine Ride
Enjoy Luxury Cruising and Boat Ride
Enjoy swimming together
Witness science-fiction fairy tale at Glowing Beach in the Maldives
8. Sri Lanka
This beautiful country in the Indian Ocean is not less than a paradise for honeymooners. The beaches and scenic view with some of the heritage attractions make your honeymoon more interesting. What would be more beautiful than celebrating your honeymoon in the lap of nature with a serene atmosphere. If you have imagined yourself with your partner in that scenic location, then hold on, there is more beauty in Sri Lanka which makes it perfect for you. This beautiful international honeymoon destination gives relief to your wallet and beautiful moments to your life.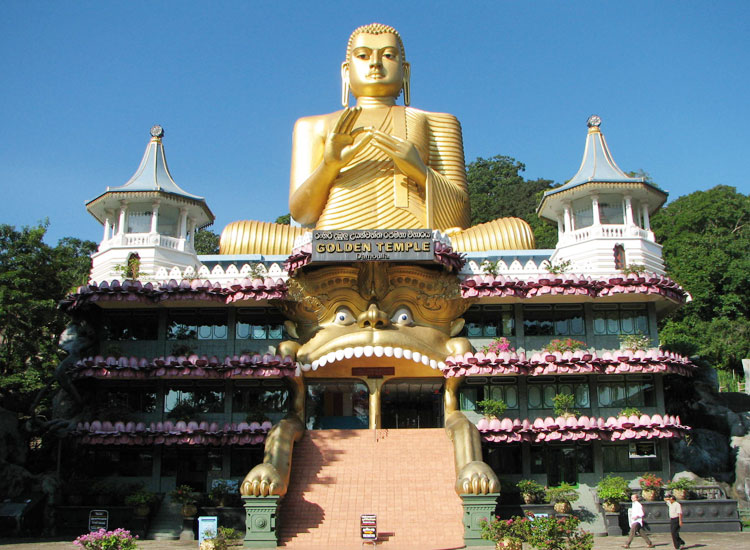 Apart from enjoying the natural beauty, you can delve into the cultural beauty too on this budget-friendly honeymoon destination outside India. For enjoying the romantic moment with your beloved, the weather is also an aspect. The climate of Sri Lanka in August will suit the vibes of your chemistry. In August, you can celebrate your honeymoon in Sri Lanka without facing any issues regarding the weather.
Places to visit in Sri Lanka
Galle
Colombo
Kandy
Gangaramaya Temple
Nuwara Eliya
Negombo
Dambulla
Bentota
Matara
Romantic things to do in Sri Lanka
Shop from the floating market in Pettah,
Enjoy River rafting in Kitulgala,
Soothe mind and body with Ayurvedic Spa,
Enjoy Watersports like Snorkelling, scuba diving, motorboating
Admire the beauty of numerous waterfalls
Take a train ride to Ella
Hiking together in Horton Plains National Park
9. Cambodia
Embrace the beauty of ancient Southeast Asia with your beloved on your honeymoon. This charming destination is nestled next to the Gulf of Thailand with so many attractions and beauty. You can celebrate your honeymoon with the beach vibes of Cambodia. If you both are inclined towards the heritage attractions, you can take a heritage sites tour here.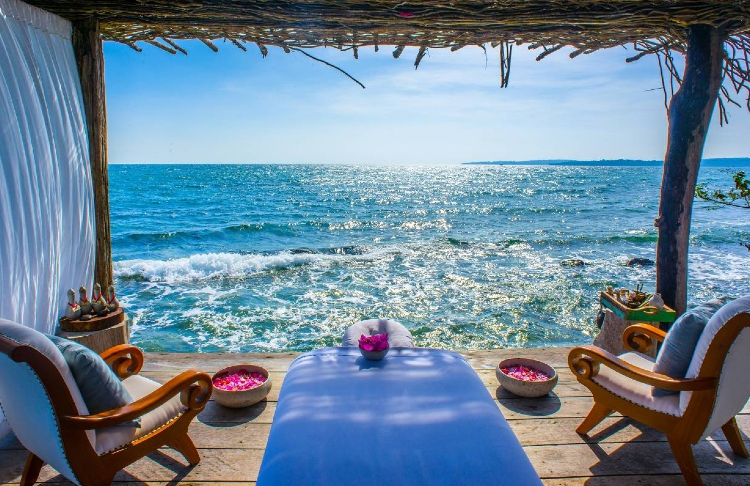 It is a place that gives a mix of historic rustic charm with a stunning offbeat scenic view. The moment you set foot in Cambodia, the beauty of it will fill your heart with wow factors.
You can enjoy your honeymoon on the beach with complimentary weather that suits your mood in August. The budget-friendliness of this destination makes it one of the cheapest honeymoon destinations outside India. You don't need to be harsh on your budget while planning a honeymoon vacation in Cambodia.
Places to Visit in Cambodia
Phnom Kulen National Park
Koh Rong
Siem Reap
Koh Ker
Tonle Sap
Kampot
Sihanoukville
Romantic things to do in Cambodia
Observe the beauty of the Waterfall in Mondulkiri
Enjoy snorkeling together at Koh Rong beach,
Visit the temple complex at Angkor,
Explore the beauty of Phnom Penh,
Lose yourself into each other's eyes at Sihanoukville,
A romantic walk
Travel tips for your abroad Honeymoon
Honeymoon is a nine letters cutesy word that carries romance, excitement, and awe-inspiring moments that you enjoy together. Planning your honeymoon outside India is a tremendous and exciting thought, but you must consider some honeymoon travel tips to make it more compelling. Here are some honeymoon planning tips to make it more cherishable.
Planning together is the first step that sets the tone of your journey perfectly.
Planning the trip according to the budget is a smart stroke.
Chase privacy, not a popularity
Compare the choices and preferences, then confirm
Keep in your mind that accommodations matters
Carry the elements that bring relaxation and adventure
Understand that untouched or explored destinations are also stunning and offer great traveling experiences.
Try not to copy other's honeymoon itinerary
Get complete information about payment options.
Don't miss these Places to visit in August in India