Rested on the bank of the Tungabhadra River, Hampi is a beautiful small city in the Bellary district of Karnataka. The glorious history, beautiful ancient temples, and its ruins are some major attractions of this city. You will find enchanting places to visit in Hampi to make your vacation eventful. Everything that this charming city offers is captivating and admirable, whether you talk about the temples of Hampi, the historical ruins of Vijayanagar city, or its monuments and sculptures. The blend of architecture and craftsmanship creates the magic that attracts tourists from all over the world. This small city is widely known for its ruins that refer to the past medieval Hindu kingdom of Vijayanagar and is designated as a World Heritage site.
Read Also: Hampi History
Spirituality, history, and art are connected and allow you to enjoy your vacation with numerous attractions in Hampi. Whether you are a photography enthusiast, history buff, inclined towards spirituality, or traveling enthusiast, you will find many things to do in Hampi that keep you entertained throughout this historical tour. Keep scrolling down to know the tourist places and attractions of this ancient city and make your Hampi tour memorable.
Here is the list of 11 the best places to visit in Hampi in 2022
1. Virupaksha Temple
This 7-century temple is dedicated to Lord Virupaksha, an incarnation of Lord Shiva. This temple is considered the oldest functioning temple in the country and still operating. Numerous pilgrims pay a visit here daily and get blessings from Lord Shiva. The architecture of this temple surely deserves admiration here as it has a vast courtyard and gateway towers, which are marvelous. You will be stunned by looking at the intricate carvings on the temple, which is a thousand years old. It is one of the main tourist spots in Hampi, where you can learn more about the history and witness the old-style architecture. You will see many attractions in this temple, but don't forget to visit the underwater Lord Shiva Temple inside the complex.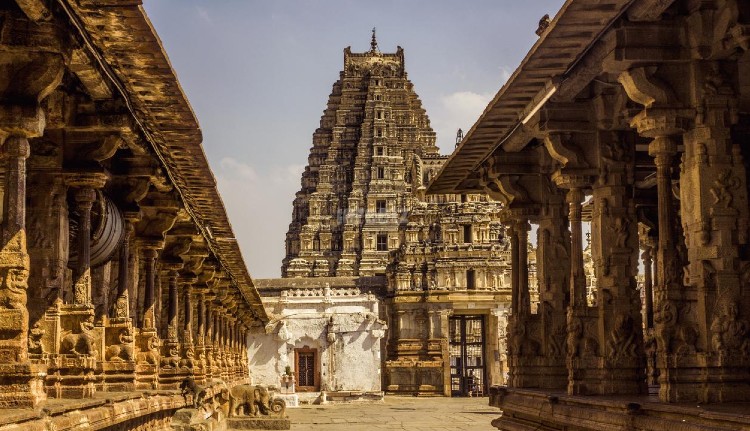 Timing of temple: 6:00 am to 6:00 pm ( All days of the week)
Duration of a visit: 1.5 hours (approx)
2. Vijaya Vittala Temple
This temple is one of the best architectural wonders of Hampi that is built in Dravidian style and dedicated to Lord Vittala, an incarnation of Lord Vishnu. A visit to Vijaya Vittala Temple leads you back to the Dravidian era. You will be amazed by looking at the temple's beautiful design and intricately carved stone sculptures. The noteworthy thing about this historical structure is its musical pillars inside the hall and exceptional stone chariot that will leave you speechless. High compound walls, Maha Mantapa, Stone chariot, and musical pillars show its excellent architecture and out-of-the-box creativity. These attractions of the temple make it one of the best tourist places in Hampi.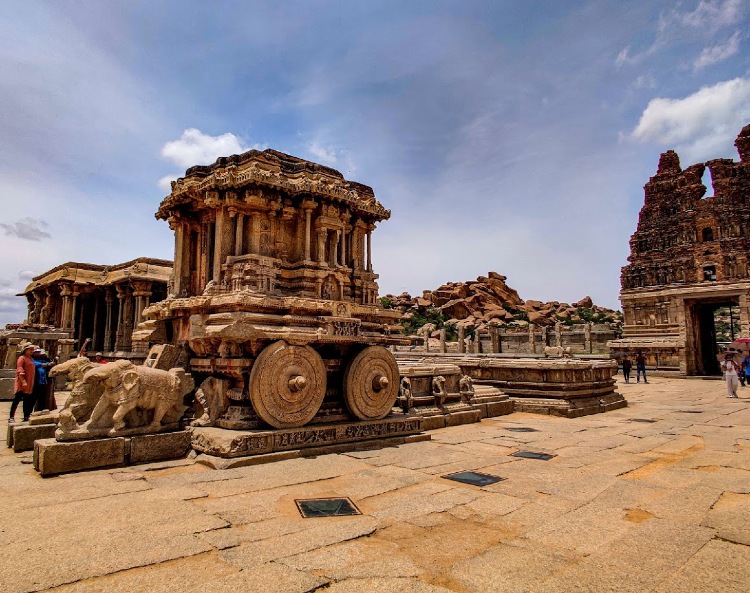 Timing of Temple: 8:30 am to 5:30 pm ( All days of the week)
Duration of a Visit: 2 hours (approx)
3. Queen's Bath
The Queen's Bath was probably the royal bathing chamber for the kings and their wives that showcases the lavish lifestyle. You will be amazed at the moment when your eyes get in contact with Vijayanagara architectural perfection, which is unbelievable. The intricate design and the dome-shaped well-crafted roof, catch your attention and fill your heart with wow factors.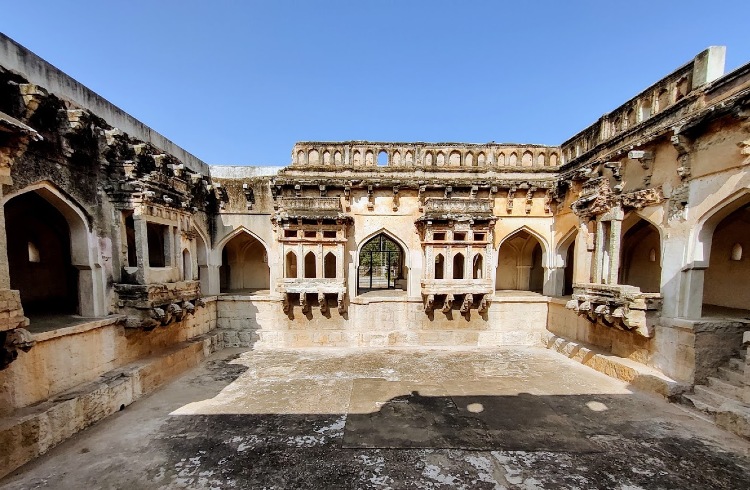 Beautifully designed balconies, tiny windows, and the rectangular pool itself under the sky well defined the beauty of Queen's Bath. You will also buy local handicrafts and sculptures that are sold in the complex. This place is stunningly carved and comes amongst the top attractions in Hampi. This majestic building sets the time back and shows you a glimpse of the glorious past. During your Hampi trip, make sure to add this place to your bucket list to enjoy the royal feelings.
Timing of Queen's Bath: 6:00 am to 6:00 pm
Duration of a Visit: 30-45 minutes (approx)
4. Lotus Mahal
It is a significant secular edifice that is one of the most beautiful places to visit in Hampi. This Lotus Mahal has a lotus-shaped structure and is widely renowned for its exquisite Indo-Islamic architecture. Design of this palace wins the heart of the tourists that flock from every corner. The central dome of Lotus Mahal looks like the bud of lotus and corridors as the petals. This Mahal has around 24 pillars to support its arched windows and add a layer of beauty to its design. The roof represents a multi-layered design that reflects an Indo architectural style.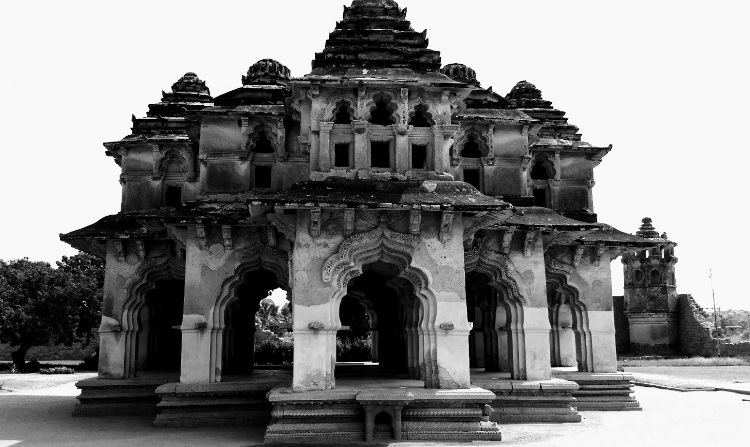 Timing of Lotus Mahal: 8:00 am to 6:00 pm
Duration of a visit: 1 hour (approx)
5. Yantrodharaka Hanuman Temple
It is another famous temple of Hampi, which is located near the Virupaksha Temple. This holy temple is dedicated to the Hindu deity Lord Hanuman, and it is a part of a cave standing at the peak of the hill. It is the place where Lord Hanuman indulged in a state of deep meditation. You will find that the Tungabhadra river flows through the steps of this hill. This place gives you a perfect view and spiritual vibes at the same time. Within the short distance of 5 minutes from Yantrodharaka Hanuman Temple, you will find another temple that is devoted to Lord Srinivasa. If you feel hungry, then you can buy food items from the nearby small stalls.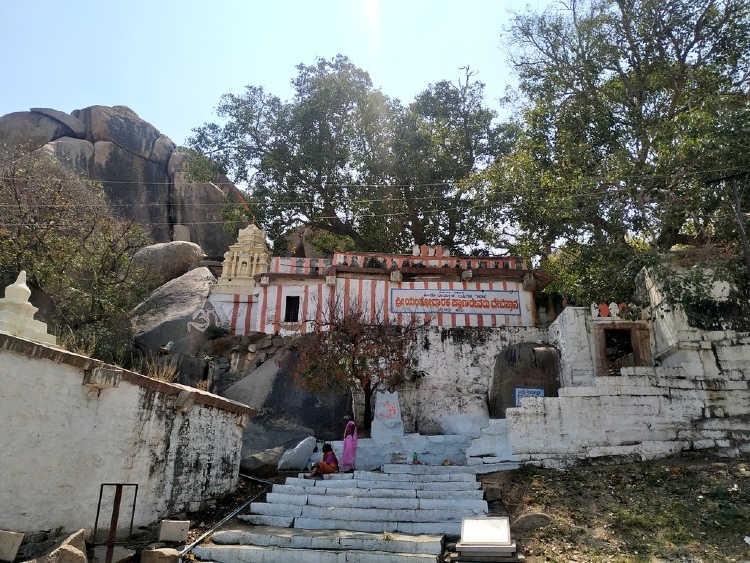 Timing of temple: At any point during the daytime
Duration of a visit: 40-45 minutes (approx)
6. Matanga Hill
It is one of the most talked-about places of Hampi because of its charm and the beauty that it offers. Matanga Hills enjoy the highest point of Hampi and gives you a panoramic view of the city. It is a paradise for traveler photographers. Capturing the aerial view of Hampi ruins from this point is one of the top things to do in Hampi. This hill will surely take your breath away as you see the red rocks spread around the mountainside. You can witness the ruins of Hampi from this point and store that moment in your heart for a lifetime. Behold the dreamy glow over the Hampi at the time of sunrise or sunset is just something else.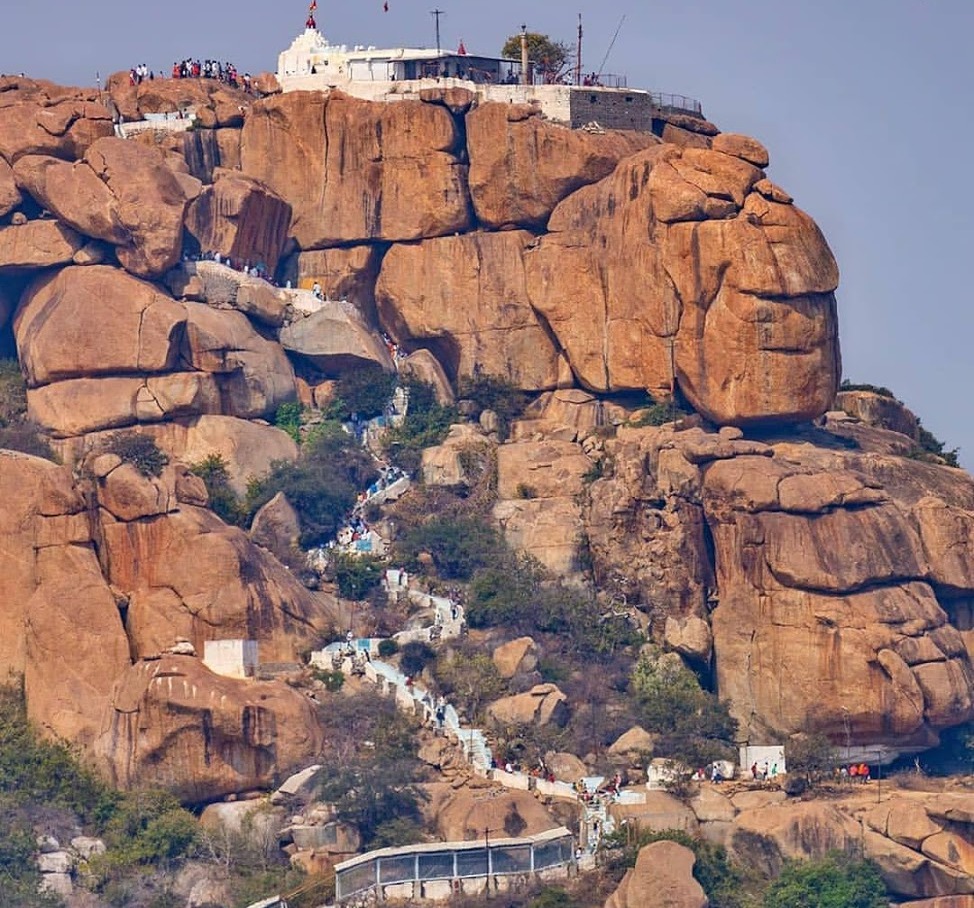 Best time to visit: Early morning and evening is considered the best time.
Duration of a visit: 30-45 minutes
7. Lakshmi Narasimha Temple
This temple is amongst the most significant and religious places to visit in Hampi, also known as the Ugra Narsimha temple. You will find the statue of Lord Narasimha, which is the largest monolith statue in Hampi. Lord Narasimha is a half-man and half-lion, and carnation of Lord Vishnu. This sacred spot is one of the major attractions of Hampi, where people come to get blessings. If you are inclined towards the spiritual, you must visit here. Lord Narasimha is seated in the yoga position on a coil of a snake with seven heads.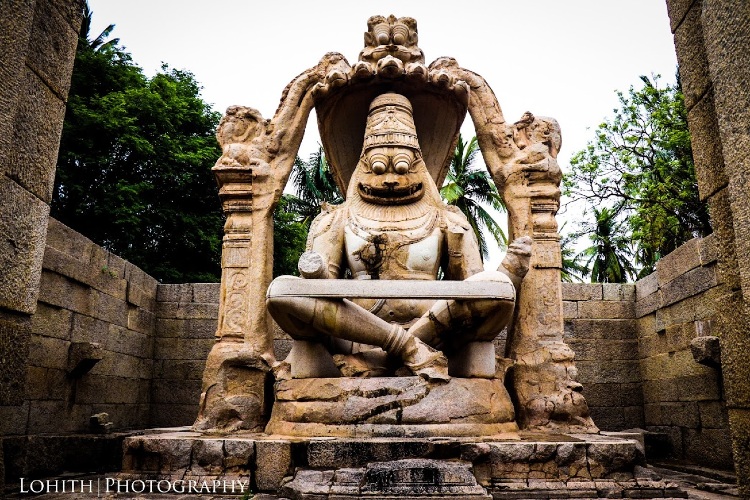 Timing to Temple: 6:00 am to 6:00 pm
Duration of a visit: 1 hour (approx)
8. Hemakuta Hill Temple
Hemakuta Hill is a greatly stretched zone and offers a spectacular view of the Hampi ruins, temples, and archways. You need to climb a few to reach the complex. But after reaching there, you will witness the gorgeous ruins of the temples and marvelous mountainside view. It is breathtaking to behold the sunrise and sunset from here. This hill is a pleasant place marked by many Hindu temples, ruins of fortified walls, and broken pathways.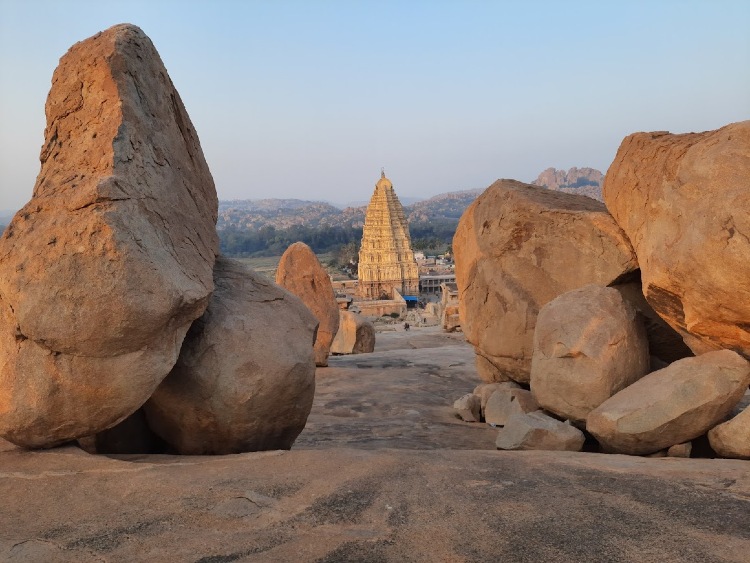 Many temples are devoted to Lord Shiva, and some of the temples were built between the 9th and 14th century, even before the popular Vijayanagara Empire that ruled Hampi. You will get blessings from the Mula Virupaksha Temple in Hemakuta Hill Temple Complex, which is one of the most prominent places to visit in Hampi. The temples and their architecture are unique and enchanting. Your Hampi sightseeing tour seems incomplete without visiting Hemakuta Hill Temple.
Timing of Hemakuta Hill Temples: 6:00 am to 6:30 pm (all day)
Duration of a Visit: 2 to 3 hours (approx)
9. Achyutaraya Temple
This beautiful temple lies amidst the Matanga Hills and Gandhamadana and shows Vijayanagar's architectural elegance. It is home to a magnificent idol of Lord Tiruvengalanatha. The best thing about this temple is that every element is charming and fascinating. All towers, pillars, and walls of this stunning temple are exquisitely engraved and decorated. The foremost shrine of this temple is settled amidst a rectangular concentric structure. It is one of the riveting places in Hampi that will stunned you by offering the beauty of art.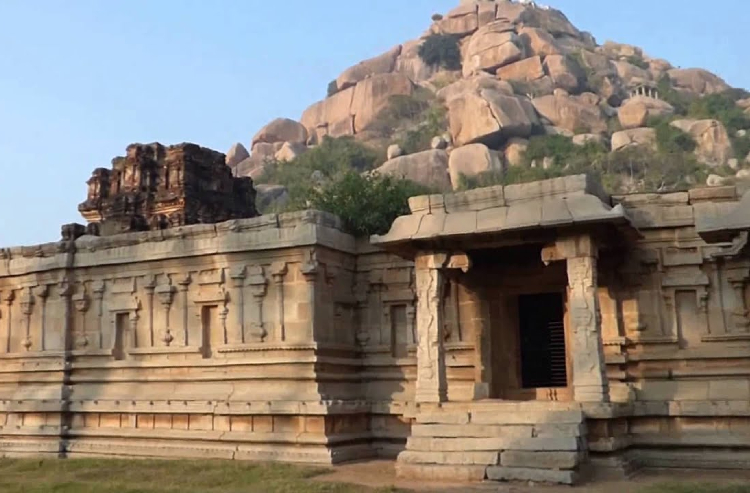 Timing of the temple: 5:30 am – 1:00 pm and 5:30 pm – 9:00 pm(all days)
Duration of a visit: 2 hours (approx)
10. Kadalekalu Ganesha Temple
It has one of the biggest statues of Lord Ganesha that exists in the southern part of India. This temple is the famous holy shrine of south India that must be on your list of places to visit in Hampi. It is located on the hills of the renowned Hemakuta Hills, and the statue is about 4.6 meters high.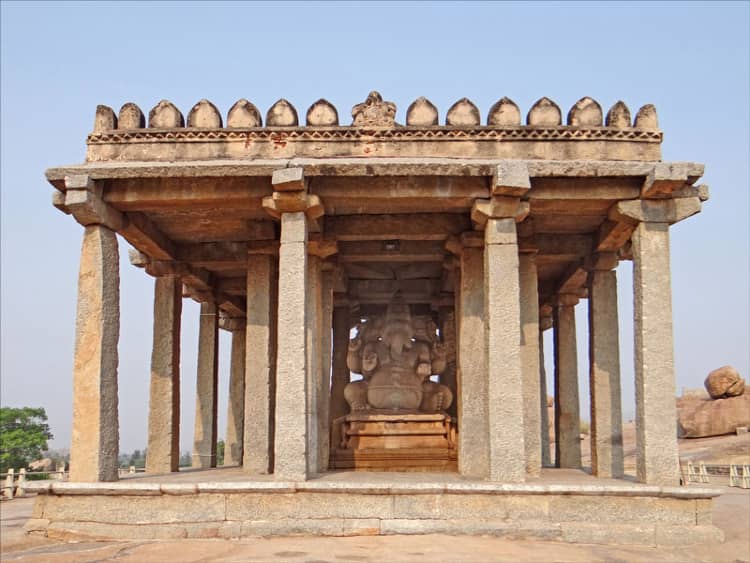 The highlight of this temple is that the featured statue of Lord Ganesha is carved out from a single massive stone. You will find that the hall of this temple is the house of slender granite pillars and displays legendary characters. The engraving of these pillars exhibits the Vijayanagara architectural art.
Timing of temple: 06:00 am to 06:00 pm.
Duration of a visit: 1-2 hours
11. Hippie Island
This island is the home of unique fun and entertainment that offers different shades of beauty and one of the most famous tourist places in Hampi. It is well-known for the varied kinds of hut stays, where you can stay and enhance your traveling experience. The huts are made in the basic styles of architecture and well-equipped with all the essential amenities that you would need for a fair stay.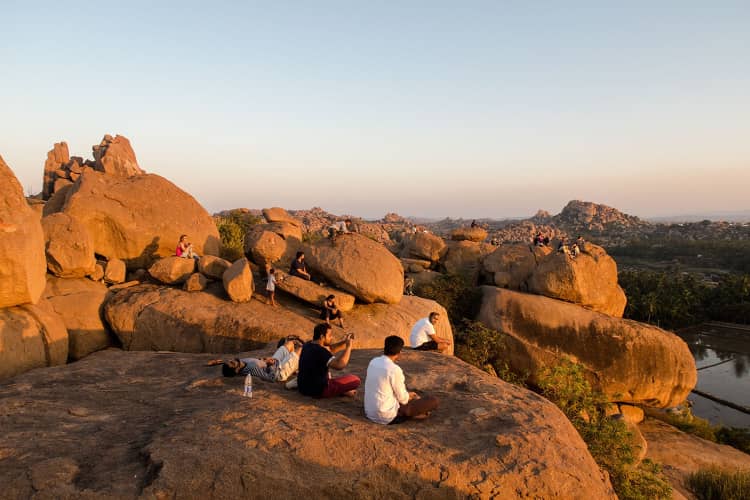 The numerous cafes are present here that take care of your hunger. It is needless to say that staying amidst the tranquility and serene nature in one of the huts of Hippie Island. If you are planning a vacation in Hampi for more than two days, then it will surely come to the top of the places to visit in Hampi in 3 days.
Best time to visit Hippie Island: You can visit in the morning to evening to feel the natural beauty.
Duration of a visit: You can stay here from morning to evening to enhance your experience.
Now you are familiar with several places to visit in Hampi to make your vacation remarkable. Everything about Hampi is enticing, beautiful, charming, and of course, captivating. So, what are you waiting for? Plan your next vacation in Hampi with your family, friends, or solo, and head out on a memorable vacation.